Trail Grapplers Come Out on Top at a Muddy Ultra4 MetalCloak Stampede [GALLERY]
Mother Nature dealt a challenging hand this weekend for Ultra4's 2016 MetalCloak Stampede at Prairie City SVRA near Sacramento, California, as rain pelted down the morning of race day making race conditions wet and muddy. Of course, off-road racers aren't scared of a little mud and competition was as heated as ever with Loren Healy starting the race off on the pole just next to Shannon Campbell.
Overturned vehicles in the slippery rock trials section left Loren, Shannon, and the rest of the top 5 a chance to put some distance between them and the rest of the pack. Just as everyone was wondering who would finally edge in front of who, Loren took a flip onto his lid with just 4 of the 11 laps to go. This left an opening for Jason Scherer to nip at Shannon's heels as Erik Miller trailed behind edging out Gary Ferravanti Sr.
A mud-covered trio of Team Nitto drivers came through the finish line to take a full podium sweep with Trail Grapplers for the win! Huge congratulations for these top finishers in Ultra4's first Trail Gear Western Regional Series race of 2016!
Shannon Campbell
Jason Scherer
Erik Miller
Gary Ferravanti Sr.
Clay Gilstrap
Loren Healy
(Photos by Alan Johnson and Shana Whitford)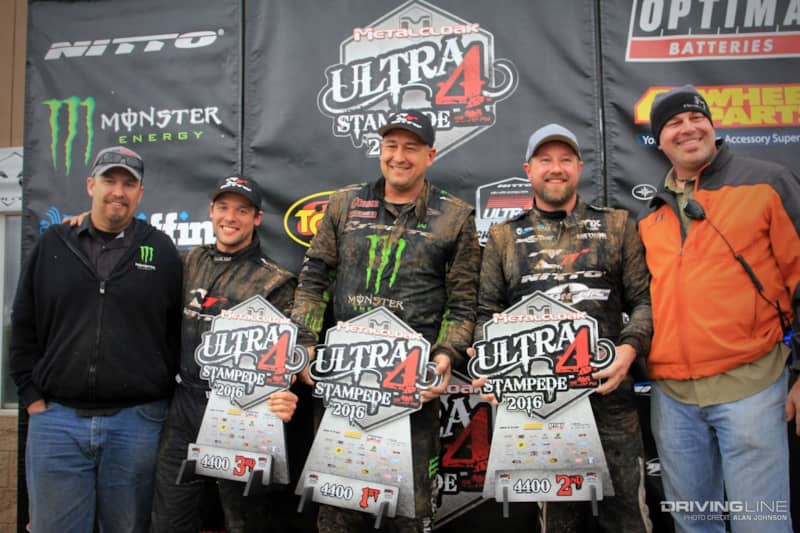 Save