Two to Travel: A Wrangler With Serious Trail Tales
Lori Carey is one of Driving Line's regular contributors and someone who routinely uses her 2007 Jeep Wrangler JK to explore trails around Southern California and beyond. Since it pops up so frequently, we figured we'd give you the some history on the Jeep straight from the Adventurer herself: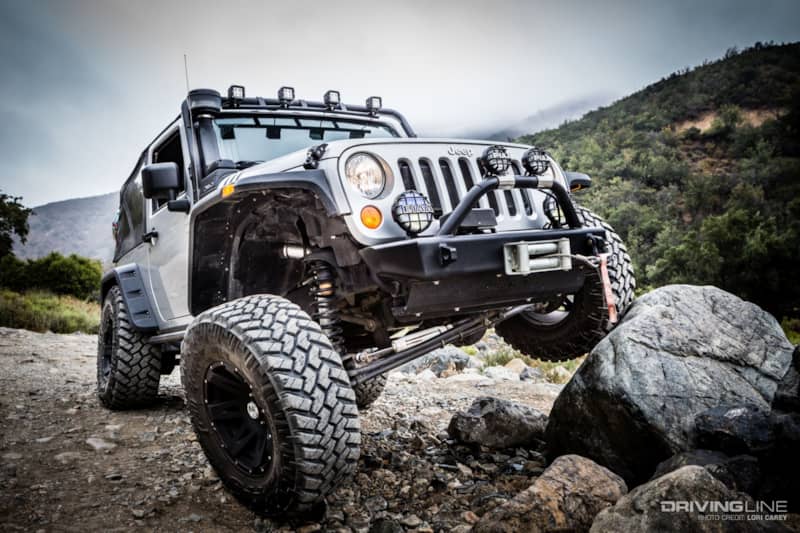 When I bought my Jeep Wrangler JK, I never envisioned that I would be doing the kind of things that I am doing with it today. If I had known, I would've made some different decisions along the way. At the time, I just wanted a vehicle that would reliably get me to hiking trailheads because I kept having problems with other SUVs that just weren't built for rough backcountry roads (despite their advertising claims). My city-boy husband didn't even like camping when I bought the Jeep, so I never expected that we would soon be primitive camping in remote locations for days at a time, let alone rockcrawling on black diamond trails.
Prior to it coming to the market, I had known about the four-door Unlimited Wrangler for several years, and was eagerly awaiting its release. As soon as it hit dealer lots, I started shopping, but to my dismay, every dealer in Southern California insisted on $6,500 over MSRP for a Rubicon and there was no way I would pay that much over list. I waited six months and the price still wasn't budging, and so with no plans at the time to do any hardcore off-roading, I decided to go with a Sahara.
The stock Jeep Wrangler Unlimited looks pretty goofy if you can't imagine it with a lift and bigger tires, and my husband hated it. He told me that he has always wanted a two-door Wrangler since he was a little boy. I looked in his eyes and realized that I would do anything to get him to spend more time in the wilderness with me, and that's how I ended up driving off the lot in a two-door Sahara instead of the four-door Rubicon I thought I would have. This big differences between the Rubicon and a Sahara come down to a handful of off-road oriented appointments.
The Sahara has 2.72:1 low range instead of the more rock-friendly 4:1 low range. The Sahara has a Dana 30 front, instead of a Dana 44, and comes with a single rear limited-slip differential instead of front and rear selectable lockers. There's also the electronic sway-bar disconnect on the Rubicon. It's less than ideal, but none of that has caused me problems on the trail yet or held me back from doing what I want to do with my Jeep. The upside is that it got my husband to start experiencing the backcountry, and now he loves it as much as I do.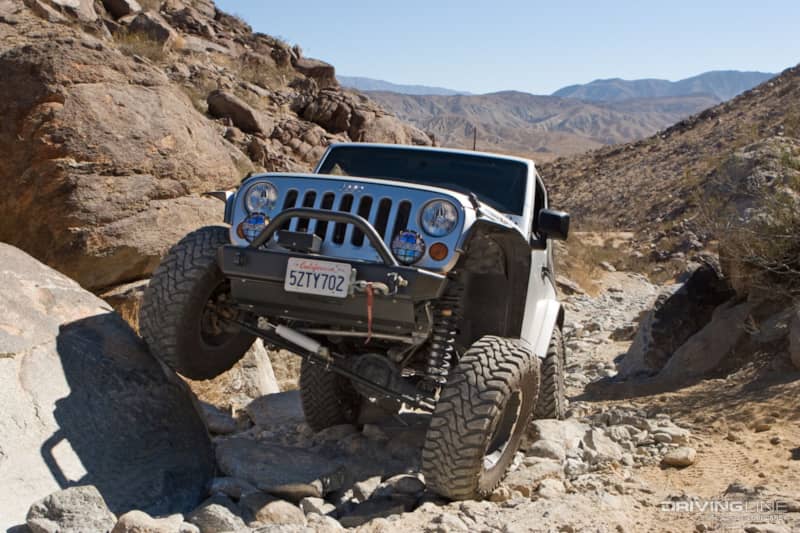 Aftermarket options were limited in 2007 because manufacturers were still busy designing and testing for the JK platform. The JK chassis is wider than the previous TJ model, and the two-door has a slightly longer wheelbase, but remains fairly compact. My original build plan called for a modest lift so I could fit 35-inch-tall tires. Because my Jeep is my daily driver and grocery getter, I wanted it to be capable off-road, but well behaved on pavement.
After researching the options available at the time, I went with the Full Traction Ultimate 3-inch lift. In addition to longer coils and shocks, the kit included adjustable lower and upper control arms, adjustable front and rear track bars, bumpstop extensions, brake line relocation brackets, longer sway bar links for the rear and disconnecting sway bar links for the front. I added JKS Quicker Disconnects for the front sway bar. The kit contained everything I needed to reposition and center my axles, set the rear pinion angle, and set the caster angle after installing the lift and adding bigger tires. We added heavy-duty springs, and when it was finished, my lift measured out at a shocking 5.5 inches. We also replaced the 4.10 stock gears with 5.13 Superior gears and reprogrammed the speedometer. Off Road Evolution, owned by Nitto driver Mel Wade, did the lift kit install and differential re-gear.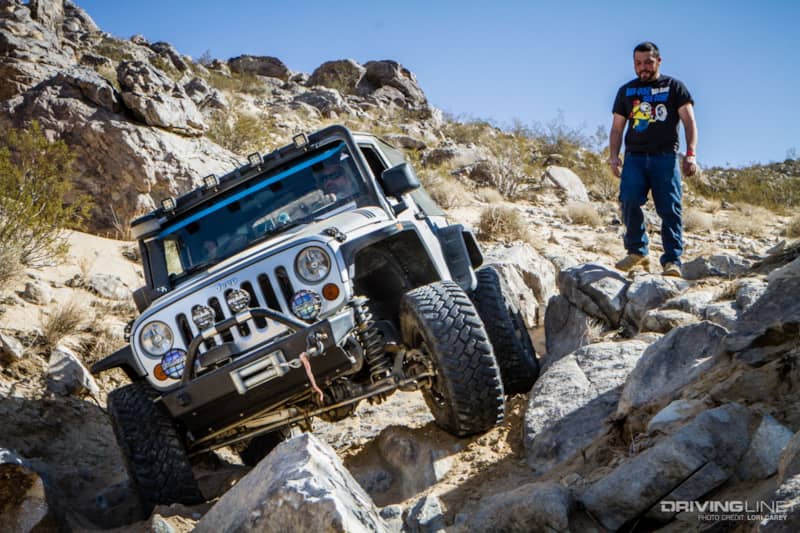 I had it on the trail with friends the next day to learn some basic rockcrawling skills, and I learned the hard way that the front driveshaft would need to be upgraded. I replaced the stock driveshaft with a JE Reel 1350 double cardan driveshaft. Shortly after, my rear driveshaft exploded, and it was also replaced with a JE Reel 1350. Crown extended brake lines came next.
Because the lift was higher than we had anticipated, to correct the steering geometry, I added a track bar relocation bracket to the rear and a drop pitman arm to the front. The ride was dialed in, the suspension gave great performance on the trail, and it remained that way for many years.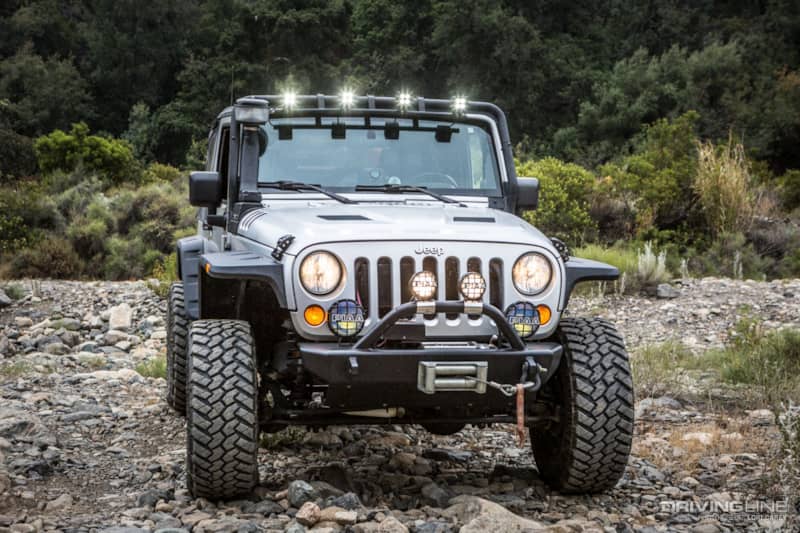 The off-roading bug bit us and we started hitting the trails with friends a couple times a month. At 5.5 inches of lift, there were many times that I felt my center of gravity was too high. I added Spidertrax wheel spacers to widen the stance and lower the center of gravity, but the comfort factor on steep off-camber trails still wasn't there. When I trashed my rear end two years ago and returned to Off Road Evolution for help figuring out what the problem was, Mel convinced me to lower my Jeep. Now it feels much more stable off camber and I haven't sacrificed any performance.
Any time you buy the first model year of a new generation vehicle, you are a guinea pig. My friends and I realized early on that Wrangler JKs with automatic transmissions had a problem with the transmission overheating on long steep climbs, and I installed a Summit Racing transmission cooler. Years later there was a factory recall for the problem. We also realized that the EVAP canister was in a vulnerable position, and Brett Woods relocated mine with his relocation kit. After I smashed the stock steering stabilizer on the rocks, it was upgraded with an aftermarket stabilizer.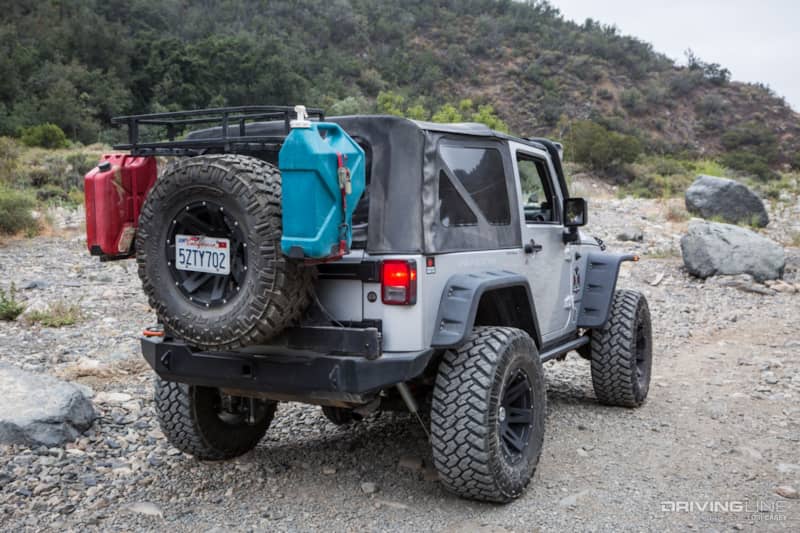 My front stubby bumper with skidplate and my frame-mounted rock rails are both from Shrockworks. They are bombproof! A Warn winch sits inside the front bumper where it doesn't block airflow through the grille. My rear bumper is a first generation LOD Off Road Xpedition Series with tire carrier, trail rack and Jerry can holders. At the time, LOD was the only company offering a tire carrier with those extras, which are vital for extended off-road trips.
I still have the stock Sahara axles – Dana 30 front and Dana 44 rear. They've been sleeved and gusseted by Off Road Evolution. My front axle is my weak point, but the worst damage I've done so far is a bent stub shaft. Teraflex covers protect the differentials.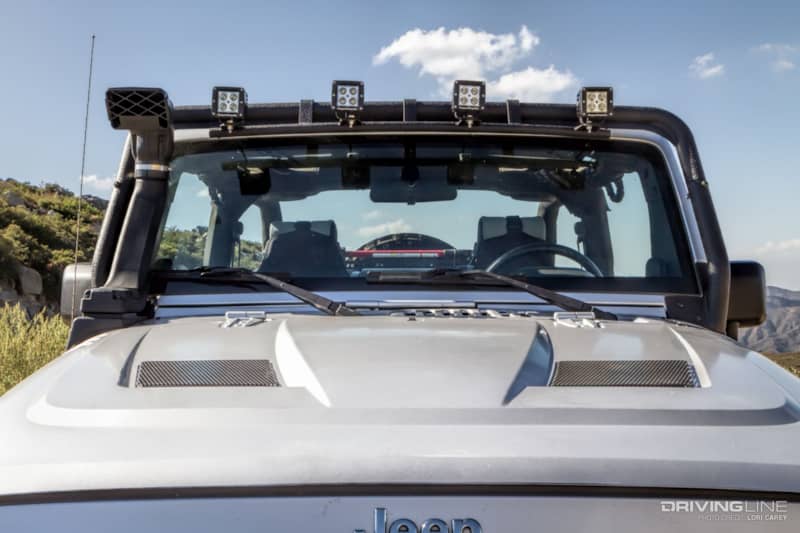 A Rugged Ridge snorkel and a Performance Vented Hood help keep the engine compartment cooler. For more storage space, I removed the rear seat and the subwoofer the first week I owned my Jeep.
One of the best things about a Wrangler is that it can be changed to suit your mood. During the summer my Jeep usually sports Rugged Ridge half doors, a SpiderWebShade to keep the sun off our heads, a Mopar soft top boot for a neat and clean look, and my lockable storage box.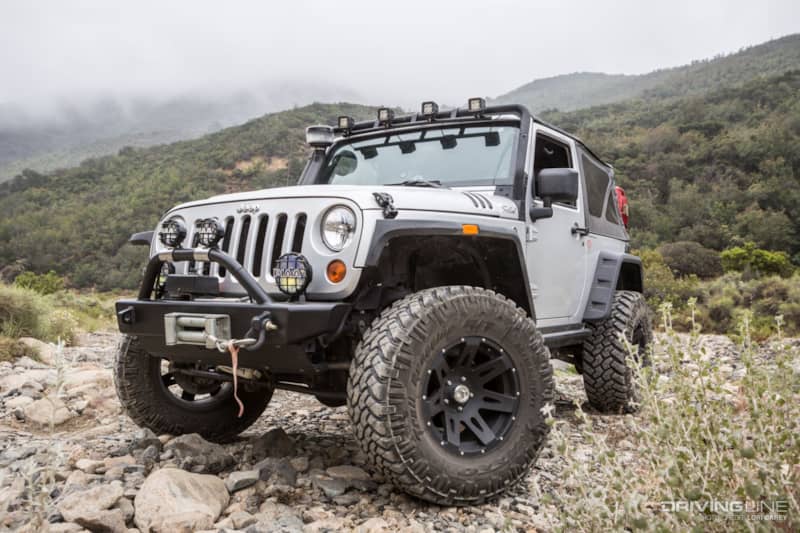 My current set up lets me tackle a black diamond trail like John Bull or Holcomb Creek and make it look it easy, but still has the on-pavement manners to handle daily driver duties.
Quick Specs
Model: 2007 Jeep Wrangler Sahara
Engine: 3.8L V-6
Transmission: 42RLE w/Summit Racing cooler
Transfer case: NVG241
Axles (f/r): High-pinion Dana 30 w/EVO Mfg sleeves and gussets/Dana 44 rear w/limited slip, 5.13 gears
Suspension: Modified Full Traction Ultimate 3-in, Bilstein shocks, JKS sway bar disconnects
Tires: 35x12.50R17 Nitto Trail Grappler
Wheels: Rugged Ridge 17x9
Save