Wider, Lighter & Better: Wheels & Tires are the First Step Toward Making our Tesla Model 3 Track-Ready
"This Tesla Model 3 is a lot like my old Mustang GT." It's a strange thought. But one that's been in my head a lot lately.
But how does that make sense? My 2020 Tesla Model 3 Performance is a vastly different type of vehicle than my S550 Mustang GT was.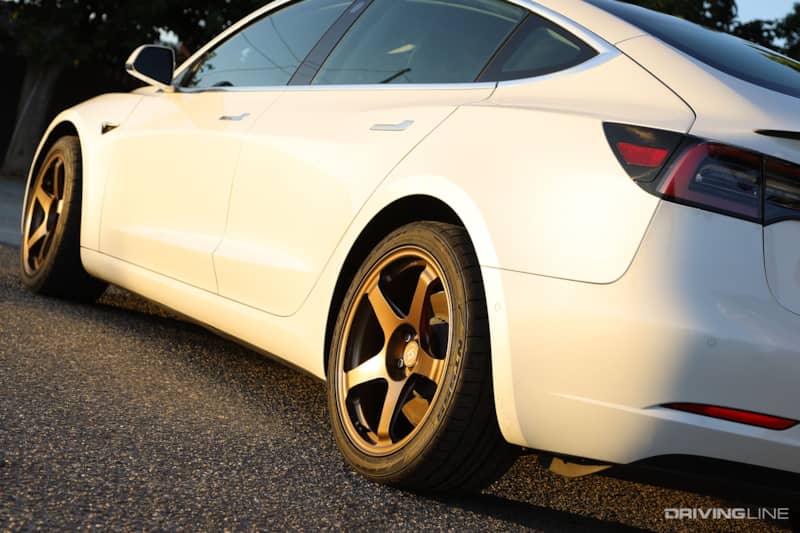 The Tesla, of course, is an an-wheel-drive battery electric sedan and the Mustang is a rear-drive coupe with a manual transmission and an old-school gasoline-burning V8.
But the more time I spent behind the wheel of the Model 3, and the more I began to plan out its upgrades the more I realized that their strengths and weaknesses were much the same — especially if you plan on enjoying track days.
I'll dig more into these similarities soon, but it comes down to both vehicles having great (if slightly heavy) bones and ample horsepower — but suspension tuning and wheel & tire setups that aren't fit for serious driving — particularly in a track setting.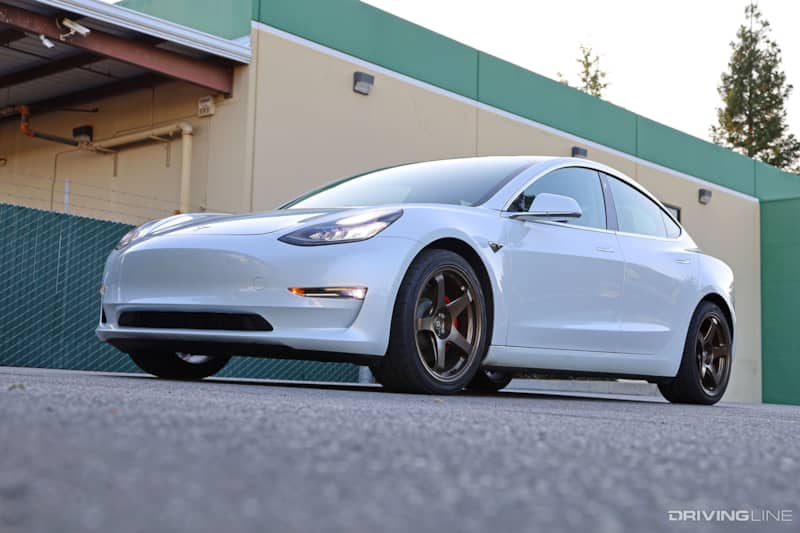 Some Things Never Change
And so just like on my old Mustang, I quickly decided the first upgrade for the Model 3 would be upgrading the wheels and tires.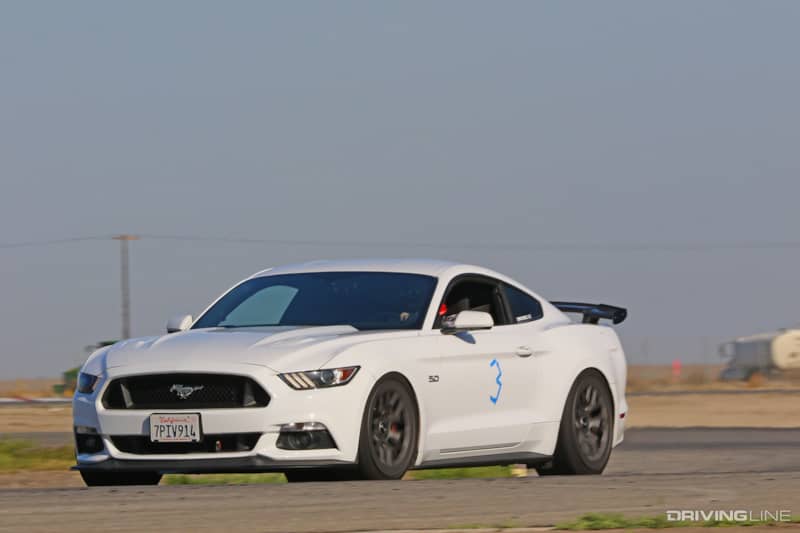 While some might still write off the Model 3 as being a gimmicky EV rather than a bonafide enthusiast machine, there's a passionate and growing community of gearhead Tesla owners who spend their weekends setting hot laps, and doing so with great success. It's a big part of what drew me to the platform.
This also means that numerous companies have released aftermarket wheels aimed at Tesla owners looking to shave valuable unsprung mass and allow the fitment of larger, grippier tires.
One of those companies is Titan 7, who offers ultra-light, fully forged wheels for everything from sports cars to off-road rigs — and the Model 3 happens to be one of their big platforms.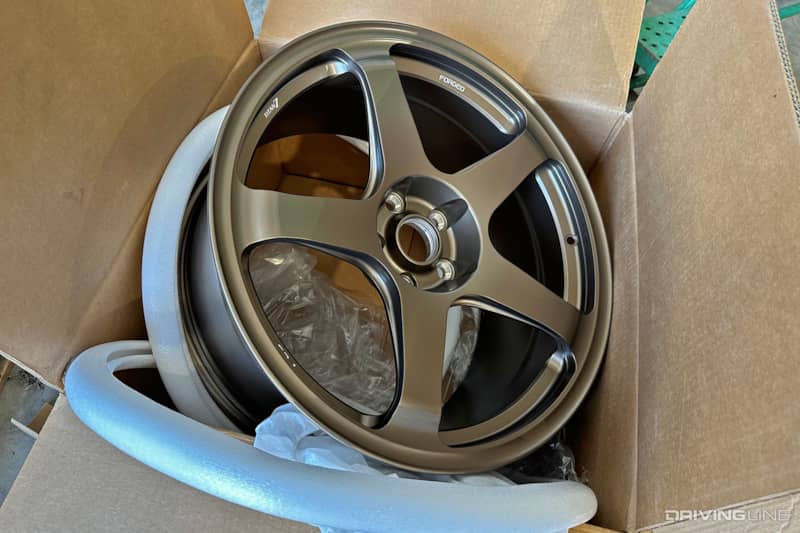 Titan7 makes several wheels for the Model 3 including the Techna Bronze T-C5s you see here. And when I say "made for the Model 3" the fitment is specifically designed for this car, with square sizing all around and no need for spacers or hub-centric rings.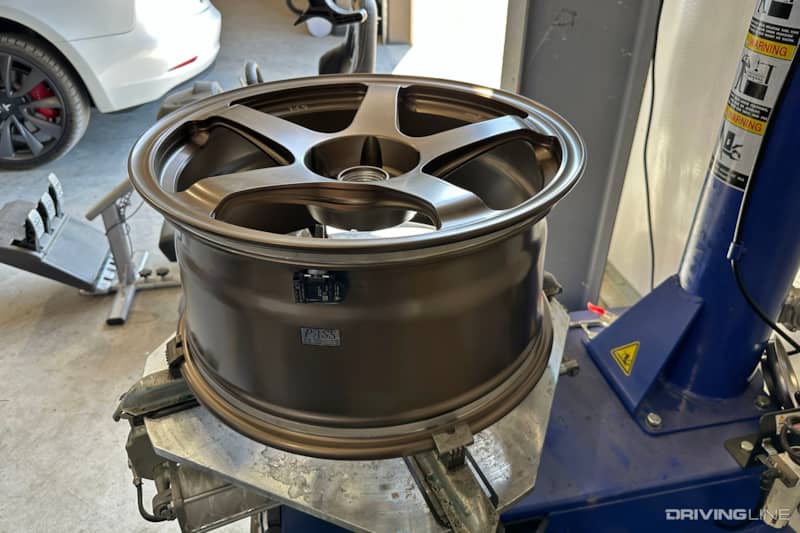 Those Forged Feelings
The T-C5s I went with are 19x9.5" all around, and are one inch smaller in diameter but one inch wider in width than the notoriously heavy 20x8.5" factory Model 3 Performance wheels.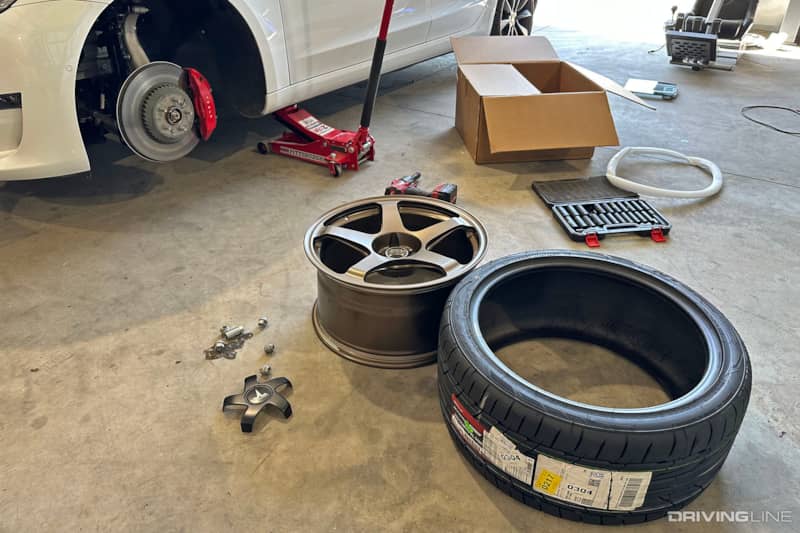 And matching up with the Titan7s would be the same tire I used on that aforementioned Mustang, the Nitto NT555 G2 sized 265/35R19 all around and a big jump from the stock 235-width tires.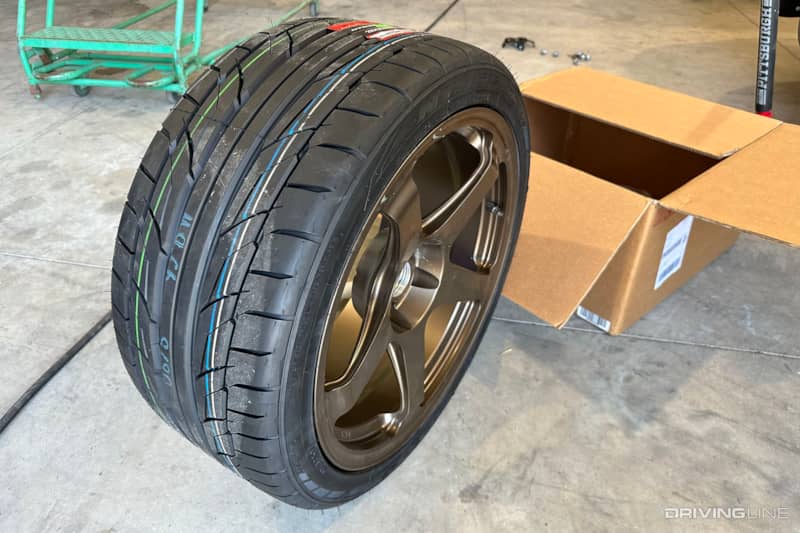 How about overall weight? Saving unsprung weight is a big deal on any vehicle, but even more so on an electric car like the Model 3 where wheel and tire weight can have a sizable impact on driving range, including the amount of laps you can put in before you have to hit the nearest Supercharger.
The combined weight for the stock wheel and tire and the Titan7 & NT555 G2 tires ended up being basically identical. And while that may not sound like a win at first, it absolutely is once you consider the new setup has a wider wheel and a significantly wider tire size.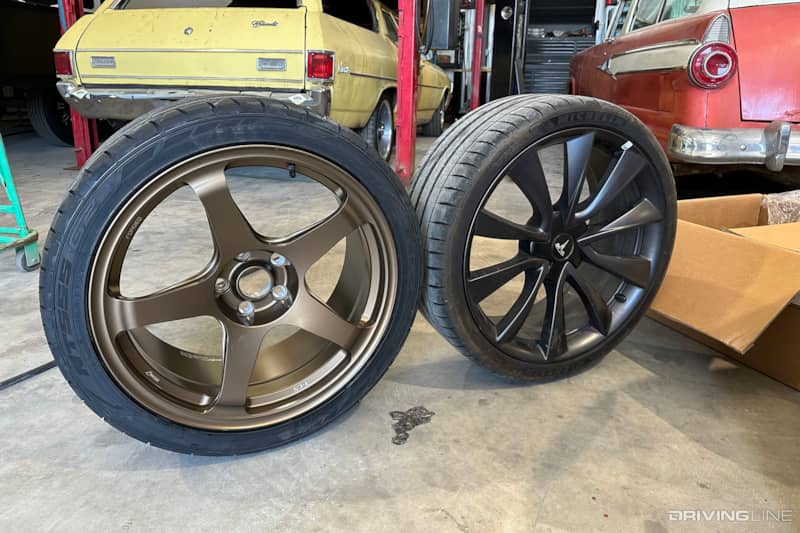 Installing the new setup was a breeze. I simply re-used the TPMS sensors from the stock wheels, installed them and mounted the wheels on the car. Not only did the wheels fit without issue, I was even able to use the stock Tesla lugnuts.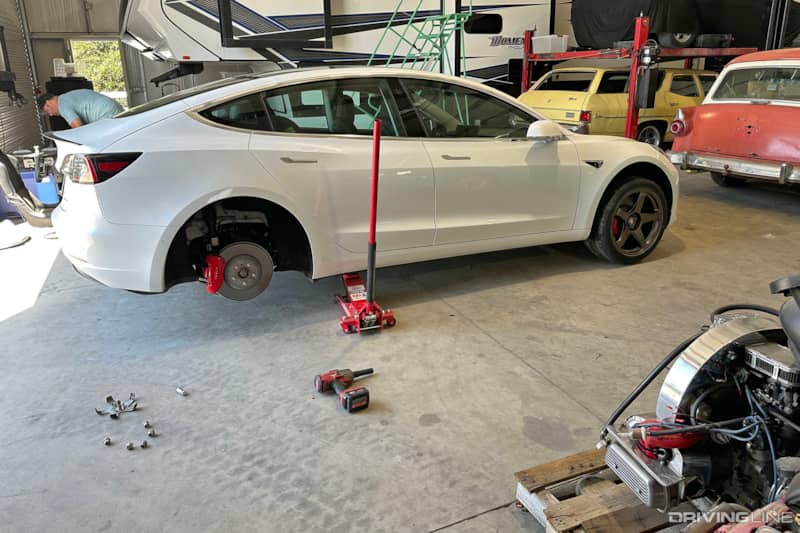 Dialed-In
Once all four were fitted, the difference in visual character was striking, and I was fully convinced that 19-inch is an excellent wheel size for the Model 3 Performance. The wheels easily clear the Brembo brakes, still fill out the fenders, and allow you just a bit more sidewall.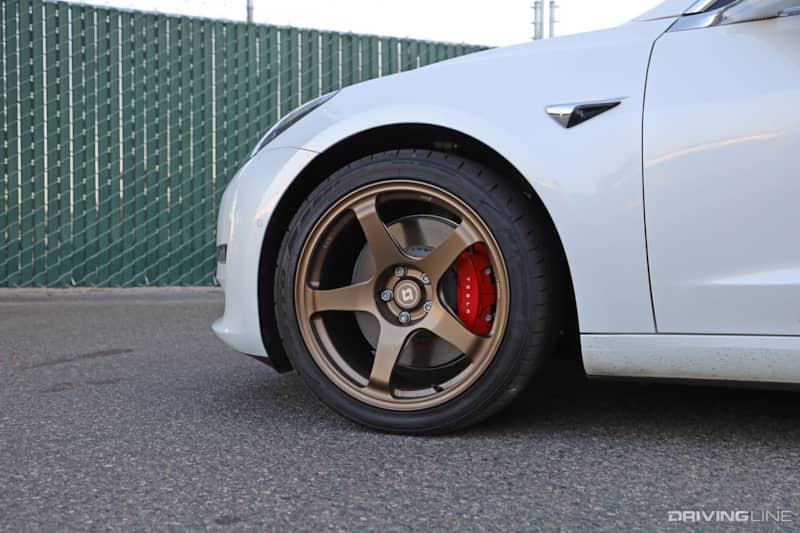 To me, the ability of the Model 3 to swallow up very wide wheels and tires without modifications in one of the most under appreciated things about the car, and something that makes it an excellent track vehicle.
I mean just look at the photos. The new wheels are an inch-wider and tires went from 235s to 265s on all four corners, and it doesn't even look like an extreme change.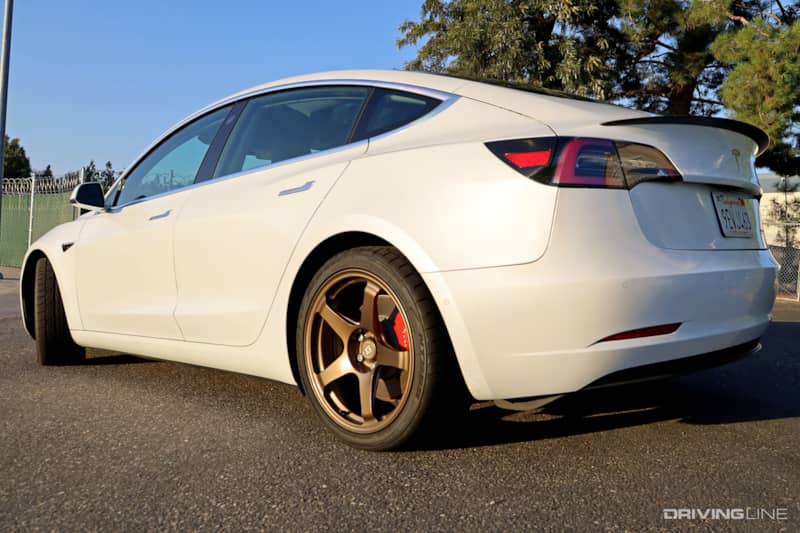 Behind the wheel, it was immediately obvious why wider wheels and wider, grippier tires are the most popular upgrade for Model 3 owners with track aspirations. The seat of the pants feeling is a huge improvement in lateral grip without any decline in ride quality manners or road noise levels.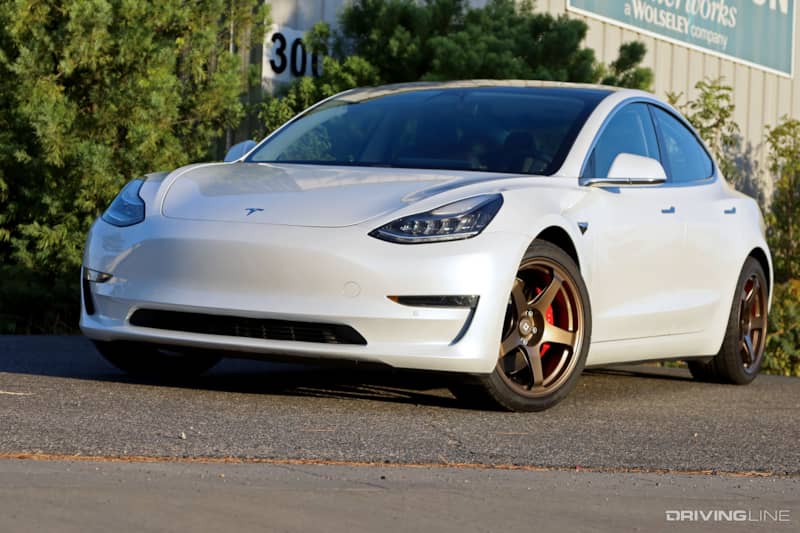 Go Fast, Look Good
I should also say that I love how the wheels and tires look on the car. The timeless five-spoke design is aggressive but simple, and as an added bonus, my Model 3 stands out a bit in the sea of white Teslas out there.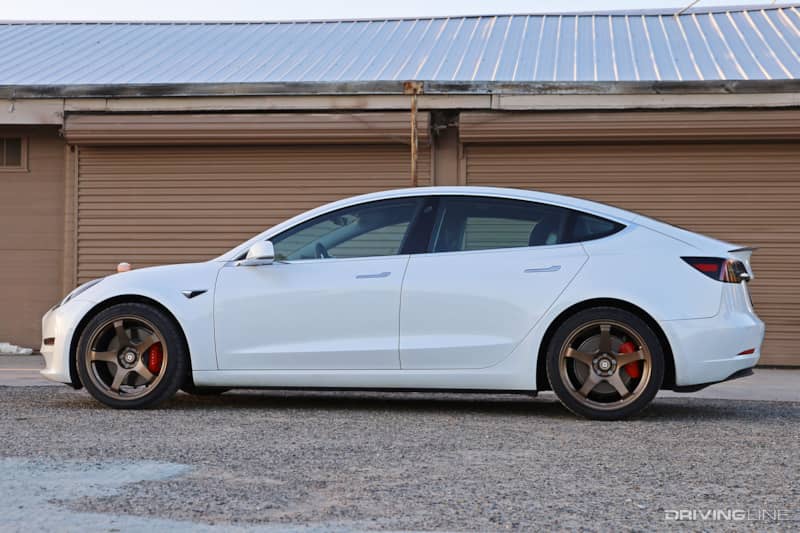 But this, of course, is just the beginning of the Model 3's transformation into a track-capable electric sedan that can run with Civic Type Rs, BMW M3s and other gasoline performance cars at track days.
And now that the wheels and tires are dialed in, it's time to start attacking the chassis and suspension, this time with the help of the Tesla track day specialists at Mountain Pass Performance.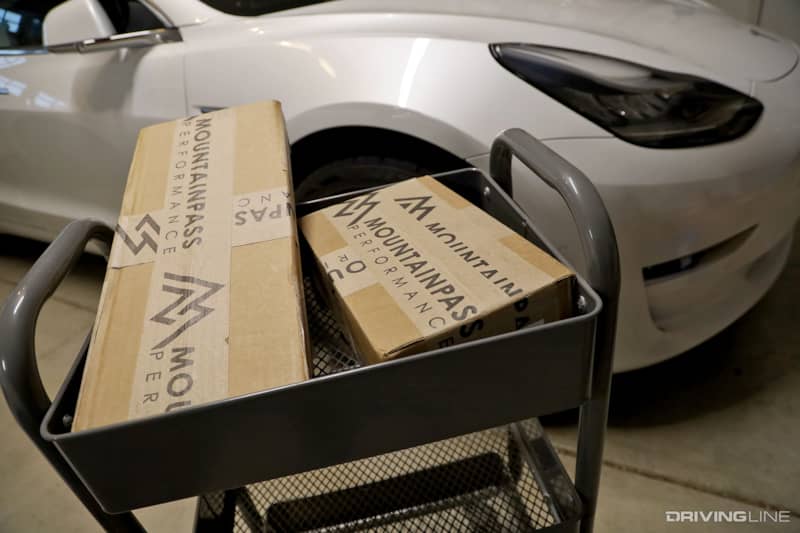 Stay tuned, because if these upgrades change the Model 3 the way they changed the Mustang, things are about to get very fun and hopefully very fast.