10 Influential Chevy Truck Builds from the West (And 1 Incredible Ford F100)
What started out as a pre-show get together has become a fully sanctioned event of its own. 10-years ago Dino Battilana invited a few Chevy truck enthusiasts to his place in the Phoenix area to hang out before a local Goodguys show. Well, word spread about this pre-show meet and the small hangout grew into a mini show. Every year we have attended Dino's Git Down, we have seen more and more rides in attendance.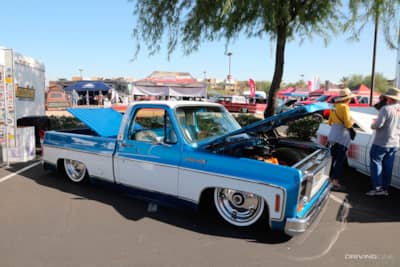 As the years went by, this free event started to gain some notoriety as people would travel from across the country for it. It's become so big that Dino decided to move the party from his appliance shop to the parking lot of the Westgate Entertainment District in Glendale, AZ. Since this year was the 10-year anniversary of the Git Down, it was now held on two full days (November 13 & 14) and the venue space was increased as well.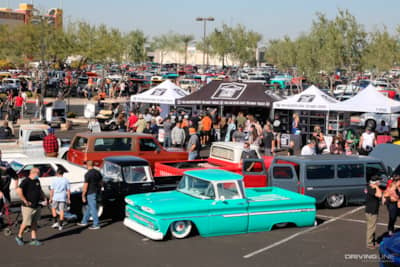 2020 has proved to be a very challenging year for events and the Git Down saw a few changes as well. To help prevent the spread of Covid-19, Dino required everyone in attendance to wear a mask. There were open spaces to help avoid large gatherings and there were even stations with hand sanitizer dispensers. Despite the new protocols, thousands came to make it one of the best truck events of the year. Even better, there were some trucks we've never seen before along with some fresh debuts that made it an unforgettable weekend.
10. Jeff Jordan's '56 Chevy
This stunning truck came to life when Jeff and his son decided to build something, they could be proud of. Every inch of this truck was redone to include a beautifully finished body and leather upholstered interior. It's also powered by a 406ci small block engine that spins those Nitto NT555 G2 tires with ease.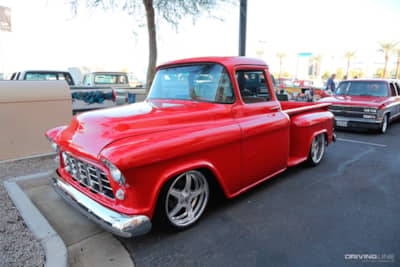 9. Mark Lych's '49 Chevy
Not overly done, this sleek truck has all the right pieces to make it the perfect cruiser. Starting at the foundation, a Roadster Shop coil-over chassis was implanted for a superior ride that can handle modern power. Speaking of performance, this truck has a 5.3L LS engine to get it down the road fast. The exterior was finished off with a metallic blue paint that contrasts with the 20-inch US Wheel Smoothies and Nitto NT555 G2 tires.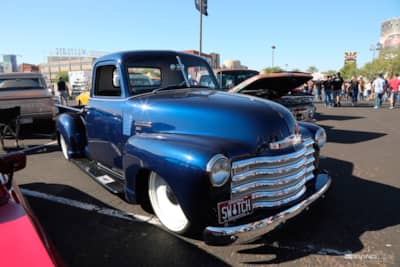 8.
Ric Maestas' '58 GMC 100
Patina trucks with their rusty bodies have been a big hit with crowds over the last few years and this '58 is a perfect example of this. With front and rear GSI suspension components, this airbagged truck sits flat on the ground to shock all. Its fully complete with an LSX 454 under the hood and leather covered bench seat. The only thing missing is paint but we dig it as is.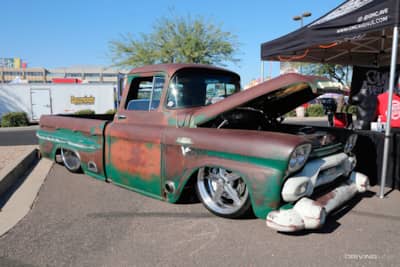 7. Fester Adams' "Red Rocker" '85 Chevy C10
Though this truck build is 15-years old, it still holds its own today. It was originally owned by Travis Noack, who was a magazine editor that enlisted the help of the talented folks at Hill's Hot Rods. It has been completely slicked out on the inside and out. The fire red body sits low with an airbagged chassis to let it tuck the 20 and 22-inch billet wheels with Nitto NT555 tires. It was recently purchased by Fester Adams and he keeps it in such good condition that it looks like it was just finished.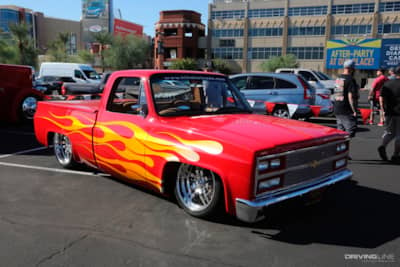 6. Warren Walcher's '67 Chevy C10
Built by Big Willie's Garage, this classic Chevy is like no other. It does have a few familiar components like a 468ci big block engine and air ride that bring it up to today's standards. The exterior was also finely crafted with a one-piece front clip with splitter under the bumper and Hart Fab inner fenders. The rear was reshaped to have an intergrated spoiler and at the bottom is a custom diffuser. Painted in House of Kolor Limetime green, it was rightfully dubbed "The Grinch."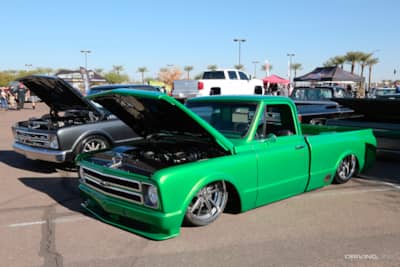 5. Dino Battilana's "Black Widow" '74 Chevy C10 Step Side
Not only does Dino put on a kickass party, he is also a huge fan of Chevy vehicles. He had a multitude of cars and trucks at the show but this one really caught our eye. When he purchased this truck, it was infested with black widow spiders, hence the name. the truck is laid out and has an LS3 engine with Edelbrock E-Force supercharger to make it an absolute bullet on the road.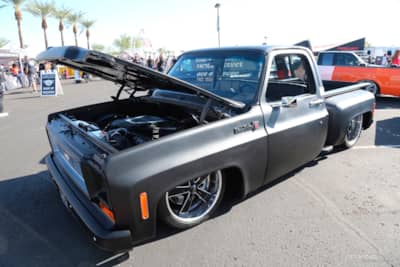 4. Travis Dulgerian's '64 Chevy Suburban
As the owner of suspension company, Pro Performance, Travis was looking to build a vehicle that could haul the family and show off his parts. In order to get to shows quicker, Travis had a 6.0L LS engine swapped in and boosted it with a turbo. The mild 'bagged stance showcases the 20-inch billet wheels with Nitto NT555 G2 tires.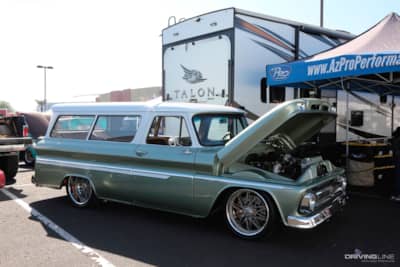 3. Frank Rechlin's '63 GMC
As the owner of Ikandy Paintworks, Frank is always out to make waves with his paint skills. As you can see it has an unusual color scheme that really sticks out from the rest and leaves many either loving it or hating it. It also tucks a set of 22 and 24-inch billet wheels and is powered by a big block Chevy engine. In the back is a custom trunk that has a remote-controlled lid.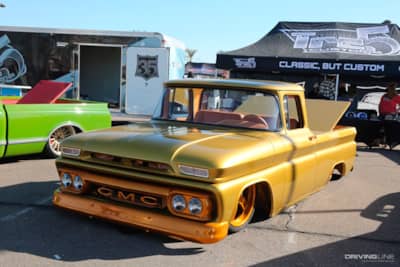 2. Jeff "Speedy" Baumann's '67 Chevy C10
Starting with a farm truck from Idaho, Jeff of Nostalgia Hot Rods had his work cut out for him by having to spend many hours rebuilding this truck for the many custom touches. We love that the exhaust for the 434ci small block exits through the side of the fenders. We also dig the completely custom interior and eye-catching purple and silver paintjob. This truck really stood out from the crowd of C10's at the show.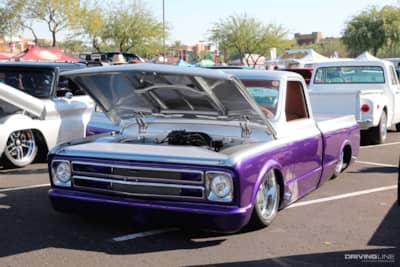 1. Danny Carrasco's "Sonic 56" Chevy 3100
Premier Street Rod is a familiar name with us, and Danny has been seeking their help for some time now. This time around, it was with this '56 Chevy that was built completely from scratch with their replacement cab and sheet metal kit. It sits on a TCI Engineering chassis and has a muted blue paintjob. It's also equipped with a set of Budnik billet wheels and Nitto Invo tires. Giving it a race inspired appearance is the numerous body mods that make it look fast. This truck was originally slated to make a debut at the SEMA Show but with it being cancelled this year, the truck was unveiled at Dino's for the first time.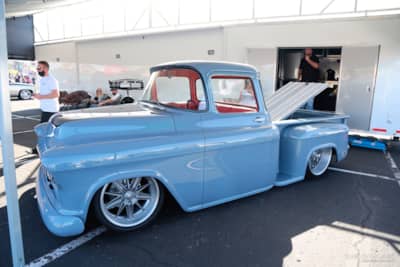 Honorable Mention: Warren Walcher's "El Diablo" Bumpside Ford F100
Though the Git Down is primarily a Chevy event, Dino does let a few choice trucks of other makes in every year. This time, Warren's second truck was allowed in and it was the talk of the town. Built by Big Willie's garage, this truck has a host of body mods like custom side trim, heat extractors on the hood and tucked bumpers that were highly modified. Everything on the truck was custom fitted and the supercharged Coyote engine lets everyone know it means business. This was just another example of the awesomeness that finds its way to this special event.