11 Wildest Builds From Tokyo Auto Salon 2018
Tokyo Auto Salon can be overwhelming to process with so many out-there JDM builds, so we've compiled our pick of the 11 top wildest builds from TAS 2018. Our selection ranges from the exotic to the what-the-heck—without further ado, let's get to it.
1. Aimgain NSX
While last year's show was dominated by the recently released Toyota C-HR, 2018 was dominated by the new Honda NSX. From GT versions to lightly modified street versions, there was plenty of variety on hand. The NSX that caught our eye though was from Aimgain.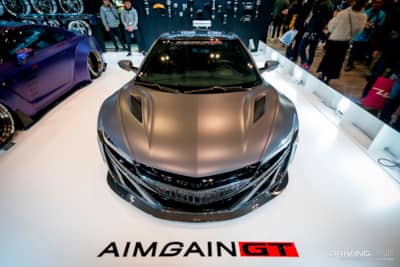 Standing apart from other NSX kits, the Aimgain NSX kit stays close to the original factory lines of the car. Providing an alternative to the riveted look so many widebody kits have caught our attention.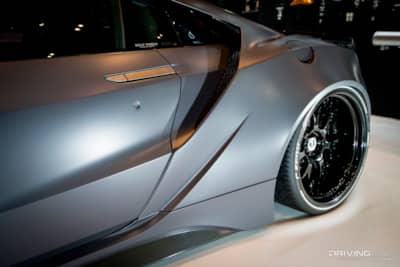 Also causing it to stand out from the pack at TAS, Aimgain's carbon fiber front bumper upgrades the styling while retaining a factory feel and cooling performance. In addition, the extended lower front spoiler strikes the right balance—modified but not overly worked.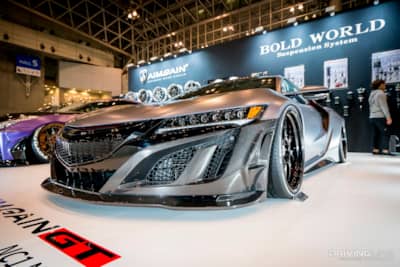 2. Aplerna
Coming from our favorite final-year student-builders from Shizuoka Technical College, "The Aplerna" may look like a Porsche, but don't be fooled. The Aplerna is built on a Daihatsu Copen platform and, as the students put it, "is everyone's dream and desire."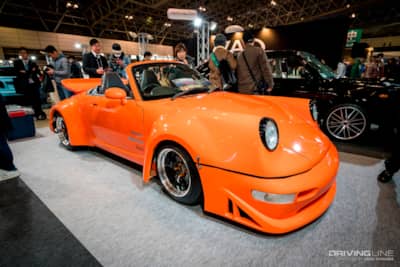 No doubt it could be mistaken for a Porsche, so the students succeeded on that point. As all the Porsche-looking bits were made from scratch, they also succeeded in impressive body work!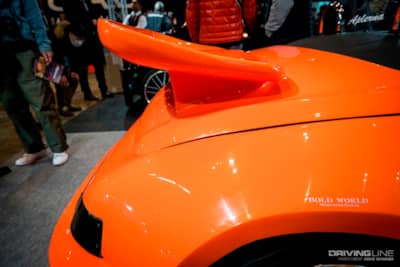 Fitted with 15-inch Work Meister S1s and painted a bright orange, it definitely caught everyone's attention.
3. Jimny
N's Stage Jimny made our list simply because it was the only car sporting a track system. Featuring a quad-track conversion from Westfield, it's fun imagining driving it in the snow, desert, or just to the local grocery store.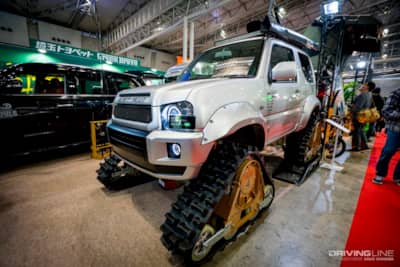 4. Mean Green 1JZ Machine
An RX8 rocking a 1JZ-GTE is enough to make any rotary purist shake their head. The color and new Rocket Bunny aero is sure to reinforce those same purists that whoever did this should never be allowed to touch a rotary powered car again. Sounds like the builder did things just right.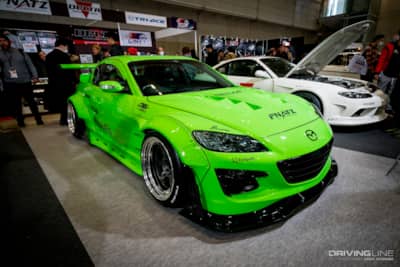 With a JP turbo and HPI outlet, the engine is rated to 450hp. Additionally, the RX8 features a few RE Amemiya goodies including a Super DolphinTail muffler and LSD. We didn't make that name up.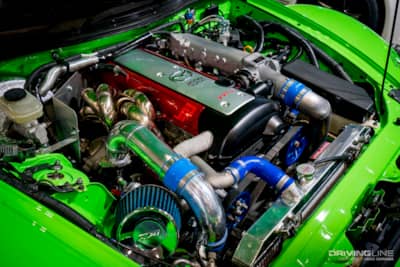 5. Cresta
If you're not careful walking around this Toyota Cresta, you may trip and fall. Built in line with the "zokusha" style, this is the only example we found at TAS this year.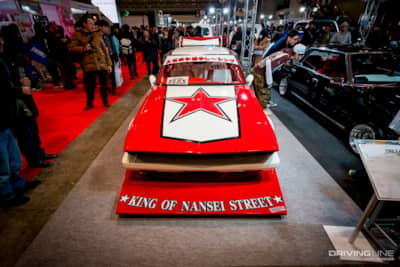 Built by our friends at L-Tide, this Cresta may not be as extreme as some other builds, but has been expertly crafted—everything from the extended front bumper to the tailpipes was flawless. Normally these cars tend to be rough on the inside, but thanks to L-Tide, who specializes is interior work, it was spectacular.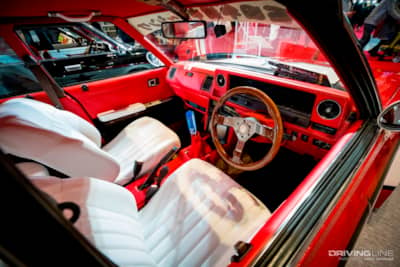 6. Lamborghini Miura Jota
Making us all feel like slackers, Kato-san, the owner of Liberty Walk, revealed not one, not two, but three cars at Tokyo Auto Salon—the star being his interpretation of the legendary Lamborghini Jota.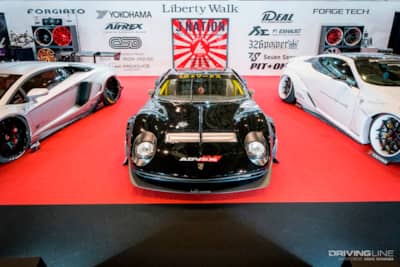 Seeking to recreate the famed Lamborghini Miura Jota, built for racing, Kato-san based his off a Ford GT40. While the interior is all Ford, the body is all Jota. The team at Liberty Walk didn't miss a detail, even the b-pillars replicate the Jota's perfectly.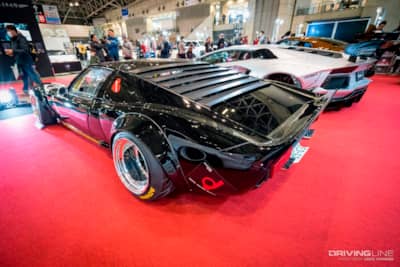 Like any good designer, Kato-san did not just change the car to perfectly replicate a Jota—he used plenty of visual cues from the GT40, such as the rear arches and spoiler.
7. WiLL VS
Blasting "Danger Zone," this Toyota "WiLL VS" built by students at Saitama Automotive University centered on the Top Gun theme.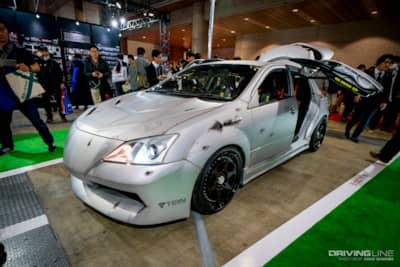 The Top Gun theme was loud and clear with its rear gull-wing doors and jet engine-looking subwoofer enclosure. Details were many, including machine guns hiding the side mirror cameras—the only thing missing was a joystick in place of a steering wheel.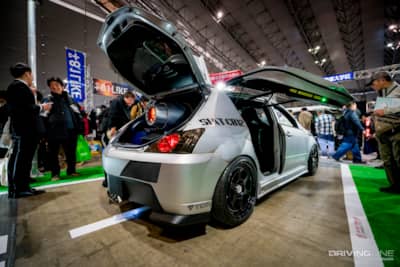 8. Pandem Cayman S
Like Mike Tyson in a white tuxedo, this Pandem Porsche Cayman S matched beefy aggressiveness with refined sophistication. Brought to TAS by the Lowress team, it sported the full Pandem treatment including the classic Pandem white finish.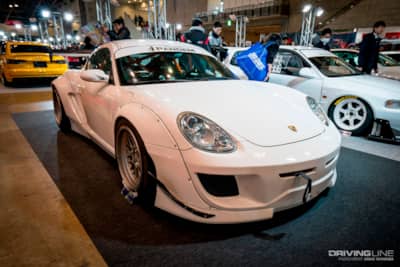 The Pandem goodies continued to the interior, which featured Pandem seats and racing harness. The roll cage and Simoni steering wheel help reinforce the Porsche's racing pedigree. Stuffed beneath those massive Pandem wide fenders, are a set of 6666 wheels (18x9, front; 18x11, rear) with an impressive -40 offset.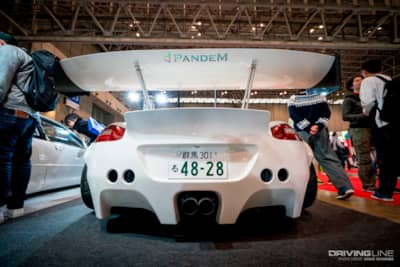 9. LeMans Z4
Taking inspiration from '60s LeMans, Desima built this car based on a BMW Z4. Design cues bring memories of Shelby's LeMans-winning Daytona coupe.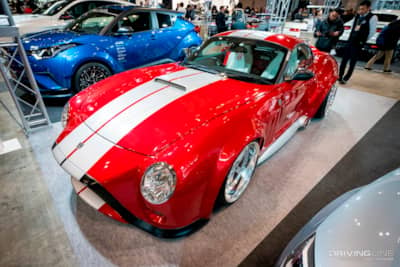 Riding on air suspension from Ideal Super Maximum, the body sits perfectly on deep dish wheels. It must be much more comfortable than the LeMans cars of the '60s.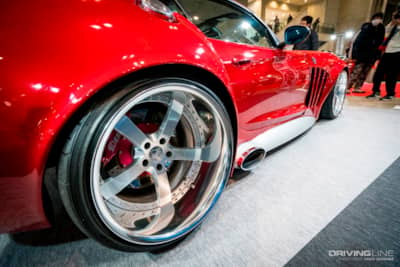 10. Got Boost
This quad-turbo S14 was first seen doing drift demos at last year's FIA Drift Cup, and we can still remember the jet-like sound its four turbines provided.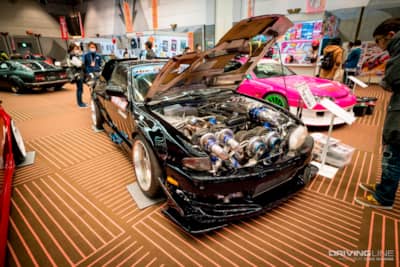 The first two turbos on the 2JZ engine are TD06-17Cs, which begin providing boost at 3,800 rpm while the second two turbos are larger T88-34Ds that kick in at 5,800 rpm. Together with the NOS kit, the engine is putting out an impressive 810hp.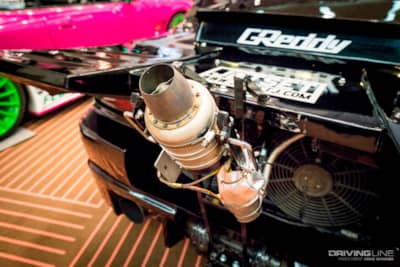 11. Gazoo Racing Super Sport Concept
If race cars are impressive, concept race cars are the stuff of dreams. Take the Gazoo Racing Super Sport Concept—we couldn't stop looking at it.
The GR Super Sport Concept is a 2,400cc hybrid engine producing an amazing 1,000hp.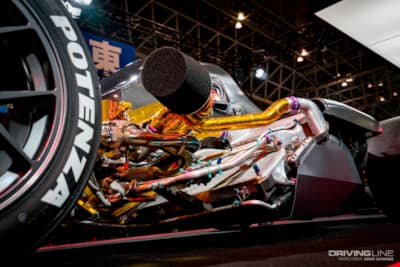 With stunning aerodynamics which appear to have direct design lineage from the Toyota FT-1 Concept—it provides clues that it's also a hybrid, with one side displaying an "F" while the other side is displays an "E." We'll be waiting to see this in action in the near future.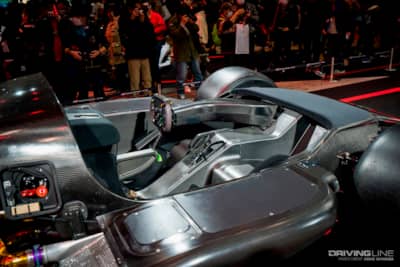 See more from Tokyo Auto Salon, here.