2014 Rally in the 100 Acre Wood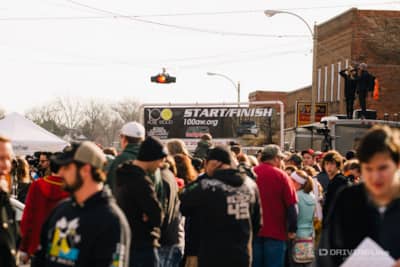 The second stop of the Rally America Championship brought us to Salem, MO for the Rally in the 100 Acre Wood. Contrast to the snowy and icy race last year, the weather stayed warm and dry for the most part resulting in the fast and tight roads this rally is known for. Among the usual suspects were last year's 100AW winners, David Higgins and Craig Drew of Subaru Rally Team USA as well as Rockstar Energy Drink Rally Team's Antoine L'Estage and Marshall Clarke, along with FY Racing's Adam Yeoman and Jordan Schulze. However, most of the buzz in the air was regarding the return of two of the biggest names in action sports, Ken Block and Travis Pastrana. While Hoonigan Racing's Ken Block, a six-time winner at the 100AW rally looks to battle for a 7th win that eluded him last year, Pastrana returns with Subaru Rally Team USA after a three year hiatus and is looking to hit the ground running despite going into the rally recovering from a broken leg. Check out the images below to see who came out on top.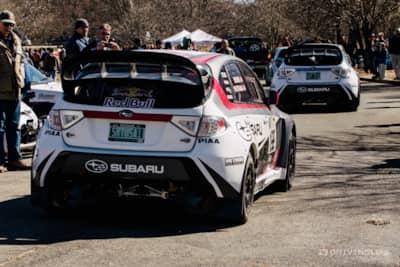 Subaru Rally Team USA teammates David Higgins and Travis Pastrana makes their way into Parc Expose on Day 1.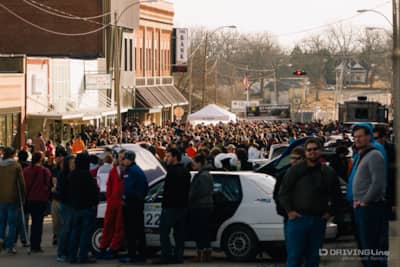 Rally fans descend on downtown Salem, MO to greet drivers at Parc Expose.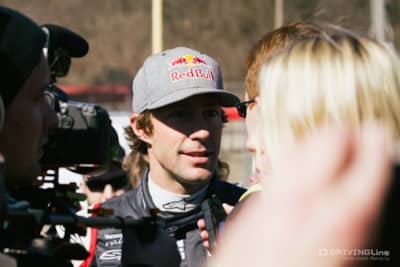 Travis Pastrana is swarmed by media.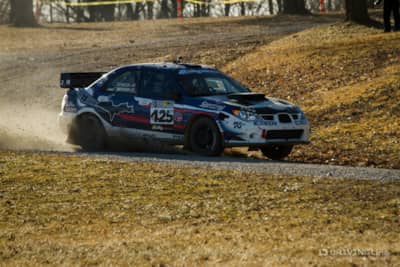 FY Racing's Adam Yeoman and Jordan Schulze are first on the road.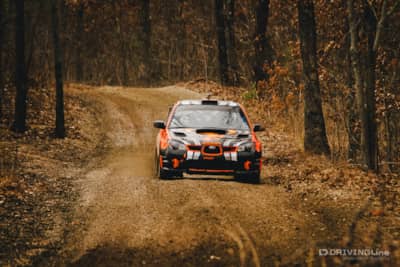 Can-Jam Motorsports' Alexandre Beland and Lyne Murphy are Open Class newcomers in a familiar car.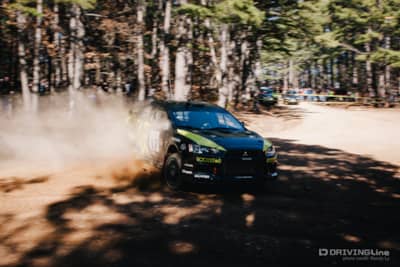 Antoine L'Estage moved up as high as second place before overheating issues forced him to retire on day two.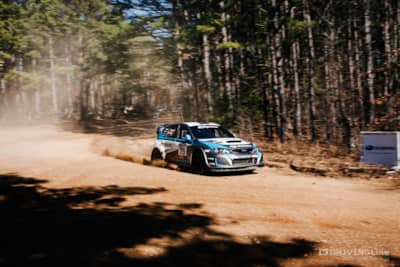 Even after suffering a flat tire, David Higgins and Craig Drew completed day one just 20 seconds behind Ken Block - very much within striking distance.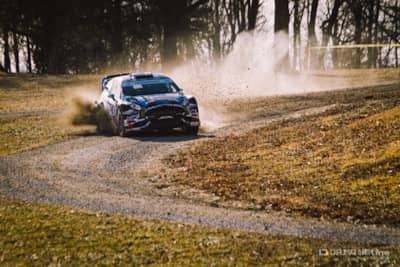 Flying out of the gates were Ken Block and Alex Gelsomino who never gave up the lead from the first stage onward. 100AW was the debut of the much-anticipated 2014 livery on the Hoonigan Racing Ford Fiesta H.F.H.V. Very interesting...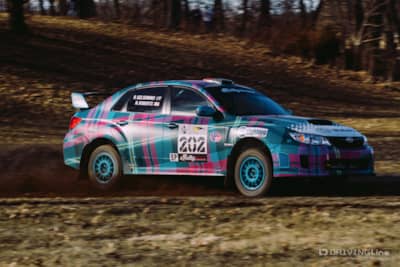 Another notable mention on interesting livery was Super Production class winner Nick Roberts sporting a full plaid wrap.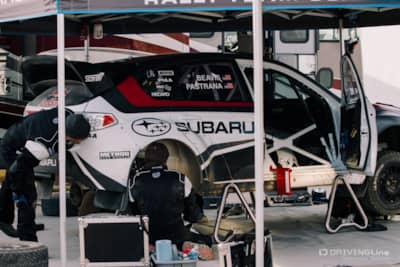 Pastrana's STI comes in for service. He would finish day one in 4th place.
Ken Block looks to add to his lead at the start of day two.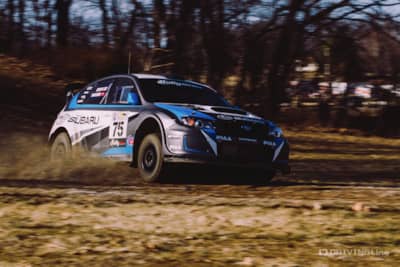 David Higgins and Craig Drew were looking to put up a fight on the second day of the rally, but instead ended the race with an uncharacteristic DNF due to engine issues.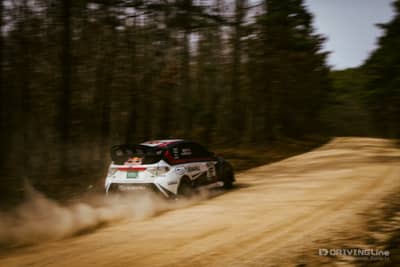 With the retirements of Higgins and L'Estage, Pastrana and co-driver Chrissie Beavis would finish the rally with a 2nd place podium.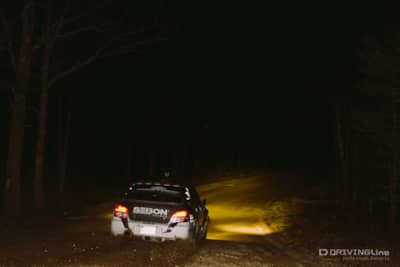 Adam Yeoman and Jordan Schulze round out the podium coming in 3rd.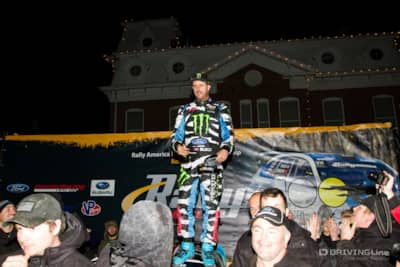 Ken Block wins his 7th 100 Acre Wood Rally! Here are the podiums for all four clases: OPEN
1st: #43 Ken Block/Alessandro Gelsomino (1:37:38.8)
2nd: #99 Travis Pastrana/Christine Beavis (+4:45.5, 1:42:37.3)
3rd: #425 Adam Yeoman/Jordan Schulze (+8:46.2, 1:46:25.0)
SUPER PRODUCTION
1st: #202 Nick Robers/Rhianon Gelsomino (1:49:38.7)
2nd: #600 Dillon Van Way/Andrew Edwards (1:50:27.0)
3rd: #14 David Sterckx/Karen Jankowski (1:51:17.7)
2-WHEEL DRIVE
1st: #20 Andrew Comrie-Picard/Ole Holter (1:52:57.6)
2nd: #46 Matthew Johnson/Jeremy Wimpey (1:54:57.1)
3rd: #22 Troy Miller/ Jeremy Miller (1:57:05.4)
B-CLASS
1st: #902 James Robinson/ James Guitar (2:13:10.6)
2nd: #24 Tracey Gardiner/Tabitha Lohr (2:33:33.6)