2016 Formula Drift Rd2 Atlanta Recap [Gallery]
When the top 3 finishers from Round 1 Streets of Long Beach are eliminated in the Top 32, there's sure to be some wild battles that'll shake up the championship standings. By qualifying first, Vaughn Gittin Jr. earned himself one of the easiest roads to victory at Road Atlanta. Starting with a bye run to open the competition, it continued with a guaranteed podium spot after defeating Tyler McQuarrie in the Nitto Tire Great 8 - which is where he was eliminated in the last round. In the end, it all came down to a pair of veterans, former champions facing off with Gittin going up against Dai Yoshihara in the Blackvue Final Battle. When the smoke cleared, it was the crowd that was cheering for this Mustang. Vaughn Gittin Jr.'s win at Road Atlanta also marks Team Nitto Tire's third consecutive 1st place finish on this course.
(Photos: Luke Munnell, Takuya Akiyama)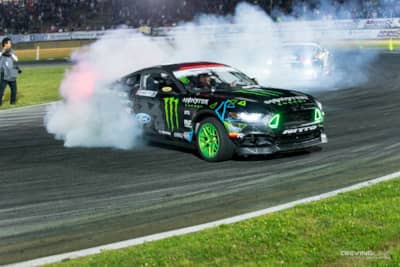 Stay updated on all Formula Drift news and coverage throughout the season at DRIVINGLINE.com/DRIFT.