2016 Formula Drift Rd4 Wall Speedway Recap [Gallery]
As it usually goes, the midway point of every Formula Drift season comes with its own twists and turns, and at Wall Speedway this past weekend, we had not one but two shining moments: Vaughn Gittin Jr. comes up on top again by taking First place (and takes the lead in the points championship as a result) and Alex Heilbrunn clinches his first podium finish ever, taking Third overall and proving why he's a heavy favorite to become Rookie of the Year. How's that for a Nitto double victory? Actually, that's a first as well, having two Nitto drivers podium at a Formula Drift event, and they both did it on proven NT05 tires. "Mad" Mike Whiddett was unfortunately not able to compete since RADBUL had engine trouble before qualifying, but since his car was driven on the track, he was unable to take advantage of a backup car that Chris Forsberg was willing to let him use (props to Forsberg regardless!).
In case you missed it, go for a 360 Virtual Reality drift ride-along with Vaughn Gittin Jr. from Wall Speedway.
Check out the entire Top 32 Play-by-Play from Round 4 of Formula Drift at Wall Speedway.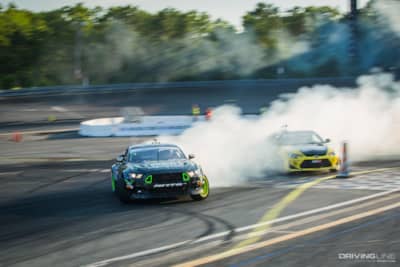 Stay updated on all Formula Drift news and coverage throughout the season at DRIVINGLINE.com/DRIFT.
Save