2016 Nitto Jeep Xperience Presented by Discount Tire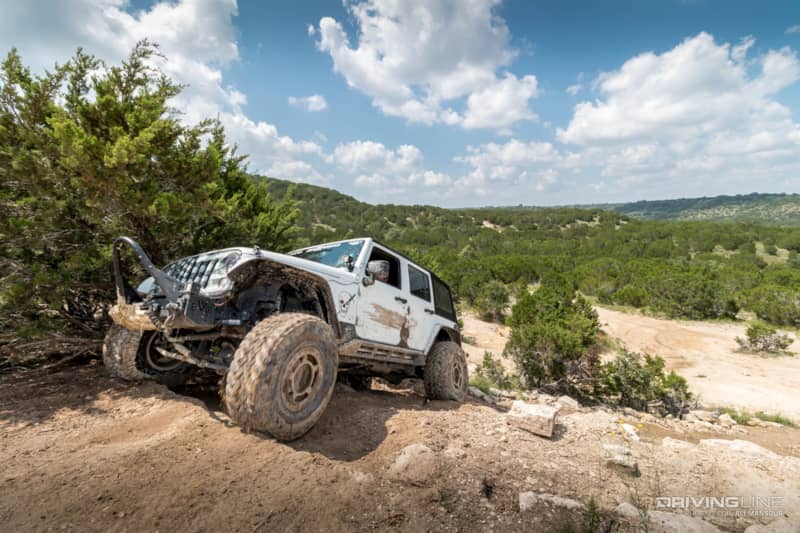 The 2016 Nitto Jeep Xperience presented by Discount Tire did not disappoint. Despite the Marble Falls area of Texas being relentless pounded by rain, it didn't stop over 75 Jeeps from attending the event. Held at Hidden Falls Adventure Park, the Jeep Xpereince had all of the workings of the perfect Memorial Day weekend. With 2,100 acres of 'wheeling land at our disposal, there were plenty of trails and obstacles for Jeeps of all build types.
To make sure each participant got the 'wheeling vacation they were hoping for, Jeepers were given the option of easy, intermediate, and hard trails. We're always up for some hardcore action, so we spent most of our time shadowing alongside those who signed up for some of the more extreme trails.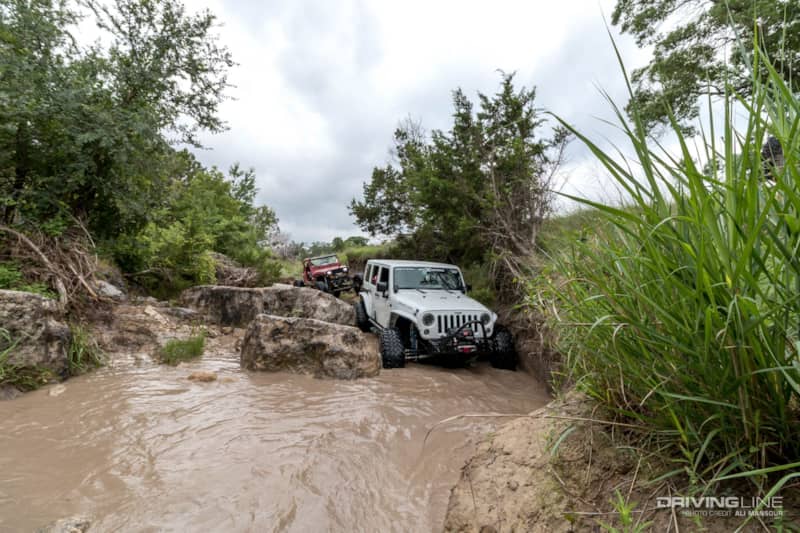 Over the course of two days, participants got to encounter a wide array of the park's trails. Given the amount of rain the park had endured, there was plenty of water to be found.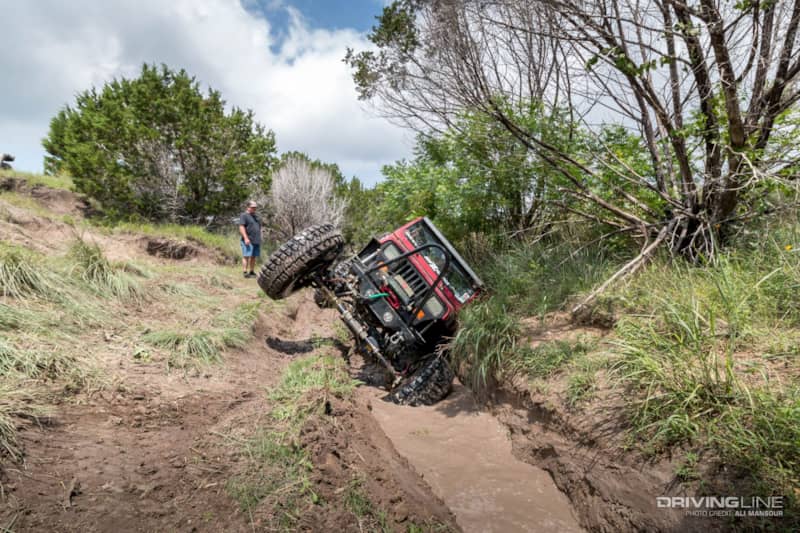 While there was a large showing of Jeep Wrangler JKs, the event was open to all Jeep models. Paul Aleman brought out his custom-built '88 Wrangler. The YJ sports a 350ci small-block Chevy V-8, which is fed by propane. The TH400 transmission sends power to the original NP231 transfer case that feeds a Dana 60 front and Sterling 10.5-inch rear.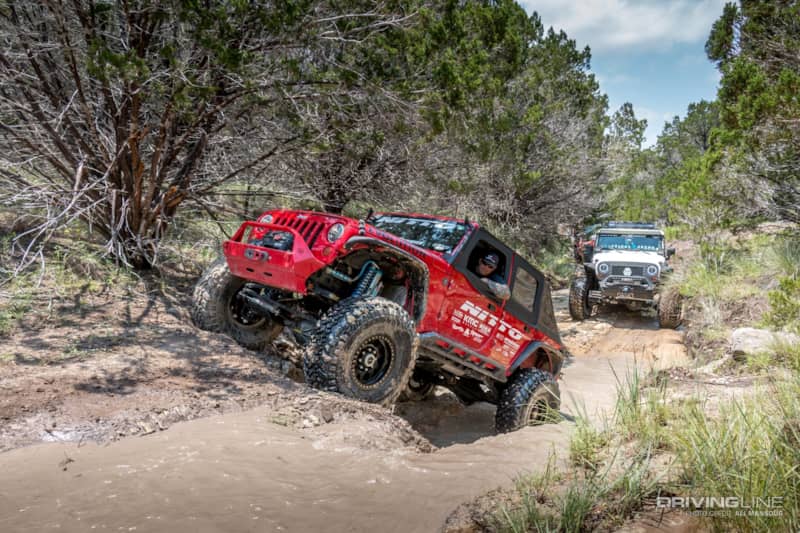 Making the trek all the way from Arizona was two-time King of the Hammers champion and Nitto team racer Loren Healy. Despite being more accustomed to desert trails, Healy had no trouble adapting to the muddy Texas conditions. You can read more about his Off Road Evolution built JK here.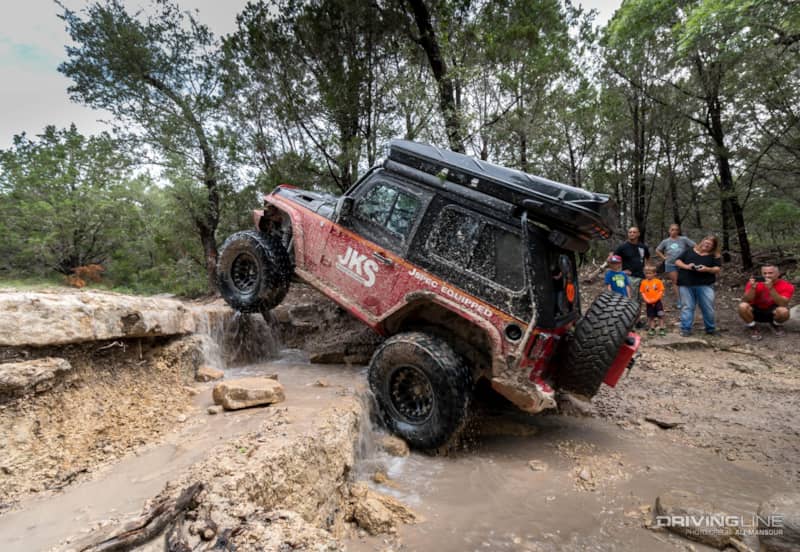 Sponsors are a large part of why events like this are possible. Companies such as JKS Manufacturing not only spend money to support the event, but even send a Jeep and rep to participate in the fun. JKS resident 'wheeler and pitchman Pete Williamsen had no trouble keeping up on the hard lines with the company's overland JK. Yes, that's a tent on his roof.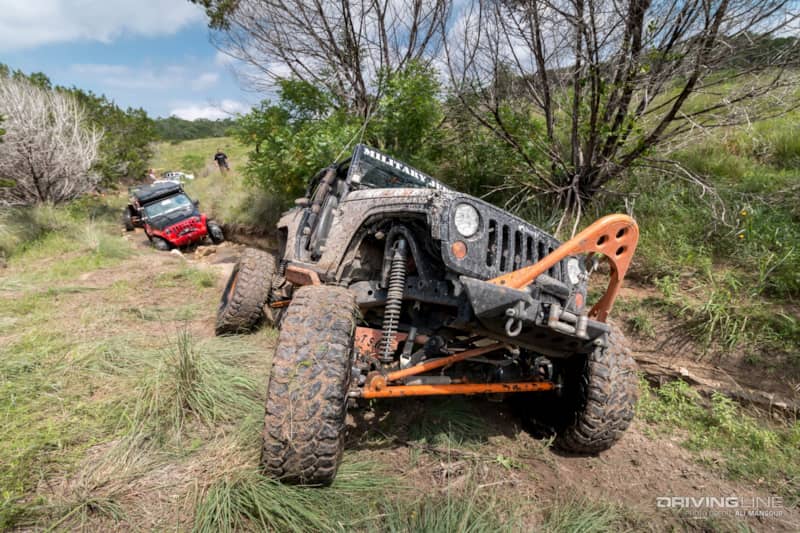 Our trail guide for the hard trails was local 'wheeler and park ranger Mike Bartoszek. His flexy two-door JK is no stranger to these type of events as he spent time on the 2015 East Coast JK Experience. In a place as tree-lined and trail-filled at Hidden Falls, it's worth having a guide to show you the way.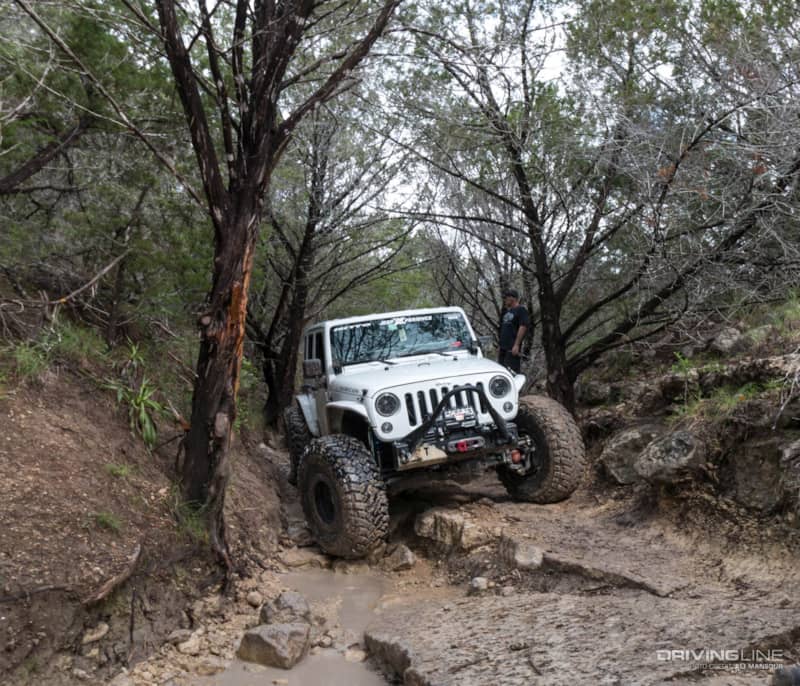 Four-wheeling is a family hobby, and at the Jeep Xperience, your kiddos were more than welcome to come along. Trevor Turner had is '14 Jeep Wrangler Unlimited Rubicon full with his two sons and wife. Ridding on 40-inch Nitto Trail Grapplers and equipped with an EVO Manufacturing suspension, Turner's Jeep had no issues over the weekend.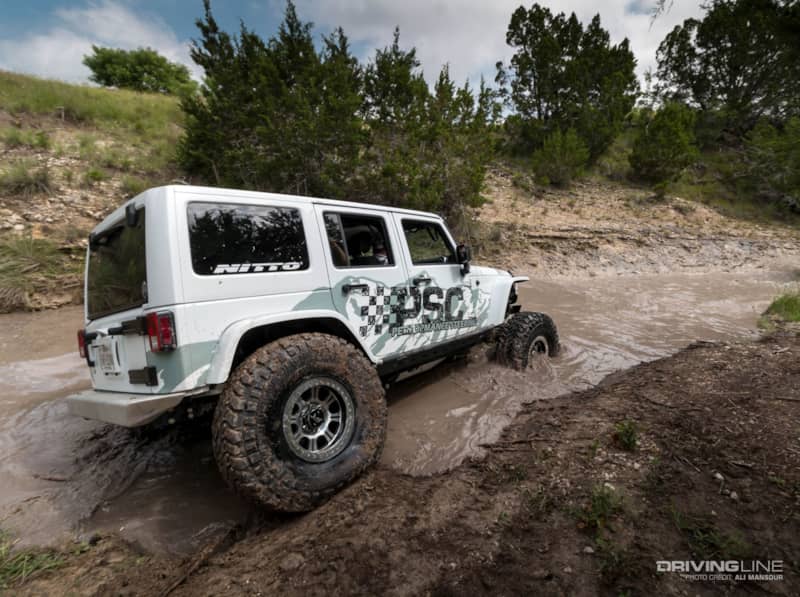 Did we mention deep water? There were plenty of wet feet at days end and some wet interiors! PSC Motorsports brought out its new JK that sports the company's latest parts offering-a LS V-8 conversion. What makes the company's 6.2L especially unique is that it's running the Wrangler's stock transmission! You'll have to contact them directly if you want to get more details.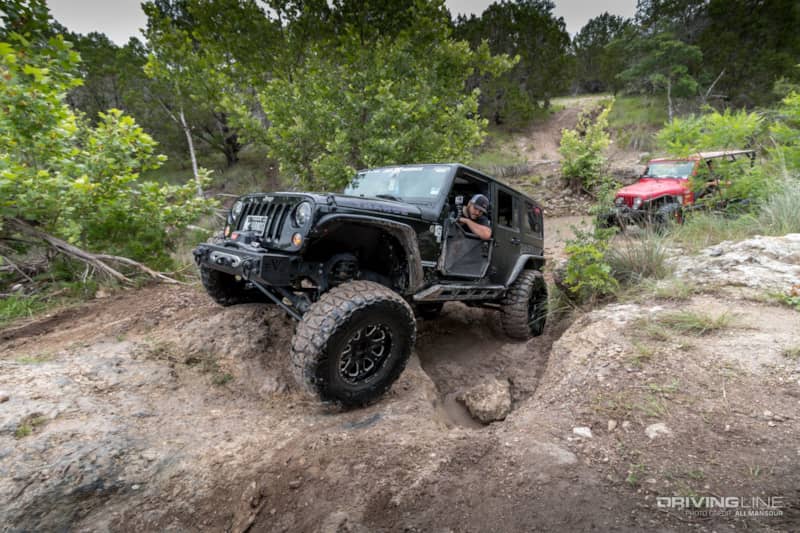 Austin, Texas, native George Garcia and his wife Andi drove their '14 Wrangler Unlimited out for the weekender. Garcia's JK was fit with a host of top-tier products, including a Dynatrac ProRock 44 front axle, Dynatrac ProRock XD 60 rear, ARB Air Lockers, and 37-inch Nitto Mud Grapplers. Garcia installed most of the mods himself at home. In fact, he just wrapped up his EVO MFG Double D long arm a few days before Jeep X. Talk about breaking it in right!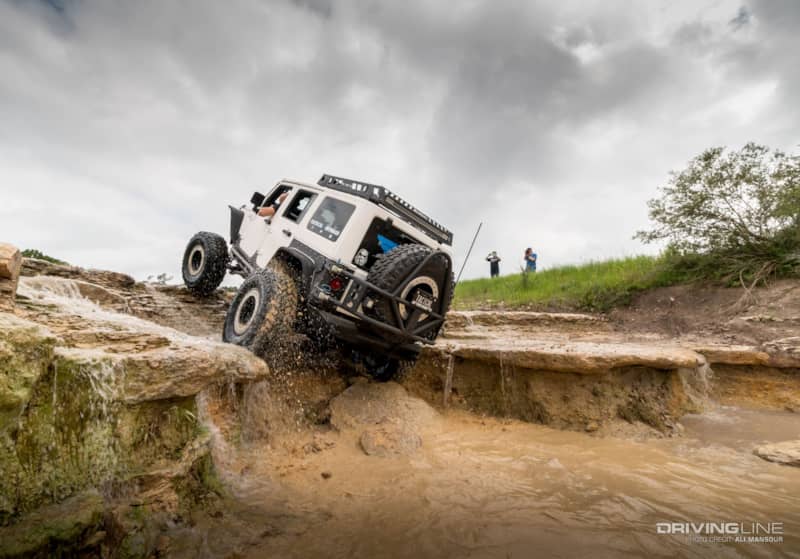 Tactical Off-Road owner CJ Breaux knew when to hammer down and get up the slick 'climbs. Though not all of the ledges at the park have rushing water blasting down them, the ones that do add another layer of difficulty.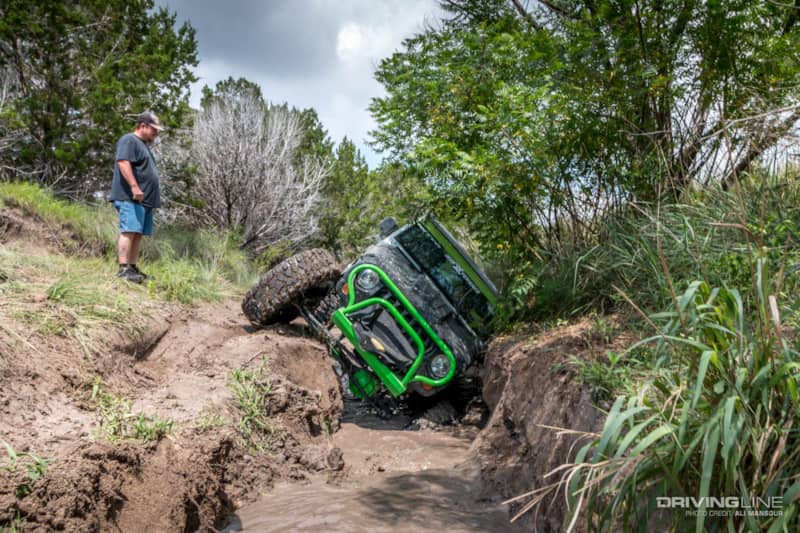 Kevin Barwell got his wife Jessica behind the wheel for this crazy trench section. Let's just say the first attempt didn't go as planned!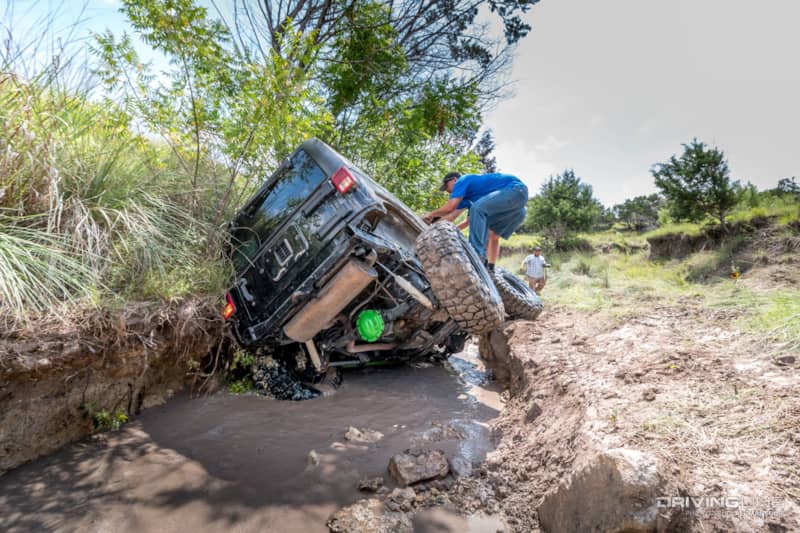 After a little outside assistance, Jessica was able to get the '08 JK back on all fours and maneuver around, instead of through, the Jeep-eating trench.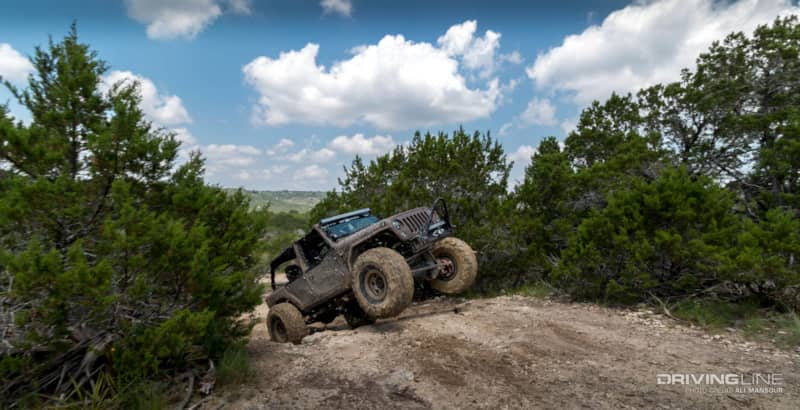 Once you get out of the lower trail basin, you'll find an array of steep hillclimbs around the park. Some require a little momentum to get to the top. Austin Dunn let his '15 Wrangler air out on this particular ledge.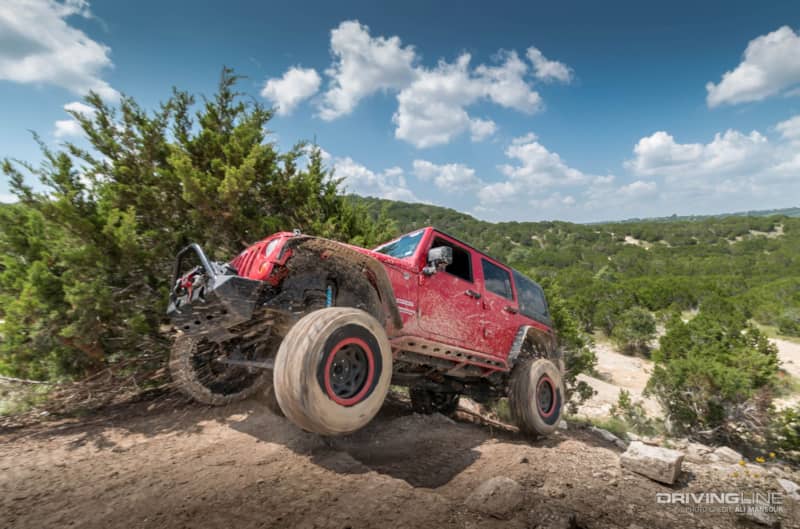 Cole Osmundson wasn't afraid to put the pedal down when he needed to. Equipped with Trail Grapplers and a host of tasteful upgrades, his was one of the many daily driven Jeeps in attendance.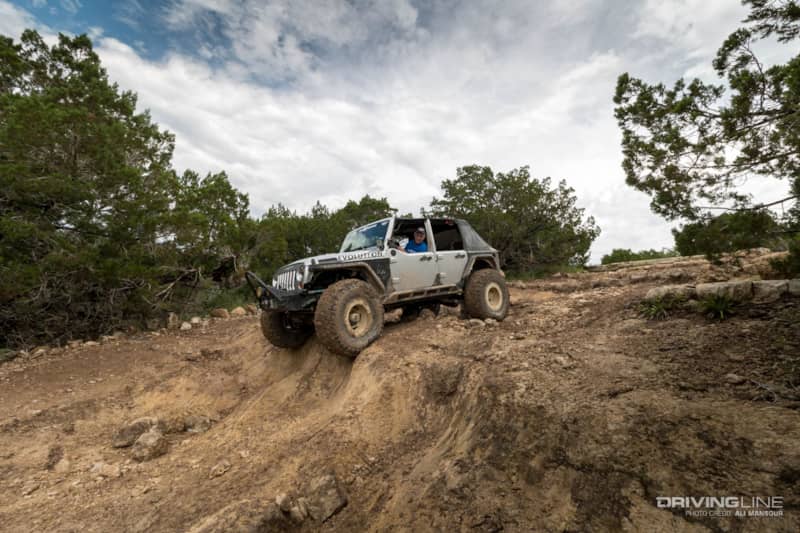 Randy Byers is the only person to participate in every JK Experience to date. The Dallas Texan is one talented wheelman and super nice guy. If you get a chance to 'wheel with him, take it. You'll definitely learn a thing or two.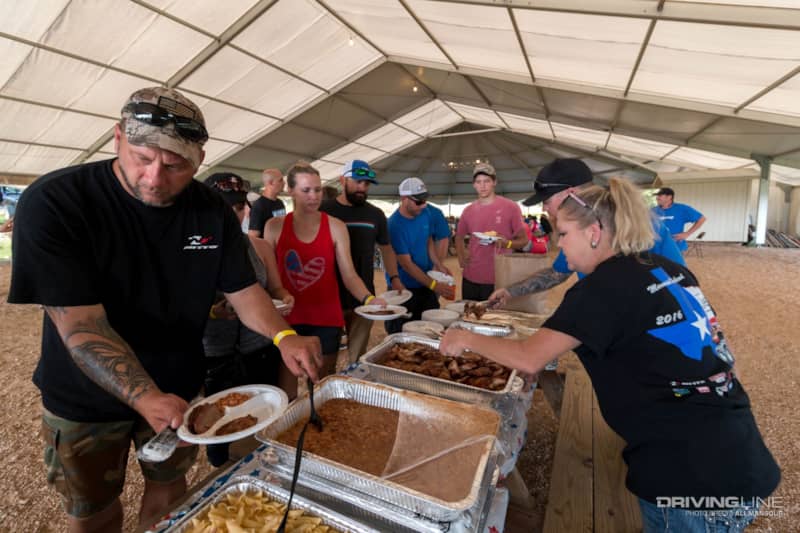 For many, it doesn't feel like a holiday weekend without a barbeque! While we were waiting for the raffle to start, we were served some of the finest catered brisket we've ever had.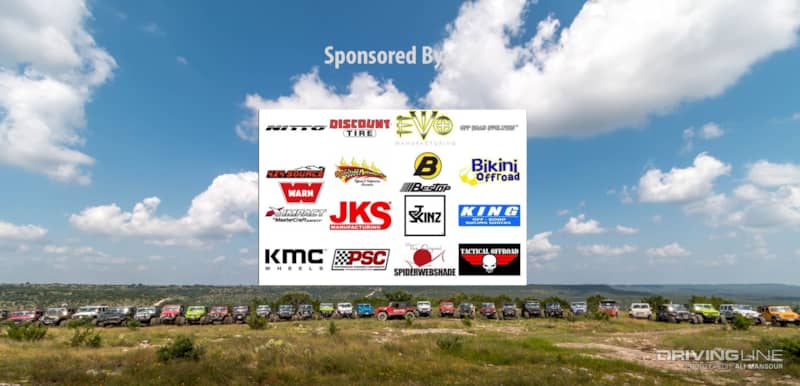 Save