2017 Leadfoot Festival: Homecoming King
Story By Alastair Ritchie
Following a successful season in the Formula D World Championship, and a few weeks ahead of his own Summer Bash event at the Hampton Downs circuit, Kiwi driver "Mad Mike" Whiddett keeps a diary so full you could excuse him taking a weekend off. But, as working breaks go, a vacation weekend at the Leadfoot Festival is hard to beat.
Held on a normally quiet part of New Zealand's Coromandel Peninsula, it's a two-day celebration of a century of motorsport held on Rod Millen's Leadfoot Ranch. A chance for classic and modern racers, and drivers, to take on a driveway designed to be a demanding hill climb course. And for Mike, it's an opportunity to catch up with friends and fans on his home turf.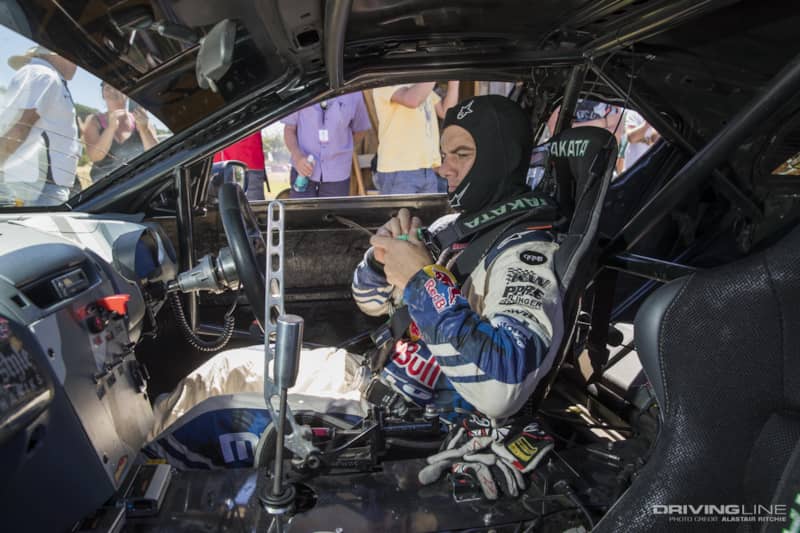 Conquer the Leadfoot
Fresh from drifting Franschhoek Pass in South Africa for a video shoot with Red Bull, Mike's Nitto Tire 'BADBUL' RX–8 got its first run in New Zealand on the Millen driveway. The turbocharged quad-rotor Formula D monster makes 812 bhp at the wheels, plenty of power to lay down some fresh rubber on the mile-long course. Inspired by Rod's favorite corners from tracks the world over, the route up the hill is so varied that it's a level playing field for the event's diverse grid of entries.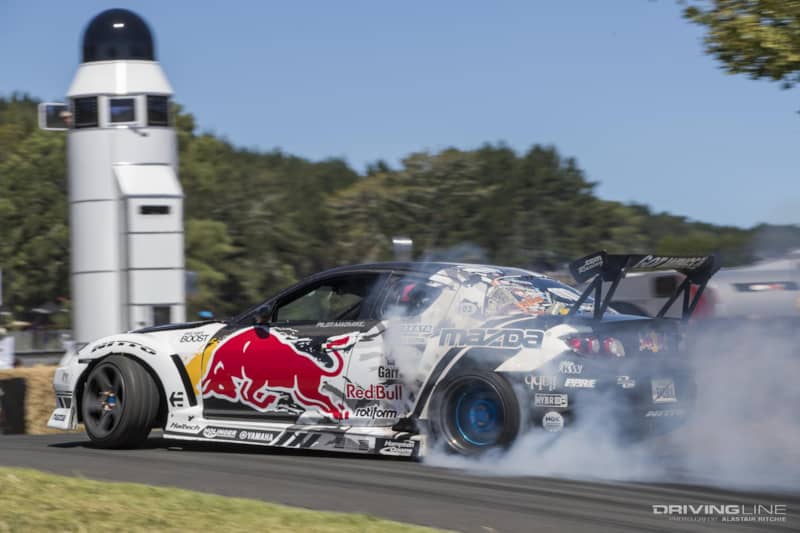 Leadfoot attracts cars and drivers from all over the world, but also a few interesting ones from closer to home like Rhys Millen's world-first backflip truck from the Red Bull New Year No Limits event back on New Year's Eve in 2008. A trailblazer even with the rough landing, the opportunity to check out the engineering underneath was too good for Mike to miss.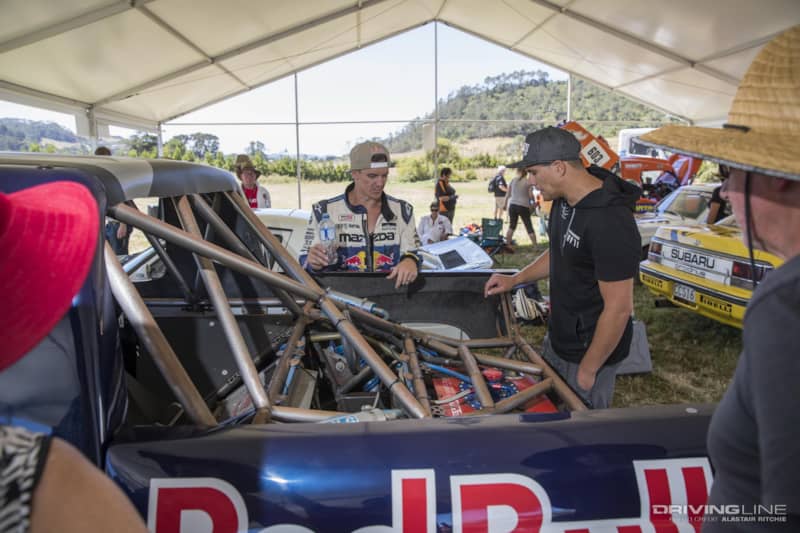 Rod Millen was Mike's inspiration when he was growing up, and they've become good friends with more in common than motorsport and ties to New Zealand. Mazda played a big part in Rod's career; he started out rallying RX-3s back in the '70s, went on to race RX-7s in the States, and competed in the World Rally Championship in the late '80s and early '90s. It's also been Mike's brand of choice as he's worked his way through the global drift scene, starting with an RX-7.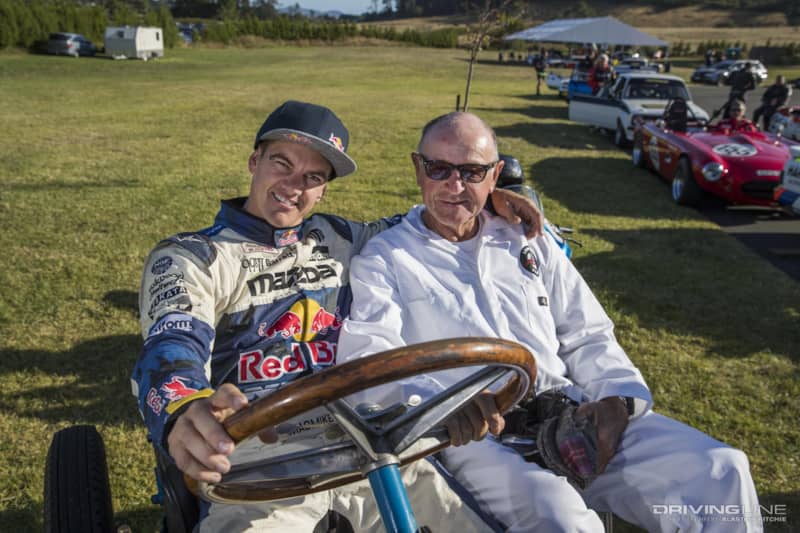 Ready to RUMBUL
The Millen driveway offered a great testing ground for the latest addition to the Mad Mike stable. Named RUMBUL, it's a short course off-road truck with an RX-8 13B rotary engine under its Mazda B2000 body — like he would have it any other way. Trucks get a different route up the hill, switching between tarmac and a short section of grass with some large jumps to put it through its paces. He's already hooked.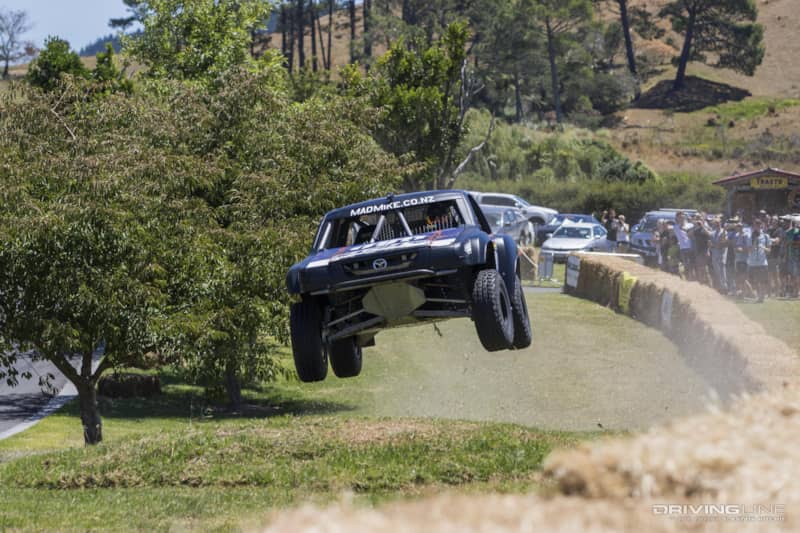 Despite being close friends, Rod hasn't let Mike out in his Toyota Stadium truck yet. With a love of the '80s and '90s era of motorsport, and a new-found taste for off-road racing (like some other drifter we know), it's high on his dream drive list:
"Since having a squirt in the dirt with RUMBUL, I'm addicted," he says. "That's all come from my boy Rod racing these. I can see massive potential in it; it's huge in the States, and it's all accessible."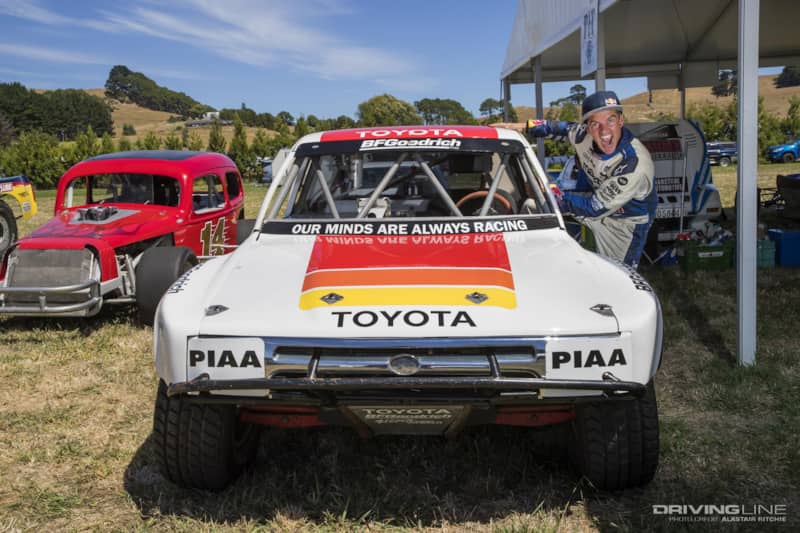 Hometown Hero
New Zealand's drift scene is huge, and Mike still knows most of the country's best drivers, including four-time D1NZ champion Gaz Whiter and his home-built S14a Nissan Silvia. No half measures; following a recent rebuild it's running a 500 bhp LS3 V8, NASCAR four-speed 'box paired with a GT-R rear end and Tein suspension.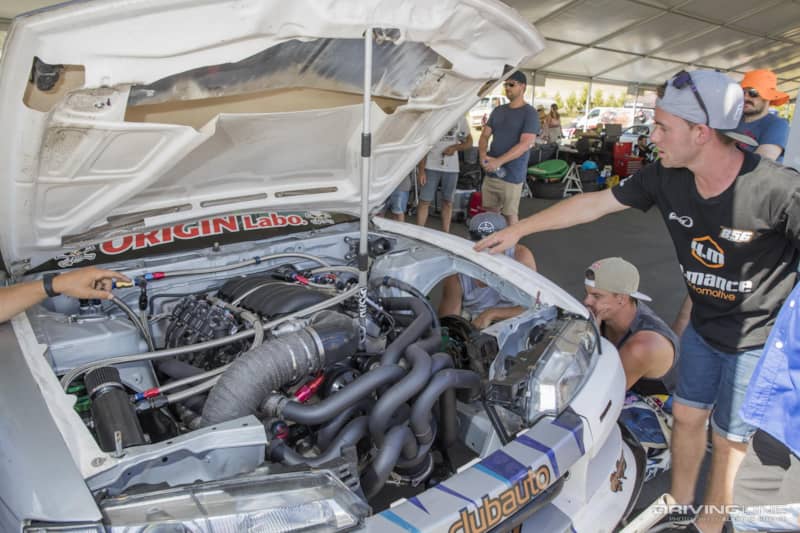 Mike might be a global name in motorsport, but he's never forgotten that he's a local hero back home. So as well as getting to catch up with other racers, downtime between runs was an opportunity to meet, sign autographs and talk to the fans who have supported his rise to the top.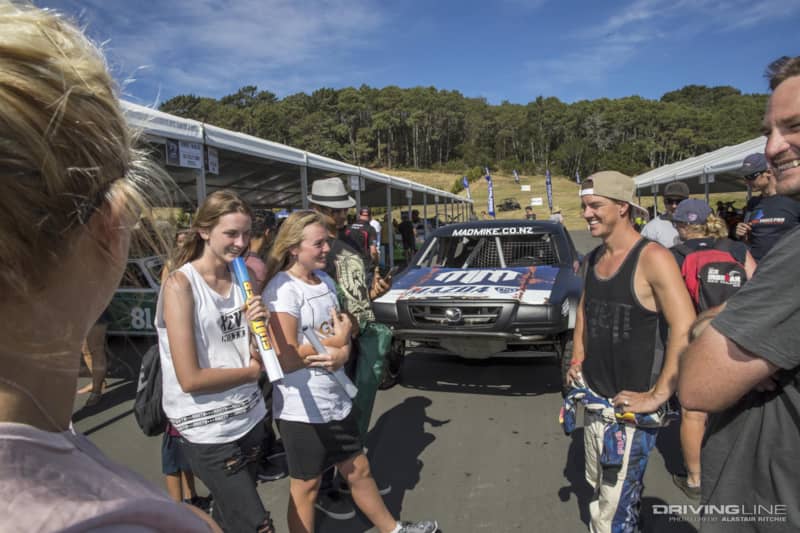 Mike's family of four are a regular sight at events, and were with him all weekend at Leadfoot. But it wasn't only the Whiddett family tree on show; Mazda was celebrating its race history with a display of classic concept and performance cars at the drivers' lounge, including the familiar Nitto Tire 'RADBUL' MX-5 he used during last year's Formula Drift season. Along with attendee's, Mike also had the chance to sign the one-millionth MX-5 on its final leg of a world tour before heading to Mazda's museum in Japan.
Getting a Kick Out of Leadfoot
Originally a police car, two-time D1NZ champion "Fanga Dan" Woolhouse and his lunatic VF Holden Commodore was another Kiwi drift talent worth watching. Just out of the Checkered Flag Automotive workshop in Whangarei, there's an 860 bhp supercharged LS2 smoking those rear tires and making a noise every bit as loud as its graphics package.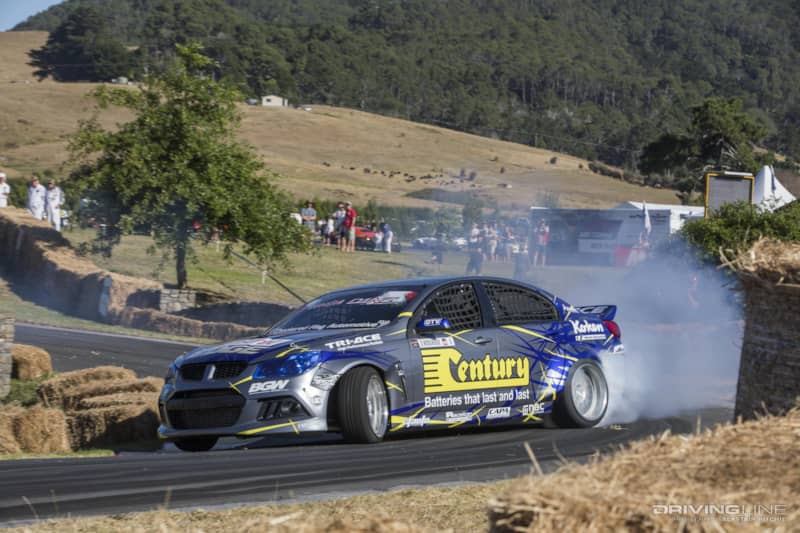 Having had last year's Leadfoot appearance cut short by a broken diff, Mike made the most of 'BADBUL' with two days tackling Rod Millen's challenging hill climb course.
"It's the ultimate driveway," he says. "It's very technical, with lots of corners and elevation drops. I rode it on a bike before the event, but you don't notice some of the technical parts until you're in the car."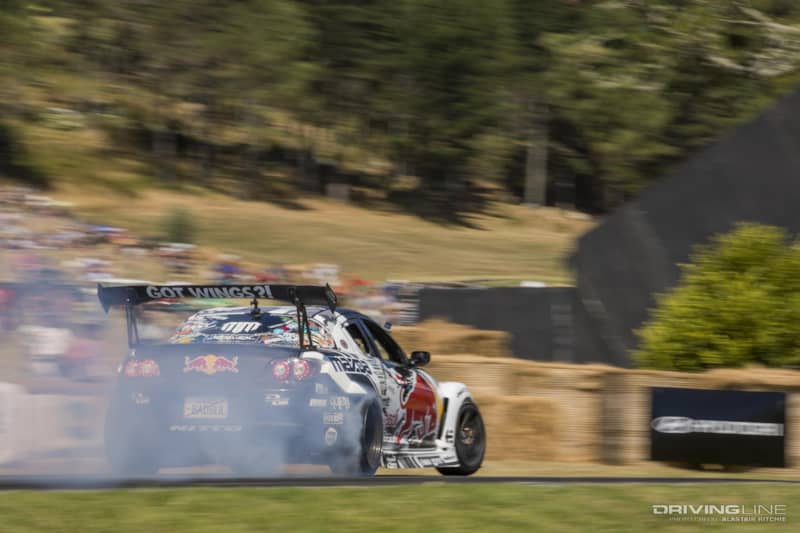 There's more Mad Mike where that came from! See more photos in the gallery below and don't forget to check out the interview we did with the Kiwi athlete.
(Story: Alex Grant; Photos: Alastair Ritchie)