2018 Challenger Hellcat Wide Body 'Strip Slayer
Sometimes upgrading your ride is a matter of addition by subtraction. You already have a great platform for what you're planning because the factory engineers just did that good of a job designing the car in the first place. Anderson Composites is no stranger to this situation; their carbon fiber parts have this nice habit of shaving weight from the cars fortunate enough to receive them. Like this sweet, 707hp 2018 Hellcat.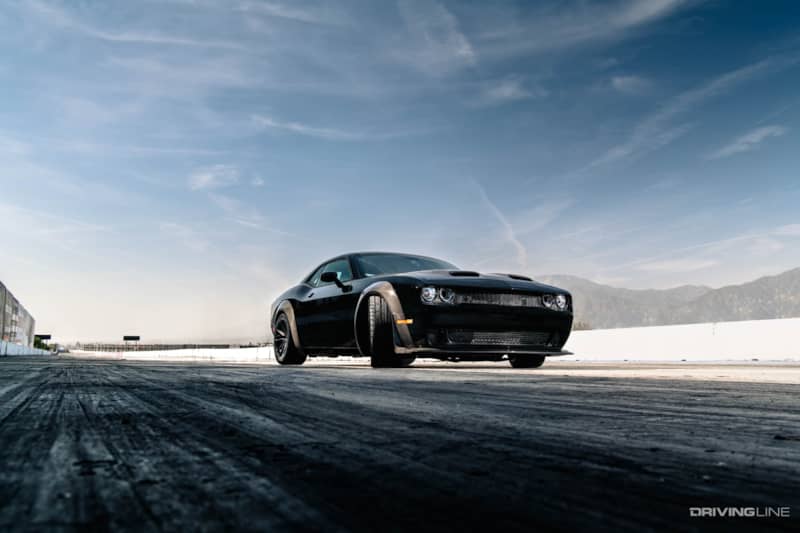 When Dodge's design team made the Challenger Hellcat, they gave the performance car market a drag race-ready car straight off of the showroom floor. Ford and Chevy don't offer hard-charging performance of this caliber in the same price range. Moreover, you don't really need to do much to it to make it fast, but there's always at least a little room for improvement somewhere, though; a fact Anderson Composites knows very well. Marketing Manager Dave Davis from Anderson Composites commented on building the car, "Since we manufacture a bunch of carbon fiber parts, we obviously wanted to showcase those components on the vehicle. We had just introduced our version of the Redeye hood along with a Redeye style rear spoiler for 2020. The new hood is fully functional with air inlet ducts which direct air to the factory air box in the engine compartment. Plus, our rear spoiler is designed to incorporate the factory backup camera and fits in the factory deckled locations, as it should."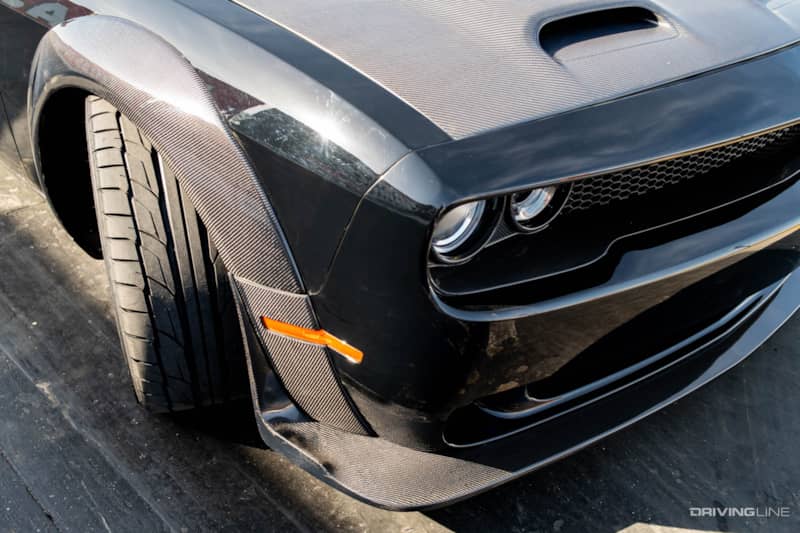 The hood and spoiler weren't the only guests at the carbon fiber party, though. This particular Hellcat features about half of Anderson's carbon fiber products for the 2015-2020 Challenger models. Among them, a dry carbon fiber roof panel, carbon fiber decklid, rear valance, wide body fender flares, rocker panels, and front spoiler. In a carbon fiber swap your biggest weight reducers are usually the doors, decklid, hood, and roof. When this swap was all said and done, those parts shaved 41 lbs from the stock 'Cat. Carbon fiber doors being illegal for street use, they weren't brought into play on this car.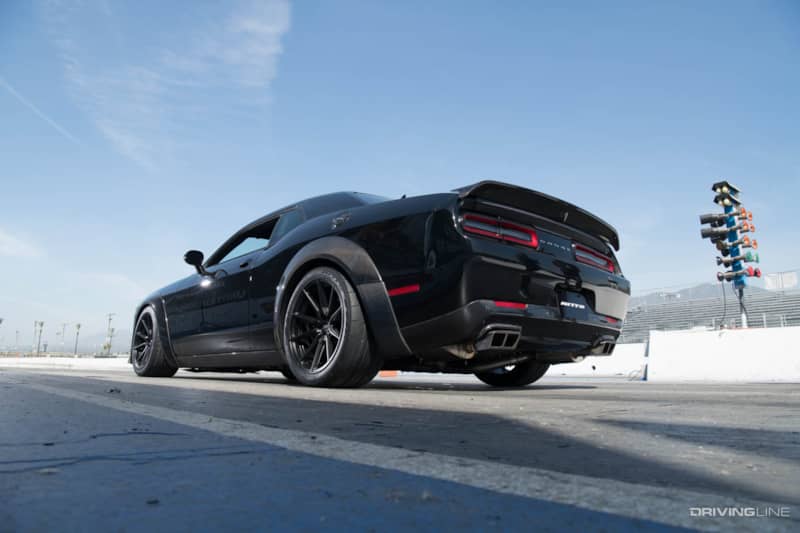 But the high fiber diet doesn't stop there. Anderson Composites also installed their carbon fiber tail light surround and front grill. What you won't see here are flashy wraps or full custom paint jobs. Both of those things are great, but they're terrible at showing off the symphonic weave of carbon fiber parts. The hood and decklid were shot with a flat clear coat to match the matte finish of the dry carbon fiber roof and to tie the whole look of the vehicle together.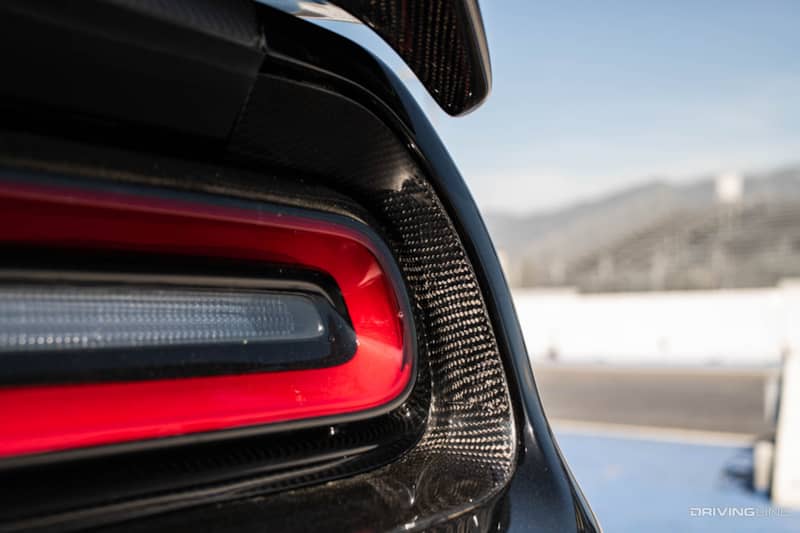 On the performance side, the Challenger got a sprinkling of upgrades that add to the drag race appeal without losing the feeling that of driving a Hellcat. The engine was left alone but a Corsa Performance 2.75-inch dual rear exit Cat-Black exhaust system sporting GTX2 tips was bolted to the rear for better sound and a few extra ponies. This Challenger also glides closer to the ground. "We lowered the vehicle a bit with the addition of the Eibach PRO Kit performance springs," Dave continued. "She seems to handle herself really well on the street."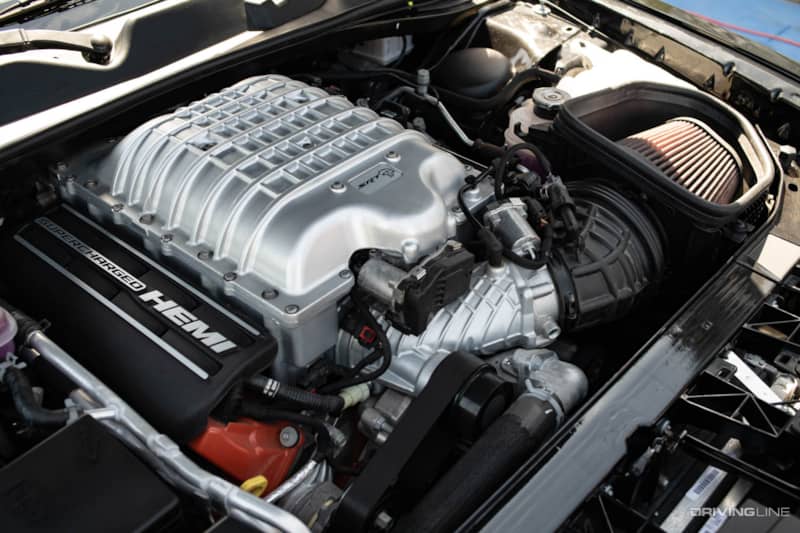 The wheels and tires were upgraded, too, because leaving stock wheels and tires on a beauty like this is almost as bad as wearing clown shoes to a courtroom. To that end, Anderson outfitted their 'Cat with gorgeous wheels of the Vossen Hybrid Forged HF-3, 20x11-inch persuasion. A set of Nitto's new NT555RII D.O.T. compliant competition drag radial tires protect those wheels in the rear and provide excellent launch ability and improved 60' times for the high-horsepower machine. Measuring in at a meaty 305/35R20, the innovative drag tires feature a high-grip compound that can still be driven on the street, so there's no need to swap out tires at the track, plus they flawlessly match the tread pattern of the NT555 G2.
Speaking of the matching tread of the NT555 G2, there are a pair of 305/35ZR20 summer performance-rated Nitto tires mounted in the front. "My sons work at America's Tire and they highly recommend Vossen wheels, Brembo brakes, and these new Nitto NT555RII drag radials for traction at the drag strip combined with NT555 G2 tires in the front—and they have lots of other brands to choose from, so that's saying something. Big thumbs up there," Dave said.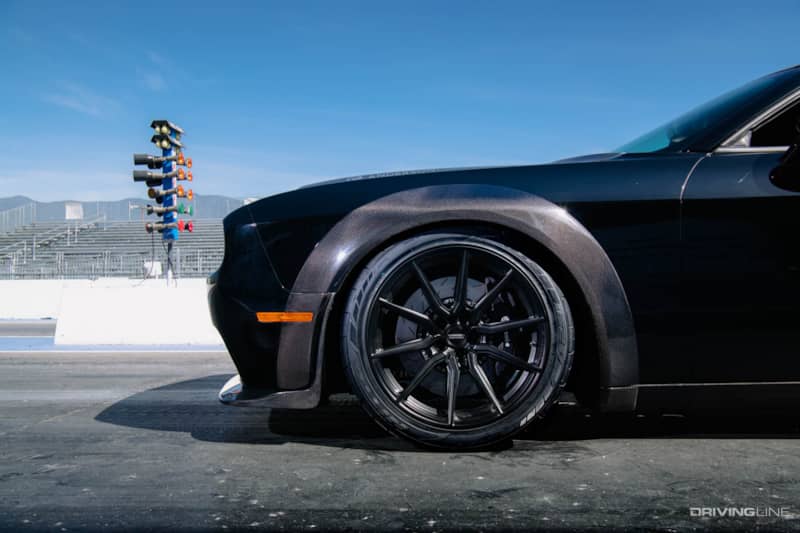 In the end, all of these upgrades add up to racier performance in a car that's insanely fun to drive in the first place. This customization equation isn't just about addition, though; that's the magic of lighter carbon fiber parts. They shave weight and look hot doing it. It's the sort of sorcery Anderson Composites practices very well and it made this 2018 Challenger Hellcat even more fun to drive.
How low can you go? Click here to see a slammed wide body 2016 Challenger.