Killer Bee: Slammed, Wide Body Dodge Challenger
Jason Lowery grew up a Ford guy. But after 20 years of the blue oval, the allure of Dodge's big coupe drew him in. He decided that he wanted both the shaker hood and a six speed, and his son, then 3, said that it had to be white. After about a month of searching, this 2016 Challenger 392 Scat Pack was in his driveway.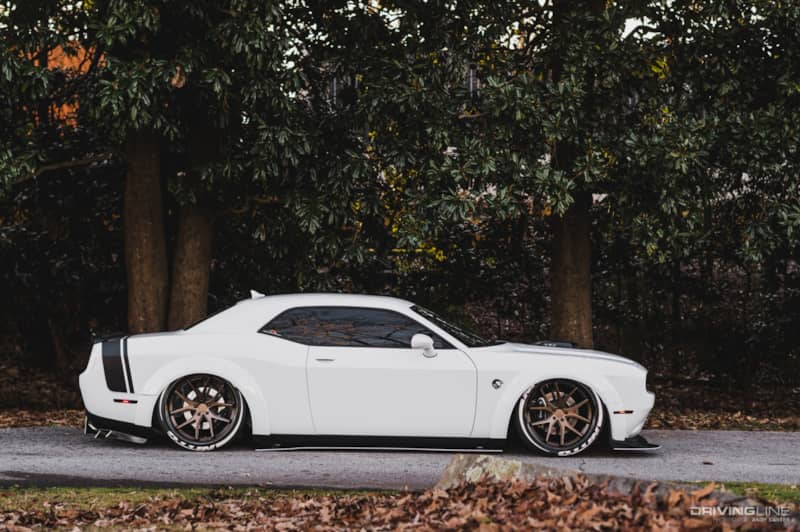 Inspired by the bronze/white color palette that he saw on many import builds, Jason ordered a set of 22" Ferrada FR2 wheels in bronze, 9.5" wide up front, with massive 11-inch units in the rear, filling the Demon-inspired fenders. The wheels are wrapped in 265/35 and 295/30 Nitto 420S tires, providing the Challenger with a comfortable ride and optimal year-round performance.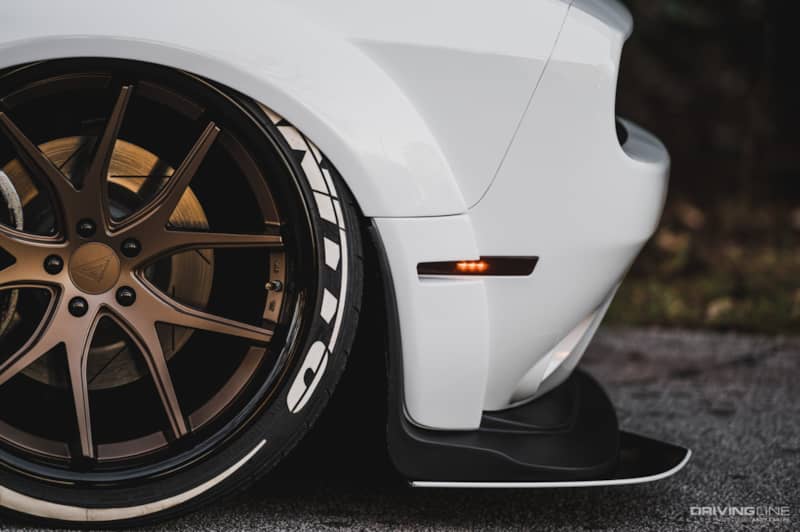 To properly frame the Ferrada wheels, an Air Lift Performance 3P kit was installed to lower the big coupe to the ground. The 3P system allows for five different height presets, all controllable by an app via Bluetooth.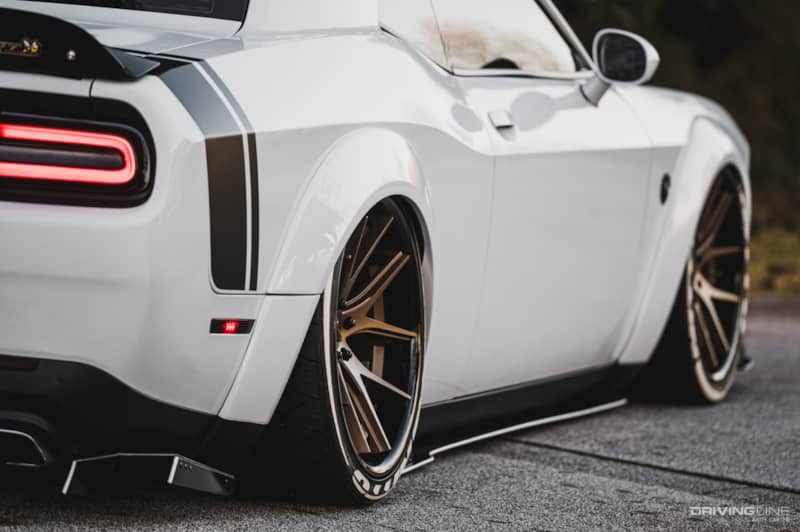 Jason's most recent modification to the car was the Dodge Demon-inspired wide-body kit. With Dodge locking down the OEM parts to Demon owners only, he turned to Chrome & Carbon for the body kit. After receiving the parts, the car was turned over to Atlanta-based Superstar Customs for the bodywork and paint.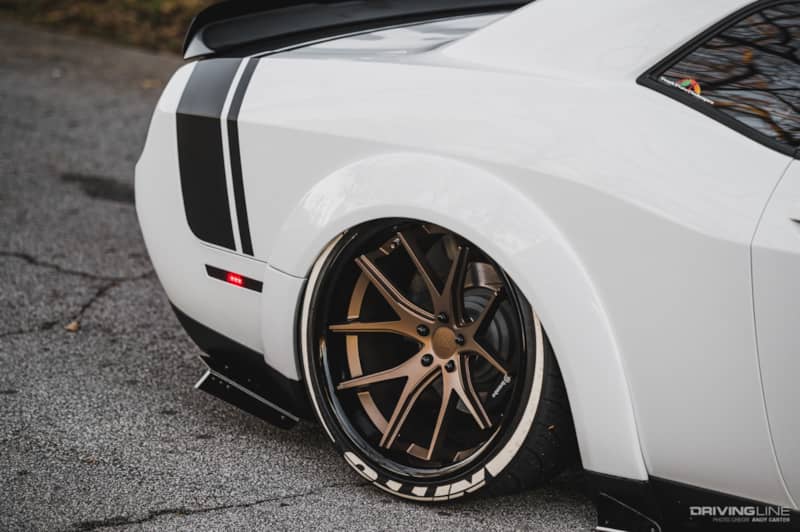 To round out the aggressive exterior make-over, the Challenger received KNG Wraps diffusers and spoilers, BJ Garage's wicker bill, and a Luxe Automotive Concepts honeycomb taillight divider. The sheer presence of this car warrants a second look from passer-bys, without sacrificing the spirit Dodge built into the car.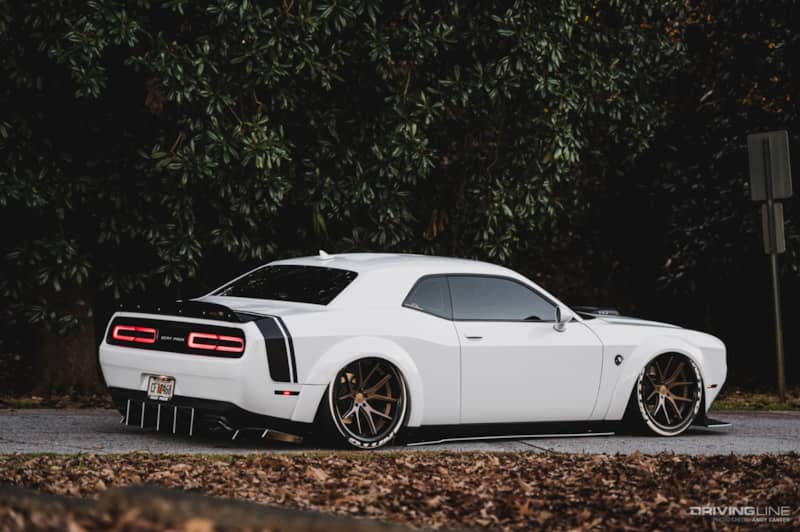 With only 9,000 miles on it, Jason has largely been content with the Scat Pack's stock rating of 485hp. Focusing instead on simple drivability mods, he installed an I-Drive throttle controller and Speedlogix skip shift eliminator.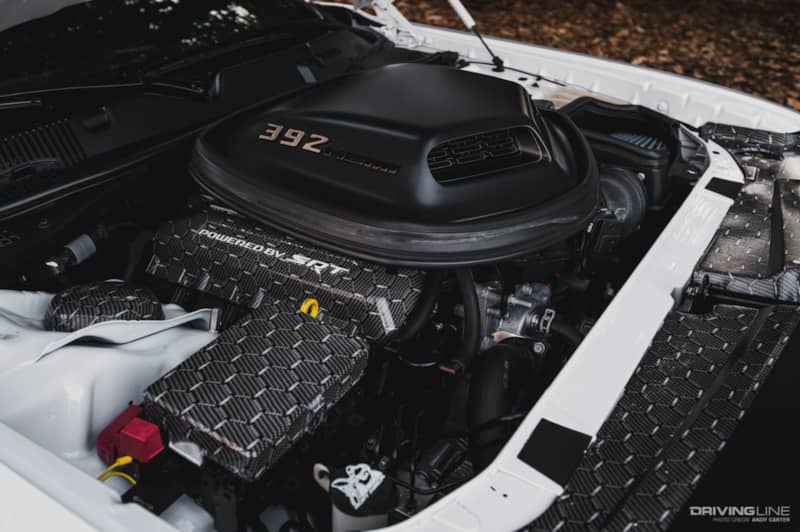 Although Jason is happy with the outcome of the car, his favorite aspect of the build has been enjoying the car with his son. He bragged that he started shifting gears from the passenger seat when he was only 5 years old, and that you can't wipe the smile off of his face when he's in the car and people are complimenting the Challenger's looks. Passion is contagious, and Jason has definitely passed the gearhead gene on to his son.
Need more slammed Challenger goodness? Georgia has you covered with this T/A we featured last year!