2019 Chevrolet Camaro Turbo 1LE Review: Entry-Level Road Course Champ
The democratization of performance is one of the best aspects of the modern automotive market. That one can walk into almost any mainstream dealership in American and encounter at least one reasonably-priced, enthusiast-oriented automobile makes this a great time to be a gearhead.
There are of course some brands that take the idea of an entry-level sports car more seriously than others. Chevrolet in particular has had significant success with its Camaro coupe and the 1LE package, a set of track-specific factory modifications intended to bolster lap times and reliability on a road course. Previously restricted to the Camaro SS and the V6-powered versions of the car, for 2019 Chevrolet has broadened the 1LE's mandate to include its most-affordable Camaro model, the Turbo.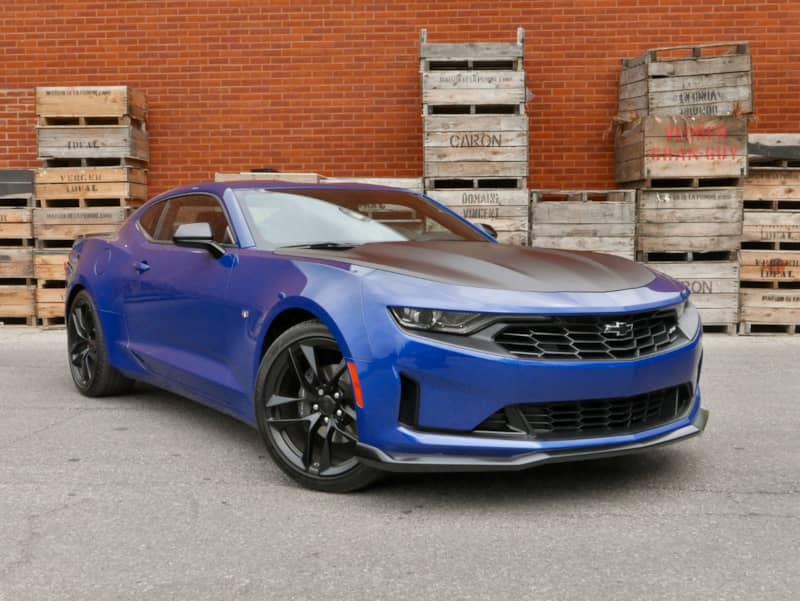 Is the four-cylinder Bowtie worthy of the extra attention? Or should you save up your dollars for a mightier model that might make more sense?
The Price Is Right
At first glance, Chevy's making an appealing proposition. For an additional $4,500 above the one-step-above-base Turbo 1LT's $26k window sticker, the car snags a ton of gear from beefier members of the Camaro lineup. This allows it to ride on the thicker swaybars, stiffer bushings and shocks and other chassis details borrowed from the V8 Camaro SS. It also gains a limited-slip differential, a short throw shifter, a faster-flowing fuel system and heavy-duty cooling for each of the differential, transmission and engine, as well as a launch control system accessible via the vehicle's Competition mode.
In addition, it offers 20-inch rims running stickier rubber (larger 275/35 at the rear, 245/40 at the front), as well as three drive modes. Other appearance items give away the 1LE's hi-po section: a flat black hood, black deck lid spoiler, and Brembo 4-piston front brakes.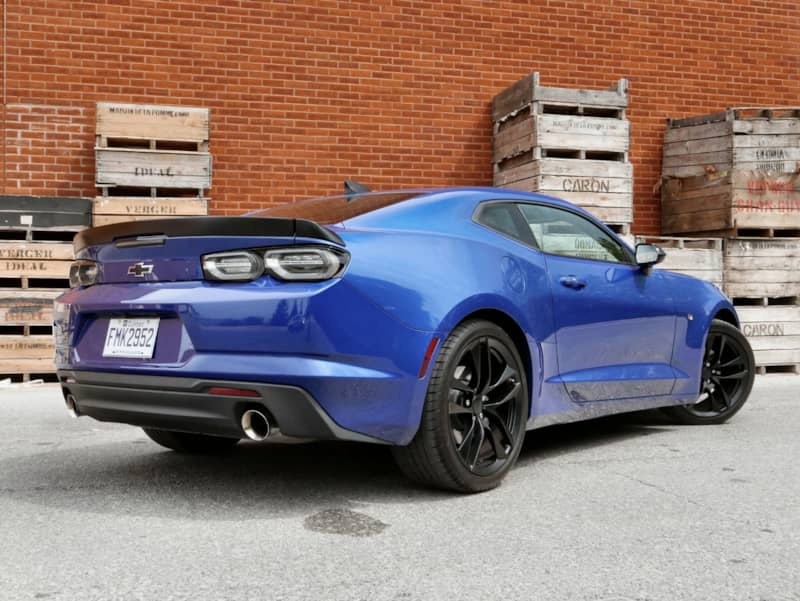 Any extras on top of that? GM's data recording system (which also includes a video feed) is an add-on, as are Recaro front buckets. Purists will be pleased to note that an automatic gearbox is not in the cards for the 1LE.
Turbo Realities
Other than the short shifter and the additional cooling, the meat and potatoes of the Camaro Turbo's drivetrain remain intact. This means 275 horsepower and 295 lb-ft of torque from a 2.0-liter four-cylinder engine, managed by a six-speed Tremec gearbox and your left-right foot concerto (or not, if you decide to tempt fate with Chevrolet's 'no lift shift' feature).
On paper, this feels like a win. After all, it wasn't long ago that the Camaro SS was posting those kinds of power numbers from double the cylinder count, and the just-past-5-second 0-60 mph time posted by the Camaro Turbo is indeed impressive.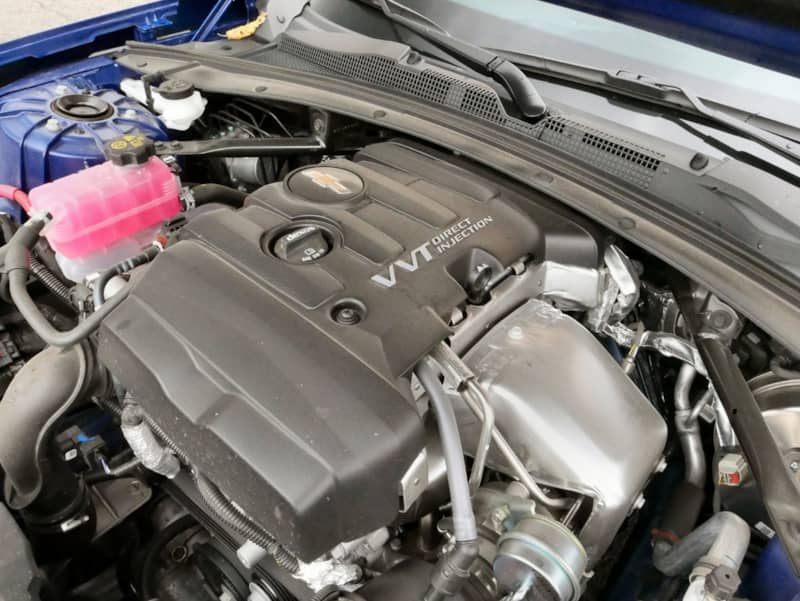 In the real world, however, there are a few caveats to how that output is delivered. Peak torque doesn't arrive until 3,000 rpm, which is about a thousand spins above what the turbocharged hot hatch crowd typically offers. A little more off-putting on a track is that past 4,500 rpm that figure starts to drop. Dovetail this with 5,400 rpm peak horsepower production and a 7,000 rpm redline, and the diminishing returns of wringing the motor's neck on a road course make themselves known.
There's also very little aural engagement to be had in the process. Even with the dual-mode exhaust system that comes standard with the 1LE package, it's largely aseptic to drive the car quickly. That being said, the grunt is there, and if you don't mind how you're expected to go get it, you'll be plenty pleased with the Camaro's forward progress.
Head-Above Handling
All of the above is balanced out quite nicely by the incredibly fast-friendly nature of the Camaro's Alpha platform underpinnings. It's hard to think of a better bargain track car than the SS 1LE, and the Camaro Turbo 1LE embodies all of the important aspects of its pricier sibling.
Simply put, the 1LE package makes the coupe a joy to push to one's personal limits on a closed course. Handling is predictable and balanced, and the electronic nannies that remain on during Track mode can be quickly disabled if you want a more lenient hand for drift purposes. It's a major step above any version of the similarly-turbocharged EcoBoost Ford Mustang to date when it comes to agility and refinement at speed.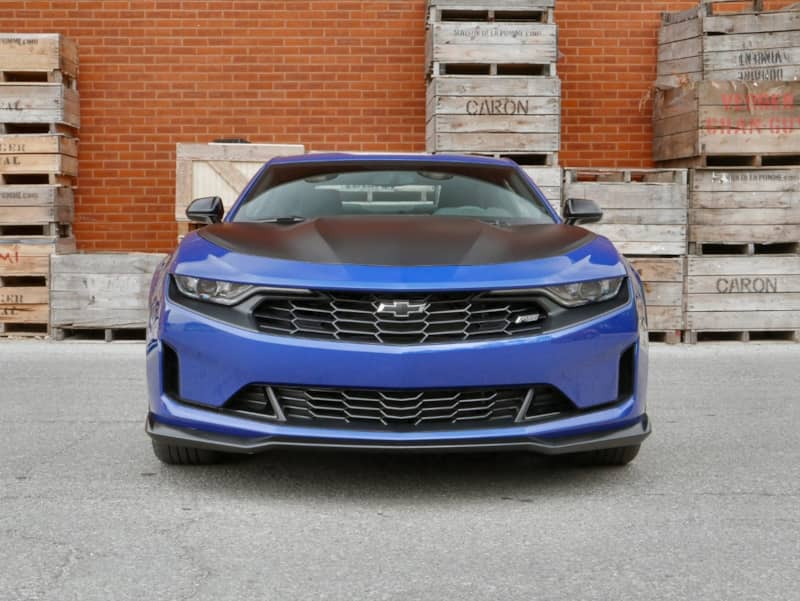 On the street, it's a bit of a bumpier tale, what with the track-ready shock tuning bouncing a bit over rough pavement. You'll notice it during your commute, but it's not enough to rattle more than the most delicate bones. Then there's the visibility, which is atrocious from the driver's seat, especially out the rear of the vehicle or along the passenger side when changing lanes. It's hard to understand how Chevrolet didn't address the poor sightlines of the Camaro prior to signing off on the design, but it's not a new complaint about the model.
Make Your Choice
The 2019 Chevrolet Camaro Turbo 1LE is an exceptional value. For just over $30k, you can drive home with a coupe that will turn in hot lap after hot lap without exhausting any of its components or beating you up in the process. Then you can simply drive home again with the AC cranked and the tunes blasting in relative comfort (provided you're hyper-vigilant about the car's blind spots).
In terms of overall enjoyment it's harder to make a case for the Turbo. With the V6 priced at a mere $1,500 more (what with its 335 horsepower and more rev-happy character), the edge in driving experience would seem to be worth the extra spend. There's simply a better bond between driver and machine with the six-cylinder engine than in the 4, making it the preferred bargain 1LE configuration.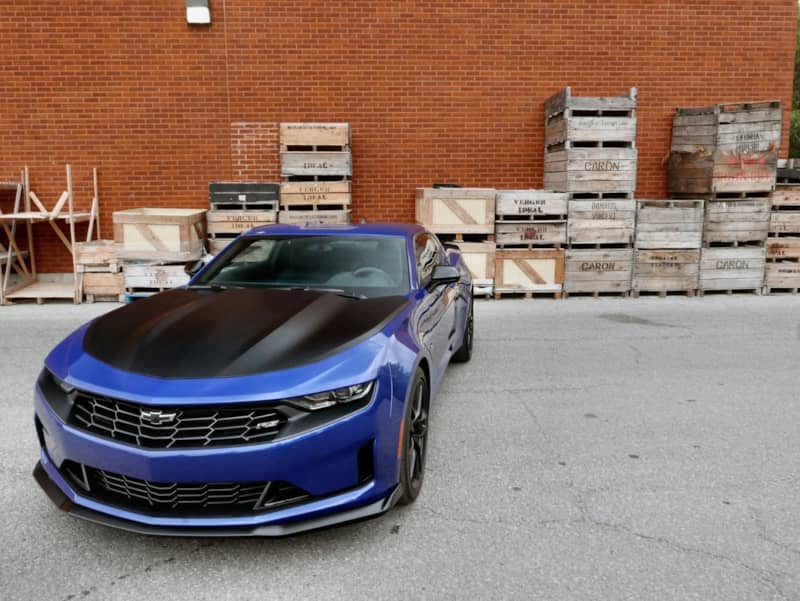 With one big asterisk. From a tuning perspective, 275 horses feel like just the beginning for anyone willing to play around with this turbocharged engine's potential. If you've got a mind to modify, and are seeking big power to go with the 1LE's dancer's reflexes, then the four-cylinder is going to be the stronger choice.
Stay stock and seek displacement, or tune that turbo. Either way, you won't be displeased with Chevrolet's most compelling bargain road racer to date.
Want to learn more about the Chevrolet Camaro 1LE? Check out this history of the model.