2020 Ford Explorer ST Review: Comparing This Turbocharged V6 Performance SUV Against the Dodge Durango SRT's Hemi V8
There's always more than one road leading to a particular destination, and this is particularly true when it comes to high performance SUVs. In the three-row segment, cross-town rivals Ford and Dodge are battling it out for the hearts and minds of full-size sport-utility vehicle fans with a pair of tire-shredding haulers: the Explorer ST and the Durango SRT, which each add gobs of horsepower and a stiffer-than-expected suspension setup to the daily drive.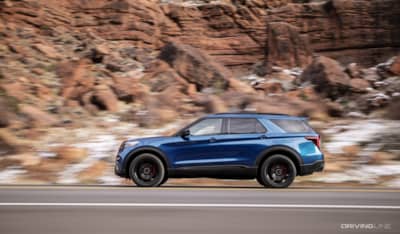 Although their mission statement might be the same, both the 2020 Ford Explorer ST and the 2020 Dodge Durango take a very different high horsepower approach to separating you from your hard-earned gas money. Are twin-turbos the right choice for you, or would you prefer a large-displacement V8 rumble as you terrorize your subdivision?
All-New From Ford
The Ford Explorer makes a major move back to a rear-wheel drive-based platform for 2020. With a wheelbase that's been stretched six inches without making the truck appreciable longer, it has a definite advantage over the previous generation when it comes to predictable power delivery and handling characteristics. That the new ST model adds all-wheel drive and a road-hugging suspension to the mix further enhances the stability and grip of the admittedly enormous family ride.
At the heart of the beast is a 400 horsepower version of Ford's 3.0-liter EcoBoost V6, which uses a pair of turbochargers to further churn out 415 lb-ft of torque. This is a new frontier for the Explorer, and the ST's 10-speed automatic transmission helps the SUV hit 60-mph in 5.2 seconds (aided and abetted by an overall weight reduction of just over 100 lbs compared to the older Ford).
Veteran From Dodge
The similarly-sized 2020 Dodge Durango is the Explorer's elder by quite a few years, but FCA has worked to keep the sport-utility competitive by introducing performance and interior upgrades as best it can in the interim between redesigns. On paper at least, the SRT edition is also the Ford's superior, boasting 475 horsepower and 470 lb-ft of torque from a mammoth 6.4-liter Hemi V8 that's managed by an eight-speed automatic transmission.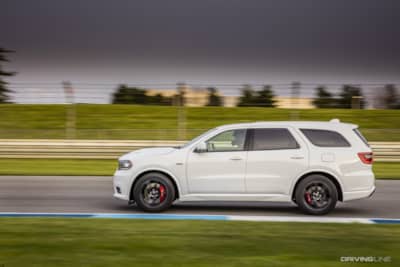 Fed to all four wheels via its standard 4x4 setup (which retains low-range capability), the Durango SRT is considerably quicker, too, beating the Explorer ST to 60-mph by nearly a full second. Rear-wheel drive-biased, the Dodge's chassis has been equipped with a surprisingly capable, track-oriented suspension setup, which pairs with a set of customizable drive modes where owners can mix and match throttle response, damper feel, and a number of other performance characteristics.
Big Stick, Little Stick
From behind the wheel it's clear that one of these two hot rods wants to be a hardcore track rat, while the other is content to campaign in the stoplight grand prix. In every respect the Dodge Durango SRT is the more visceral, and connected of the pair, growling its way to startling speeds with all eight cylinders firing, while displaying a startling degree of competence in the corners.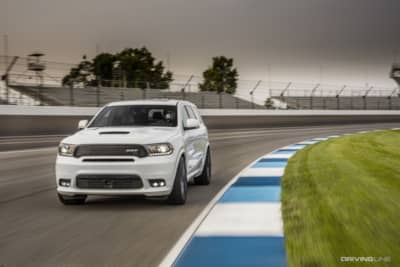 It's impossible to forget the Durango's massive bulk when asking it to change direction, but it's far more polite about the interruption of its forward momentum than one would ever expect.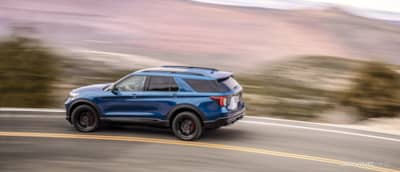 In contrast, the Ford Explorer ST lacks the immediacy of the Dodge entry, delivering a surge of acceleration once its turbocharged torque kicks-in but avoiding the abrupt throttle slam made possible by the SRT's naturally-aspirated engine. Body roll remains far more controlled than in other, similarly-sized SUVs, but the one-size-fits-all drive modes vacillate between boot-stiff and cruising soft, with little in between.
More Even As Commuters
If the Ford Explorer ST is a less focused performance vehicle, then it does at least lead the Dodge Durango in a few other areas. Fuel efficiency is better from its less powerful and smaller engine, and there's a smidge more third row seat room to be had from the Blue Oval, which will matter to those who intended on hauling humans as often as they haul the mail down the drag strip.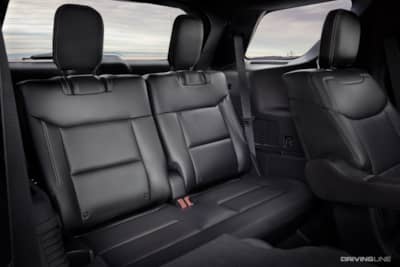 Cargo space remains similar between the two trucks, and in terms of interior fit and finish, it's also somewhat of a dead heat, with just-under-luxury status afforded to the materials and designs used in each cabin. It's worth mentioning that Dodge's infotainment system is larger and easier to use than the Explorer ST's unusual portrait-mode touchscreen design.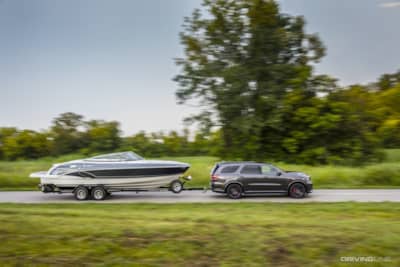 The Durango also knocks the Ford out of the park when it comes to towing, with its 8,700 lbs max rating a full 3,000 lbs better than the Explorer.
Tech vs. Track
Which of these reasonably comfortable, super-sized muscle machines to choose? If you're looking for a daily driver with a more modern feel, great all-around capability, and an above-average punch under your right foot, then the Ford Explorer ST is one of a very few SUVs under $60,000 that will give you that, especially if you require seven passenger seating.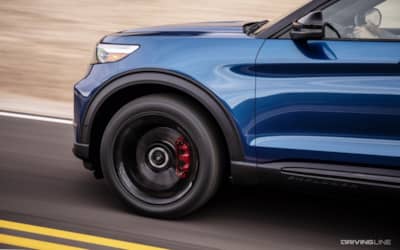 The Dodge Durango SRT is a cut above when it comes to speed and stick, but you pay a price for it, both at the fuel pump and when shelling out nearly $7k more as compared to the Explorer ST's asking price. If towing toys is your thing then the Durango SRT will give you more headroom on your trailer, but that means accepting its slightly less sophisticated suite of safety and comfort technologies in favor of its more muscular attributes.
Fast SUVs aren't that new of a development in Detroit. Check out this history of hot rod Jeeps.