2020 Subaru WRX Still Offers Turbo AWD Fun Despite Showing Its Age
A lot has changed in the world of compact performance cars since the current-generation Subaru WRX first went on sale about five years ago. In that time, luminaries like the Ford Focus ST and RS have come and gone (victims of the Blue Oval's pivot towards crossovers and SUVs), Volkswagen's GTI has been joined by the Hyundai Elantra Sport and the Veloster N, and towards the higher end of the spectrum, the VW Golf R and the Honda Civic Type R are in fierce competition with the WRX's more powerful sibling, the STI.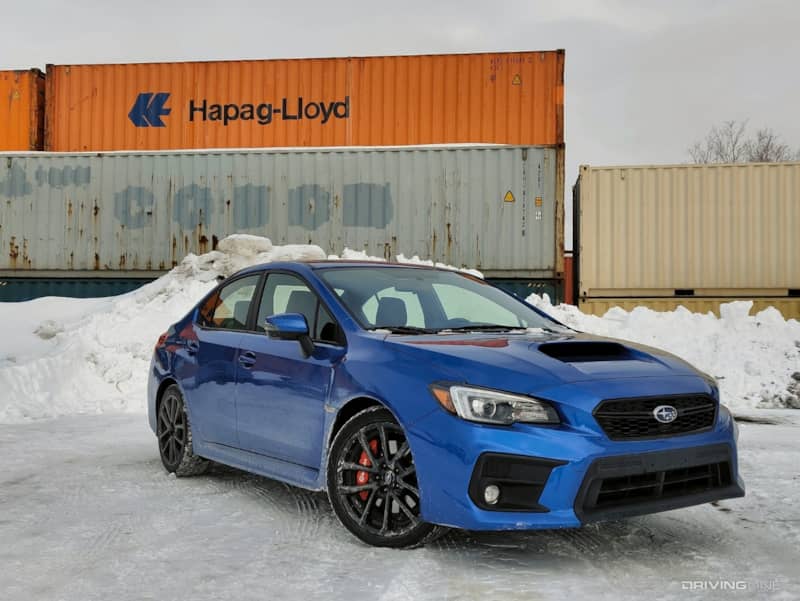 More than that, the push towards small cars that deliver premium rides and are packed with the kinds of features one would expect on pricier luxury cars has continued unabated. It's here that despite still delivering significant turbocharged thrills the older design of the WRX has a tougher time keeping up.
Tried, Tested, And True
The 2020 Subaru WRX makes use of the same formula that has made it such a popular choice among sports sedan buyers for decades: standard all-wheel drive, a four-cylinder turbo engine, and extroverted styling that marks it as something other than a basic Impreza (with which it shares its body shape). It's a compelling mix sold at an attractive price, with base models starting at just over $27,000.
The WRX's 2.0L motor delivers 268 horsepower and 258 lb-ft of torque, numbers that keep it competitive with most similarly-priced entry-level performers. In a straight line, the Subaru can reach 60-mph in just 5.5 seconds—provided you can master the art of launching an all-wheel drive, clutch-equipped automobile. A competent continuously-variable automatic transmission is also available with the sedan, but it's hard to recommend it to enthusiasts
Familiar And Fun
When driven quickly, the WRX still rewards. With the revs up the turbo four is happy to churn out a smooth ribbon of torque that is an absolute blast to ride down your favorite stretch of asphalt. Output can move from the front to the rear axle as needed (with a nominal 50/50 split in regular driving), which means that the Subaru is rarely caught out when encountering a low-traction situation—and it's difficult to initiate an out-of-sorts slide on dry pavement. In the handling department, aside from steering that is somewhat less informed due to the car's AWD and electric assist, the WRX is still competitive with almost every other option in its class.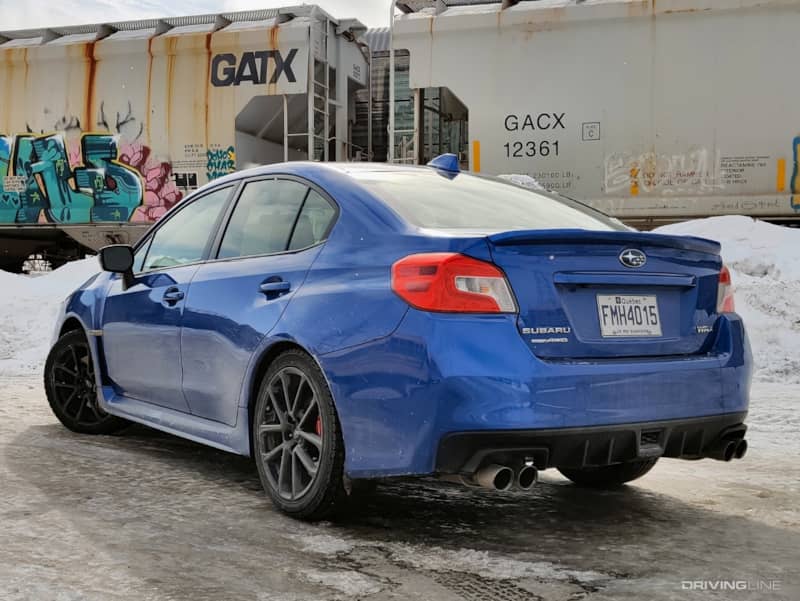 In the snow, it's leagues ahead. My time behind the wheel of the Subaru coincided with the fourth snowstorm in as many weeks in my area, and as a result I called upon the car to handle unplowed roads, towering banks of accumulated white stuff, and treacherous ice that coated alleys and side streets. It's a decidedly more confident experience as compared to front-pullers like the GTI or the Civic Type R, and even the Golf R's all-wheel drive is less adept at managing slippery surfaces than what is found in the WRX. It might not transform you into a drift-king rally champion, but it can certainly maintain its forward momentum in a blizzard long enough to get you into serious trouble should you go looking for it.
Showing Its Age
As a day-to-day companion, however, the Subaru WRX is less easy to recommend. Its notchy six-speed manual gearbox becomes somewhat of a hassle to deal with in slow traffic (although Subaru does offer a factory-supplied short shift kit from dealers), and at low rpms the lack of boost manifests in occasional sluggishness when pulling away from a stop.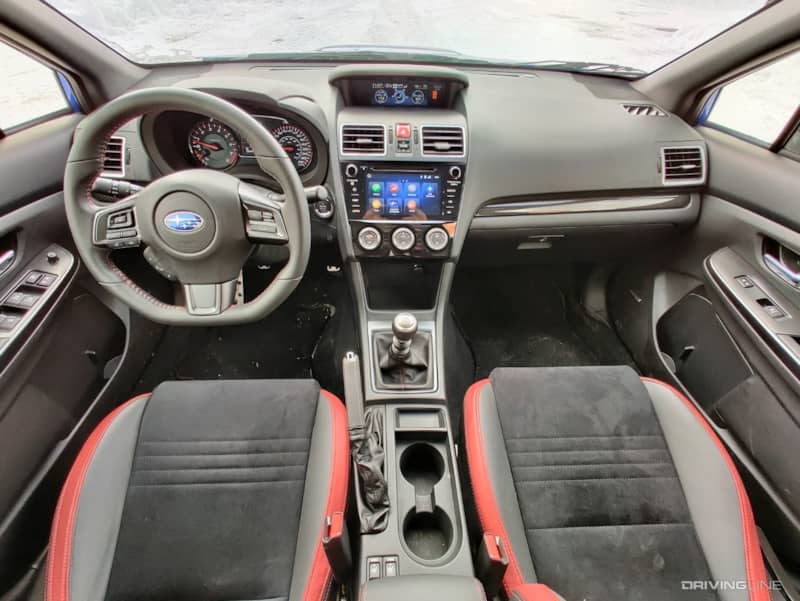 Pair this with an interior whose plastic-heavy accoutrements pale in comparison to the most recent efforts from previously-mentioned rivals, and its clear that the WRX isn't on par with the current state of the sport sedan union. This impression is further reinforced by the loud and occasionally rough character of its ride, which courts wind noise on the highway and suspension chatter over uneven roads.
A Change Is Coming
In some ways, these trade-offs are to be expected. The Subaru WRX has long presented itself as a performance-first vehicle that also happens to be a reasonably comfortable commuter, a car that you can have fun with on weekends and not beat yourself up about owning when it comes to the daily grind.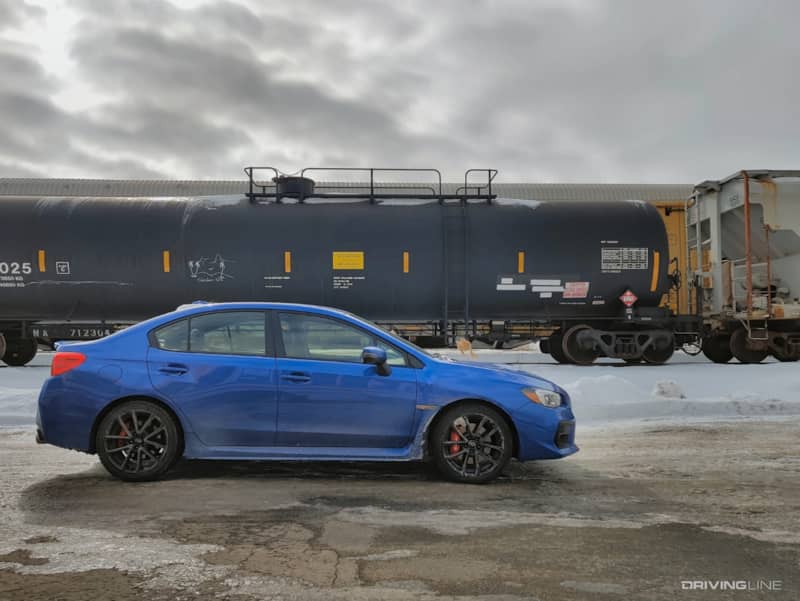 There are certainly no 'deal-breakers' when evaluating the WRX, unless you're laser-focused on feature count (especially active safety equipment, which is only available on automatic models) or creature comforts. Most gearheads are willing to trade a little lag and a bouncy ride for a more connected character when driving at 9/10ths.
The issue in 2020 is that there are a number of other autos on the market that no longer ask you to make a similar compromise. It's a sign of the times that relates more to the Subaru's outdated platform (which even the base Impreza has long since moved away from) than it does to the philosophy behind the car itself.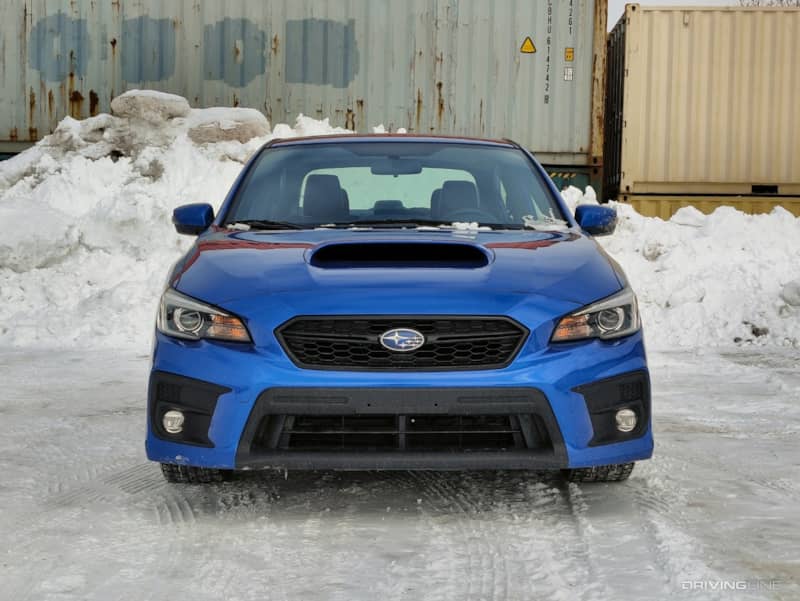 With a new version of both the WRX and the STI on the horizon, it appears as though we won't have long to wait for Subaru's answer to the questions posed by its competitors. A more polished WRX is right around the corner, which will be a boon to some buyers and a disappointment to others. If you fall into the latter camp and appreciate the rawness embodied by the current edition of Subaru's rally-inspired warrior, there's still time to pick one up.
What do we think about two of the Subaru WRX's biggest rivals? Check out our comparison of the Volkswagen GTI and the Volkswagen Golf R.