5 Bucket List-Worthy Off-Road Trails in Southwestern Colorado
One of the most stunning places I've visited is a tiny town called Ouray in Colorado. At just a tick over 1,000 residents and an elevation of 7,792 feet above sea level, this small mountain town is nestled in the breathtaking San Juan Mountains (part of the Colorado Rockies). Adventure-seeking visitors flock to Ouray all throughout the year to hike, mountain bike, ice climb or drive their 4x4s across the mountain range. I've been lucky enough to frequent Ouray a few times now, and the scenery never ceases to dismay. Although there are many trails surrounding Ouray, as well as nearby towns like Telluride or Silverton, the following trails stick out in my mind as bucket list items for off-road adventurers.
Imogene Pass: An Overlander's Dream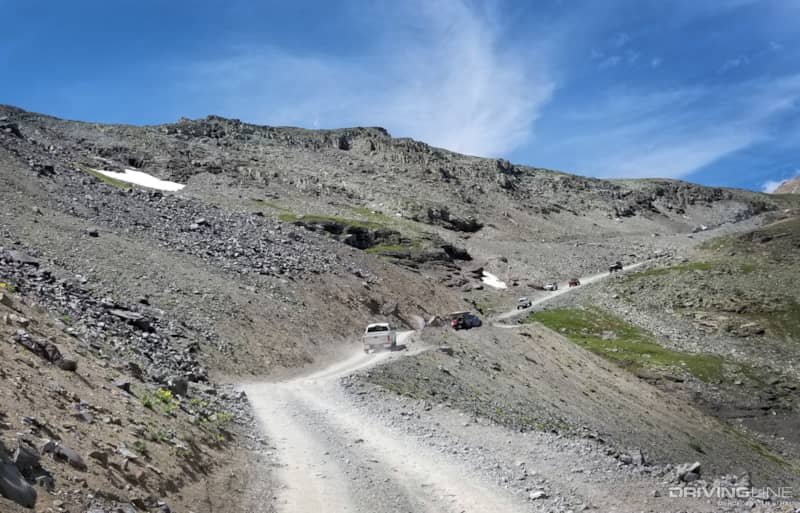 Just outside of Ouray and off of Highway 550, otherwise known as the Million Dollar Highway, lays the entrance to Imogene Pass. Super scenic but super unforgiving, this staggeringly high elevation trail isn't for those afraid of heights. Imogene Pass's trailhead offers a gravel area to air down, double-check GPS, phones, and communications devices, and prep high-clearance 4x4s for an adventure not likely to be forgotten. In addition to prepping vehicles, folks will need to hydrate, hydrate and hydrate. Don't mess with altitude sickness. There isn't a hospital, Walgreen's or doctor anywhere nearby when you're on the trail. Make sure you pack enough food, water, medicines and recovery gear in case something goes awry. These are necessities when traveling off city pavement, especially at high altitude. I've been on Imogene Pass when there's been a roll-over, tire change necessity, etc.—this trail is not for the novice off-road driver. All-terrain tires like Nitto's Terra Grapplers or hybrids such as Ridge Grapplers are excellent choices for this high-altitude jaunt.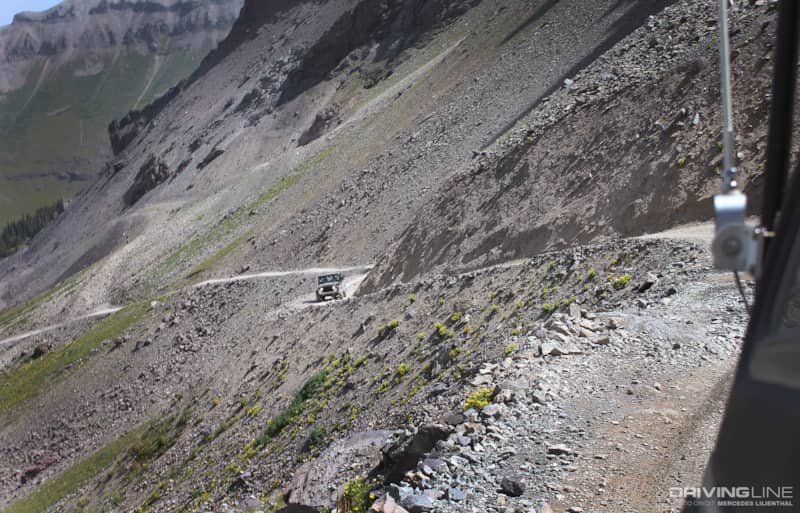 This moderately difficult off-road trail connects Ouray to Telluride and is the highest mountain pass in the San Juan range. It's also the second highest vehicular mountain crossing in all of Colorado. Topping out at a staggering 13,114 feet, the air is thin and the vegetation scarce. But, if you make it to the top, the scenery is jaw-droppingly beautiful and picturesque. Shelf roads, oncoming traffic and a few rocky sections can be expected. Bring a good camera! If your schedule allows, it's worth the time to drive Imogene Pass in its entirety (from outside Ouray to the summit, then down the other side to Telluride, Colorado). You won't regret it.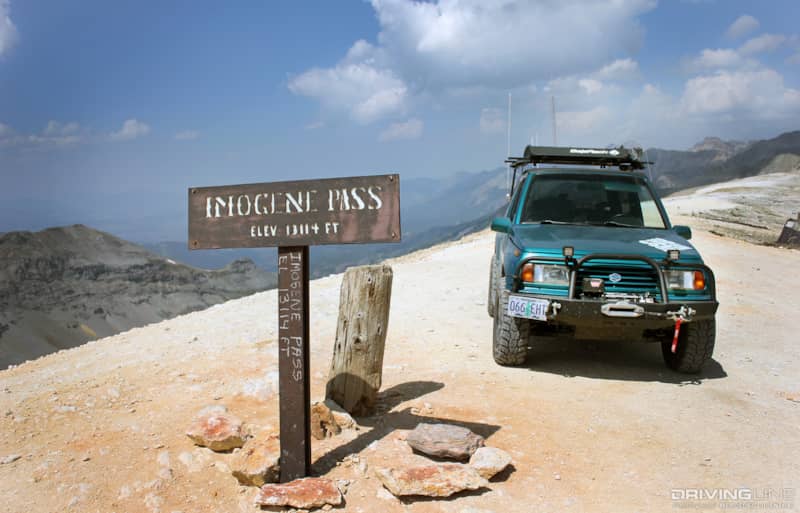 Imogene's Terrain: A Plethora of Vegetation
Imogene's terrain includes tall Aspen trees, water crossings and lots of dirt-packed miles. Meadows can give way to thousands of multi-colored wildflowers, depending what time of year you're there. Trees give way to shorter plants and the dirt trail turned into smooth rock shelves and craggy rocks. The entire drive is breathtaking but be aware, Imogene Pass is unforgiving—especially as you creep closer to the top. The trail's cliff-side is steep and the road narrows in many places. Keep your eyes focused on the road at all times. If you'd like to take photographs along the way, do so in an area that is wide enough for others to pass you. Watch your step, too. Once at the top, adventurers are awarded with a stunning 360 degree view. Some choose to visit the mailbox, or have their photo taken with Imogene Pass' well-known elevation sign. Every time I'm up there I make sure to stop, take time and "smell the roses."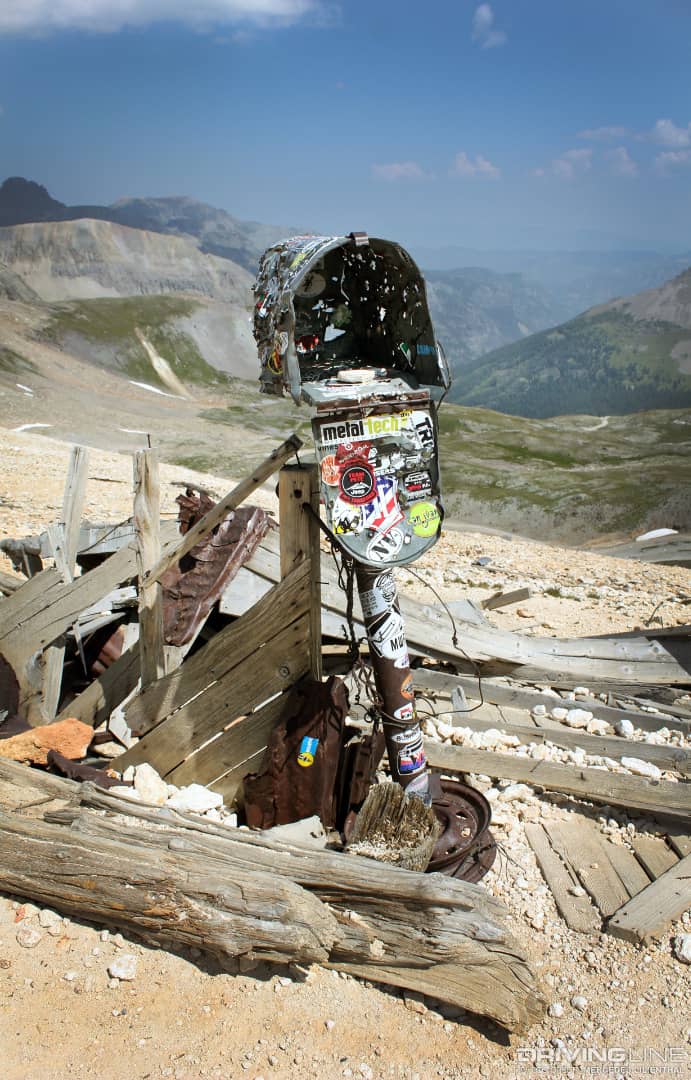 The descent into Telluride offers up tight switchbacks, old mining ruins, hundreds of aspen trees and at lower elevation, red rock. There's something interesting to see at every angle.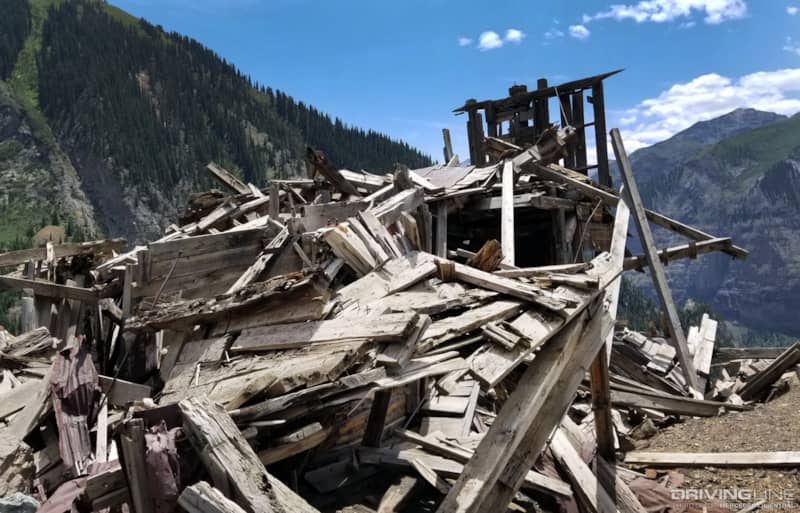 The narrow cliff-side trail certainly has a pucker factor as loose rock and tricky turns are traversed over. Groves of aspens trees open up to show Black Bear Pass in the distance (a popular zig-zag, steep trail that off-road enthusiasts frequent). As vehicles descend, high altitude gives way to thick aspen trees as folks descend into Telluride. Congratulations, you've just completed the entire Imogene Pass trail. You feel like you've driven forever, but have only traversed just over 17 miles.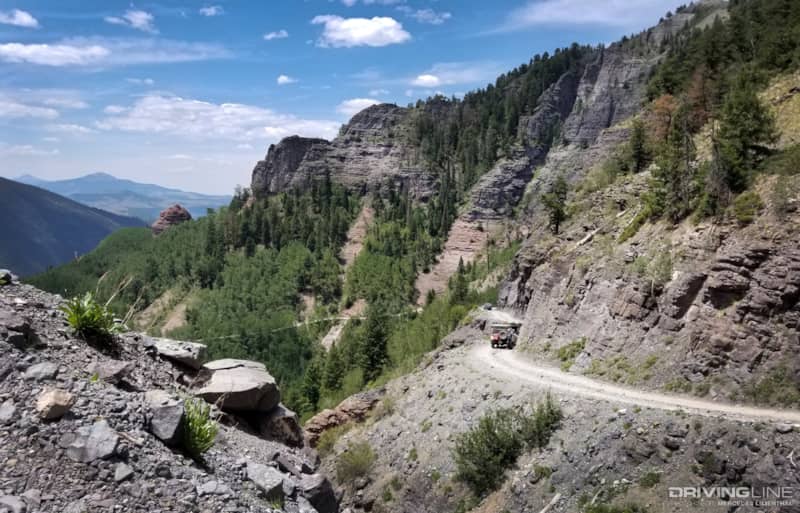 California Pass, Hurricane Pass, Corkscrew Pass
This particular route is also traversed by high-clearance 4WD vehicles, but it's more scenic than technical. No boulder crawling or suspension flexing is expected, but a day's worth of wows and wonderful scenery is in order. With jaw-dropping views around every corner, be sure to bring a camera and plenty of juice to keep it alive.
It's difficult not to stop every 10 seconds to take photos; this area is also stunning. Please note: This track is unforgiving in many areas. Drivers, keep your eyes on the road as any wrong move could be your last. You may send yourself careening down a 500-foot cliff.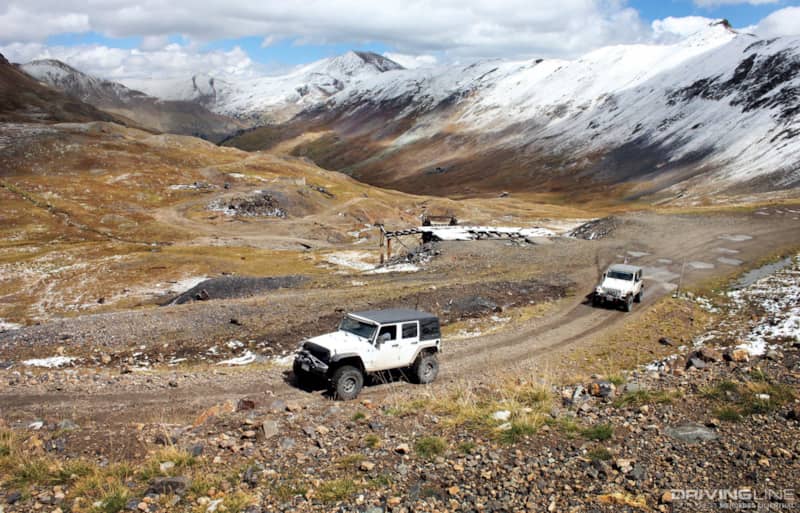 As off-roaders climb in elevation, thousands of pine trees and aspens lessen, and old mining buildings and shafts appear. In autumn, Mother Earth can grace participants with fabulous hues of yellow, green and rusty brown.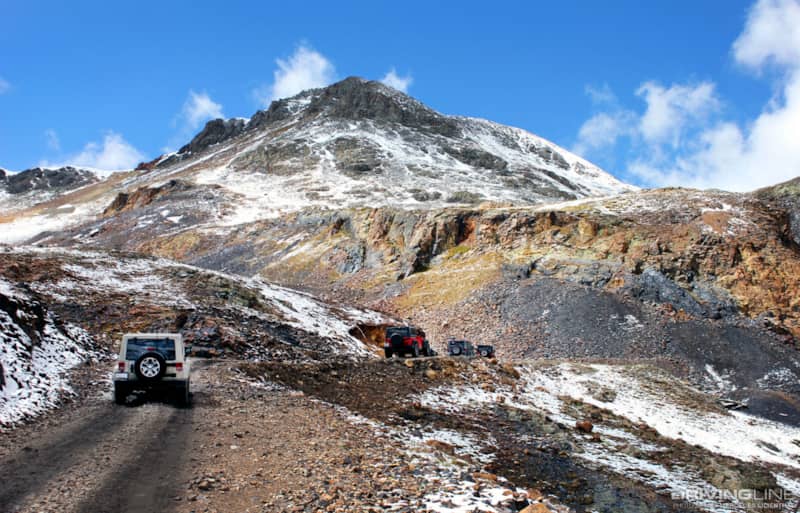 Mountain peaks of 13,000+ feet envelope visitors. They'll soon visit one of my favorite spots: California Gulch (on the way to California Pass). This open valley seduces you with its beauty. It's the perfect place to stop and just listen to the wind, see the occasional animal run across the path and stand in awe of the power of nature.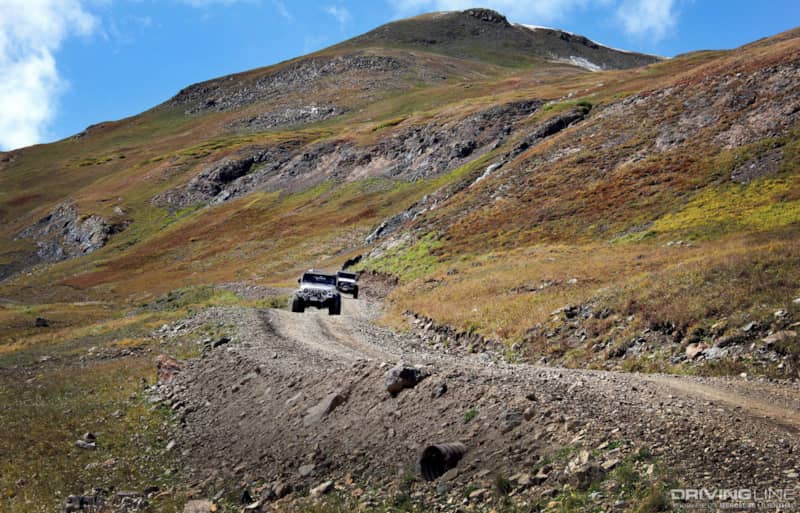 California Pass: 360 Degrees of Heaven
California Pass's summit is a staggering 12,960 feet above sea level. It seems like an eternity away from the valley floor, California Gulch, but, as drivers start their ascent, the valley floor starts to shrink and gives way to steep climbs and switchbacks. Once again vehicles climb up and above tree level to be greeted with rocky mountainsides and seemingly endless elevation gain. Once at the top, however, adventure-seekers are rewarded with awe-inspiring views of surrounding peaks as well as the valley floor.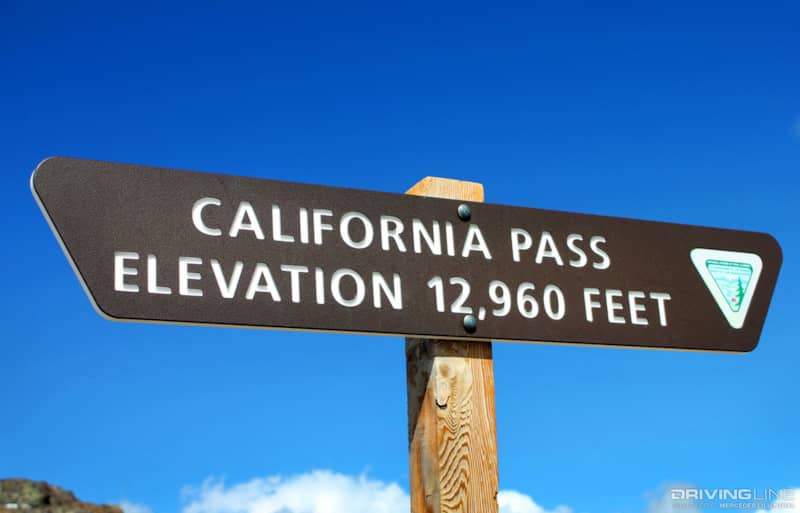 Be sure to hike up to the top of the mountain from California Pass's summit elevation sign (the pathway is easily seen). The views are amazing, but the winds are brisk. On clear days, on-lookers can see the entire valley floor where they just came from. Bring your camera—you won't be disappointed.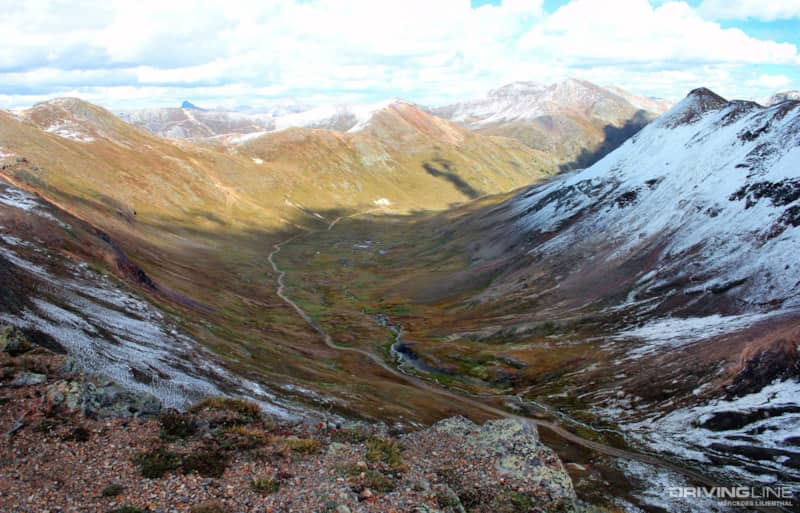 Hurricane Pass: A Majestic Scene
After California Pass, visitors can venture down the other side to traverse Placer Picayne and up to Hurricane Pass, an equally beautiful area. Hurricane Pass is situated at 12,730 feet above sea level and offers up views of Poughkeepsie Gulch (a more extreme off-road trail) and sapphire blue mountain lakes, such as Lake Como.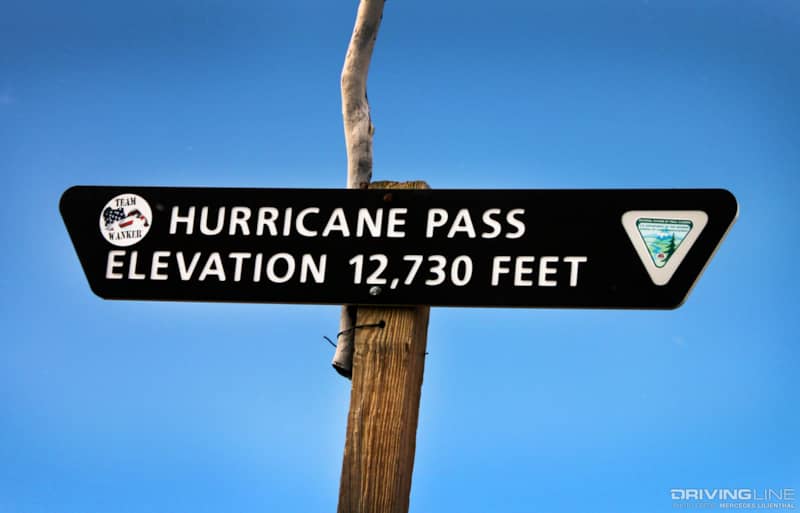 Hurricane Pass boasts the first hint of soil change—which indicates the surrounding Red Mountains and Corkscrew Pass. They're not far from this point.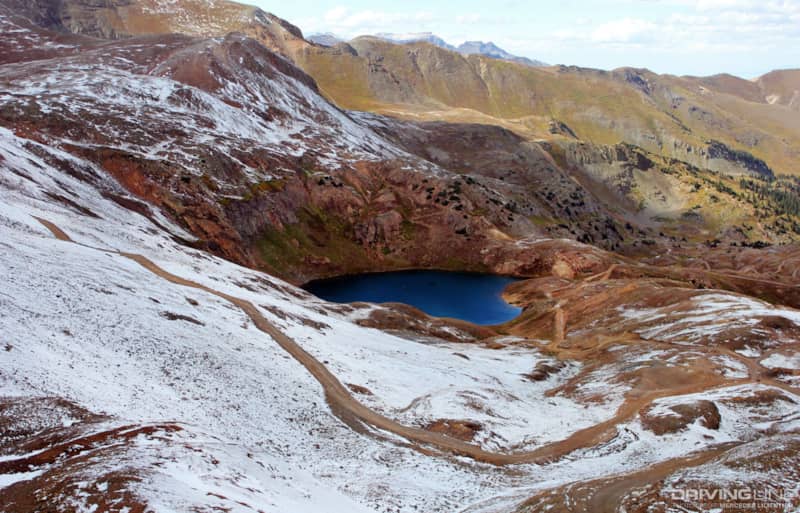 Corkscrew Pass: An Infinite Plethora of Color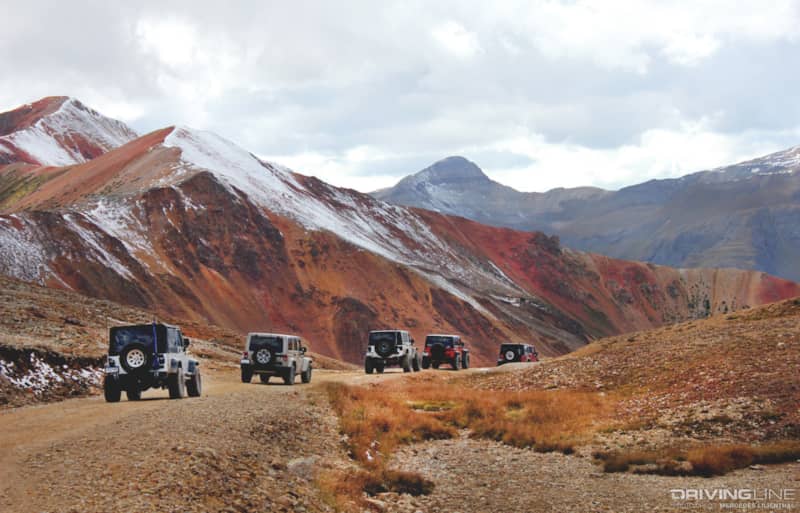 As 4x4s meander into the ghost town, Animas Forks, they can head back over to Corkscrew Pass. The road narrows, giving an extra pucker factor as they come close to the cliff's edge. Switchbacks and tracks keep rigs clinging to the side of the mountain. Keep eyes on the road as this colorful area begs you to pay attention to it versus the road. It'll steal your concentration as you drive. Notice a common theme? Keep your rig centered and yourself focused—and you won't drive off a cliff.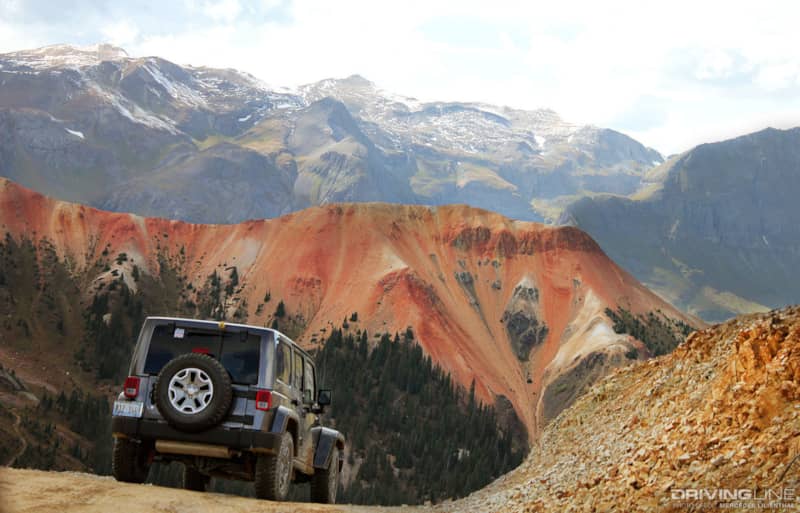 Terrain changes boast dark reds, corals, peaches and pumice. The mountains come alive with insane colors. It's like feeling euphoria as you witness nature's coloring book! If you enjoy photography, have your camera ready. The surrounding Red Mountains and Corkscrew Gulch are truly outstanding. As with the other trails, 4x4s, preferably a high-clearance ones, are best suited here.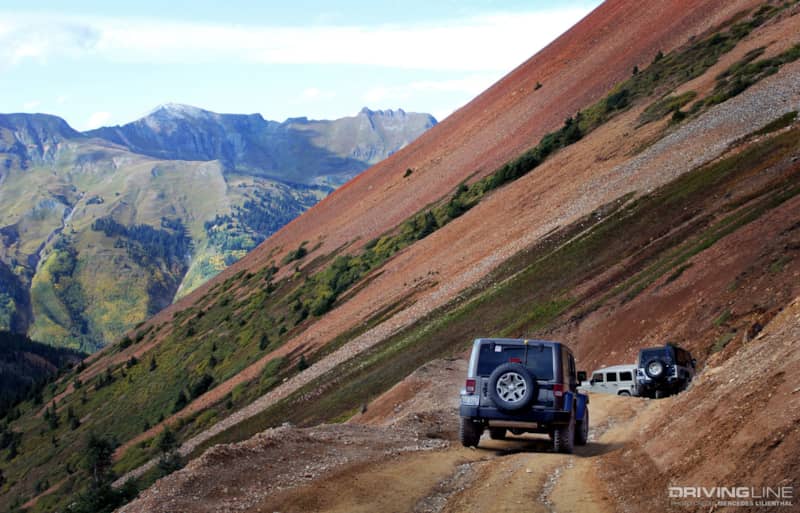 A final descent reveals pine trees and caramel-colored sides of Corkscrew. Beautiful in its own way, off-roaders dig their way back below tree-line and eventually to a staging area and the paved highway.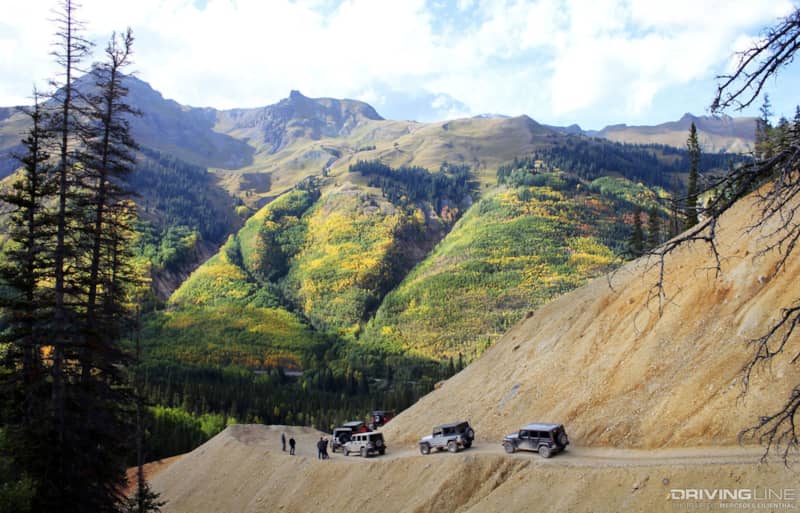 Buffalo Boy Tram House: Gotta Go Back
If you're comfortable with extremely narrow cliff-side trails and can stomach steep inclines and tight three-point turns (if in an average-sized high-clearance 4x4), then visiting the Buffalo Boy Tram House may be right up your alley.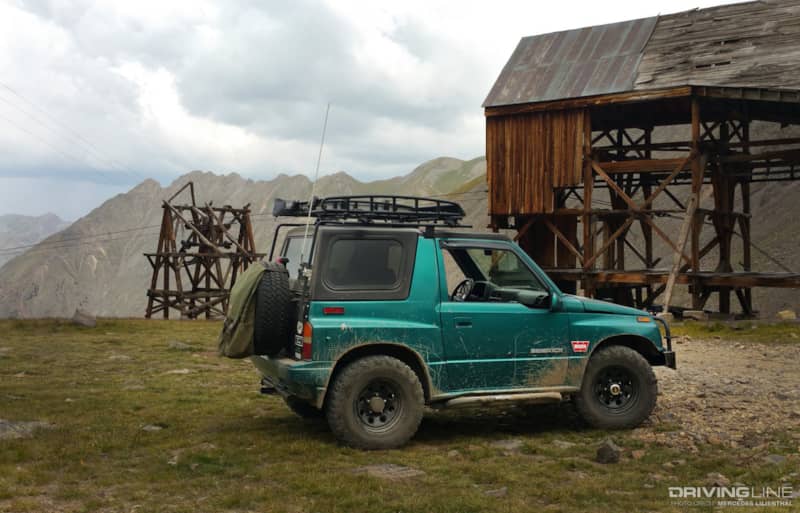 Situated off county road 3B, this winding, narrow dirt and rock trail will keep you on the edge of your seat. Home to a small, abandoned silver and gold mine, Buffalo Boy Tram House is still surprisingly intact for last being an actively producing mine around 90 years ago. Its tram cables are still hanging. Ore was once taken down the mountain by tram to the Niegoldstown area mill. Oddly enough, power lines were installed up to and around the site, begging the question if it'll be resurrected.
Note: Weather in this area can change on a dime. I've only visited Buffalo Boy once, but during that time, we ventured up to the site to only have a few mere minutes to investigate. Booming thunder and dark clouds rolled in quickly as an impeding storm was lapping against adjacent mountainsides. This trail can get very slippery when wet. Sliding even several inches in the wrong direction could send you plummeting 1,000 feet below.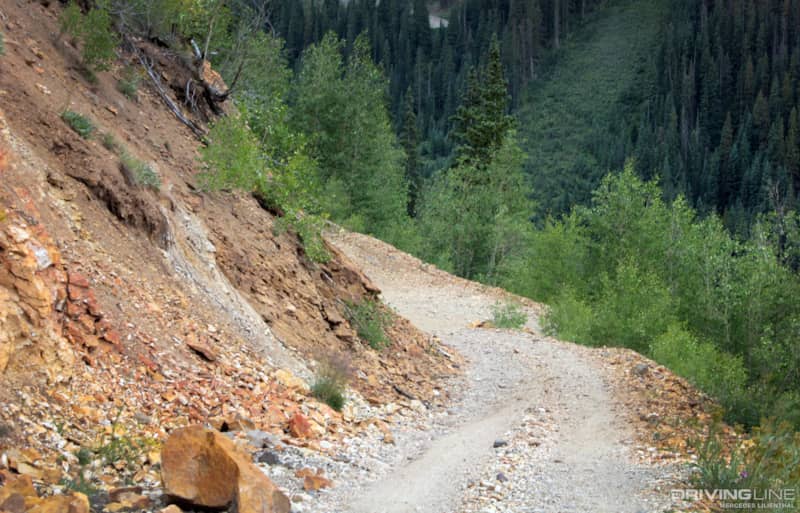 No matter if you venture up Imogene Pass, down Corkscrew or over to Buffalo Boy Tram House, be sure to be prepared. Pack essential food, drink, emergency/medical supplies and recovery equipment. Don't forget your camera but leave daily woes behind. Colorado's San Juan mountain range (including its surrounding trails) begs you to take your time. Each trail will take longer than you anticipate, but they will uniquely be worth the effort. Enjoy Mother Nature and the beauty it's bestowed to this region.
Desert driving more your thing? You need to drive the Mojave Road.