Bob Corcoran's 2018 Jeep JL Unlimited Rubicon on 40s
Bob Corcoran is no stranger to off-road adventure, and set out to build a vehicle that was capable of taking him anywhere he wanted to go. He purchased a 2018 Jeep Wrangler Unlimited Rubicon shortly after the JL was released, with plans of turning it into his faithful, number one 4x4 companion. And companions the two would become, traversing the United States back and forth, taking on some of the most challenging trails Bob could find. Read on to learn about the modifications made to Bob's beastly Wrangler that turned it into the perfect street and trail rig. 

Going Big With the 40" Nitto Trail Grappler
To be able to go anywhere, Bob knew the typical "build" on a Jeep Wrangler wouldn't cut it. He needed to go bigger, and decided that a set of 40" Nitto Tire Trail Grapplers wrapped around a set of KMC Machete Beadlock Wheels was exactly what his rig would need. As you'll see below, the choice of running a 40" tire ultimately drives the necessity of other components involved in his build. But before we get there, it's important to note why Bob settled on the Trail Grappler. Based on his frequent coast to coast adventures, he knew he would encounter trail conditions ranging from nasty mud found in places like Windrock Park in Tennessee to the porous slick rock on the trails in Moab, Utah—not to mention the thousands of road miles in between (107K and counting). Bob knew the Trail Grappler was up to the task, and loves how they are relatively quiet on-road without compromising performance in the aforementioned conditions he would come across on various trails.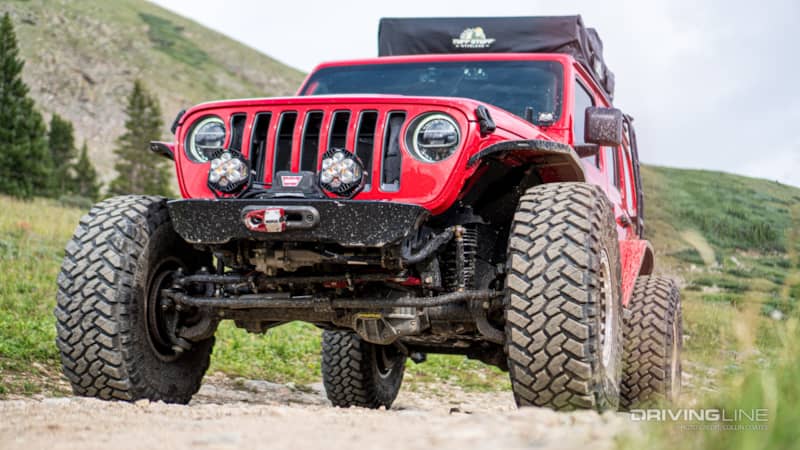 Grade-A Drivetrain Beef
In order to run 40s without the headache of damaging critical drivetrain components, Bob opted for some Grade-A Dynatrac Beef by way of their XD60 front and rear axles. Packed with 5.13 gears and ARB air lockers, Dynatrac's XD60s offer plenty of strength to support the larger 40" Trail Grapplers. Linking them up to the standard 4:1 Rubicon Transfer Case is a pair of Adams 1350 Drive Shafts. Dynatrac's oversized brakes allow Bob to stop his rig on dime, while PSC Hydraulic Steering makes light work of turning the Nitto 40s in the rocks.

No-Limits
Rock Krawler's 4.5" X-Factor "No-Limits" Long Arm Suspension system provides for plenty of clearance to run 40" tires without limiting travel. In fact, wheel travel is maximized by using RK's very own bolt-on coilover system up front paired with their 2-5/8" Remote Reservoir shocks out back. All combining to provide the correct suspension geometry which makes for thousands of smooth miles traveled via street and dirt. This combination from Rock Krawler allows Bob to take on more challenging obstacles without limits.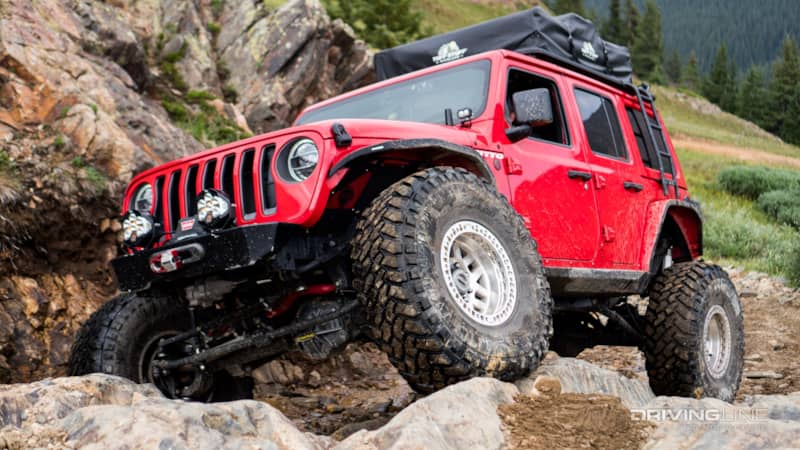 Ready for Battle
Bob's Wrangler is ready for battle thanks to it's well rounded coat of armor. JCR Offroad's Crusader Rock Sliders protect the rocker panels and allow his JL to pivot or slide off of boulders when encountered. He also opted for a set of JCR's mid-width Crusader Fenders front and rear, which look excellent painted to match the body but also allow Bob to take advantage of every last inch of travel provided by his flexy Rock Krawler suspension. A set of high clearance bumpers from Rock Krawler protect the front and back, with a Warn VR-10S Winch and a Factor 55 Hawse Fairlead and FlatLink ready to assist in the event of a recovery up front.

Over-Crawling
What do you call a purpose-built rock crawler mixed with a rig capable of overlanding? Bob doesn't care. Whether considered an over-crawler or not, his well-built Wrangler is equipped with a Rhino-Rack roof rack and Maximus-3 mounting system. On top of it lives a Tuff-Stuff Overland "Ranger Series" Rooftop Tent, which allows Bob to pretty much camp just about anywhere he is willing to take his 4x4 build. It comes in handy when he comes across epic campsites. Instead of pushing on for the nearest hotel, Bob opts to park it and setup camp instead, taking advantage of his time in the outdoors whenever possible. 
Day and Night
A Pair of Baja Designs LP6s and Squadron Pros lights up front make sure that Bob's JL is ready for the trails day or night. A set of Baja Designs S2 Pros handle lighting out back, while a set of S1 work/scene lights illuminate the rear corners. A sPOD bantam switch panel controls all of the lighting inside the cab. In addition to lighting, Bob also equipped his Jeep with a 15lb Powertank mounted behind the rear seat, which makes airing up on the trail quick and easy. Airing down is also a cinch thanks to Powertank's Monster Valves installed in each of the KMC beadlock wheels.

Built for Adventure
When asked about his custom Jeep Wrangler, Bob will be the first to tell you that it's built for Adventure. Be it a cross-country road trip or some of the toughest 4x4 trails, his Wrangler Unlimited Rubicon is built to handle it all. Be sure to check out Bob on his Instagram to see all of his latest adventures in his trusty JLU Rubicon.