5 Forgotten Modern Pickup Truck Special Models
Not every special edition pickup is destined for greatness. Some modern trucks end up being forgotten through no fault of their own, as buyer tastes change or brands decide to switch up naming schemes and feature availability from one model year to the next. In other cases, these unusual trucks simply never found the customer they were intended for, as automakers overestimated the market or didn't quite do their research on price before putting them on sale.
In any case, a few of these pickups deserve to be more than just a footnote in a dealership's sales report. Check out these 5 modern truck special models that no one remembers.
1. GMC Sierra C3
In the early 2000s, GMC still hadn't thrown its entire marketing weight behind the Denali brand, which had been introduced as a plush trim level for the Yukon SUV in 1999. Although early signs were promising, GMC was still cautious about expanding the brand to include more than a single model, which lead to the creation of the one-year-only GMC Sierra C3 full-size pickup.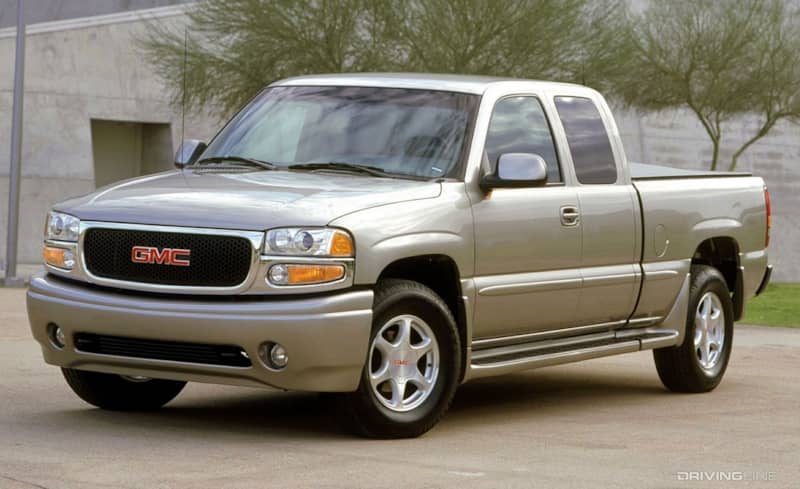 The C3 was offered in 2001, and for all intents and purposes it is a Denali in everything but name. The truck introduced a long list of luxury and comfort features culled from the Sierra options sheet, while also featuring unique styling—body-colored, contoured bumpers, unique running boards, an upscale interior—and an extended cab as the only available body style.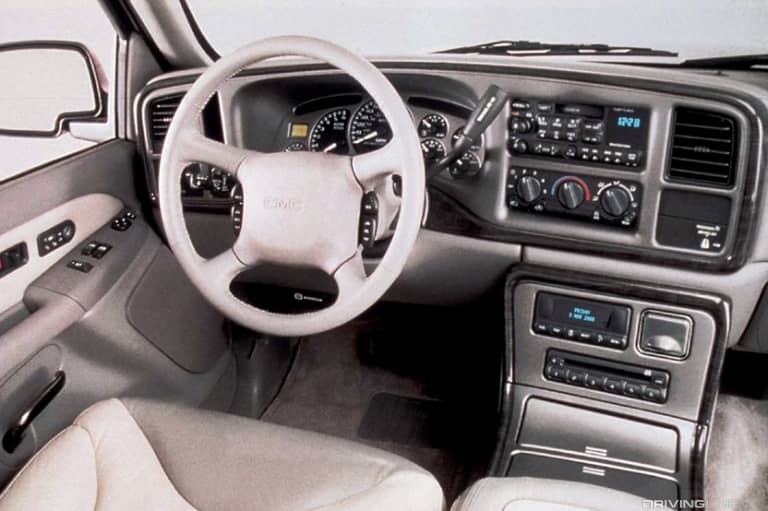 All versions of the Sierra C3 came with the brand's largest V8 engine, a 6.0L V8 good for 325hp and 370 lb-ft of torque. Unique among full-size GMC and Chevrolet pickups was the C3's standard all-wheel drive system, which provided full-time four-wheel grip and helped the truck hit 60-mph in under 8 seconds.
The GMC Sierra Denali would replace the C3 after one year and go on to be a massive luxury truck sales success.
It was the most expensive truck in GMC history, checking in at roughly $40k, and it was relatively well received by the brand faithful. By the end of 2001, the C3 name was banished and the Denali badge permanently installed on all future versions of GMC's luxury truck.
2. Dodge Ram SRT-10 Night Runner
The Dodge Ram SRT-10 was a rare truck in its day, with only 5,500 examples built during its three-year run. Outfitted with the same drivetrain found in the Dodge SRT-10 Viper, the 2004 version of the 10-cylinder Ram delivered 500 horsepower and 525 lb-ft of torque sent to the rear wheels through a six-speed manual transmission. In its second year of production, the SRT-10 would gain a four-door model that featured a four-speed automatic transmission. In an effort to goose sales, in 2006 that same auto-equipped truck would feature an almost-forgotten trim level called the 'Night Runner.'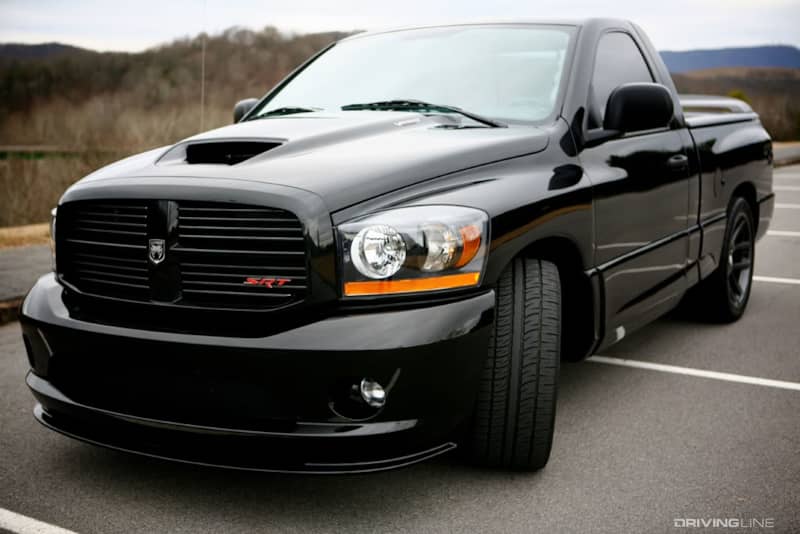 As might be expected, the Dodge Ram SRT-10 Night Runner followed the timed-tested strategy of cheaping out on a special model by simply dunking everything in black paint and calling it a day. Blacked-out trim, a blacked-out interior, and glorious 'NIGHT RUNNER' stickers affixed to the rear haunches of the pickup were its primary selling points, along with a dash plaque filling your passengers in on the rarity of the model. Less than 10 percent of total Ram SRT-10 production was sold as a Night Runner, which makes these trucks scarce on the used market.
3. Toyota Tundra T3 
Speaking of scarce, blacked-out trucks… Back in 2003, Toyota decided to build a tie-in truck to commemorate the Tacoma that gets absolutely obliterated during a protracted chase scene in the movie Terminator 3: Rise of the Machines. In the ashes of a largely forgettable installment in a series that had lost its way, the Toyota Tundra Terminator 3 Special Edition is worth remembering.
Like the Ram SRT-10 Night Runner, the Tundra was blacked out from head-to-toe, which is kinda similar to Arnold Schwarzenegger wearing a leather biker jacket if you're a pickup PR person trying desperately to sell the link. A fun 'T3' badge was affixed to the grille (with the call-out appearing in several other places inside and outside the truck, and a TRD-sourced dual exhaust system was installed. Everything else about the pickup was largely cribbed from the SR5 trim level, but it did provide a sport suspension system (limiting the truck to two-wheel drive models) as well as a limited-slip differential.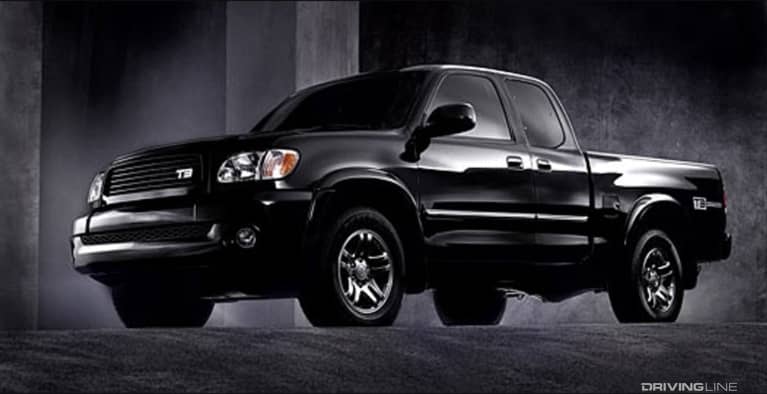 Roughly 860 versions of the Tundra T3 were built. No word on how many have since been signed by Arnold.
4. Lincoln Blackwood
GMC wasn't the only truck brand closely watching the Sierra C3's reception in 2001. Joining the Denali the year after was the Lincoln Blackwood, Ford's entry into the premium truck sweepstakes that took things several steps further than what General Motors had to offer—and, as it turned out, what customers actually wanted to buy.
At its core, the Blackwood was an F-150 crew cab, which meant it borrowed the same 300hp, 5.4L engine as its Blue Oval sibling. Where it stood out was in its styling, which offered not just the face of the Navigator SUV grafted on to a pickup body, but a truly unusual cargo bed that was carpeted, framed by polished aluminum, and covered by a power-lifting tonneau. Accessing the bed was weirdsville too, thanks to Lincoln's split tailgate.
If you're thinking that the delicate description of the Blackwood's bed makes it sound next to useless for doing truck stuff with, you're right. Even with its trick air suspension system at all four corners, few were tempted to pay Lincoln's exorbitant $52,000 sticker price for a vehicle that was barely useful and significantly less powerful than its much cheaper Sierra Denali equivalent. A lack of four-wheel drive (something that could be had with the equally expensive, and also new Cadillac Escalade EXT pickup) was another major oversight from FoMoCo. Only 3,500 Blackwoods were sold before Lincoln pulled the plug after a single model year.
5. Toyota Tundra TRD Supercharged 
Not exactly a trim level, but definitely a truck that flew under the radar of most full-size buyers in the United States was the TRD Supercharged package available from Toyota for the 2007-2013 Tundra.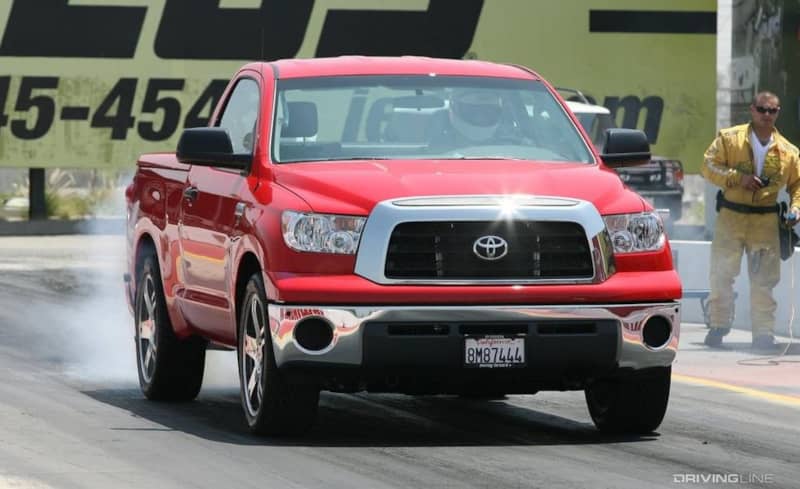 Put together from its parts catalog, the factory-backed and fully-warrantied system added a hefty dose of horsepower to the 5.7L V8 version of the pickup, bringing it from 381 ponies to a whopping 504, and throwing in 550 lb-ft of torque to boot. The company also sold a big brake kit to add some whoa to the truck's go, but it wasn't exactly a street truck, as handling and even TRD-enhanced stopping power were woefully behind the straight-line capabilities of its supercharged punch.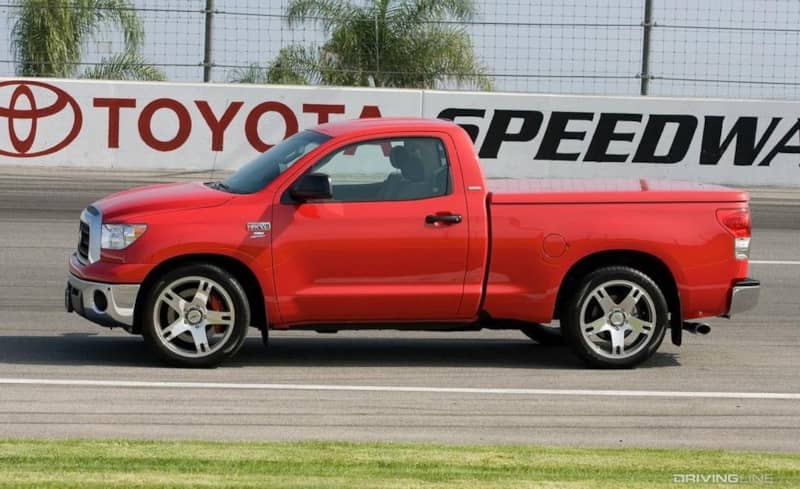 Toyota relied on its dealer network to install the kits, which means exact numbers in terms of production are hard to come by. With so many years of availability, however, it's perhaps one of the less rare of these forgotten modern pickup truck trims.