Toyota Trio: Which 2019 TRD Pro is Right for You?
If you're like me, you have a pretty good idea of what you're looking for when purchasing a brand new off-road vehicle. You've researched what features are important to you, what price point you can afford and how you plan to use it for the long-term. You compare this against current models, weigh each manufacturer's pros and cons and test drive them all.
If you aren't that type of person, or you're just starting your research about off-road vehicles, I can help you understand the differences, strengths and opportunities each of the 2019 Toyota TRD Pro models has to offer. I recently joined Toyota Motor Corporation for an intensive off-road excursion to test them. Offered up were new Tacoma, Tundra and overlanding favorite, the 4Runner.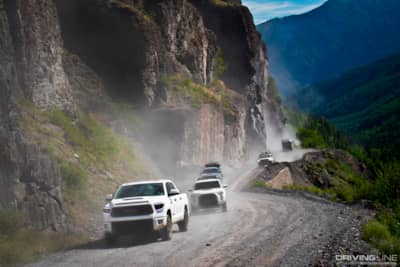 Toyota's TRD Pro Series Drive Event
A small group of journalists, including me, navigated through Colorado and Utah's hills, gravel roads and cliff-embracing turns. We also drove over washboarded trails, dirt, rock, and through water. We found ourselves amongst the red rock and high desert vistas of the Rimrocker Trail, as well as in alpine trees, muddy waters and mountaintops of Ouray and Telluride, Colorado. While cell phone service was scarce, the opportunity to drive these rigs in a variety of terrain was not. We had plenty of time to drive each TRD Pro vehicle.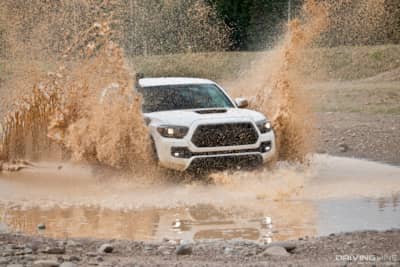 "TRD Pro is unique in that we don't offer a single off-road vehicle—we have a lineup of trucks and SUVs that offer true performance off of the pavement. We have confidence that our range of truck and SUV offerings carrying the TRD Pro name provide exceptional performance both on and off of the highway," explained Terry Sell, Toyota's National Vehicle Marketing Manager from the Truck and SUV division.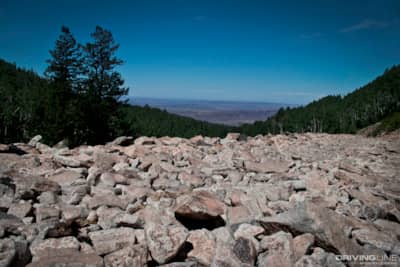 Toyota is reinvesting its energy to their off-road enthusiast crowd. They didn't host a one-day event at a posh hotel hoping to gain great reviews. They didn't dismiss time behind the wheel. Toyota ensured we had ample time to test the Tacoma, 4Runner and Tundra. Our multi-day trip entailed camping in the middle of nowhere and connecting our days together with mud, dust, wind and adventure. Toyota wanted us to really drive the TRD Pro lineup, and we answered their call.
2019 Toyota TRD Pro Tacoma
The TRD Pro Tacoma includes an optional all-new TRD desert air intake (which our test mule donned). The desert air intake helps keep the engine healthier by providing fresh, dust-free air to it. The desert air intake also makes this 278hp 3.5L V6 Tacoma look cool, too. Something important to note is that this air intake is just that, an air intake. It isn't a snorkel, and it isn't waterproof.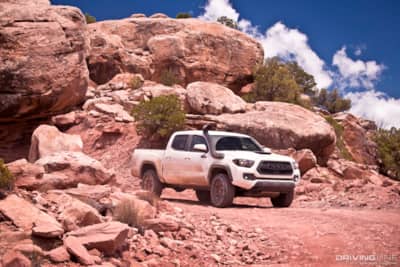 The Tacoma boasts a new-for-2019 standard Entune JBL audio system, as well as a quarter-inch thick skid plate with red TRD lettering. Tucked inside are 2.5-inch TRD Pro-exclusive Fox internal bypass shocks. The Tacoma's front shocks are paired with specially-tuned TRD coil springs, whereas the rears offer up progressive-rate off-road leaf springs and two-inch shocks with 11 bypass zones and two-inch piggyback reservoirs. This pairing improves ride comfort and off-road handling. The Tacoma receives bumps and holes with ease, seemingly floating over them. The Fox shock setup is an integral part of this truck; it's a remarkably solid ride when zooming over washboarded roads.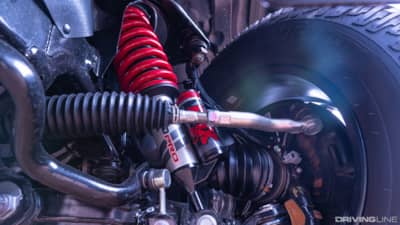 Our 2019 TRD Pro Tacoma was agile and comfortable. Its lightweight figure made quick work of constricted corners. The TRD Tacoma's approach and departure angles were impressive, too. It cleared boulders and bumps better than I anticipated. In addition, the rear locker, multi-terrain select system and crawl control worked extremely well. These are very nice features to have if you're thinking about navigating through intermediate or advanced terrain. I did notice the lack of USB ports, though. Additionally, there's no grab handle on the driver's A-pillar as you pull yourself into the cab. This may be due to the A-pillar side airbags. Lastly, there is no vertical adjustment for the driver's seat. No vertical adjustment proved difficult when I tried to peer over the hood while navigating tricky terrain. If you're a "vertically-challenged" person like me (I'm 5 feet 4 inches), you may have this problem. Once in, the seat was comfortable and adequately held you during off-camber situations.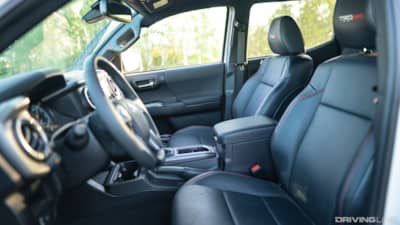 2019 Toyota TRD Pro Tundra
The TRD Pro Tundra has subtle yet notable upgrades. Same as the TRD Tacoma, the Tundra features the 2.5-inch TRD Pro-exclusive Fox internal bypass shocks. Those Fox shocks are paired with specially-tuned Tundra TRD coil springs, and the rears include upgraded leaf springs. Additionally, the TRD Pro Tundra boasts the aforementioned ¼-inch thick skid plate. In the Tundra's bright future, this model includes LED headlights and daytime running lights, along with Rigid Industries LED fog lights.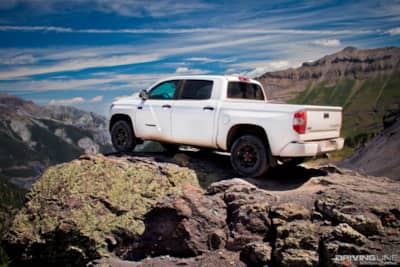 The TRD Tundra has a comfortable and well-designed cabin. It has some different materials and colors compared to the base Tundra, and the TRD stitched leather seats were cushy and big. One item to note is that the seats have slightly flat backs that may be uncomfortable for people who have back issues, like me. Larger in size, the Tundra has room for even the tallest passenger, and has tons of space for cargo and kiddies.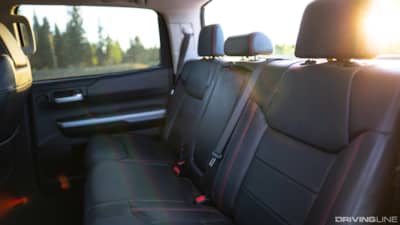 The Tundra's trail manners were smooth and content. The ride was solid, and responsive in most cases, despite its larger size compared to the Tacoma. Although the Fox shocks and truck's performance was admirable, the Tundra lacks certain off-road accoutrements. Unlike the Tacoma and 4Runner, the Tundra lacked a rear locker, multi-terrain select system and crawl control. The 381hp, 5.7L V8 produced 401 lb-ft of torque—more than enough power when you needed it—and the meaty sound it generated upon spirited takeoffs made me grin.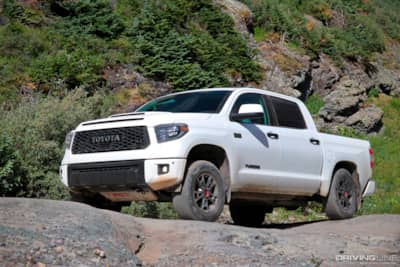 One of Toyota's TRD line-up shortcomings was the lack of USB and quick-charge capacities. The Tundra showcased only one UBS outlet. We are in 2018, aren't we? Although it had three 12-volt ports near the driver seat, the lack of easy charging options was apparent across the lineup. It was noticed among several event attendees.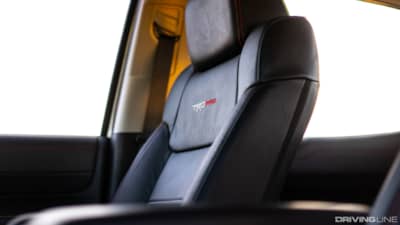 Other items to note: no driver's side A-pillar grab handle, as well as no driver's seat vertical adjustment. If I'm taking the beefy Tundra on challenging terrain, I'd expect to be able to change my seat height to allow for optimum visibility.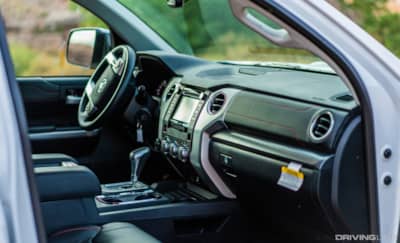 2019 Toyota TRD Pro 4Runner
Rounding out the TRD trio, the 270hp, 4.0L V6-powered Toyota TRD Pro 4Runner is a crowd favorite. The 2019 4Runner sits atop 265/70R17 all-terrain Nitto Terra Grapplers and includes an upgraded TRD skid plate and 2.5-inch TRD Pro-exclusive Fox internal bypass shocks. Tuned specifically for each vehicle by the engineers at TRD, the aluminum-bodied Fox shocks offer extraordinary performance and notable damping while traversing over a variety of terrain.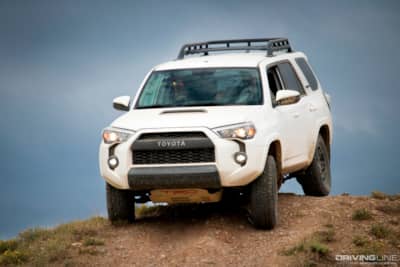 Along with other improvements, the 2019 4Runner boasts a new TRD Pro roof rack. This rack is streamlined to handle all types of cargo—perfect for most overlanders. Interior cargo capacity is also sufficient. Standard on this model is a JBL audio sound system (same as the Tacoma), as well as TRD-accented items such as stitched softex seats, shift-knob and TRD Pro exterior badging. I happily discovered an electric-powered vertical seat adjuster, too. I can finally see over the hood. The 4Runner, though, lacked the same upgraded LED and Rigid lighting as its TRD counterparts.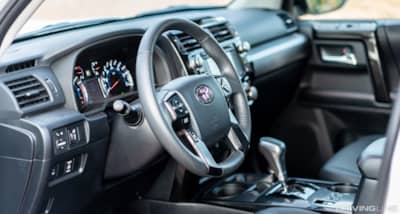 The 4Runner SUV was an outstanding performer off-road. Its off-pavement characteristics were superb. The suspension, like the Tacoma and Tundra, offered controlled, comfortable and smooth performance. Its cabin was the most luxurious of the TRD Pro lineup and made for an enjoyable driving experience. Along with the Tacoma, the TRD Pro 4Runner comes with a rear locker, multi-terrain select system, as well as crawl control features—something I hope Toyota will include in the Tundra's near future. We encountered a boulder-filled incline, and with the locker engaged, we got up and over most of the rocks. With the last push, the crawl control feature assisted to successfully finish the job.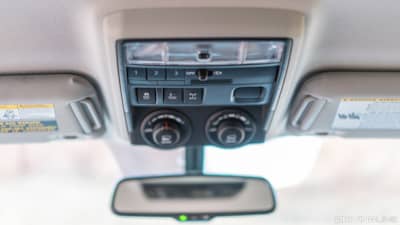 Which 2019 TRD Pro Is Right for You?
The Toyota Racing Development team has developed engines, chassis and parts for close to 40 years. Their proven track record of off-road prowess has translated into some stellar 2019 TRD Pro rigs. Even bone-stock, the Tundra, Tacoma and 4Runner are capable of navigating through most of the off-road terrain that overlanders venture on. While the Tundra is perfect for dirt, gravel and intermediate terrain, the Tacoma and 4Runner step up their off-road capability with a rear locker, multi-terrain select system and the crawl control feature.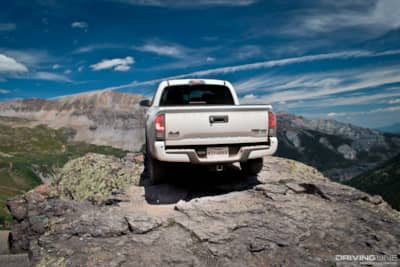 If you're in the market for a mid-size truck that is agile, comfortable and encompasses critical off-road features like a rear locker and crawl control, the Toyota Tacoma may be the right fit for you. If you're looking for a full-size truck that allows room for plenty of passengers or payload, and is a solid performer on non-advanced off-road terrain, the Tundra may be your best bet. If you're after an SUV that is both well-appointed and trail capable, the 4Runner could be the perfect platform for you.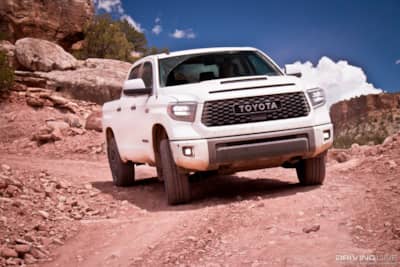 Each of the TRD Pro rigs boast TRD Pro-exclusive Fox internal bypass shocks and specially-tuned TRD springs, whereas the rears include either upgraded leaf springs (Tacoma and Tundra) or TRD off-road rear coil springs (4Runner). The TRD Pro series offers up comfortable and solid rides. If you're not sure if a truck or SUV is the right fit for you, be sure to check out all three models. One of these could be the perfect chariot for your overlanding or off-road adventures. No matter whether you leave it stock or you build it up to satisfy your off-road needs, the Toyota TRD Pro lineup is worth considering.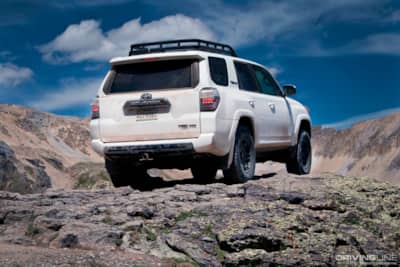 Interior and undercarriage photos courtesy of Expedition Overland.
Did you see Alpha Van, the ultimate overland Ford E-350 4x4?