5 Harbor Freight Essentials for Off-Road Camping
Whether you're looking to gear up to hit the outdoors more, or you need to upgrade your current camping supplies, there's no doubt all that equipment can get expensive. It isn't uncommon for individuals or families to spend four-figure dollar amounts on quality camping gear. As technology and urban environments have grown to become an integral part of our daily lives, more people are looking to escape to the outdoors than ever before, often times in their off-road vehicles. Outdoor and camping equipment companies have taken notice and are capitalizing on the demand for their products, many of which are designed around off-road camping. But what if you could find some of the most important pieces of your camping setup at a store that's known for giving you the best bang for your buck?
That's right, we're talking about Harbor Freight Tools. More specifically, five of our favorite purchases from the low price leader to complete our off-road camping gear list. Each one of these parts plays a vital role in having a successful outing with mother nature in your off-road rig, so we packed the trucks and headed for the dirt to put the equipment to the real world test.
First on our list is an item anyone who spends an extended amount of time off the grid should have. This Thunderbolt Magnum 100 Watt Solar Panel Kit is the perfect solution to keeping your batteries topped off while camped, as well as charging smaller electronics. What we loved most about this kit was the fact it came ready to go, with everything needed to charge your truck batteries and accessories in the box. Four separate 25 watt solar panels with angled stands make it easy to lay out in the sunniest spot of your camp, each individually wired to a central charge controller that protects your batteries from overcharging or discharging. The control unit display comes with a pair of alligator clamp connections for your battery and tells you the current voltage, both during charging and non-charging. This kit should be on anyone's list who will find themselves off the grid for more than a couple days.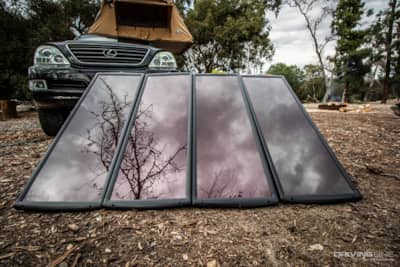 The next item on our list isn't necessarily just used for camping, or for your vehicle, but does a great job for both. The Pittsburgh 12 Volt 150 PSI Compact Air Compressor is a great solution for anyone who plans to air down their tires before hitting the trails. Often some of the best camping locations are way off the beaten path, requiring all the traction you can get from your tires. But don't get stuck driving to the nearest gas station to refill them when you get back to pavement. This compressor kit comes with everything you need to get your tires back to highway pressure. Just clamp the leads onto your battery terminals, connect the coil hose to the compressor and thread the inflator onto your valve stem. This compressor will fill a 35-inch tire from 15 psi to 35 psi in just a few minutes. Even if you don't find yourself airing down very often, it's still a great, compact tool to have in the truck for your adventures.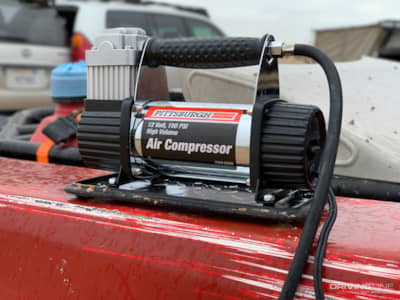 Often times when we're camping in the the dirt somewhere with our trucks, we rely on the vehicle batteries to power our electronics or lights. This can spell disaster if your battery is drained too far or isn't holding a charge. This Viking Lithium Ion Jump Starter and Power Pack is the perfect safety net for a dead battery. The unit itself has lots of useful features such as a USB port to charge electronics, a 12v cigarette lighter plug to power vehicle accessories and an LED flashlight for emergencies. This power pack comes in a nice zip case holding all the accessories in one place and can easily fit in most glove boxes. Harbor Freight claims the battery will hold up to a 70-percent charge after two years. We're glad we picked one of these up for our travels—you never know when you'll need it!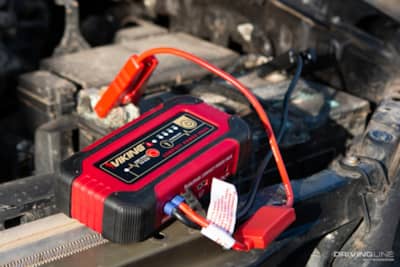 So this next item may be a bit trivial, but it's still one of the most useful items in our packing list for an off-road camping weekend. Harbor Freight offers a wide selection of tarps for every purpose and size. We recently picked up a few of their Camouflage All Purpose/Weather Resistant Tarps to place under our tents, as well as to leave in the truck for inclement weather. Another added use is a clean surface to lay on when making repairs or working on the truck. The bottom line is, tarps are useful for many different things, and when it comes to value (and now styling), you can't beat Harbor Freight. The camo looks great!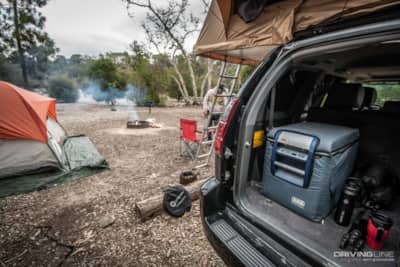 As much as we like unplug from our daily lives and head for the mountains, sometimes we need to plug in to keep the weekend going smoothly. If you find yourself constantly needing to use your truck's batteries for charging stuff, running lights, tools or keeping a fridge cool, you might want to take a look at the newest offering from Harbor Freight's generator line, Predator. We purchased a Predator 2000 Watt Super Quiet Inverter Generator, and we're incredibly impressed. Having previously used the Yamaha and Honda variants of this portable, quiet generator, we can say with confidence that the Predator holds its own. With 2000 peak watts, an easy to use control panel, minimal running noise, multiple outlets and ability to run in parallel for doubling the power output, it easily competes with the leading brands. But perhaps it's greatest feature is the price. For under $500, you simply cannot beat this generator. Take one look at the price of a Honda EU2000i generator and you'll see what we mean. We've used this little generator for the RV, house, boat and dry camping. As long as you keep up with the maintenance, it'll serve you right.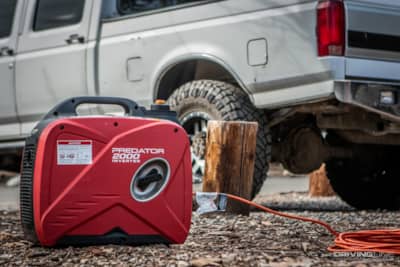 Well there you have it! These five items should be on your list the next time that coveted coupon book finds its way to your mailbox. Harbor Freight has made a significant and noticeable change to the quality of their products lately, and it's only making us want to buy more of them. You can guarantee we'll be heading back with our coupons to pick up more items for our off-road weekend adventures. But until then, safe travels!