5 Modern Body-On-Frame Off-Road 4x4 SUVs That Are Still Cheap To Buy
Modern traction control systems and sophisticated all-wheel drive have made unibody crossovers reasonably capable when it comes to tackling mild terrain once the pavement disappears. For those who want to climb from rock-to-rock, however, or punish their truck at higher speeds across seriously rough ground, the advantages of a truck-based, full-frame design are clear. Tougher than the average unibody hauler, and easier to lift and stuff bigger tires underneath, traditional SUVs are more appealing for off-road fans.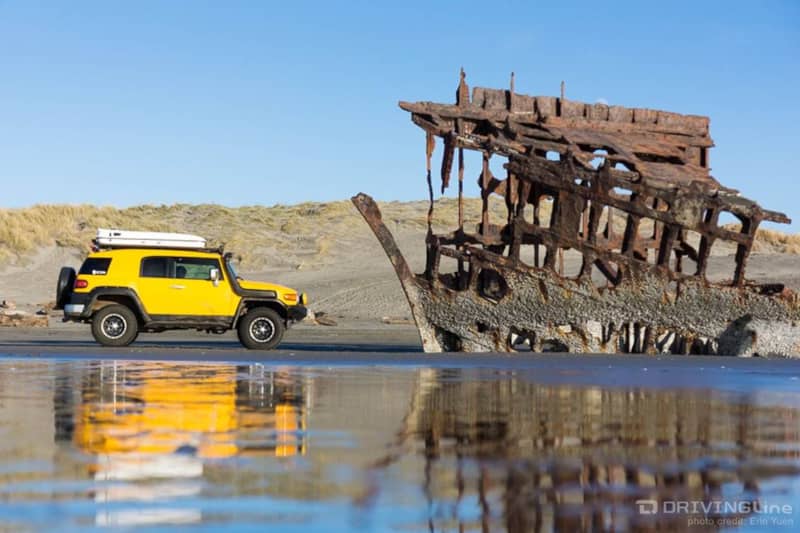 Which recent body-on-frame 4x4s provide the strongest mix of value, performance, and durability? These truck-based people movers are your best bets for getting the most out of your off-road budget without having to dip back into older, more spartan designs.
1. 2000-2004 Nissan Xterra
The first generation Nissan Xterra was specifically built to balance off-road fun with a reasonable level of day-to-day comfort. Sharing much of its platform with the mid-size Frontier pickup, the Xterra has developed a reputation for being cheap to run, with good parts availability and a strong online ownership community devoted to maintaining and modifying these rigs. Nissan built huge numbers of these trucks, too, which makes them easy to find at a reasonable price (although condition, especially if you live in the rust belt, can vary widely).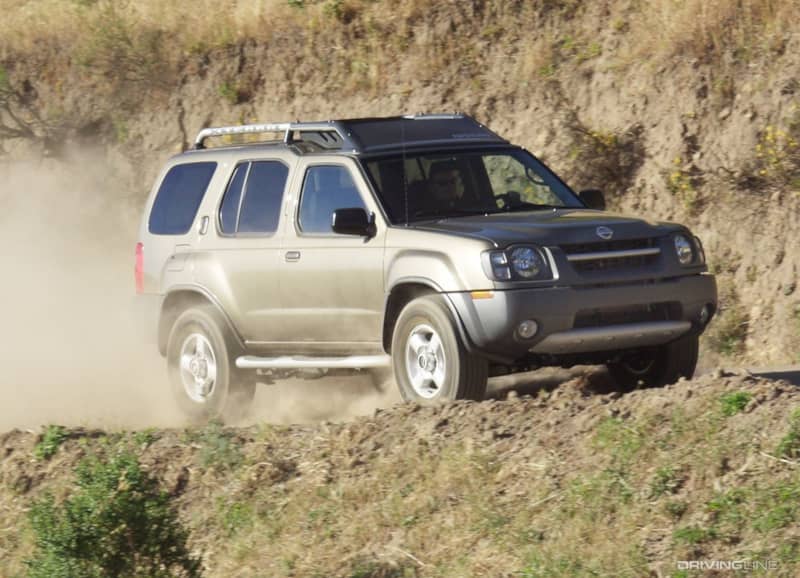 A four-cylinder (143hp) was offered as standard equipment, while a 3.3L V6 (170hp) was available as an option. Later first-gen V6 trucks also gained 10 horsepower as well as a somewhat rare supercharged version that was good for 210 horses and 246 lb-ft of torque (with slightly lower twist for trucks that swapped the four-speed automatic for a five-speed manual). Four-wheel drive was a traditional mechanically-engaged system with low-range.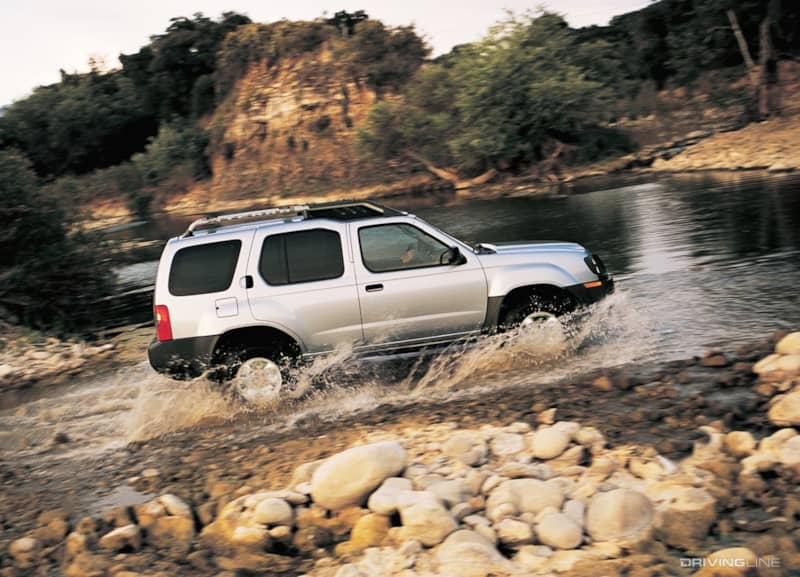 Why choose an Xterra? The small-ish SUV is one of the last examples of simple design married to just enough interior comfort and features to keep you content when you're back on the asphalt. It's basic transportation, but it's also entirely modern, and with prices almost always below $5,000 for a decent survivor it's a strong upgrade over 90s-era SUVs that command similar prices.
2. 2006-2014 Toyota FJ Cruiser
The Toyota FJ Cruiser is a bit of a surprise entry on this list of affordable body-on-frame 4x4s. Until recently the FJ Cruiser was typically priced above what you'd spend for a similarly-sized SUV of roughly the same vintage, but the market has gradually begun to soften for these retro-themed trucks, making them more attainable as a trail rig.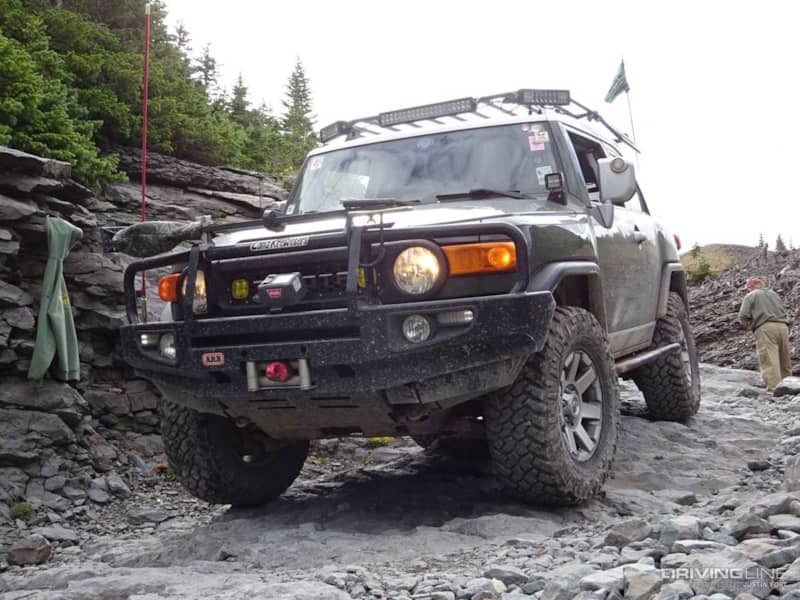 Much of the FJ's underpinnings are shared with the mid-2000s Toyota 4Runner, and its focus on off-road performance is clear when examining its excellent ground clearance, approach and departure angles, and A-TRAC traction control system that mimics a traditional locker. Two four-wheel drive systems are offered (each with a locking center diff), and a full-time until was offered alongside a part-time setup.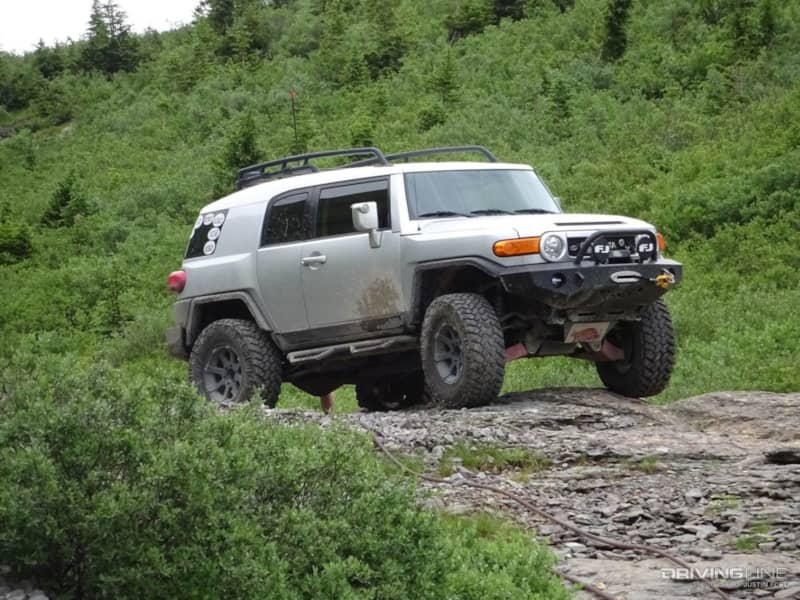 To get that full-time setup you'll need to find an FJ Cruiser with a six-speed manual transmission, as five-speed automatic trucks were part-time only. Each of these Toyotas feature a 4.0L V6 that develops a modest 239hp and 278 lb-ft of torque, with a bump to 259 horses in 2010.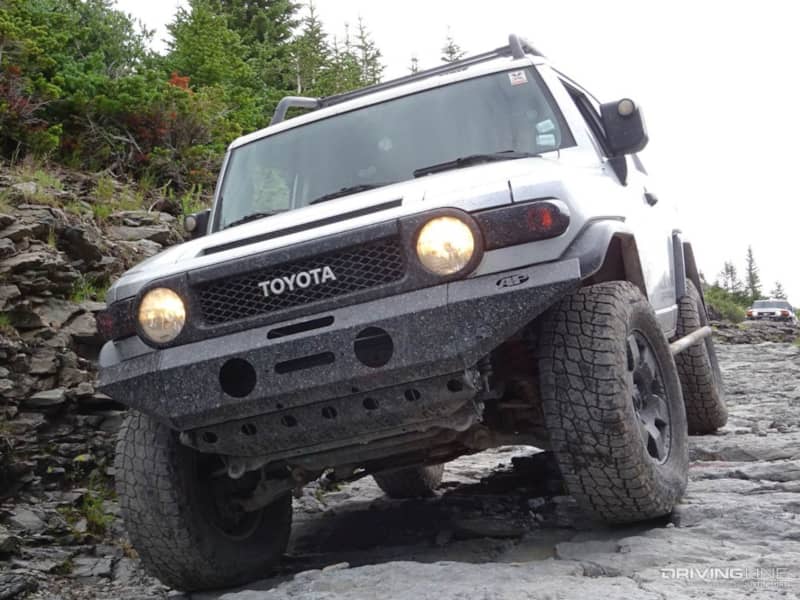 The FJ is remarkable for its styling, to be sure, but it's also an intriguing counterpoint to the Jeep Wrangler (despite its double-wishbone independent front suspension). The Toyota is the most expensive SUV on this list—partly due to it being the most recent, but also because of the Toyota tax that raises asking prices in the off-road community—but if you can avoid the special editions featuring TRD gear and aim for an early model year, the deals are out there.
3. 1996-2005 Chevrolet Blazer ZR2
From the mid-90s to its 2005 retirement, the two-door version of the Chevrolet Blazer was offered with the ZR2 package. Surprisingly, this transformed the somewhat milquetoast S-10-based SUV into a reasonably competent off-road truck thanks to a number of enhancements that improved handling, traction, and toughness.
The Blazer ZR2 counted a track that was almost four inches wider than the regular sport-utility, with beefed up wheel and axle bearings (and stronger axles) to boot. Bilstein monotube shocks, skid plates, and a rear-axle track bar completed the undercarriage improvements, and the truck offered 3 inches of additional ground clearance for a total of 8.6 inches. A locking rear differential could be added as an option.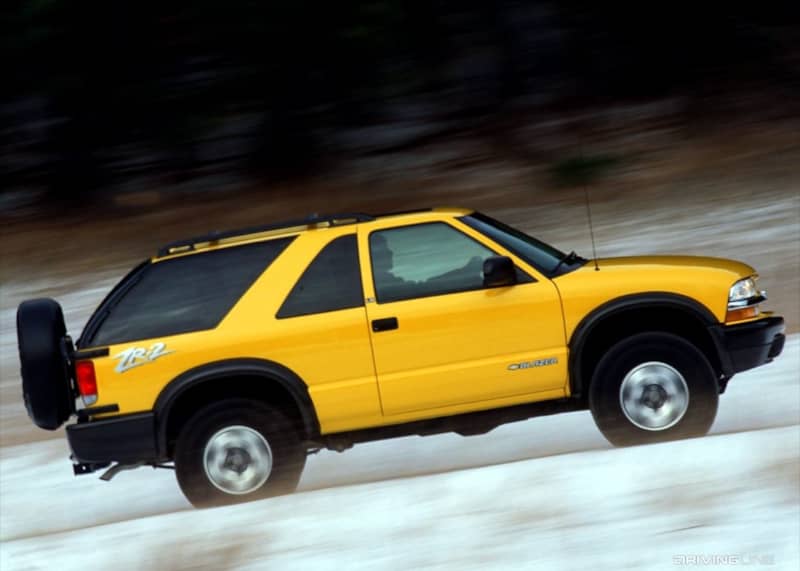 All versions of the Chevrolet Blazer were motivated by a 4.3L V6, and the ZR2 was no exception. Output was rated at 190hp and 250 lb-ft of torque, and of course there's a choice between manual and automatic gearboxes.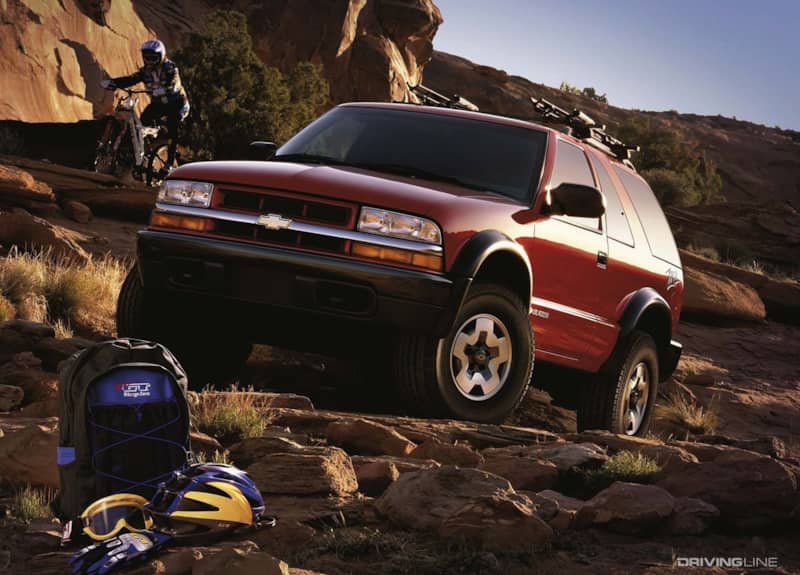 The Blazer ZR2 is perhaps not the most reliable and cheap 4x4 out there—aside from the usually stout 4.3-liter V6—but it's also seriously overlooked, which means deals abound.
4. 1999-2005 Suzuki Grand Vitara
Speaking of overlooked: the Suzuki Grand Vitara is practically invisible to off-road fans who've been trained to discount cute-utes as primarily aimed at mall-crawling posers. Bucking the trend is this tiny Suzuki (which was also sold nearly unchanged as the Chevrolet Tracker), a vehicle whose styling might suggest crossover but whose platform is as truck-based as any other entry here.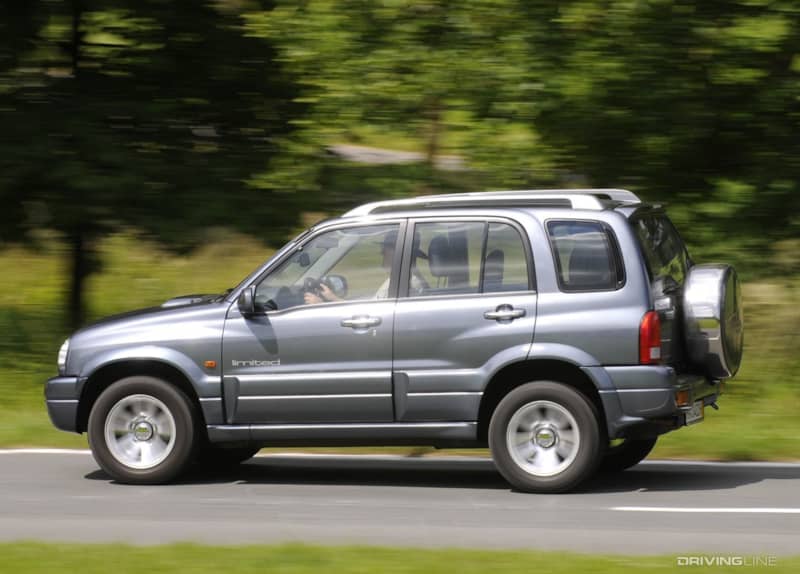 In fact, at the time it was released critics were vocal about how much the Grand Vitara gave up to car-based rivals like the Toyota RAV4 and the Honda CR-V. Today, those 'weaknesses' have become strengths, as the truck's solid construction allow it to absorb considerable punishment once you've left the pavement behind. Decent ground clearance, low-range four-wheel drive, and a 155hp, 2.5-L DOHC V6 are part of its charm, as is a short wheelbase that's a cinch for getting down tight trails that leave larger SUVs looking on.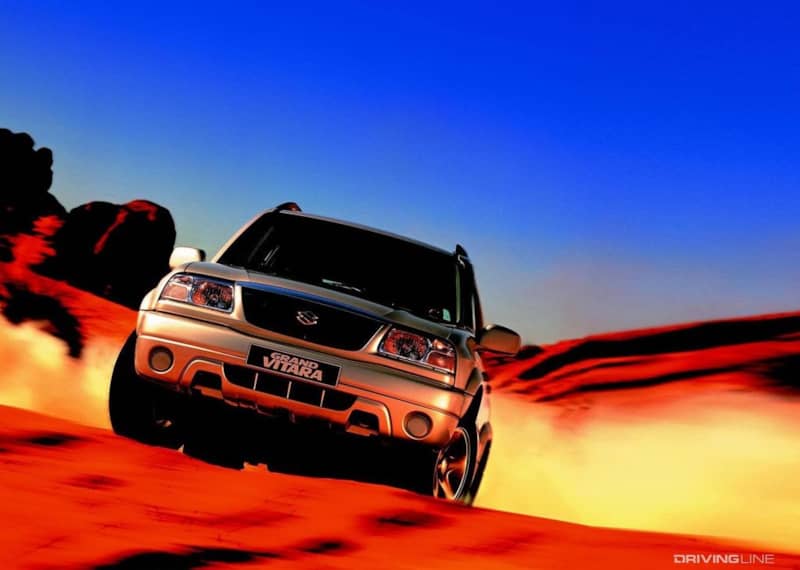 The Grand Vitara carries virtually no price premium despite its off-road cred, which means you can pick one up for a few thousand dollars in excellent shape. Just make sure you cut off your shopping at the 2005 model year, because past that it switched to a unibody design that was more commuter than commando.
5. 1998-2004 Isuzu Rodeo
Isuzu had a strong reputation for building re-badged SUVs sold by a litany of other brands (including General Motors, Acura, and even Honda), but it did reserve a little of its 4x4 magic for itself during the brief period it lasted in the American market.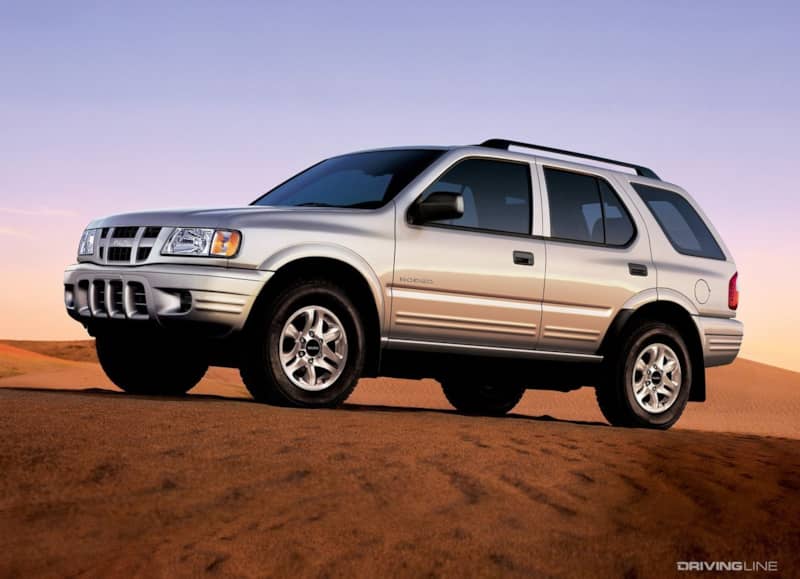 The Isuzu Rodeo (and its two-door Amigo sibling, renamed the Rodeo Sport after 2001) featured a 129 hp four-cylinder and a 205hp V6 as engine options, with five-speed manual and four-speed automatic transmissions attached to each. If you want four-wheel drive, however, you're going to have to stick to the six-cylinder model (a 3.5L making 250hp appeared in the final year of production). Off-road performance is good, with a fully-boxed frame keeping flex to a minimum, and a small lift makes it easy to fit 31-inch tires (with larger 4-inch lifts simple thanks to the design of the front torsion beam).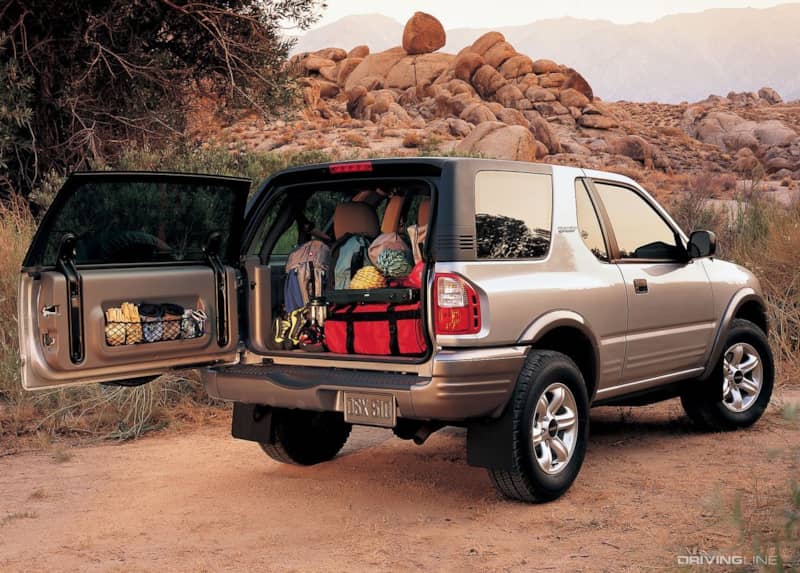 Both the Rodeo and the Amigo are fairly simple packages, although a set of adjustable dampers was made available after the 2000 model year refresh. You'll need to pay attention to rear frame corrosion (there was a recall for this problem that affected the eastern half of the country), so check to see if that repair has been performed when you're shopping in the rust belt.