6 Performance Pickups That Show Just How Sad The Sport Truck Market Truly Is
Performance pickups were once a way for utility-focused buyers to have a little fun without sacrificing the practicality they needed in a daily driver. Trucks also offered an alternative to the muscle car scene whenever modern offerings began to look a little anemic, as their rear-wheel drive, V8-powered platforms were amenable to modification and offered tail-happy, tire-blazing driving dynamics.
Flash-forward to today and after a brief renaissance from the 90s to the early 2000s, street trucks have almost completely disappeared from the scene. With the focus now largely on the off-road and luxury crowds, it's tough for consumers to buy a pickup for straight-line power, never mind handling prowess.
Still, we did our best to scope out the current set of offerings and see what kind of performance we could scrape up from the current crop of pickups. Check out our list of go-fast trucks that illustrate just how far from the street scene these tow-friendly, all-terrain beasts have strayed.
1. Toyota Tundra TRD Sport
Pros: Bilstein shocks and big TRD swaybars offer a substantial handling upgrade over stock.
Cons: Aging 381 hp V8 is identical to every other Tundra, and outclassed by newer turbocharged power plants. Also, that hood scoop, which is actually sitting on top another hood scoop, is just for show.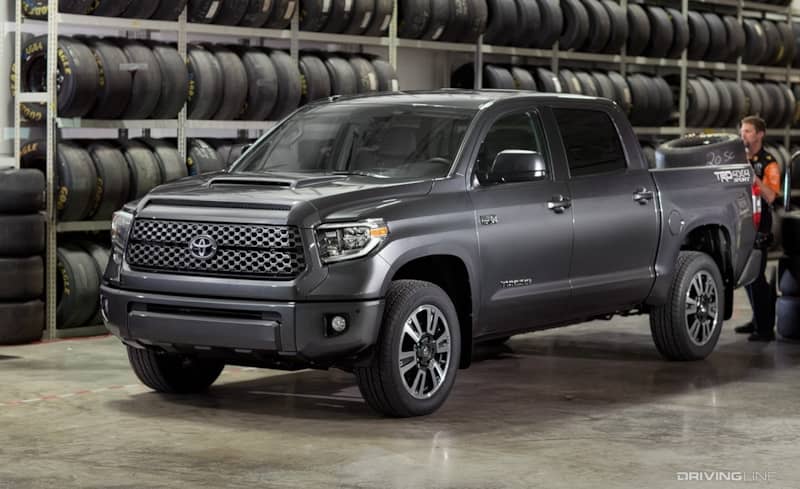 Toyota Racing Development must be chomping at the bit to actually do something fun with the Tundra, which has been left to wither on the vine as the rest of the full-size segment blows past it with tech and other toys. Still, even if you can't get it in a lighter regular cab model, the Sport sticker does net you suspension upgrades that will at least simulate road-holding on a closed course.
2. Chevrolet Silverado RST
Pros: 6.2-liter V8 is a hoot, Performance Upgrade package provides meaningful boost in output.
Cons: Only available with four-wheel drive models, no regular cab edition.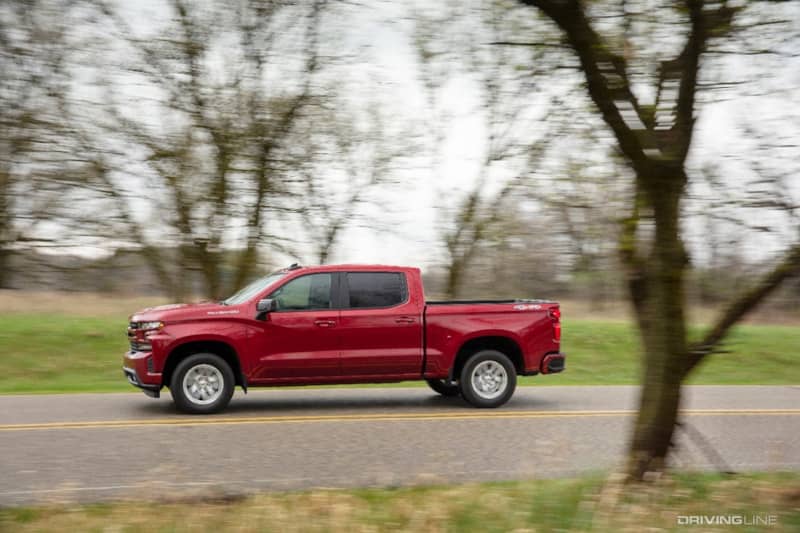 For the 2020 model year, Chevrolet democratized access to its fire-breathing 6.2-liter V8 engine, which previously made its 420 horsepower and 460 lb-ft of torque available on luxury editions of the full-size truck. Now optional with the street-oriented RST trim (which comes with 22-inch wheels and body-colored exterior accents), the 6.2 can be further sweetened via the Performance Upgrade package, which adds 15 horses and 9 lb-ft of torque by way of its deeper-breathing intake and exhaust system. If only you didn't have to select four-wheel drive to make the 6.2 and its 10-speed automatic available with the RST.
3. Nissan Titan SV
Pros: Single cab body style paired with V8 power = burnouts for days
Cons: No actual performance gear offered with the pickup.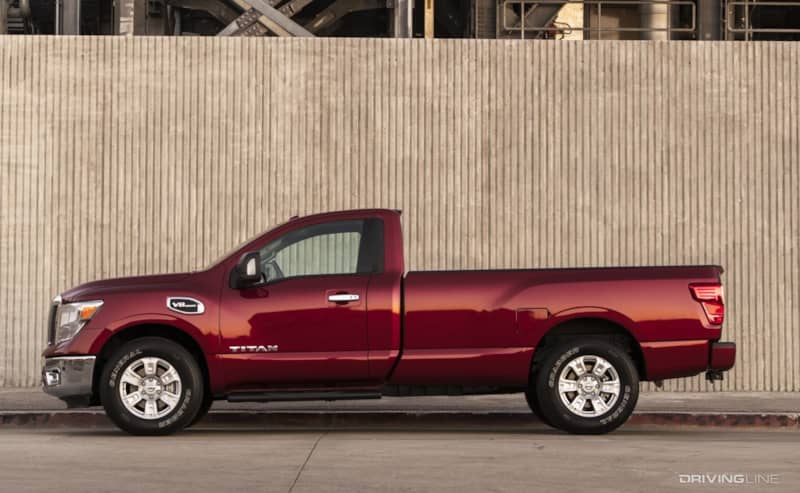 Nissan is one of the few companies out there that allows you to pair its top-tier (read: only) V8 engine with a regular cab version of its full-size truck. This gives the Titan 390 ponies to play with from a 5.6-liter power plant, which is enough to keep things interesting, but not quite enough to qualify it as a street machine without some aftermarket lowering springs and stickier tires.
4. Ford F-150 Limited
Pros: 510 lb-ft of torque, AWD grip.
Cons: It's incredibly heavy, so don't try to take any corners at speed.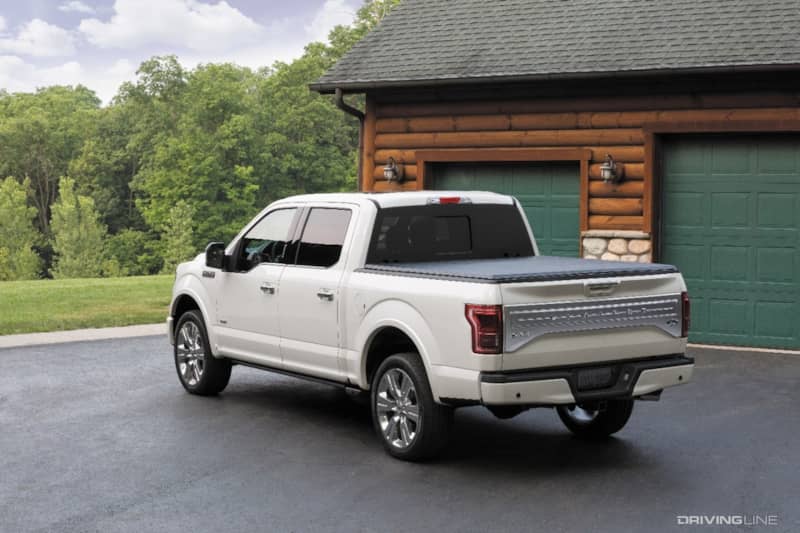 If it were up to us, the 395 horsepower and 400 lb-ft of torque offered up by the F-150's 5.0-liter V8 wrapped in a stripped-down XL package would be our pick. But we just can't ignore the numbers provided by a fully-loaded Limited crew cab model, which makes use of Ford's top-tier EcoBoost V6 (which offers 450 horsepower and 510 lb-ft of torque).
In a straight line, all-wheel drive versions of the truck have been clocked at 5.1 seconds from zero to 60, which is quick enough to eclipse the second-generation Ford SVT Lightning and almost keep up with the Ram SRT-10. Pretty crazy for a vehicle with a 5,600 pound curb weight.
5. Ram 1500 Tradesman
Pros: Big V8, (relatively) little truck
Cons: No performance gear at all once you get past the motor.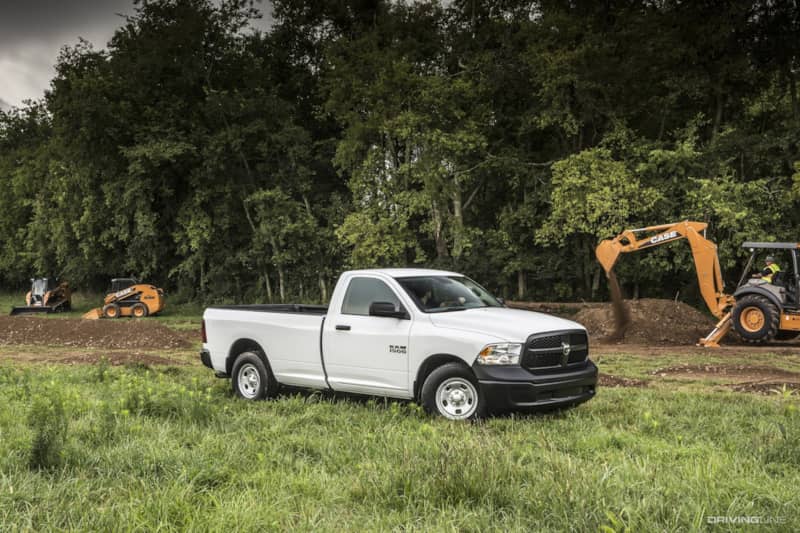 Fun fact: FCA is still building previous-generation Ram full-size pickups alongside the latest and greatest. Dubbed the 'Classic,' these trucks fill the gap until Ram can free up production line space to produce regular cab versions of the current truck. Until that happens, a stripped Tradesman with a 395 horsepower, 5.7-liter V8 is your best bet for performance from the brand.
6. Toyota Tacoma TRD Sport
Pros: Finally! Another actual sport truck package, with a manual transmission to boot.
Cons: Lackluster V6.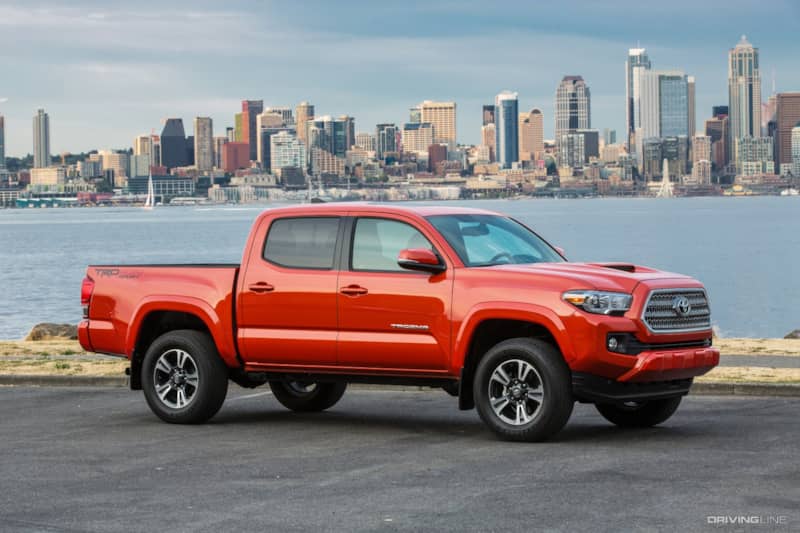 Much like the Tundra that started this list, the Tacoma TRD Sport is notable for giving truck buyers a hint of pavement performance by way of its Bilstein shocks and better-than-average handling (for a mid-size pickup). Its smaller size also helps it feel slightly less lunk-like when being hustled down the road. With 278 hp on tap from its 3.5-liter V6, however, there's not a lot of muscle to be found here. At the very least, you can exercise your left foot with one of the only manual gearboxes still available on a six-cylinder pickup.

Want to learn more about the glory days of the performance truck scene? Check out our history of the Dodge Ram SRT-10.