A Day In The Life Of: Jason Scherer
While Jason Scherer may be known by many as the 2009 King of the Hammers champion and one of the top Ultra 4 series competitors, that doesn't even begin to explain the man underneath the helmet.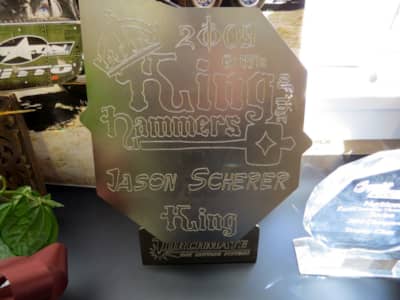 Approximately 30 miles east of San Francisco, nestled in the small town of Danville, CA, sits a two-story building that resembles a house more than it does an office. A pelican statue greets you as you enter the building and head up the stairs to Jason's office; a company, which is appropriately named Pelican Group.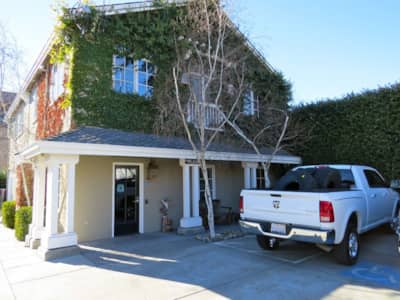 Started by his father, Richard Scherer, Pelican Group specializes in the vending and amusement industry. The warehouse is complete with digitalized jukeboxes and pinball machines.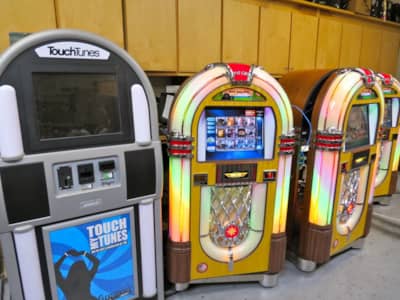 It's no surprise that Jason's first job in high school was at his father's company. What is a surprise is that after nearly twenty years he is still there and loving every minute of it. What began as collecting money from the pay phone route has turned into negotiating major deals with national firms and handling the company's day-to-day operations.
While mementos of Jason's racing achievements are appropriately displayed throughout his office, it's all business here during the week. With the new year comes closing out the books from 2013 and calculating whether or not each venture was profitable. With over 2,000 pieces of serviceable equipment that he is accountable for, this is no easy task. Like most of us that work in an office environment, much of his time is consumed with answering emails, making and returning phone calls and keeping tabs on inventory.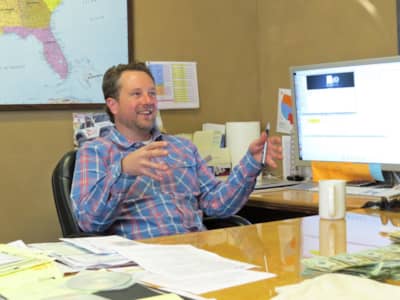 Danville, CA is the epitome of small town U.S.A. You know basically everyone and can walk pretty much anywhere you need to go. Three times a week you'll find Jason taking a break from work and walking over to the local Crossfit training facility. Going on two years, it started out as an effort to get back in shape before evolving into strength and conditioning training.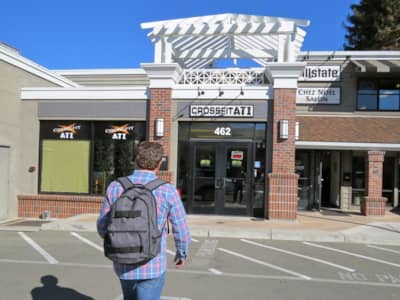 After his power steering failed during the 2013 King of the Hammers, Jason suffered a severe shoulder injury that would require his bicep tendon replaced. He was given an estimated recovery time of six months and decided to put off the surgery in favor of finishing out the season. It took nearly four months before he was able to return to the gym but he is back to his strenuous regiment.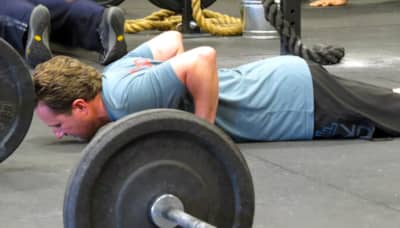 Jason's workouts largely depend upon his racing schedule. They are often toned down in the weeks prior to a race in an effort to not overwork his body. Following an event, his workouts are ramped back up in an effort to constantly set new personal records. It's often argued that drivers aren't athletes, but don't tell Jason that, who also finds time to run and bike on a weekly basis.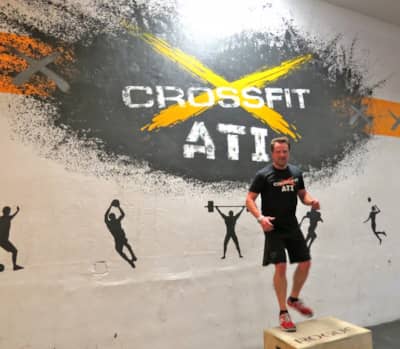 While running a business is integral to success, managing relationships is just as important. Sponsorships help make his racing program possible and its companies like Rubicon Express, Nitto Tire and others that make it happen. On a trip up to Redline Oil, Jason spends time discussing his racing program, shocks and lubricants with a long time friend at the company. It's times like these that you see why Jason is so successful on and off the track.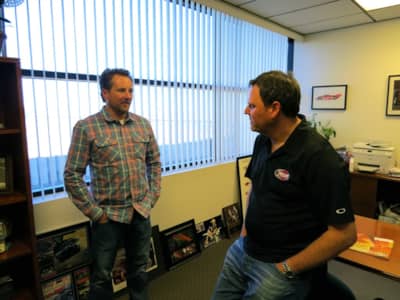 The Scherer's life forever changed five years ago when daughter, Hayden was born. As many working parents soon find out, it is very difficult to balance work and family time. Fortunately for Jason, his wife Dana was willing to part ways with her career to take care of the kids. Not wanting to miss out on his children growing up, Jason ensures that he spend as much time as possible with five year old Hayden & one year old Jackson. It's the little things in life that go a long way.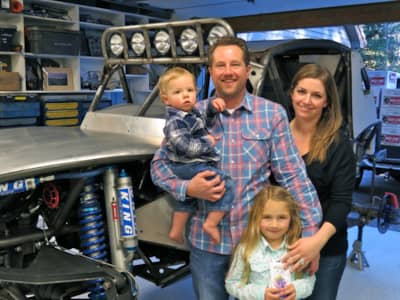 Things like having breakfast at a local diner with your daughter.
Riding bikes and dropping Hayden off at school during the week.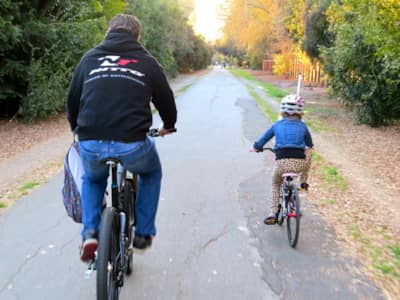 Come dinner, the Scherer household is slightly unconventional in that it typically signifies the calm before the storm. Friends and family slowly start to trickle over in the evening to help work on the car.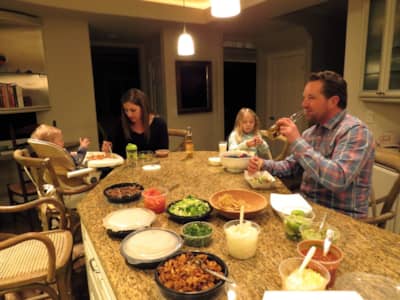 After dinner, Jason helps get the kids ready for bed and reads a book to Hayden. While their night is coming to an end, Jason's is barely beginning.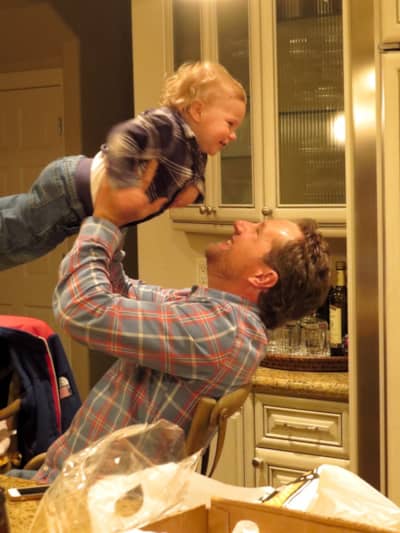 On this night in particular, Hayden was intrigued with her daddy being interviewed for the upcoming race and despite not knowing what exactly an interview was, wanted to do one as well. Using the Redline Oil containers that he had picked up earlier, Jason quickly put together a throne for Hayden to sit on. With friends and family gathered around, the questions began flowing. Much like her father, Hayden has quite the personality and we quickly learned she would like to be a cowgirl when she grows up and loves playing with her friends at school.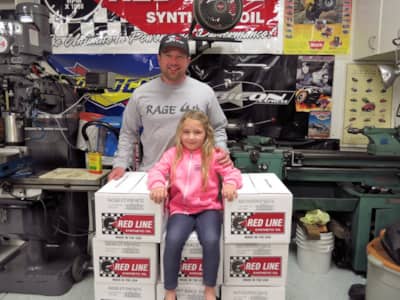 It's not often that you could convince a group of guys to come over almost every night of the week to help prepare a car for the King of the Hammers. The difference with Jason's group of guys is that they don't see this as work; it's a science project.
A remarkable amount of man-hours have gone into prepping this vehicle and while the car is almost completely put together, there is still so much to do. Tonight, for the first time, the car was fired up which was a major sigh of relief.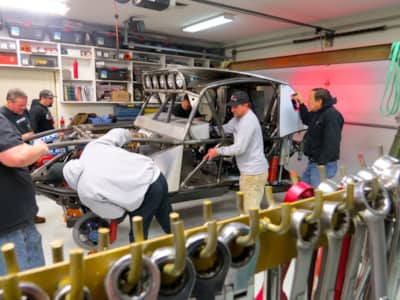 All things considered, Jason is a jack-of-all-trades; having done vehicle modifications since he was a teenager in high school, Jason has years of hands on experience and a skill set that is quite remarkable. Missing a part? No problem, just build it yourself. It doesn't matter if it's welding or putting a seat together, Jason has got it covered.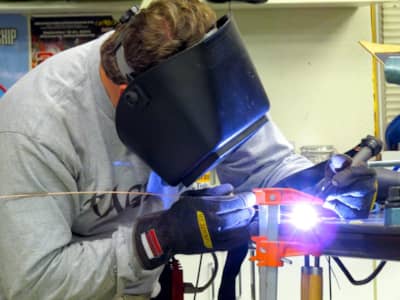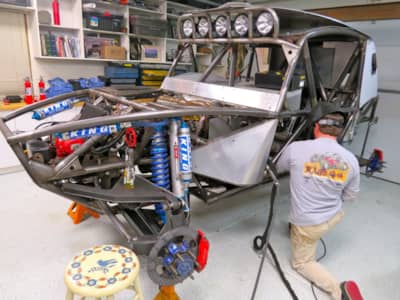 This work goes on until the wee hours of the night but the time goes by fast while drinking beers and swapping stories. Everyone gathers around Jason's computer as he shows off the drawings of the new vehicle that they are set to begin working on the week after the Hammers. Good friend Dennis, from Reid Racing, Inc. stops by to talk about the sleek transmission case that Jason plans on putting in the new car.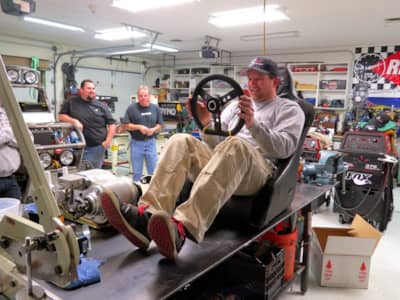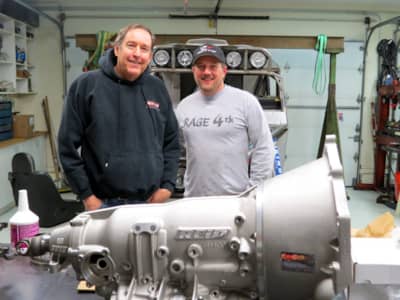 One by one the guys begin to leave the shop, which is conveniently located right next to Jason's house. Some nights are more productive then others but the car will get done, on time, one way or another. Midnight rolls around and Jason decides to call it a night, for he'll be back up and at it in less than six hours. Come February 7th it will have been worth the long hours and late nights.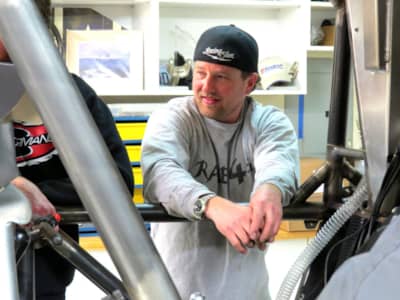 Learn more about Jason at Nitto Racing Continue on to A Day In The Life Of: Nick Nelson.