A Speedweek Record Six Years in the Making: The Flathead-Powered Studebaker
Studebaker isn't a car you hear talked about much, but when it comes to land speed racing, it's the belle of the ball. Even more so when it has multiple land speed records under its belt, like this one.
A Chance in a Lifetime Encounter
Gord Dreidger wasn't looking for a Studebaker or a salt flats racer when he found "Blue Beauty" in 2010. It was a chance encounter while vacationing in Napa that led him to purchasing and taking the near-complete racer back home to Alberta.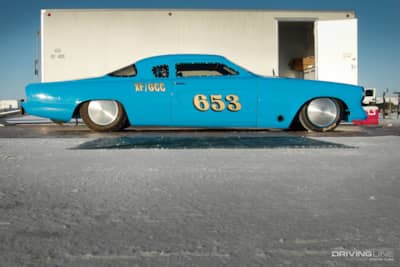 Within a few short months, Gord's friends had rallied to help him get the car up to speed and he rolled onto the salt with it for the first time that August for Speedweek 2010. There was plenty to learn about land speed racing, as a new car and new racer have to go through hours of tech inspection with every system and inch of the car being looked over and scrutinized.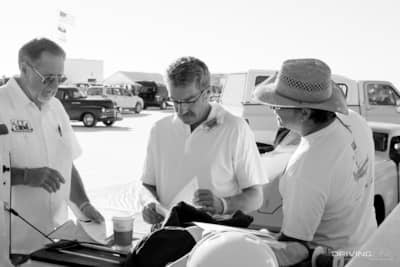 Slippery Studes Rule the Salt
The car, a 1953 Studebaker Coupe, is commonly referred to as a "Slippery Stude" because of its aerodynamic styling, unheard of in any other cars of the fifties. These attributes led the car to be used by herds of land speed racers and is still a very common sight at Bonneville's starting line. Gord's Studebaker has been made even slipperier by a chopped roof, lowering the profile for an even more streamlined effect.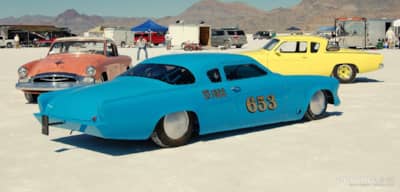 Gord's #653 on the salt in 2010 with a couple spectator's Studebaker Coupes, including the author's, seen on the left.
Under the Hood
If you're wondering what monster of an engine powers this beast, it's not a monster at all – at least not in today's understanding. The Ford Flathead engine was the hot ticket for racers until overhead valves showed up, and Gord's 296 c.i. Flathead is very similar to how they would've built 'em back then. Except, of course, the Hilborn mechanical fuel injection that was recently added – replacing the Holley carburetor Gord raced with initially (electronic injection isn't allowed for his class.) "The motor has been worked over a couple times," notes Gord, "and rebuilt by D&W Custom Engines in Calgary with help from Dave Tatom in Mount Vernon. The motor runs strong and I can attribute a lot of the success to the dyno tune done by Pierre Guyon at Dyno Plus Services."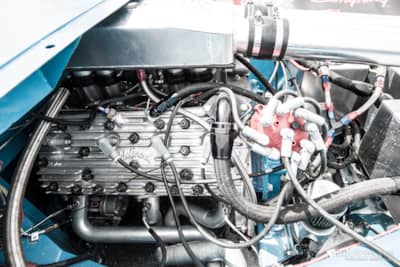 Another modification to the engine bay that's happened since that first year racing is a pair of air intake dams leading in from the front bumper and bringing much-needed airflow to the engine.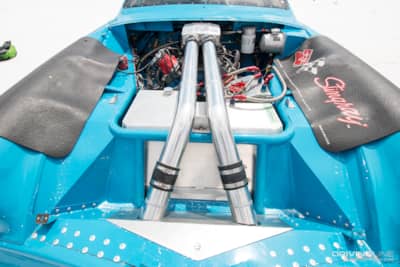 What Does "
XF/FCC" Mean?
Land speed records can be deceiving to the casual observer, you've got to recognize that breaking a 161 mph record can be just as big a deal as breaking a 400 mph one. There are tons of classes, which vary by car design, engine and fuel type. Gord races with a "CC" or "Competition Coupe" body and a "XF" engine – the fuel he can switch, going after both the "Gasoline" and "Fuel" records.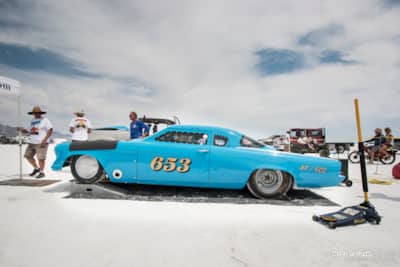 Catching Salt Fever
In 2010, Gord made 10 runs, including his rookie licensing one, with the fastest being 149.864. "I suppose you could say that after that year, I officially got 'Salt Fever,'" quips Gord. "We had such a good time the first year that, like most Bonneville racers, we couldn't wait to get back on the salt."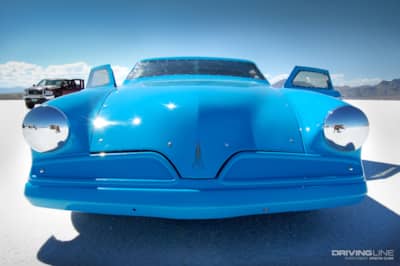 By 2013 the team saw a chance to snag the record. "After we went through tech that year," remembers Gord, "one of the officials came to me and said my car did not meet the rules of comp coupe due to the top of the rear fenders not being stock. The moldings had been removed and the fender tops were molded in. I decided to make a run anyway to see how it went, and we went 166 on the 161 record."
"When I asked the officials what I could do, they said if I put a wing over thetop of the trunk area, covering the fenders, it would be legal. So the next day we contacted Tom Kirkham from Kirkham Motorsports in Provo, Utah. Tom graciously opened up his shop for us on Sunday and let us use his facility to build a wing for the Stude, with much help from Ted Allan and crew from N49 Racing. We returned the following day with wing in place, but unfortunately the extra drag caused us to slow by 10 mph. As much as we tried, we couldn't get up to record speed again that week."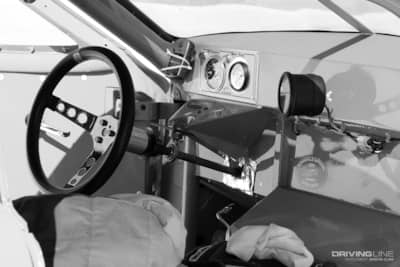 Working and Waiting
"After returning home that year I removed the wing and found some original Studebaker fender mouldings and put them on to make the Stude fenders stock again. This was with the help of Tom Racz from the Rod Shop. They did a fine job of matching the paint back up."
From there it would be two years of sitting out Speedweek, along with all of the other racers, due to poor salt conditions. Finally, this August the team had another go at it. "We went out this year and the Slippery Stude proved it could go fast," exclaims Gord.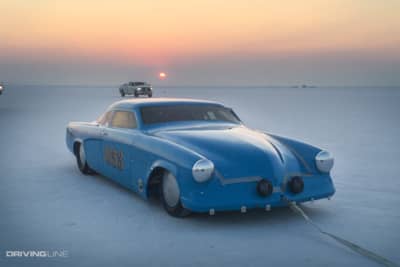 Photo courtesy of Gord Driedger.
"Blue Beauty" Snags the Land Speed Record
"At this year's Speedweek we were fortunate enough to set two new records. The first was XF/FCC at 162.698 on a 161.699 record from 1994. A couple days later we qualified for the XF/GCC record and backed it up on the last day of Speedweek with an average of 158.978 mph against an old record of 156.701, again held by Webster Racing, since 1998. Webster racing also still holds the Blown Fuel and Blown Gas records, and we may try for those next year."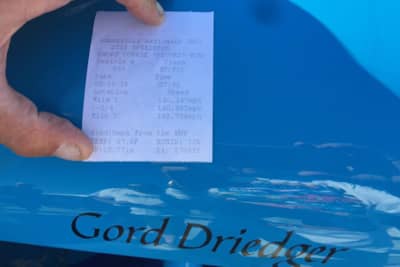 Photo courtesy of Gord Driedger, the timeslip from their record "proving" run. After beating a record, the car gets put in impound until the following morning when you must run again. The average of the two runs is taken.
Few people realize the what it takes to get that last little bit of speed out of a car. Six years after first showing up, Gord's Studebaker finally prevailed. In land speed racing, as in many a racing venture, it isn't all about the cars and the speed – it's also about the friends and good times you have along the way. Gord's pit is always full of 'em and as he says, "Life is good and we look forward to getting back to the salt next year."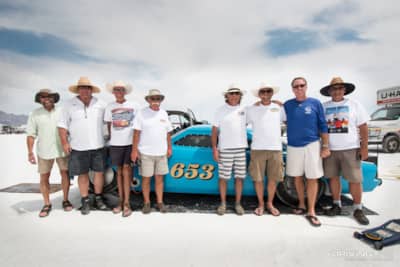 Gord and team with car in impound, at Speedweek 2016. The following includes additional thoughts and thanks from Gord:
"I have met many new friends every year, and of course we have a loyal following of buddies from Canada and Napa and Steamboat Colorado that come to support us. I have become friends with so many good people on the salt… a few that I would like to mention include Frank Silva and John Sprenger from Got Salt Racing and Cruizin T's, yourself of course as well as other photographers like Peter Vincent and Holly Martin, other Stude racers like "One Run" Bob, Andre Moreau, Charles Venerable, Hooley Huffman and, just this year, Andy Lloyd who we were in impound with.
We also got to know the Bean Bandits this year and had a great time with them, also in impound together. The Bean Bandits (Dick, Jake, et al.) helped us out while in impound. I'm very impressed with their Sidewinder Flathead. Dave Tatom from Tatom Custom Engines in Mount Vernon, Washington has become a friend and supplied the cam and other parts for my Flathead. Other salt racers from Calgary have been a big help to me, including Ted Allan (N49 Racing), Curtis Halverson (Extreme Engine Development) and Tom Racz from The Rod Shop. The list goes on-and-on, but, needless to say, Bonneville has brought me many new friends. Many thanks for all the help from my Crew Chief and good friend, Dick Sparrow. Most importantly though has been the support I have received from my wife, Kim, and our three lovely daughters."