Above All, Race Safely: 10 Things That Protect Racers
If you've watched many videos of King of The Hammers, you've likely seen footage of competitors flipping, rolling, or driving over each others vehicles in a Mad Max-style dash for the finish. You might have even daydreamed about doing something similar in your commuter when stuck in traffic (we don't recommend it though!)
While KOH buggies don't benefit from multiple air bags, backup cameras and stability control, they are still packed with safety features to protect the occupants in case of a high-speed rollover. These are the critical components that allow Ultra4 racers to walk away from those gnarly crashes unscathed - while some of these are specific to Ultra4, many hold true for other racing bodies as well.
1. Tube Chassis
Ultra4 cars are unibody, just like a Jeep Cherokee. Well… kind of. Instead of a sheetmetal frame structure though they use tubing to make a safe, rigid structure around the occupants. Think of it like a roll cage on steroids. KOH rules mandate a minimum 1.75-inch 0.120-wall tubing for vehicles between 3,200 and 4,400 pounds and 2-inch 0.120-wall tubing for vehicles over 4,400 pounds.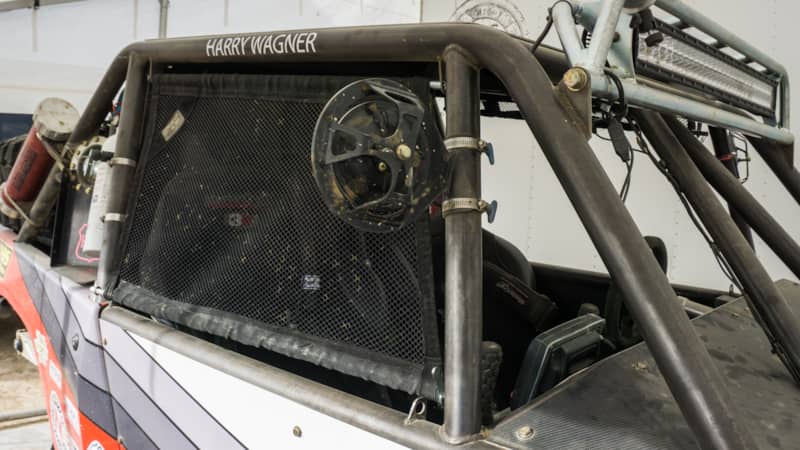 2. Window Nets
When a vehicle is tossed through the air, the momentum can cause hands and arms to fling out of the window. In order to prevent this from happening, window nets made of mesh or fabric are used. The nets use a seatbelt-style buckle or a latch that is located inside of the vehicle so it will not become damaged during a rollover. Small openings behind the A-pillar must be covered as well, if there is the possibility that the driver or co-driver's hand could come through.
3. Seats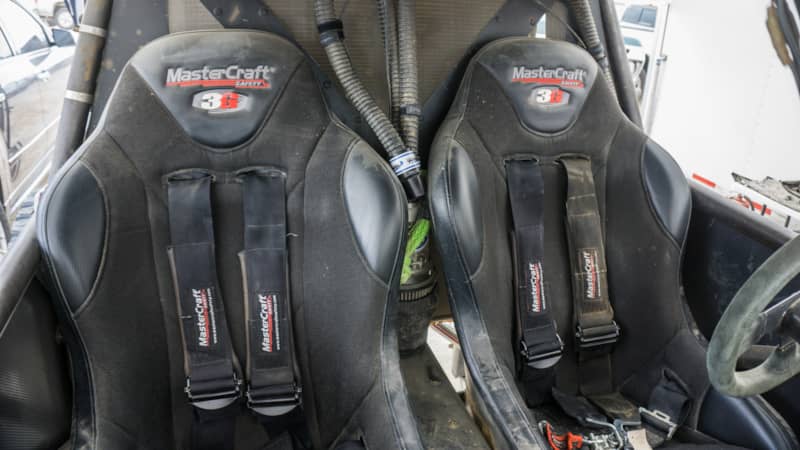 The seats in race cars are tied into the cage and fixed in place. Suspension seats are popular for their ability to absorb some of the energy from blasting through the desert and over rocks, but some drivers prefer hard-shell seats. All of these seats have more side bolster than you would find in a typical car, and are tall enough to protect the head as well. The added bolsters make getting in and out of the vehicle less convenient, but the trade-off is increased support at speed.
4. Harnesses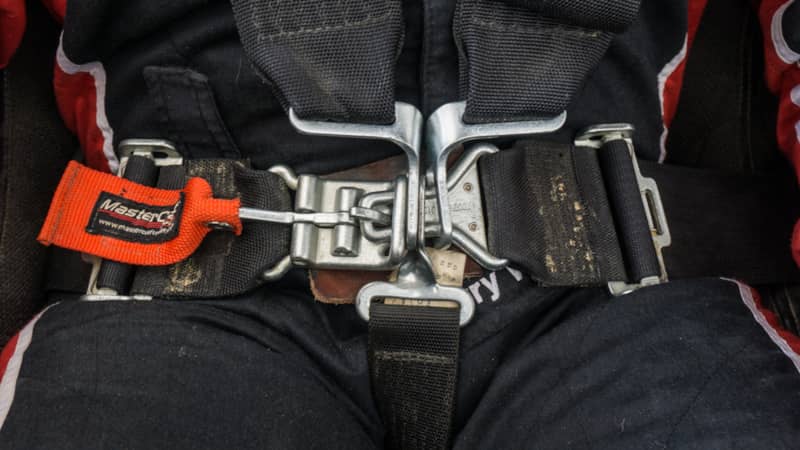 SFI-approved 16.1 five-point harnesses are required in Ultra4 racing. They utilize a 2-inch or 3-inch strap over each shoulder, one on each side of the hips, and one (or two) straps between the legs to keep the occupant from sliding down under the belts. Typically, these are all tied together with a latch on one of the lap belts. They should be snug enough to hold the occupants in place in the event of a rollover. Not ideal in a daily driver, as they don't allow for any upper body movement, making it impossible to look over your shoulder.
5. Helmet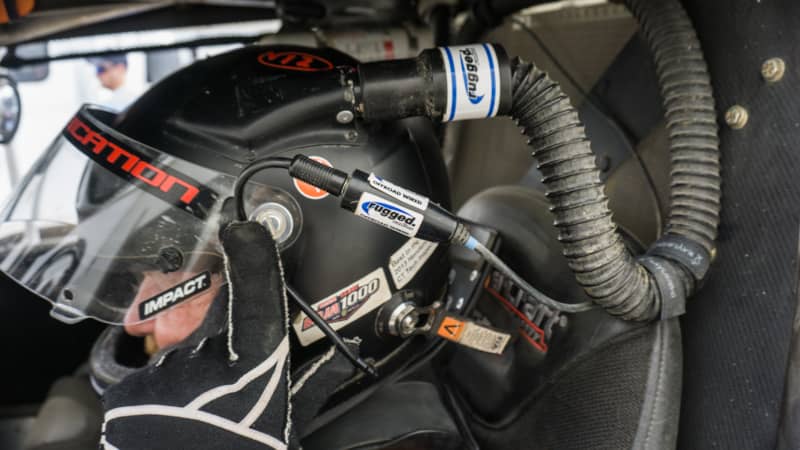 When you are surrounded by steel tubing instead of air bags it is a good idea to have a helmet on. SNELL SA2015 helmets are now on the market and SA2005 helmets are being phased out. The helmet should have at least three-inches of clearance between it and the roll cage to ensure they do not contact each other in the event of a rollover. Features to look for in a helmet include a wide eye port for good visibility and low weight to reduce fatigue.
6. Pumper and Intercom
Each helmet has provisions for fresh air to be pumped in to help keep the driver cool and the shield from getting fogged up. There is also a jack for an intercom that allows the driver and co-driver to communicate without resorting to yelling (although this still happens on occasion…). Currently when the navigator gets out of the vehicle to spot or winch they have to unplug and the communication is lost, but companies including Rugged Radios are already working on a solution to this issue.
7. Head Restraints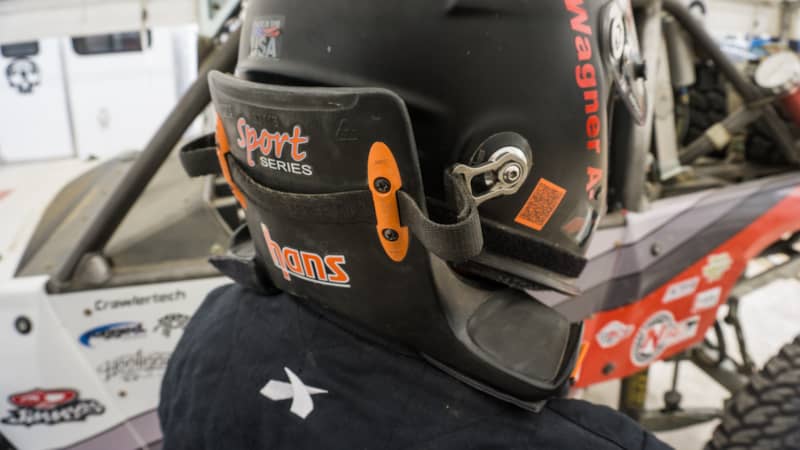 For 2017, Ultra4 has mandated the use of Head and Neck Restraints. These devices connect to the helmet and restrict movement minimizing the chance that occupants break their necks or suffer from whiplash -the drawback to this is it also decreases visibility on the trail.
8. Race Suits
One-piece fire suits are required at King of the Hammers. They must be a minimum of two layers, which creates an air gap that insulates the occupant from a fire. These suits are not intended to allow you to run into a burning building, they simply buy the wearer time to escape from a fire should one ignite. They should be snug, but also comfortable, for the wearer - since even the fastest racers take over eight hours to finish King of the Hammers.
9. Gloves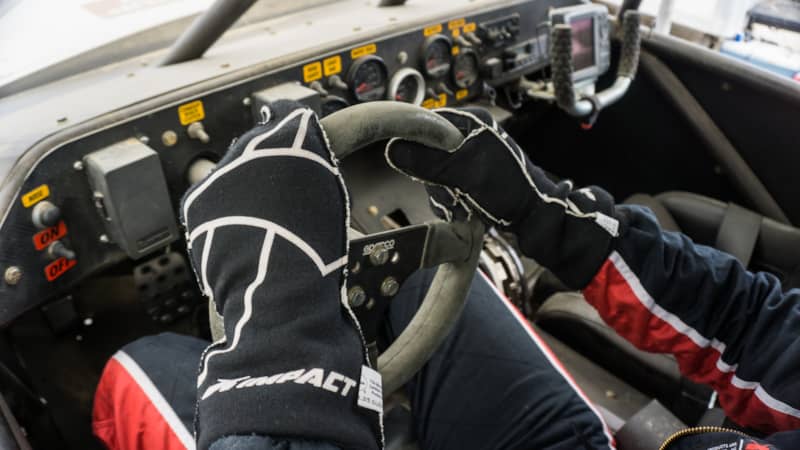 Good driving gloves not only protect your hands in the event of a fire, they also provide a good grip on the wheel and tactile feel. Often made of suede or leather, these gloves are not inexpensive, so many teams also carry a work glove with them in case they have to wrench on the car (since King of the Hammers is a no-chase race).
10. Underwear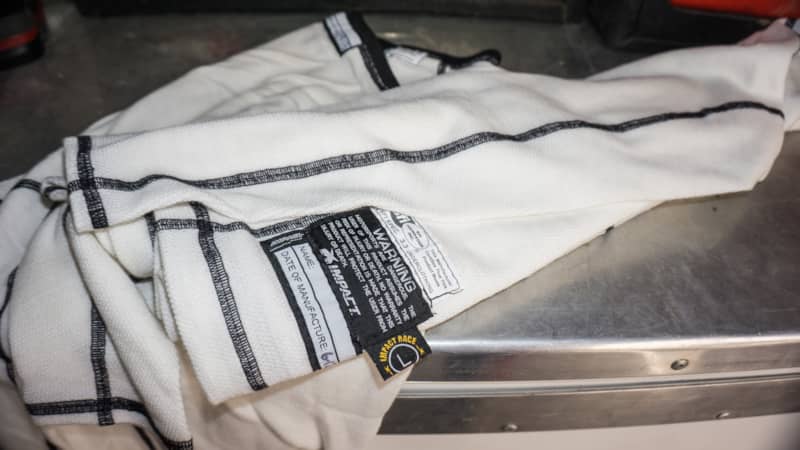 All a fire suit does is buy you a little time - and fire-resistant underwear made of Nomex, or similar material, can help increase that time. Never wear the synthetic materials typically found in long underwear with your race suit, as these materials can melt in a fire and fuse to your skin. You are better off with cotton, wool, or even going bare under your race suit rather than wearing synthetic materials.
And all this before common sense and driving skill enter the picture. Stay safe out there and never lift! Want more KOH? We've got ya' covered.