Adventure-Ready Gladiator
Diving fully into your passion and turning it into a successful business is a big leap of faith. Brit Mansell and his family at American Adventure Lab are no strangers to taking a few risks and going for it, having been involved in off-roading for most of their lives. Just 3 years ago; Brit left a corporate job in Alabama and the family headed west to the beautiful terrain and mountains of Utah. It was there that American Adventure Lab was born as a company that sought to provide high quality, innovative parts to the overlanding and off-road industry that they love.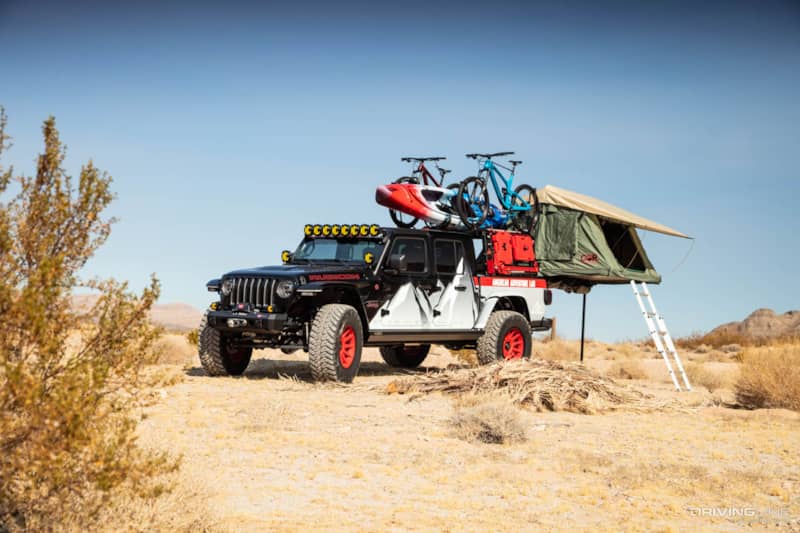 Adventure Built Rig
When SEMA announced the Overland Experience section for the 2019 show in Las Vegas; AAL knew it was time to show the overland and aftermarket world what their products were capable of. Being that AAL primarily specializes in custom parts and gear for off-road and overland Jeeps; Brit, along with James Vest and Matthew Kvacik sought to outfit the latest offering from Jeep—the JT Gladiator.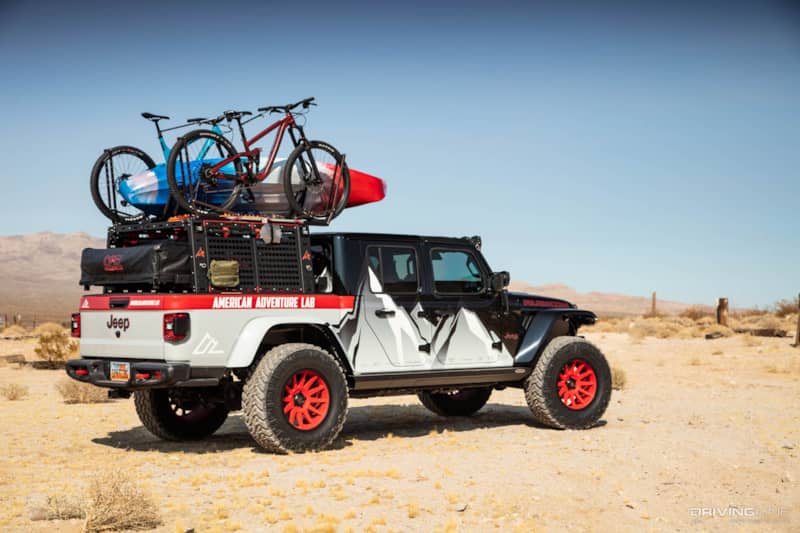 Outfitted to Travel
The goal of the Jeep truck, dubbed Spartacus was to not only showcase the latest products for that platform from American Adventure Lab but to be used as the perfect adventure vehicle for their family in their new home state. The highlight of the JT is the versatile truck bed; so they wanted to make the most of its capabilities. One of the key products they developed is their A.T.L.A.S. Tent System. Usually, in order to keep the storage capacity inside of the bed, a bed rack is installed (their High Bed Rack in this case), and a roof top tent is installed on top of the rack. Of course this limits the ability to mount items such as mountain bikes or kayaks. So they designed a new system that sits just under the top of the rack when driving and the tent slides out and articulates to unfold when setting up for camp no matter the terrain. This allows for the maximum amount of storage and rack space.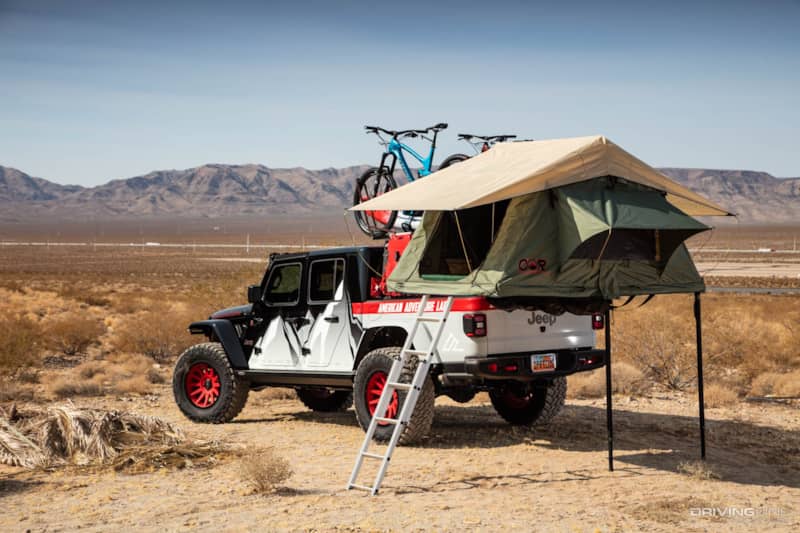 And they would need that space for gear as they have adventured many miles in the dirt since SEMA in 2019. Hitting the trails all the way from St. George, Utah to Las Vegas; the beautiful terrain in around Utah and tons of dirt in between. Outfitted to the rack is all of their recovery gear, and Rotopax fuel canisters as well as an Overlanding Off Road awning. Inside of the bed, a 37QT ARB fridge sits between their gear and an American Adventure Lab mount that secures an ARB Dual air compressor for filling up their stout 38-inch Nitto Trail Grappler tires.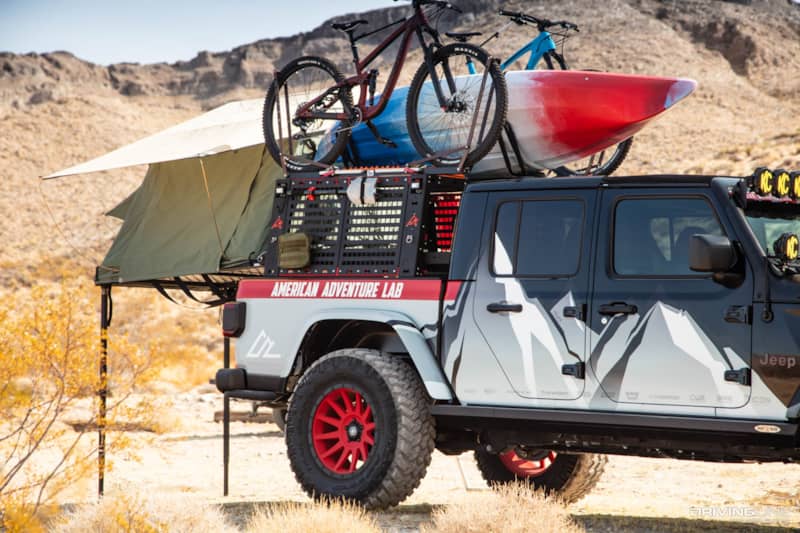 Capable Clearance
Ensuring enough tire and ground clearance, as well as plenty of off-road handling; an Icon Vehicle Dynamics Stage 1 suspension kit was installed. This consists of a 2-inch lift coil and shocks up front, complimented with a Synergy HD steering setup with FOX stabilizer. Out back, the Icon 2-inch spacer and shocks finished things off. But not before the driveshafts were replaced with heady duty JE-Reel 1350s.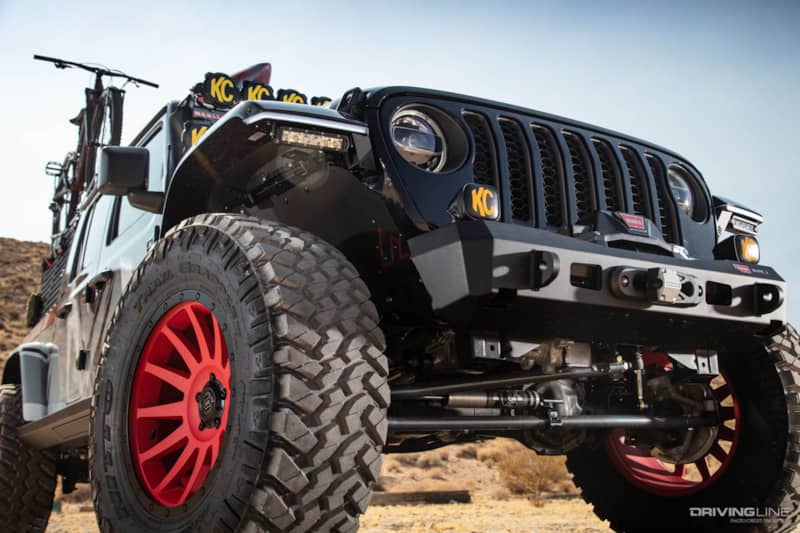 A set of 20x9-inch Icon Compression wheels were slathered in textured red powdercoating to match the AAL branding before being wrapped in 38x13.50R20 Nitto Trail Grappler tires to handle all of the off-road miles that Spartacus would soon see. The team at AAL swapped in their High Rise fenders and Quick Release inner fenders to provide even more clearance. Next up on the list right before SEMA time was a WARN Elite Stubby bumper with Zeon 10S winch. A Trigger Controller 6-Shooter controls the KC Hi-Lites that were added throughout to light the way at night and provide lighting when setting up camp.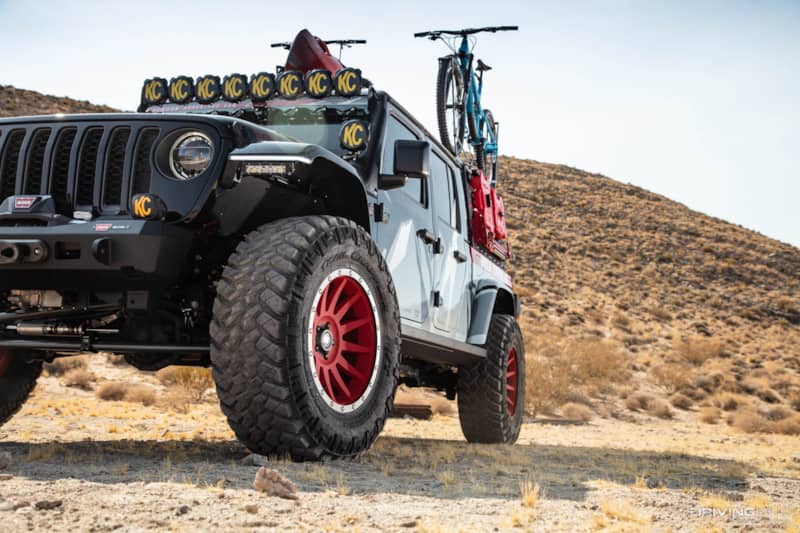 Overlanding at SEMA
With the suspension and gear finalized on the Jeep Gladiator, the overlanding foundation was set to display at SEMA's Overland Experience. To let everyone know where they could get the innovative parts for their Jeeps; the Gladiator was wrapped to showcase American Adventure Lab. All of the final pieces came together just in time for the show…and naturally after SEMA, Spartacus was seen heading off the road to hit the trails.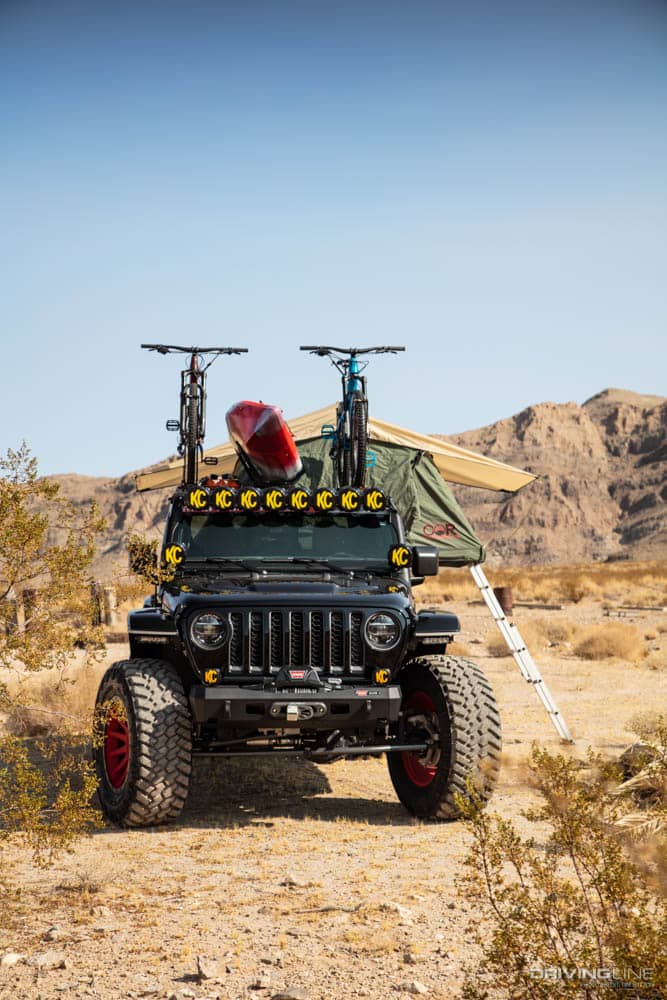 HARD FACTS
| | |
| --- | --- |
| VEHICLE | 2020 Jeep JT Gladiator Rubicon |
| OWNER/BUILDER | American Adventure Lab |
| ENGINE | 3.6L Pentastar V6 |
| FRONT SUSPENSION | Icon Vehicle Dynamics Stage 1 2-inch Lift Coil, Icon Vehicle Dynamics Shocks, JE-Reel 1350 Driveshaft, Synergy HD Steering with FOX Stabilizer |
| REAR SUSPENSION | Icon Vehicle Dynamics Stage 1 2-inch Lift Spacer, Icon Vehicle Dynamics Shocks, JE-Reel 1350 Driveshaft, 4:10 Gears |
| WHEELS | 20x9-inch Icon Alloys Compression Wheels, Texture Powdercoated Red |
| TIRES | 38x13.50R20 Nitto Trail Grappler |
| BODY | American Adventure Lab High-Line Fenders & Quick-Release Inner Fenders, Bestop Sunrider Top, Warn Elite Stubby Front Bumper with Warn Zeon 10S Winch, AAL Graphic Wrap |
| LIGHTS | KC Hi-Lites Pro-6 LED Light Bar, Pro-6 Ditch Lights, KC G34 Bumper Lights, 4 KC C2 Bed Rack Lights, American Adventure Lab Trail Lights, Trigger Controller 6-Shooter |
| GEAR | 1-Up Roof Racks, Overlanding Off Road Roof Top Tent & Awning, Rotopax Fuel Jugs, American Adventure Lab High Bed Rack, ATLAS Tent System, ARB Dual Compressor with AAL Bed Mount, ARN 37QT Refrigerator, uConnect with Android Tablet & Gaia GPS, MaxTrax, Hi-Lift Jack |