AE86 Corolla Meets Honda Persuasion
You're one of two people. Either you're the person who jumped on the AE86 Corolla bandwagon and then realized that the car only makes about 90whp, or you're the one who's been a fan of the GT-S since before Drift King Keiichi Tsuchiya said it was cool and who always knew they only make about 90whp. Turns out that neither of you can go on defending Toyota's 4A-GE much longer, an engine that makes half as much power as your niece's Beetle and isn't a whole lot more capable.
Despite how good people say the mid-1980s Toyota 16- and 20-valve four-cylinders are, a few decades' worth of technology says they can be better. By better we mean unloading them for something that's almost 20 years newer, has more than twice the power and doesn't have a lick of Toyota heritage to its name. We're talking about retrofitting any one of Honda's twin-cam F-series or 2.4L K-series engines into place.
It Starts With the Right Corolla
To do all of this you can't just start with any old Corolla. We're talking about Toyota's '84-'87 GT-S—often referred to as the AE86—offered in coupe and hatchback variations and with that 4A-GE twin-cam engine you want to get rid of. The GT-S and its 4A-GE engine have both proved their historical relevance, having been beaten on in everything from Group A racing in Japan to the British Touring Car Championship, but you care more about horsepower than history, which is why your'e considering throwing out that old box of pistons and rods for something newer.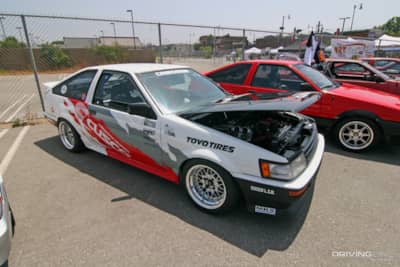 Choosing the Right Engine and Transmission
Getting in touch with Vista, California's JSP Fabrication is a smart first move. JSP is prepared to get any S2000-based F-series engine—or just about any of the taller-deck, 2.4L K-series engines, for that matter—to fit within the confines of that 30-year-old Toyota engine bay of yours, but that doesn't mean picking the right one will be easy. There are as many 1990s Accord F-series engines going for $150 on Craigslist that you think will work but won't as there are hacked-up Hachi-Rokus that you shouldn't touch. Success starts with you picking the right engine.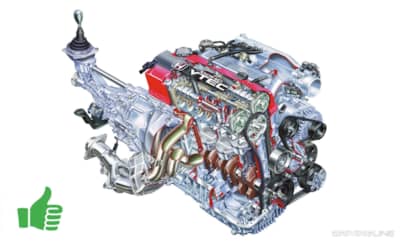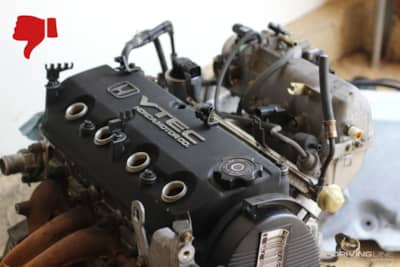 The F-Series
Go with the F-series and you've just made the swap a whole lot easier; its intake and exhaust manifolds can be retained since they already point the right way. Even its transmission can be used.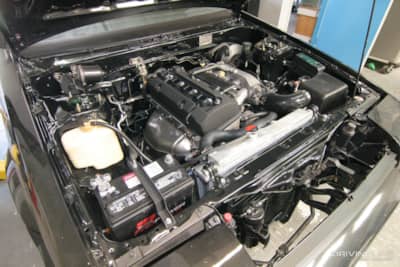 The S2000's F20C1 and later F22C1 aren't Honda's first F-series engines, but they're the only ones you ought to care about. Look to the 1999-2005 Japanese-spec S2000 for the smaller-displacement F20C and late-2005-2009 models for the bigger F22C. In North America, the F20C1 was available from 2000-2003 until it was replaced with the F22C1 for model years 2004-2009. Special JDM-only Type V and U.S.-only CR models were sold with the exact same 2.0L and 2.2L engines, depending on the year, so don't get hung up on their fancy-pants nomenclature. If whatever F-series engine you're looking at is missing a camshaft or has anything at all to do with an Accord, you're on the wrong track.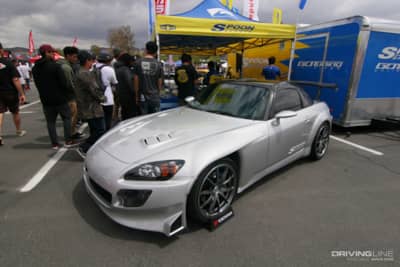 Why you might want the S2000's engine isn't a mystery. Both versions manage 240 hp—the 2.0L measuring in at 153 lb-ft of torque and the 2.2L topping off at 162 lb-ft of torque. For years the smaller-displacement F20C1 held the record for most horsepower per liter for any naturally aspirated engine this side of Ferrari or Porsche. Its 11.0:1 compression ratio and roller rocker valvetrain—both firsts for any North American-bound, four-cylinder Honda engine—along with its maniacally high 1.82:1 rod-to-stroke ratio meant no factory-warrantied 8,900 rpm redline ever felt this right.
The K-Series
Side with the K-series and you'll need to ditch its intake manifold and transmission for the S2000's, along with exchanging the exhaust manifold for something custom. You'll also need to figure out a way to get that S2000 gearbox to bolt up to whatever engine you've chosen.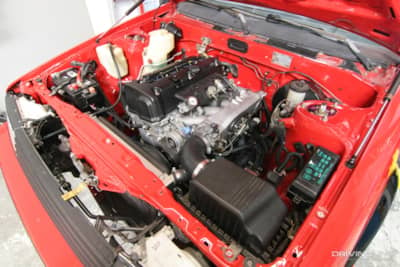 Your obvious choice for the taller-deck K-series is the 2004-2008 TSX that's fitted with the larger-displacement K24A2, with Japanese variants available by way of the 2004-2008 Accord 24S, 24T, 24TL and Type S chassis. Almost everything else doesn't feature Honda's performance-oriented version of i-VTEC or has one of those newfangled exhaust manifolds that are integrated into the cylinder head. You might be able to get one of them to work, but why bother?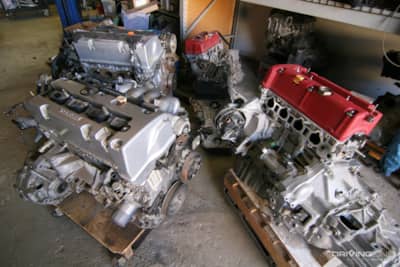 Like the smaller-displacement K20A2 that you can't use, the K24A2 measures in at 200hp at 6,800 rpm but pumps out 166 lb-ft of torque at 4,500 rpm with a 10.5:1 compression ratio. Its 13mm stroke increase and 1mm bigger bore mean more displacement and, as a result, more torque. But all you care about is that, unlike the S2000, this K-series features i-VTEC, which means its intake cam can be constantly manipulated for optimal power by way of the ECU. If there's any reason you'd choose the K-series over the F-series, this'd be it.
Engine Mounts and Chassis Prep
No matter which engine you choose, now's the time you'll pick up the phone and call JSP for one of its mount kits. But first you've got to prepare that chassis. It starts with modifying the front crossmember to clear whatever oil pan you've got and make room for the anti-sway bar.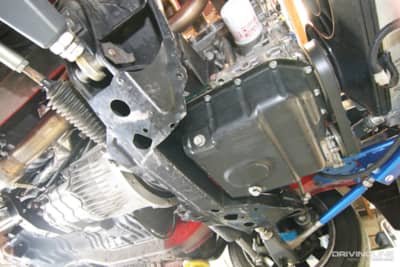 Both the K engine's and the F engine's oil pans also have to be modified in order to clear. Here, a small section has to be removed and patched back into place.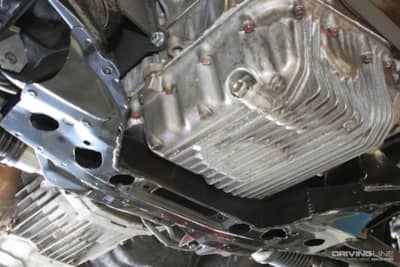 F-series swaps that make the mistake of retaining power steering will need even more clearance. JSP's brackets are designed to work with the AE86's original rubber mounts as well as the S2000 transmission's mounts.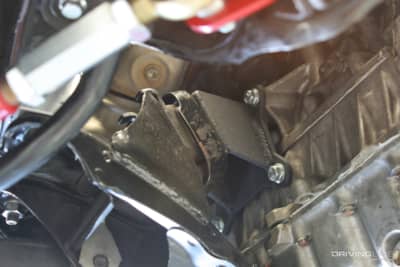 The Drivetrain
The good news is that you won't be spending a dime on a new rear end. The bad news is that you've got to do something to make all of that compatible with the S2000's transmission that you've got to use.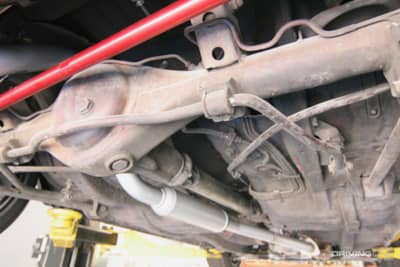 Now to deal with that S2000 transmission. If you've gone K-series, you'll need some sort of adapter plate to make it all work with that engine block—of which that Google machine of yours can point you toward some sort of off-the-shelf solution—and a driveshaft made up of S2000 and Corolla bits to hook it all up.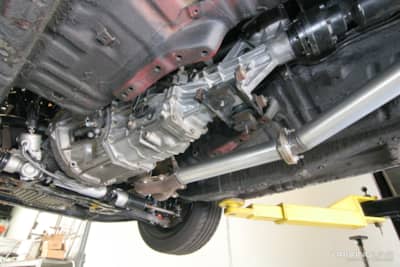 The Intake and Exhaust
Go with that F-series engine and you'll wind up with an intake manifold with its throttle body already facing the right way and an exhaust manifold that bolts right into place.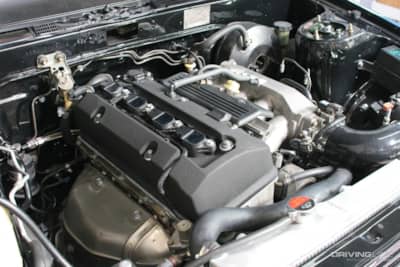 You and your K-series engines won't have as much luck with either of those things, which means an adapter from JSP that'll interface with any S2000 intake manifold as well as some sort of custom exhaust manifold—also from JSP—will be in your immediate future. No matter which engine you choose you'll need to make sure you're using one of the F-series' older, cable-driven throttle bodies.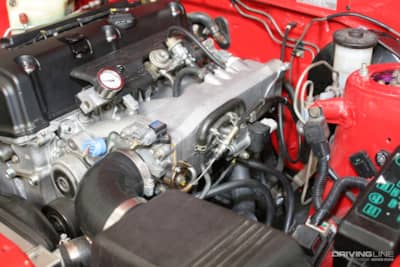 No matter which engine you choose, all of that exhaust piping that'll ultimately meet up with that Corolla-specific muffler will have to be fabricated to fit.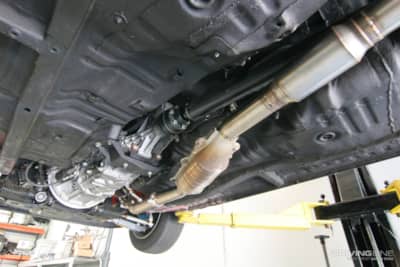 Everything Else
Getting the engine and transmission hung in the right spot won't be the end of that swap of yours. The brains behind that 4A-GE won't know what in the world to do with any of that Honda business, which means you've got two choices: wire up and configure a Hondata-modified factory Honda ECU into place, like JSP does, or configure just about any MAP-based standalone engine management system to work, like something from AEM. JSP takes the whole swap one step further, adapting a fully functional S2000 instrument cluster to the Corolla's dash.
The only other things standing between you and engine swap bliss are hooking up whatever hoses and lines that deliver things like coolant, fuel and hydraulic fluid to all the right places.