The Fastest Way Forward: Aj's Honda S2000
Building a track car can be a daunting task. I know—I've been in that process for well over a decade, now (including all the years my project DC2 has been on jackstands). Should you go all-out and build it to its full potential right off the bat? Or should you just "run what you brung," and upgrade it as you go, hoping that it'll all go right along the way? 
It's a dilemma that's as old as the concept of a project car itself (probably older), and if there's anyone qualified to offer proper guidance, it's someone who's gone through the process themselves. Someone who's gone on to become a driving instructor, or maybe someone starting off as an engineer, with a respect for detail and process. Fortunately for us, AJ Jaquias—builder and driver of this track-bred S2000—is all of those things.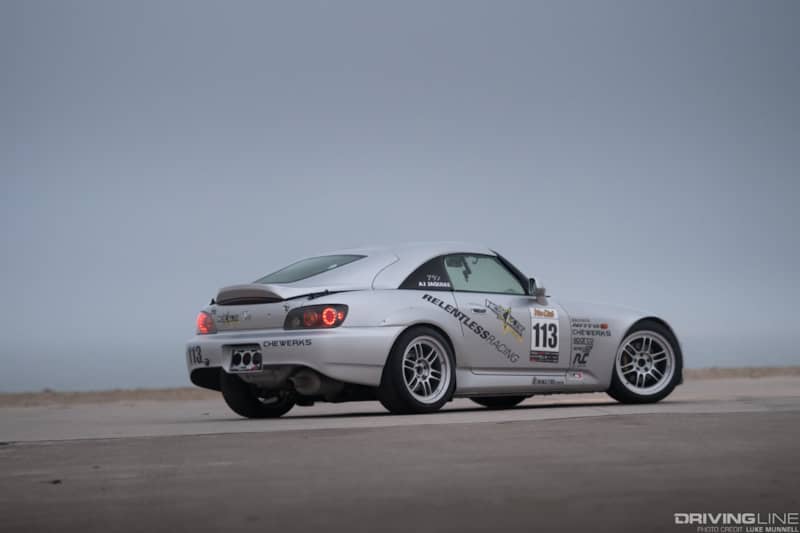 The Early Years
AJ has been into cars as far back as he can remember, having grown up in the garage and at the drag strip with a dad who had a severe appreciation for muscle cars. AJ's first car was a '70s Camaro that his grandma bought new, handed down to his aunt, who then handed it down to his dad and then to him (now that's a cool family).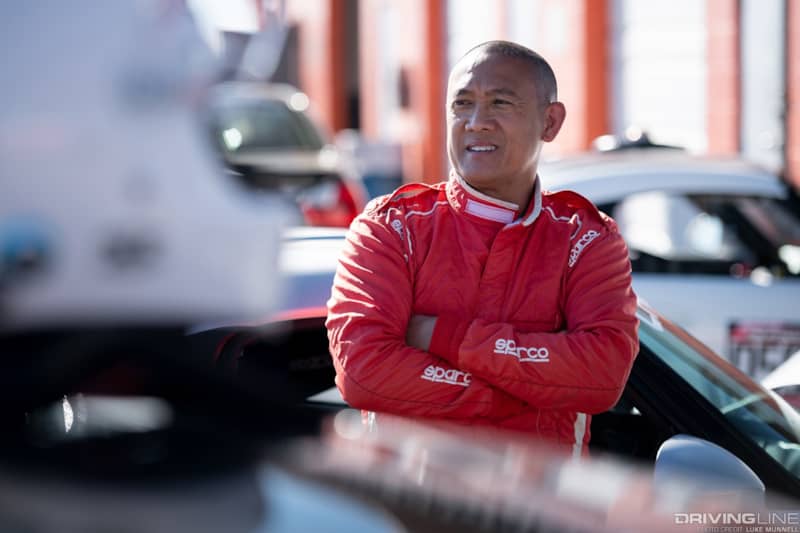 Street and strip straight-line racing was his passion along side mechanical engineering in AJ's younger years, which eventually led to exploring track racing, when some tech school friends convinced him that his daily-driven DC2 would be a fun machine for it.  
Before he knew it, AJ was spending more and more time and money prepping the DC2 for track duty, and all the while kept noticing an S2000 driver belting out consistently fast laps, and driving to and from the track. "I asked him what sort of modifications were done to the car, and what his track prep consisted of," recalls AJ. "He replied, 'Nothing, really. I just put gas in it and go.'" A RWD car that was light and nimble, and consistently fast and reliable around a racetrack? AJ was hooked.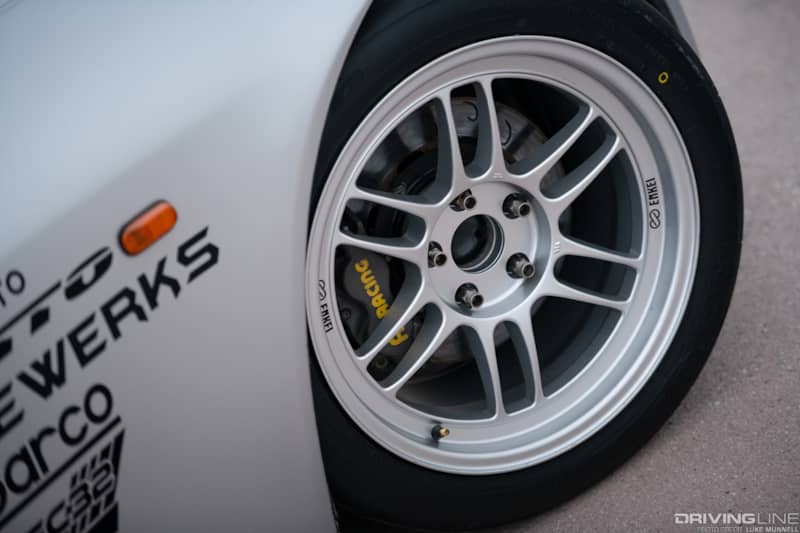 Recent History
Once AJ found a smokin' deal on a very gently used S2000 at a dealership in 2014, he immediately got to work enhancing it for track duty. Or trying to, at least. "I bought all the wrong stuff," he laughs. "Coilovers that were too stiff, the wrong tires and it had just a regular road-car alignment."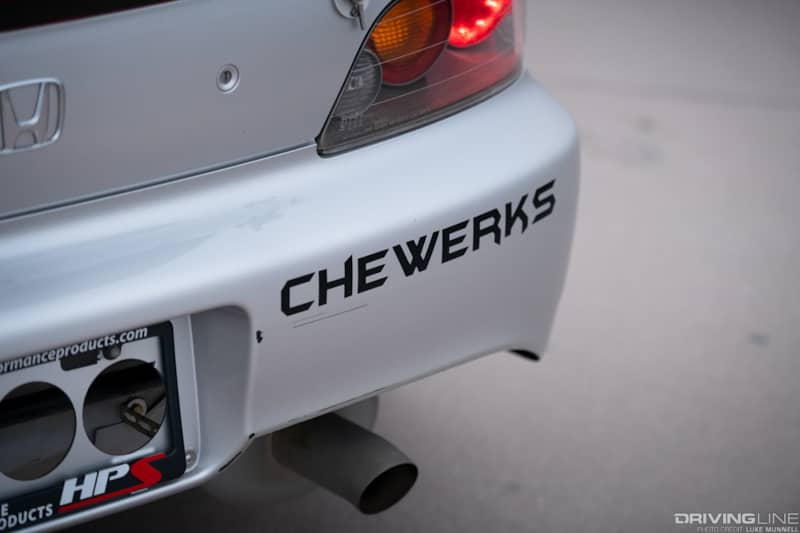 His first few trips to the track with the car might've been his last, had it not been for a chance encounter with some experienced S2000 and FWD Honda track-racing authorities—namely Robert Choo, former Turbo & High-Tech Performance magazine editor and proprietor of suspension/alignment specialists Chewerks in City of Industry, CA. As AJ learned, many aggressive modifications work well as part of an aggressive build, but can actually be a hindrance on their own.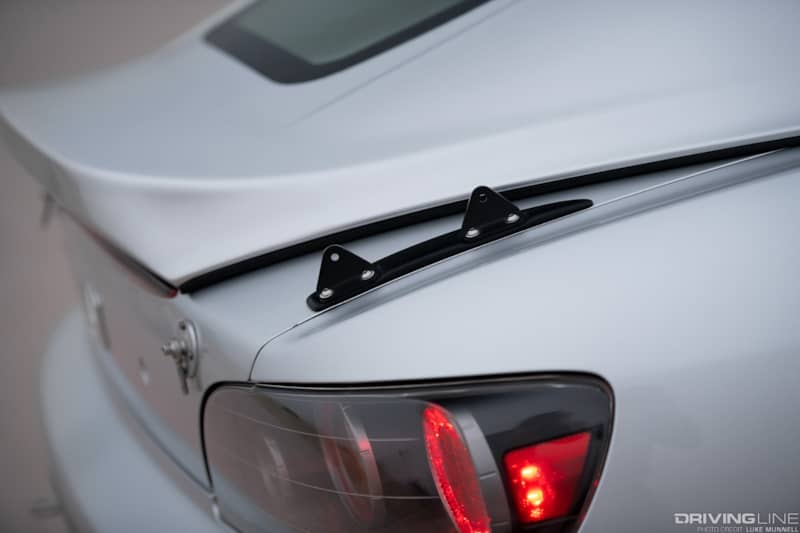 That overly stiff suspension, for example, would work best with increased downforce from a complete aero package (which he was only starting to piece together), and big traction from fat and limiting slicks. And that would all work best with big engine power and eye-popping braking, all from an unforgiving build that would only reach its full potential when driven at a precarious limit by a seasoned racing driver. As Robert and his crew have proven time and again, the secret to going fast is sometimes starting from square one, with a less aggressive build.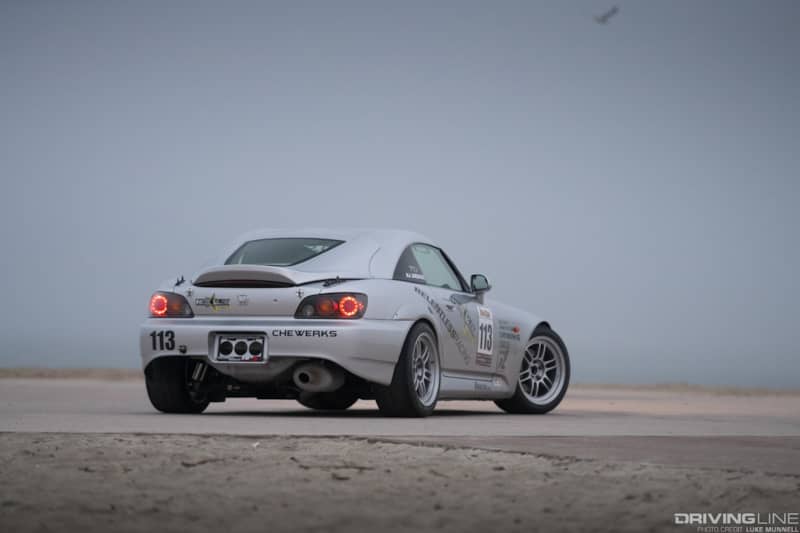 Power to the Pavement
So, AJ decided to pare things down. But just a bit. He hocked that stiff suspension for something a bit softer, but with higher-quality valving and proven performance: KW Variant III coilovers, all around. Rather than opt for those Unlimited-class slicks, he went with a better solution: DOT-approved, ultra-sticky Nitto NT01s, sized 255/40-17. He also switched to a thicker Eibach anti-roll bar up front, to help quell the S2000's resultant tail-happy nature when sitting on a performance suspension and a square (as opposed to staggered) wheel setup.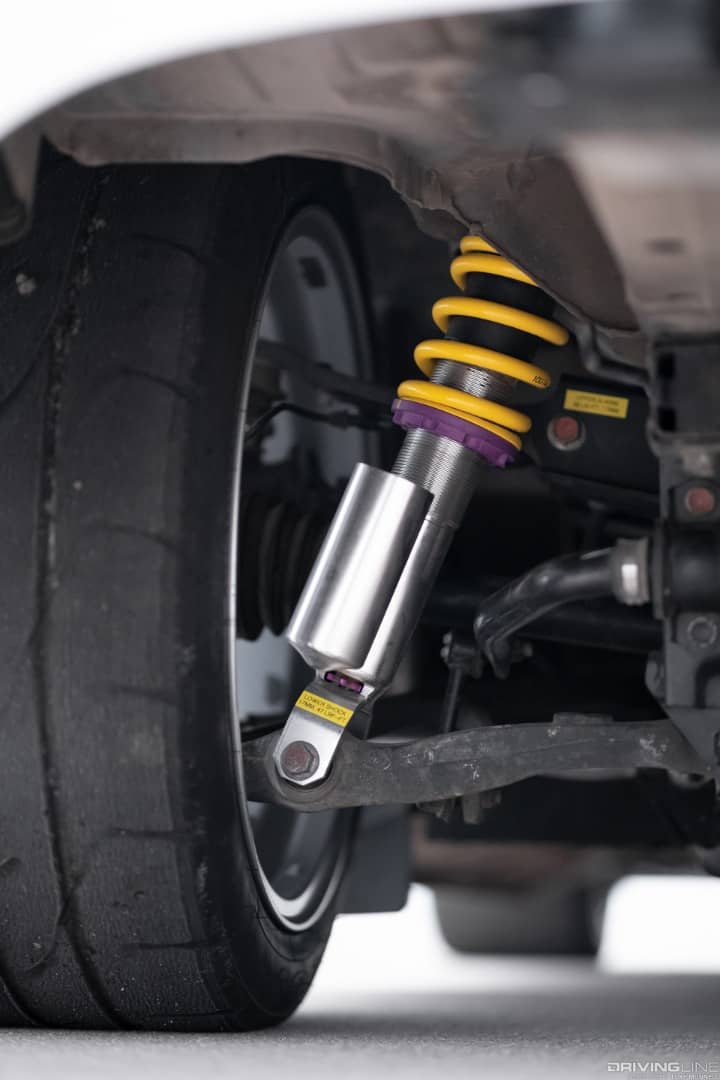 Here's where things get interesting. AJ's wheels of choice were lightweight Enkei RPF1s, but he sized them wide: 17x10 inches, with a +38mm offset. His 255s fit with just a tiny bit of stretch, but he'd also have room to size up to 285-width rubber for extra traction. And his wide Down Force front fenders, and stretched and ASM-flared rear fenders, would likely accommodate even more rubber if future plans warranted it.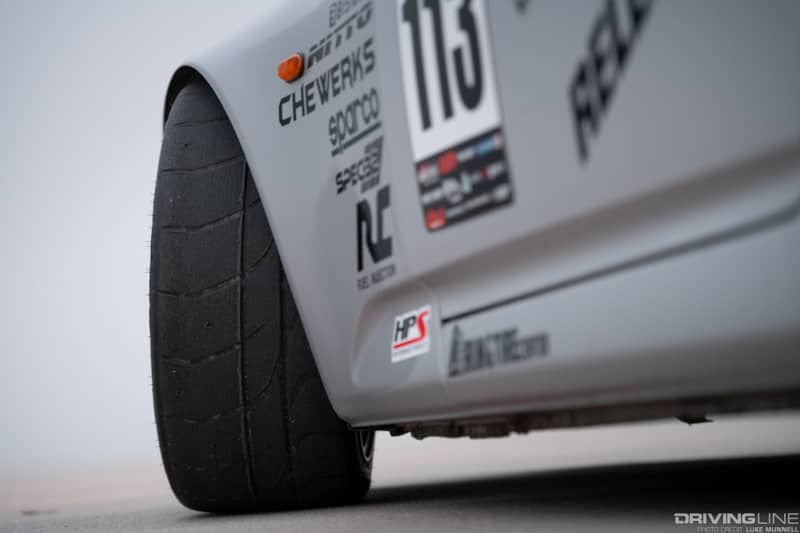 Nuts and Bolts
Spoon Sports front and rear subframe collars, and steering rack collars, eliminate some slop inherent in even the S2000's precise underpinnings, while J's Racing front camber joints, tie-rod ends, rear control arms and rear roll-center adjustments give a greater degree of adjustability in finding that ideal track alignment—something Robert and Chewerks have down to a science.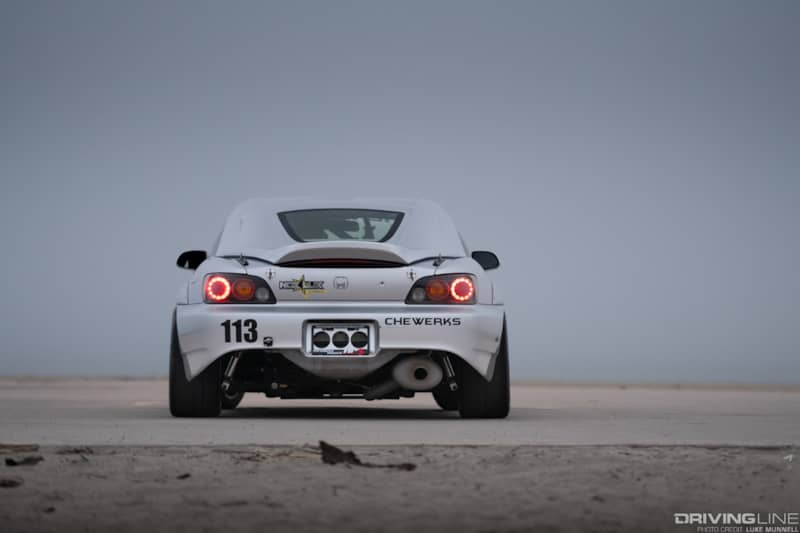 Do some searching online and you'll find some contention surrounding the matter of if and when big brakes add measurable benefit to a track car. If your build is at stock levels of traction and power, chances are your factory brakes will provide ample stopping power. But if it needs to be brought down from high speed quickly, and if it's got much more traction than stock, a larger, two-piece, vented brake kit may very well offer better braking performance, and faster and more consistent laps.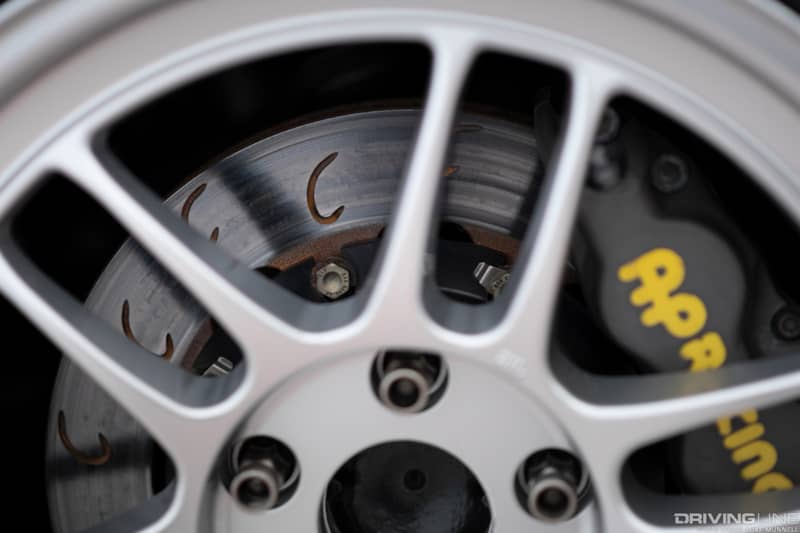 Fortunately, there's no real reason not to upgrade to bigger brakes (provided they'll fit within your wheels) so AJ upgraded to Essex AP Racing big brakes with Carbotech XP10 pads up front and XP8 pads in the rear, with Goodridge stainless lines and Motul fluid.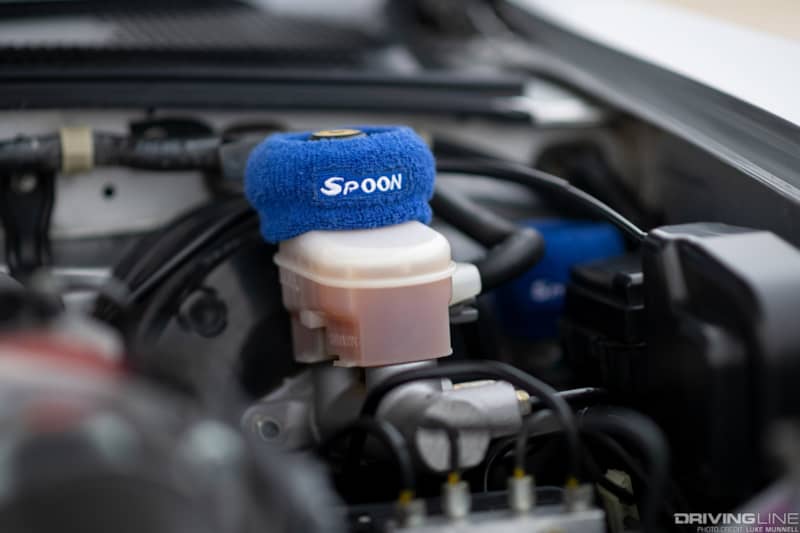 Which brings us to the subject of engine modifications. Now a firm believer that he'd rather learn the handling and braking limits of his car before upgrading power, AJ approached engine mods more from a point of view of efficiency and reliability than anything else.
Pop the Hood
Fun fact: when his S2000's original engine let go, AJ replaced its bottom end with a factory-fresh block, straight from Honda.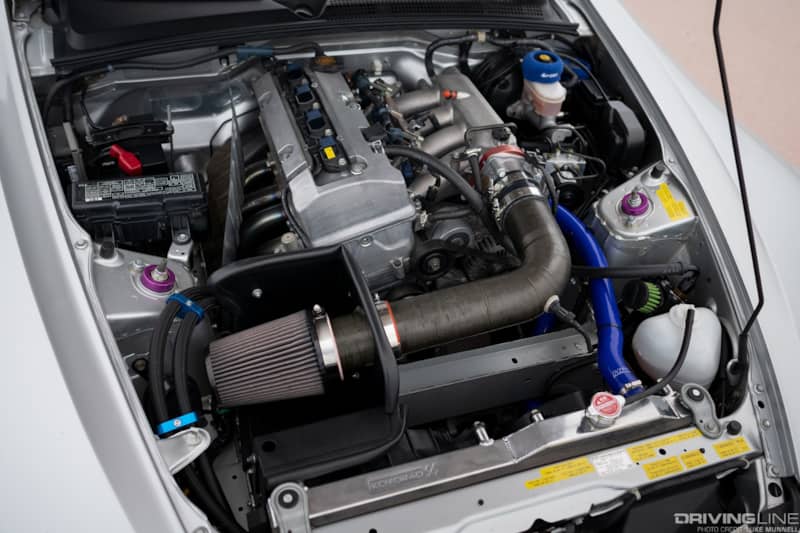 Enhancing the engine's cooling abilities today are an aluminum Koyo radiator, HPS upper and lower hoses with Earl's AN fittings, J's Racing low-temperature thermostat, and Evans waterless coolant. Improving lubrication are a Moroso weld-in oil-pan baffle, Setrab oil cooler with fan, Mocal oil filter sandwich plate, J's Racing oil filter stopper and lots of Moroso 300V engine oil. Remedying the effects of any lingering blow-by is a Radium oil catch can.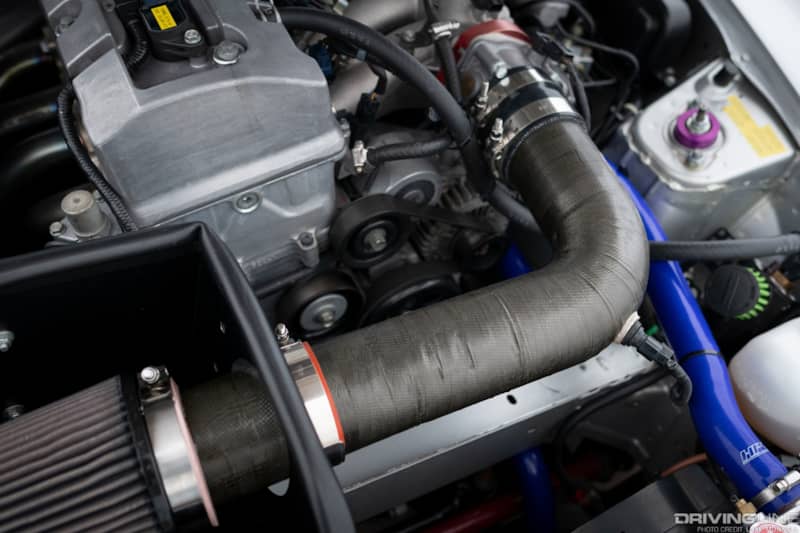 And since at least a modest increase in power is always more fun and conducive to faster lap times, AJ made some performance modifications here as well. Feeding the engine's factory intake manifold is an Acura MDX throttle body and one of AJ's own, hand-crafted, true dry-carbon-fiber intakes, with a custom rubber velocity stack. A custom HyTech header ushers exhaust gasses toward the ceramic-coated 70mm Berk test pipe and T1R stainless exhaust, and limiting the amount of heat that escapes into the surrounding engine bay is another AJ creation: a handcrafted, ultra-thin, custom composite heat shield.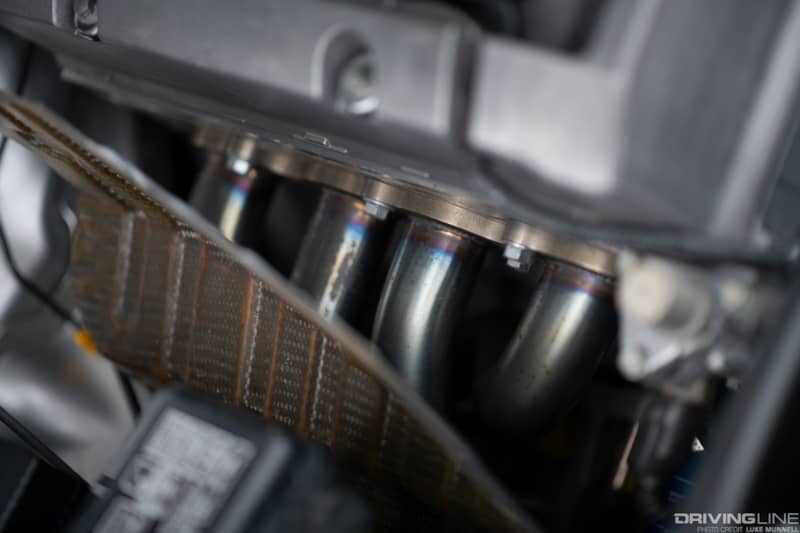 Have a Seat
If those labels of torque specs and various other settings adoring the car's engine bay didn't convince you of AJ's meticulous nature, his approach to the interior revision will.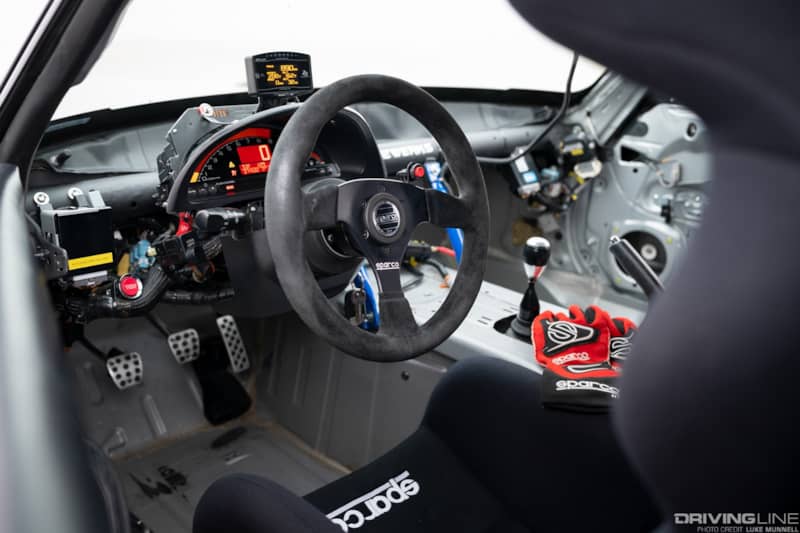 For starters, there's not much in there, aside from the necessities. AJ estimates he eliminated well over 100 lbs from the car's weight by removing unessential creature comforts, sound deadening material, even excess wiring. There's no dash, for goodness sake.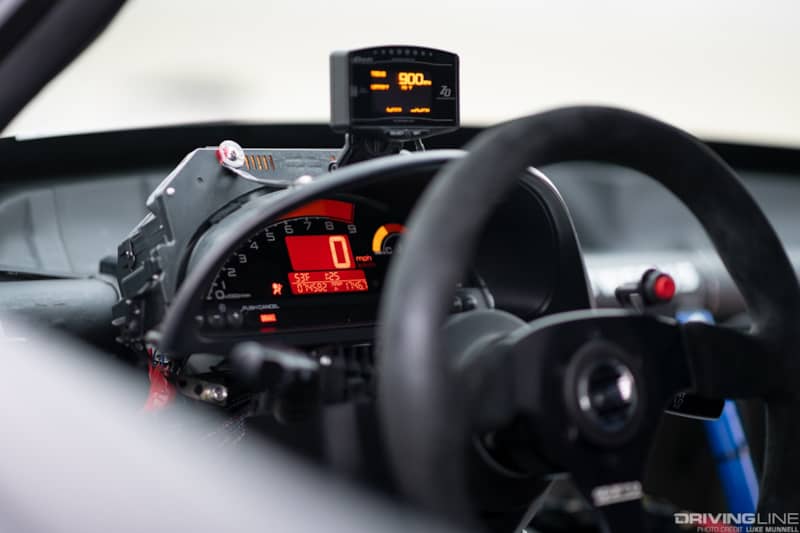 What there is, is the S2000's factory digital instrument panel, a Defi ADVANCE ZD digital display; Sparco steering wheel with quick-release hub, a Sparco Halo seat, harnesses; and a color-matched and Hard Dog roll bar, lowered one inch to fit within the car's Seibon carbon-fiber hard top. And that's about it.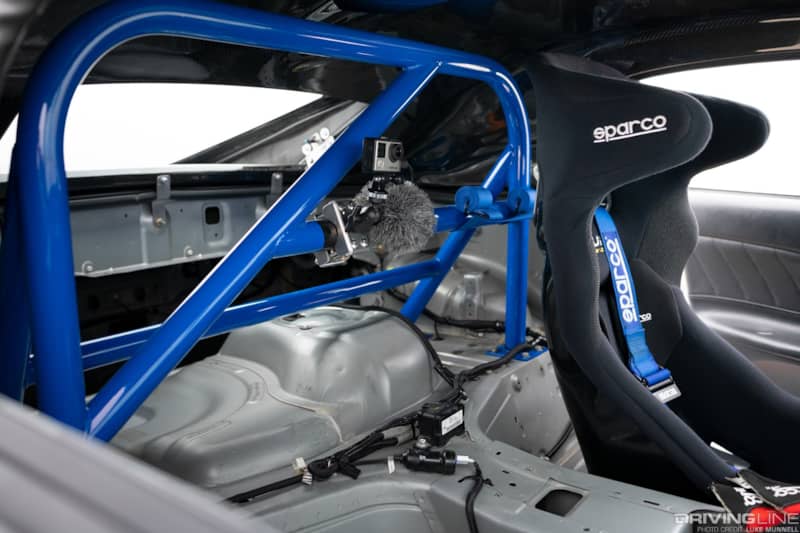 The Proof is in the Lap Times
With the magic touch of renowned Honda tuner Bisimoto on the car's AEM Infinity ECU, the S2000 put down plenty of reliable power on good 'ol 91 pump gas to keep AJ continuing to learn its limits, and to serve as an ideal platform for future modifications.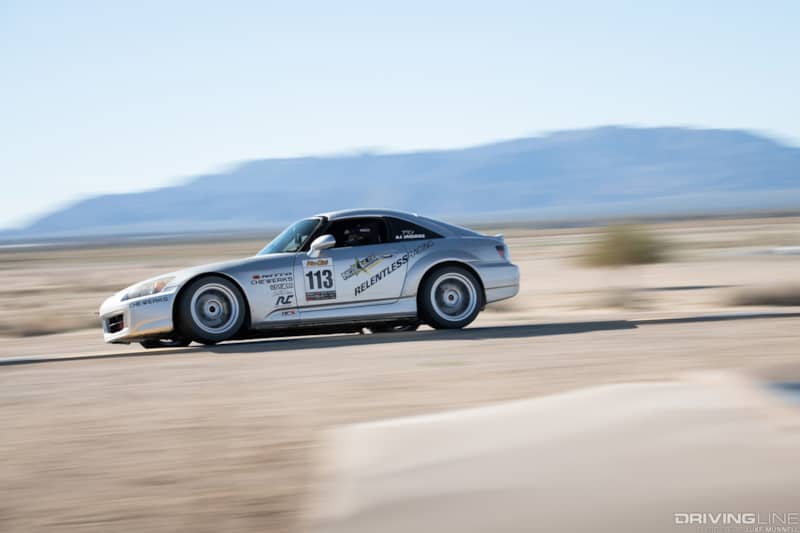 AJ has driven it to best lap times of 1:58.90 at Buttonwillow and consistent 1:25s around Streets of Willow, and he (and the data) are convinced there's more time to be shed in the car's current state.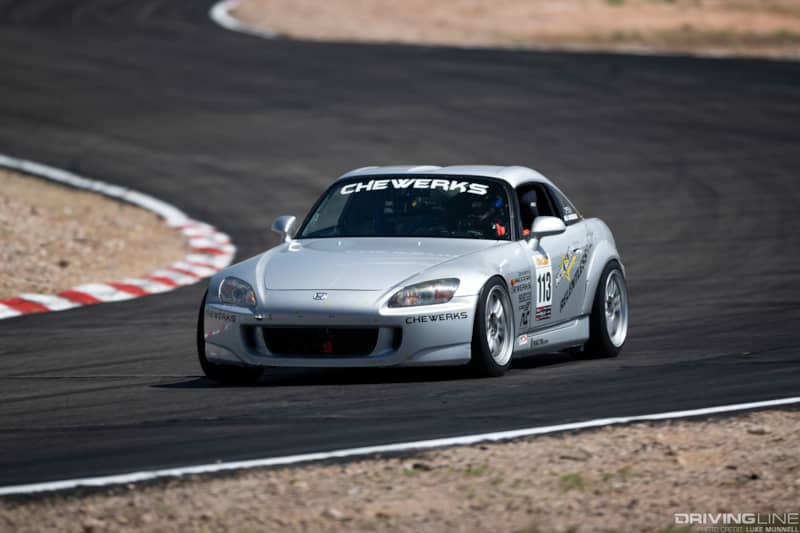 "Honestly, it's made me a much better driver than I ever would've realized," AJ sums up. "Definitely more than if I would've overbuilt it from the start." His plan for the future? Take his time, enjoy the drive, find its limits and keep upgrading. Sounds like good advice to follow...for the day I finally get my DC2 off those jackstands.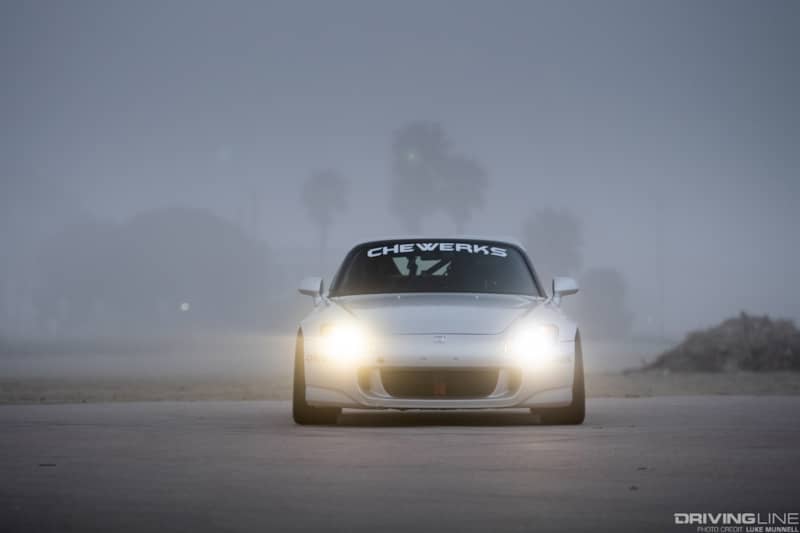 SPECS
| | |
| --- | --- |
| Owner | Alan "AJ" Jaquias |
| Vehicle | 2006 Honda S2000 (AP2) |
| Engine | OEM Honda F22C engine; Acura MDX/ZDX throttle body, custom adapter; hand-fabricated 78mm I.D. prepreg carbon-fiber intake, 78mm rubber velocity stack, K&N filter; custom HyTech header; .002 aluminum foil co-cured prepreg carbon-fiber heat shield; ceramic-coated Berk 70mm exhaust pipe; ceramic-coated T1R 70R-EM stainless steel single exhaust; Radium oil catch can; Setrab oil cooler, fan; Mocal sandwich plate; Earl's AN fittings and custom braided lines; Moroso weld-in oil baffle; Motul engine oil; Koyo radiator; HPS upper and lower silicone radiator hoses; J's Racing S2000 low-temp thermostat and Shorai lithium-ion battery. |
| Drivetrain | Rebuilt OEM Honda six-speed manual; Honda F20C flywheel; ACT pressure plate; AMSOIL Synchromesh transmission oil; Motul Gear Competition 75W-140 differential oil; Honda AP1 S2000 power steering rack |
| Suspension/Chassis | KW Clubsport Variant III coilovers; Eibach no. 4043.310 front anti-roll bar; Spoon Sports front and rear subframe collars, steering rack collars; J's Racing front camber joint w/roll-center adjustment, pillow tie-rod end set, pillow rear control arm, rear roll-center adjuster |
| Wheels/Tires | 17x10-inch +38mm Enkei RPF1 wheels; 255/40-17 Nitto NT01 tires |
| Brakes | Essex AP Racing URGE-spec front big brake kit; Carbotech XP10 front brake pads, XP8 rear brake pads; Goodridge G-Stop stainless steel braided brake lines; Motul RBF660 DOT 4 brake fluid |
| Exterior | Custom Down Force front fenders; ASM rear over-fenders; and Seibon carbon-fiber hard top |
| Interior | Sparco Circuit Halo seat, six-point HANS aluminum harness, R333 steering wheel; Simpson Carbon Bandit helmet; PCI adjustable seat bracket; custom Hard Dog roll bar; RacePak Vantage CL2; Defi Advance ZD Club Sports Package; IO Port Racing CM4 camera mount; and Rode VideoMicro Compact on-camera microphone |
| Partners/Thank You | CHEWERKS, Sparco, Nox Lux, RC Fuel Injection; HPS Performance; Rim & Tire Center; IO Port Racing; R_Built; HyTech Exhaust, Bisimoto, Racepak, Pro Car Innovations, Robert Choo, Jeff Ringer, JJ Jafry, Sean Mulyanto, VTEC Club, Stewart Prince, John Grudynski, and Bisi Ezerioha |
If you love Hondas, you'll love seeing this S2000/Integra feature.