Aluminum Or Iron Duramax Heads?
While the factory cast-aluminum cylinder heads on the 6.6L Duramax aren't exactly notorious for failure, GM's iconic diesel V8 is well-known for its ability to turn out tremendous power. And when the latter happens, one of the weak links can become the stock cylinder heads. Prolonged exposure to excessive exhaust gas temperature (EGT) can crack them and head distortion due to the different expansion rates between an iron block and aluminum heads can eventually lead to head gasket issues. This is why several aftermarket manufacturers have invested in cast-iron cylinder heads for the Duramax.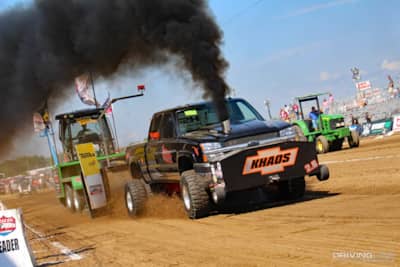 With added horsepower and increased torque being so commonplace on modern diesel engines, especially the 6.6L Duramax (where a simple reflash of the ECM can yield a 500rwhp truck), the OEM heads are pushed beyond their engineered limits on most diesel-powered Chevrolet and GMC HD trucks. Eventually, and be it due to age, abuse or performance-induced, a blown head gasket or (worse) a cracking issue can surface. Cast-iron replacements aren't for everyone, as we'll illustrate below, but they do offer a viable improvement in higher-horsepower and especially competition-level engines. Keep reading to see what we mean.
A Class-First For The Diesel Truck Segment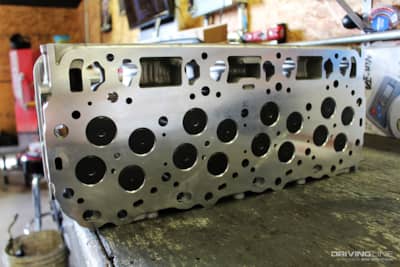 The 6.6L Duramax was the first diesel engine in the pickup truck segment to utilize aluminum cylinder heads. Each head was gravity-cast at Isuzu's Japan foundry then shipped to the states and treated to finishing machine work at DMAX Ltd., GM's Duramax-specific engine plant in Moraine, Ohio. It would be unfair to paint a picture of the Duramax's aluminum heads as being inferior. To be clear, they are robust, reliable pieces. Valvetrain issues are highly rare and if the Duramax is left at the factory horsepower level head gasket issues are typically reserved for high-mile engines that've spent years towing heavy loads.
Lightweight And Plenty Of Anchor Points
One area where the factory cylinder heads shine is in their curb weight. Tipping the scales at less than 40 pounds apiece (whereas most V-8 cast-iron diesel heads are pushing 100 pounds apiece) makes them ideal in applications where weight matters, such as drag racing. And with six head bolts per cylinder, OEM Duramax heads have more than adequate clamping force for stock power levels. Blown head gaskets commonly stem from engines that've (at a minimum) seen a programmer for thousands upon thousands of miles.
Dissimilar Metals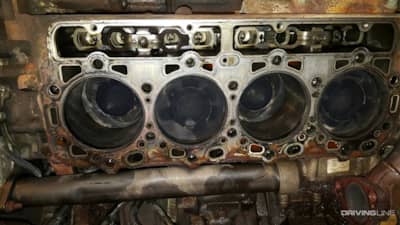 So what's wrong with the factory heads? After coping with increased EGT and elevated cylinder pressure for years (and possibly even decades), it's no wonder the factory heads eventually lift or crack. The former failure point is traced back to the different expansion rates of cast iron and cast aluminum. As the years wear on, more and more Duramax engines are losing head gaskets, most of which have been aggressively tuned. Again, this extended exposure to increased heat and added cylinder pressure takes its toll over time.
Where Cast-Iron Heads Make The Most Sense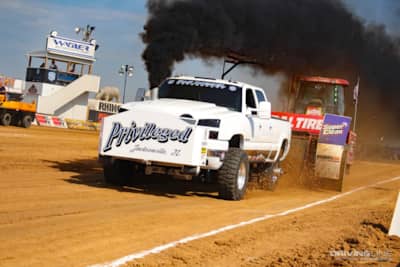 Extreme heat, elevated cylinder pressure and three times the factory horsepower rating is commonplace in diesel truck pulling—and this is the kind of environment where cast-iron heads can have the advantage over aluminum. However, unlike drag racing, where shedding as much weight as possible is usually the name of the game, added weight in truck pulling—especially over the front axle—is usually welcomed. In street-driven applications (where, once again a bit of added heft isn't a major concern), a cast-iron head conversion will also be beneficial. Here, in the world of daily drivers and tow rigs, the similar expansion rates between a cast-iron block and heads will lead to more head gasket longevity in the long run.
Aftermarket Cast-Iron Heads, Cast And Machined In The USA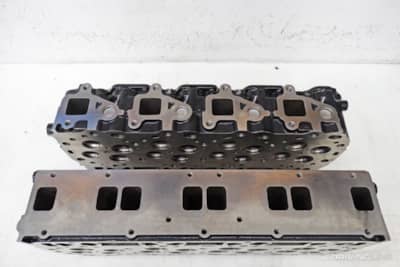 With the reliability aspects of cast-iron heads in mind, several aftermarket companies have produced iron Duramax heads in recent years. Most recently, Pacific Performance Engineering (PPE) has developed bolt-on cast-iron heads for LLY, LBZ and LMM Duramax mills ('04.5-'10) and has plans to do the same for LB7 engines ('01-'04). Cast from high-quality, alloyed grey-iron, its heads are said to hold up much better to extreme heat than factory aluminum heads (no cracking) and have considerably less propensity for blown head gaskets (again, thanks to similar expansion rates between the iron block and heads).
A Fully-Dressed, Aftermarket Bolt-On Head Option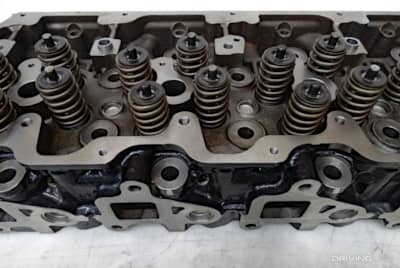 PPE's new cast-iron heads come fully dressed and can be bolted onto a Duramax block right out of the box with zero machining required. Their surface finish is that good. They also best the factory head hardware with lighter weight yet stronger, 125-lb valve springs (vs. 75-lb stock springs), along with high-strength, chromoly retainers and spring locators. Further highlights include stellite-reinforced exhaust valves, which allow them to better withstand high EGT, and fully-nitrided intake valves for reduced friction, decreased wear and better heat resistance. Although they're brand-new to the market, these heads should all but sell themselves.
Efficient Airflow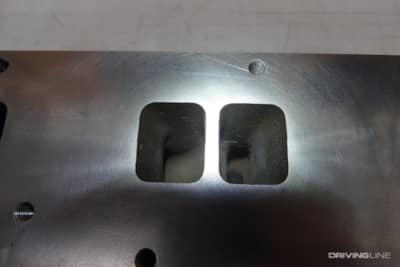 Easing the path for airflow to come into and then back out of a cylinder head is very important, and PPE's cast-iron Duramax heads are optimized for this right out of the box. The intake ports are smooth, the exhaust ports are deburred and a lot of room is left over for the end-user to do extensive porting for even more improvements in flow. Smooth transitions in the casting also exist around the valve pockets. Through and through, the cast-iron PPE units are arguably the best bolt-on replacement for a stock or mildly modified Duramax.
Further Aftermarket Cast-Iron Options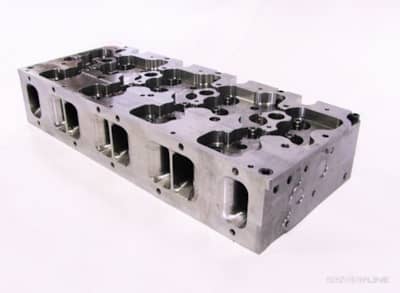 For the strength needed to hold up to added cylinder pressure, Wagler Competition Products, a big name in the billet-aluminum and cast-aluminum cylinder head game, developed a cast-iron head variant for the Duramax more than six years ago. Wagler's race-ready, ductile iron cylinder heads were designed to meet the popular Pro Pulling League's truck pulling class rules. Around the same time period, No Limit Manufacturing also released its cast-iron Duramax heads, and the reasons they did are still true today: Duramax owners need a more reliable option in high-performance applications. No Limit's cast-iron heads (pictured) are available with a plethora of options such as stock to 38mm valve sizes, solid or wet configuration (no coolant flow or full coolant flow), dual or beehive valve springs and custom CNC porting.
Select photography provided by LinCo Diesel Performance
More From

Driving Line
GM's 6.6L Duramax is one of the most reputable diesel engines to ever grace the ¾-ton and larger truck market. 

Here's

 

why the General's common-rail diesel V-8 is so durable.