Beating the Odds at Ultra4 Sturgis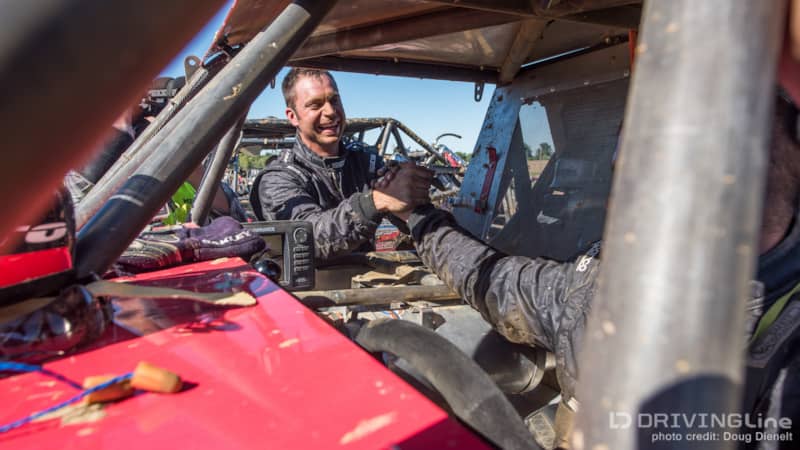 Months of hype have been leading up to this third and final 2014 Ultra 4 Eastern Regional Series at Sturgis, Kentucky, and it did not disappoint. By far the most exciting Ultra4 race I've seen this year, I overheard a fan comment, "This is the most exciting race I've ever seen!" I've said it before, but one of my favorite things about this series is that despite fierce competition between the drivers, when helmets are off handshakes and smiles prevail. Although at times there seems to be a dominating contender (more on that later), it's also a series for everyone - in the sense that so much can happen during an event you just really don't know who's going to come out on top until that checkered flag is waving.
Coming into the weekend, was Loren Healy in his newly-finished Nitto Tire buggy #67 in which he's undefeated in so far - winning the past two races since unveiling the car. The winning streak has deepened a rivalry between Loren and the 2013 National Champion, Shannon Campbell. While Shannon has without a doubt held the title of the most feared and advanced car the past few years, that's all coming into question now with Loren's "Red Dragon" being unleashed. Quite possibly the most well rounded car in the series now, the "Red Dragon" is inflicting some serious hurt out on the track. Of course, the car isn't everything and driver skill plays a huge part to one's success as well - and watching Loren and Shannon battle it out during the short course portion of this race was quite possibly the most exciting part of the race!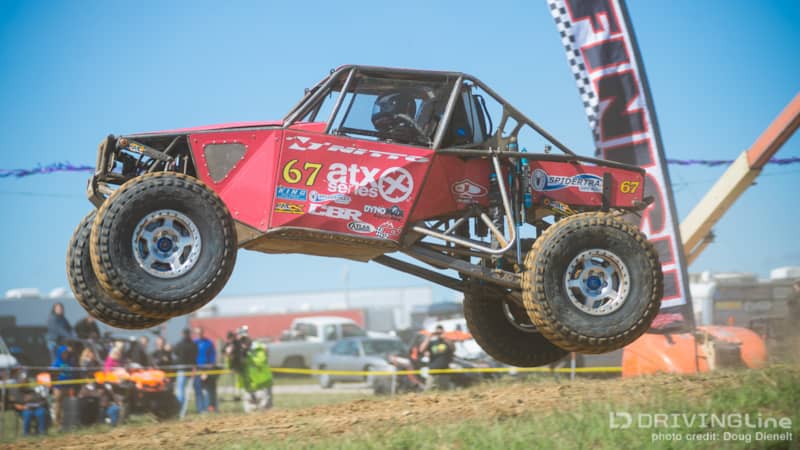 During the last race, Western Regional Series' American Rocksports Challenge, Shannon took a major spill and was forced to reshape his car and replace many broken parts. While he was in there a new engine was dropped in, which the sweet smell of race gas gives up the secret to. With more short course type tracks thrown into the mix this year, Ultra4 drivers have been doing their best to adapt - you'll see more IFS, lots of motor, and more people with a spare tire delete in an effort to gain an edge. But...on to the racing!
Qualifying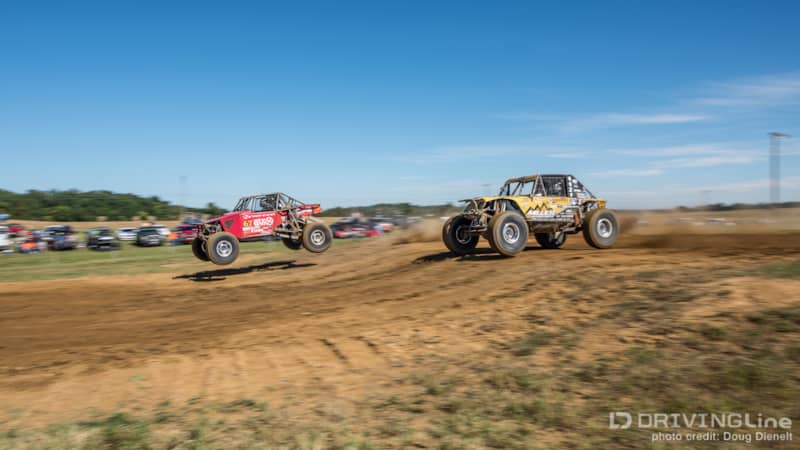 These were run in two heats, with Shannon Campbell gaining first and Nitto driver Derek West securing a respectable fourth. The second heat saw Loren Healy with fellow Nitto teammate Erik Miller. Erik led by a large margin the entire race until getting hung up in the woods section with just 2 laps to go. Meanwhile Loren, who'd started at the back of the pack, had already progressed up the field taking fourth place by Lap 2. Barreling into the woods where Erik was stuck waiting, Loren managed to emerge just moments before Erik with the pair getting first and second starting order respectively.
Race Day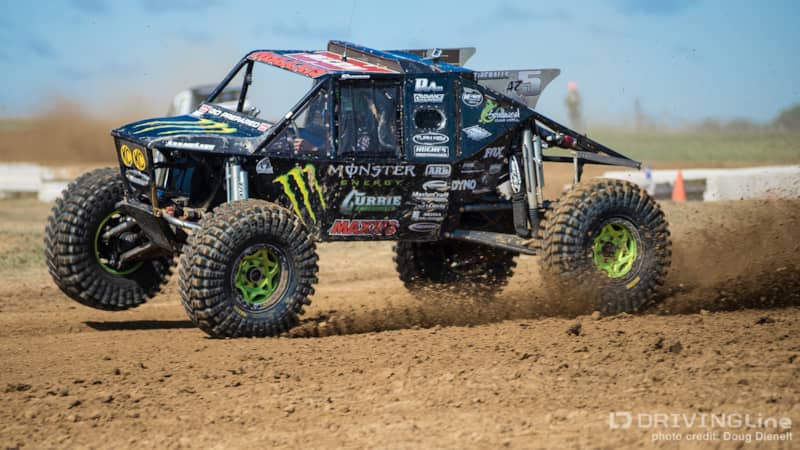 The previous day's events set up Shannon and Loren side-by-side at the starting line once again - the only difference from the last race is that Shannon now has a new motor. The green flag dropped and the astounding roar of high-revving engines filled the air. The two leaders stayed neck-and-neck until the table top jump where Loren managed to pull ahead. This move must have flipped Shannon's magic crazy switch to "on" because he was hot on Loren's tail through the high-speed straightaway section - and then, the most amazing thing happened. Shannon headed into the "whoop" section with so much speed that he was launched off the first one, lawn-darted and flipped over, then landed on his wheels and continued on - I don't think he let off the throttle for a moment!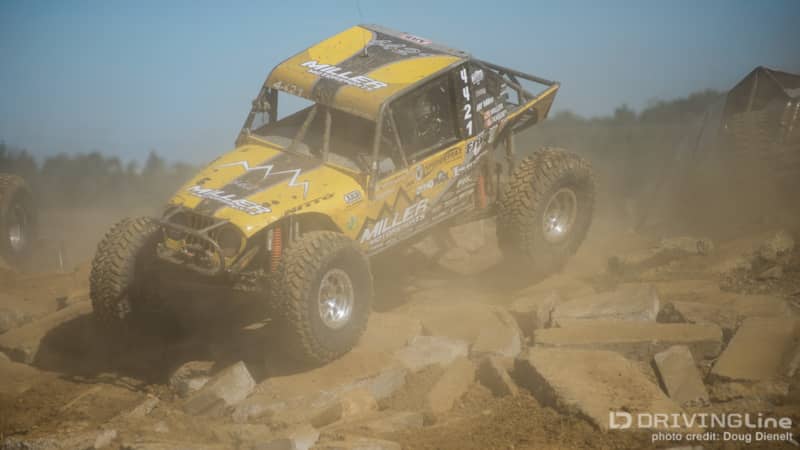 While Shannon's antics were impressive, they didn't further his position along - and Erik Miller passed him by for number two as they headed into the tight wooded section. This is where things got even MORE interesting. As the crowd waited on pins and needles for Loren to pop out of the woods with Erik on his heels...nothing was happening. They're all stuck in-line in the woods! Loren got tangled in with a tree and as Erik stopped to allow him space to back out of it the line of traffic behind them kept going like a train with no brakes. This dominoed Erik right into Loren's rear bumper leaving Erik no other option that to throttle out and push Loren up and over the tree. The pair were the first out of the woods - but they were creeping along with Erik still attached to Loren. As Erik tried to release bumpers at the cost of ripping off his own, the two were quickly loosing position as the rest of the traffic passed out of the woods.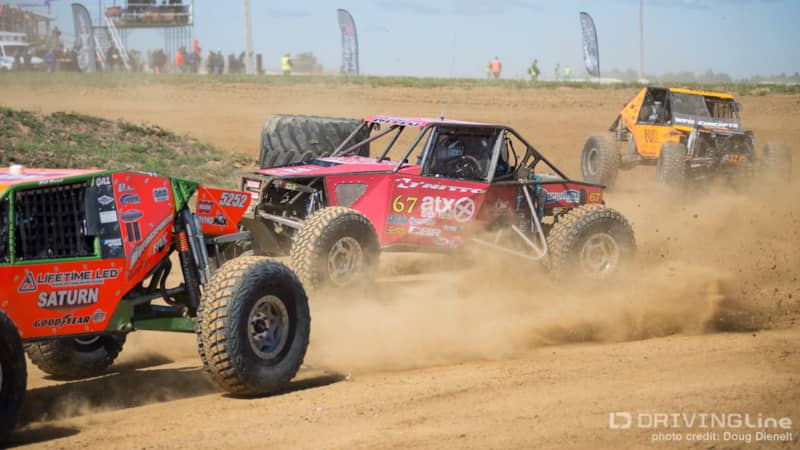 Despite the large amount of time and position that they lost, Loren and Erik manage to pull off a first and fourth place finish. Other fellow Nitto teammate, Derek West, claimed second - as he works on building a new car, his impressive racing in his older, under-powered buggy is proof that driver skill still has a lot to do with success too. Leaving the area I overheard another new fan proclaiming, "This is far more exciting than NASCAR, I can't wait to tell my friends about this!" Considering this was Kentucky, I think that's a well-spoken compliment! Mark your calendars now for the last and final event of the season, Ultra4's 2014 Nitto Tire National Championship held in Reno, Nevada October 17-18th.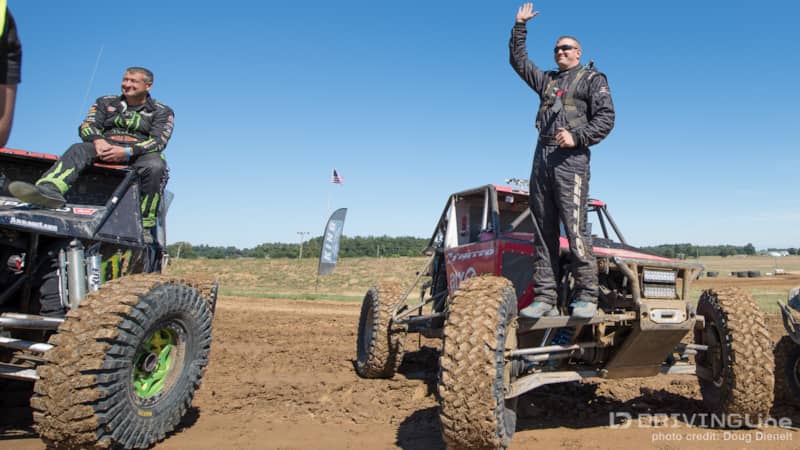 Top 10 Finishing Order - Ultra4 2014 @ Sturgis
Loren Healy
Derek West
Clay Gilstrap
Erik Miller
Wayland Campbell
Levi Shirley
Bill Baird
Shannon Campbell
Tim Cameron
Billy Briney