Big Car, Big Block: 5 V8 Muscle Machines You Can Still Afford
Looking for a V8 classic but feeling squeezed out by muscle car pricing? Don't worry, there's an entire subset of stealth big block cars out there that the collector market has largely ignored, keeping them affordable and relatively plentiful as compared to their more celebrated siblings.
Full-size sedans and coupes were often available with range-topping, large-displacement eight-cylinder engines in the 1960s and early '70s, but given that the primary demographic for these models were families and business executives, they mostly flew under the radar with the hot rod crowd. It's a trend that continues today, even with personal luxury coupes that throw in a bit of style to go with their torque-happy drivetrains.
For most builders, these enormous engines can be considered mere starting points for generating huge power after a few judicious modifications, but even in stock form they are a lot of fun. Just remember that we're quoting gross horsepower ratings for each of these models, as they were all introduced before SAE net ratings were adopted.
Let's take a look at five fun big block V8 classic cars that you can still afford.
1. 1969-1972 Ford LTD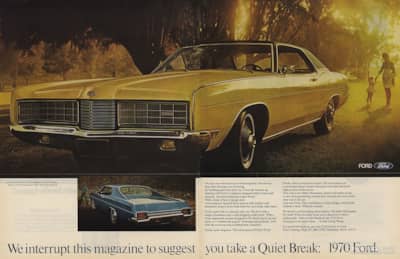 Long before these three little letters became associated with the Crown Victoria, the Ford LTD represented a step above the standard family fare offered by the Galaxie. Available in coupe, sedan, wagon and convertible models (with the latter known as the Ford XL until 1971), the LTD was easiest on the eyes when found in two-door and wagon forms, which balanced out its extreme 121-inch wheelbase proportions by way of a long hood and a long roof, respectively. Early models also featured a split grille and hide-away headlights for additional style points.
A large car like the LTD required significant power to stay interesting on the road, which meant the 429 ci big block Ford motor ruled the roost over the 302, 351 and 400 ci options that were also available with the car. Rated at 360hp with a four-barrel carburetor installed, and offering close to 500 lb-ft of torque, the 429-equipped LTD makes for a comfortable cruiser that has no trouble keeping up with modern traffic—and, with the right exhaust system installed, sounding the business in the process.
2. 1969-1972 Chevrolet Caprice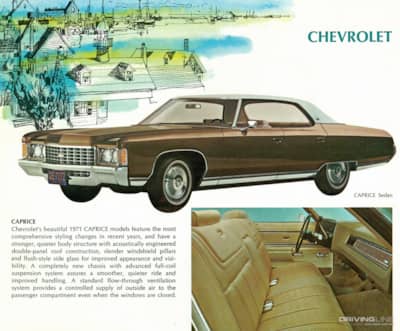 The Chevrolet Caprice was essentially GM's answer to the LTD, and it covered a similar range of body styles. Chevrolet added its popular 454 big block V8 to the car's options list in 1969, and kept it there the following year when the Caprice underwent a redesign. Passed over by collectors who prefer Impalas, the Caprice offers the easiest, and least expensive, point of entry into big block fun with a Bowtie on the hood.
Although the 454 ran through much of the '70s, it was mightiest between 1969 and 1972, before emissions regulations started to choke out most of the fun. Pre-'72 models delivered a healthy 365hp and roughly 550 lb-ft of torque, which is comparable to any number of muscle cars from the same era.
3. 1969-1970 Mercury Marauder X-100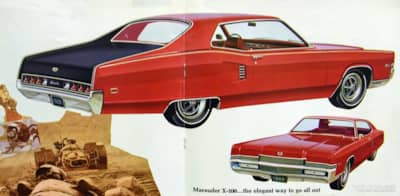 The Mercury Marauder X-100 is a bit of an oddball. Based on a platform similar to that of the Ford LTD/Galaxie XL, the Marauder went a step past the more staid Marquis it shared its sheet metal with to introduce a performance-oriented, full-size coupe that looked as menacing as its name suggested. It also sliced three inches from the Marquis wheelbase to create a somewhat smaller—though by modern standards, still enormous—package for the distinguishing personal luxury connoisseur.
Every X-100 came equipped with a 360hp, 429 ci big block V8. Also capable of churning out 480 lb-ft of torque, it was enough to shoot the Mercury to 60 mph in under eight seconds, an astonishing feat given the car's more than two ton curb weight. Sportier (when found with suspension upgrades and disc brakes at all four corners) than its LTD cousin, the Marauder X-100 gives you the opportunity to own a unique eight-cylinder monster for not much money.
4. 1968-1970 Oldsmobile 98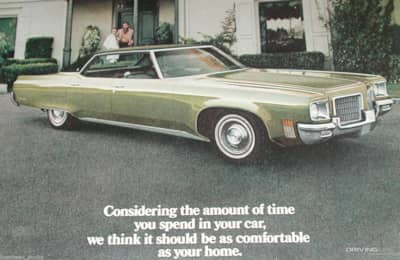 The Rocket 455 was a popular muscle car engine in the Oldsmobile family when it was introduced in 1968, but the powers that be made sure that this big block V8 could also be ordered in the Oldsmobile 98 sedans and coupes that lorded over all the other cars in the showroom. Heavy on luxury—and just heavy in general—the 98 was always the largest Oldsmobile, so it only made sense that it was matched with Rocket power.
With 365hp on tap, you'll still be able to get out of your own way in the Oldsmobile 98 with your right foot feeding gallons and gallons of gasoline to that 455. Torque is impressive, too, checking in at 510 lb-ft. The 98 was redesigned for 1971. It retained the 455 ci engine, but GM mandated that the motor be able to run on unleaded fuel, which dropped 40hp from the bottom line.
5. 1969-1971 Dodge Polara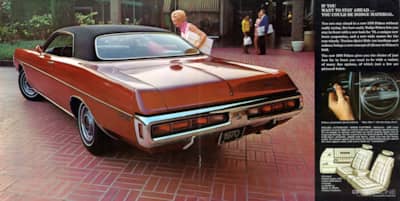 The vaunted Mopar 440 ci big block is the stuff drag strip dreams are made of, and Chrysler was fairly democratic about making the motor available across most of its large car (and even truck) lineup. If you've got 440-fever, one of the easiest ways to find the cure is from behind the wheel of a 1969-1971 Dodge Polara.
Like the Caprice and the LTD, this full-size coupe, sedan and wagon offering from Dodge was intended to serve as a comfortable road tripper that the entire family could enjoy. What's not to like about 335hp and 460 lb-ft of torque? The Polara is also notable for its "fuselage" styling, which was unique to Chrysler and represented an early attempt to improve the aerodynamics of larger cars.
This isn't the only old-school power you can afford. There are also the turbo Buicks that led to the Grand National!