BMW E46 2JZ-Swapped Drift Wagon
For years, one of my favorite events to cover of the year was the annual California Festival of Speed, a weekend bash occupying the infield of SoCal's Auto Club Speedway in Fontana (Cal Speedway, for those of you even more OG than me), open to any and all things Porsche. Sure, there were a ton of drool-worthy contemporary GT3 and even GT2 watercooled machines, a few Carrera GTs, and plenty of fast street cars.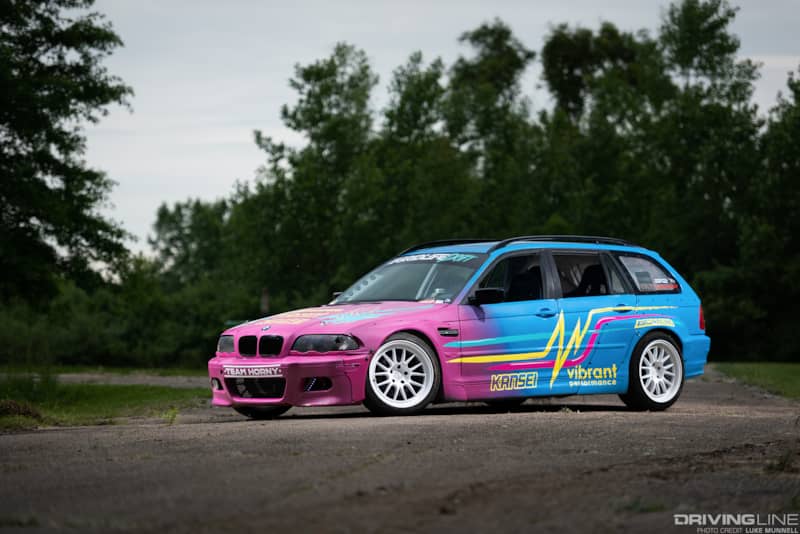 But what impressed me the most were the multiple widebody, race-prepped, classic 930 and 964 air-cooled 911s driven hard, run after run, wheel-to-wheel, in the hot CA desert sun – hoods filled with rock chips, seats sparsely covered in faded and torn upholstery, and exposed wiring with gasoline aromas. "How could anyone run such rare and expensive machines so hard like that?!" I thought.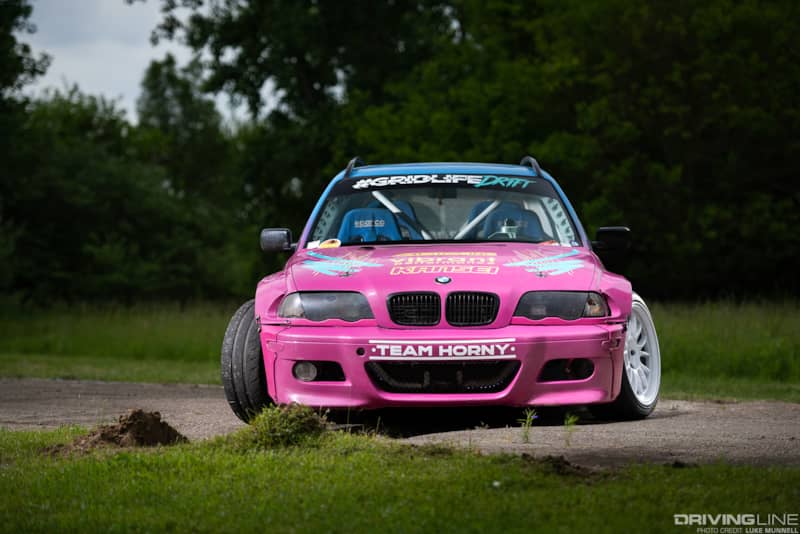 I came to understand that these cars had been track "beaters" long before they were all that rare or expensive. Most were retired IMSA and NASA competition cars which had already lived incredibly hard lives, sporting fenders and exterior aero that wasn't a product of today's hottest bespoke tuners, but served as their inspiration. Simply put, these vehicles had always been racecars, and even today as their prices and scarcity have skyrocketed, they are still racecars.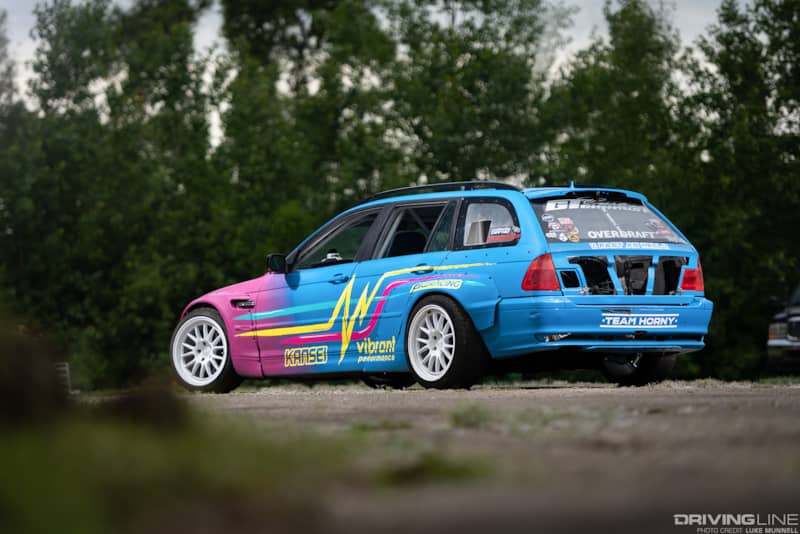 At my first trip to Gridlife's annual Midwest Festival at Gingerman Raceway in MI, I overheard a younger group of drifting fans shocked and awed by what they were witnessing taking place on track: a pair of pro-am shredders battling their matching E46 and Subaru wagons within mere inches of each other – cracked fender flares, scraped doors and largely held together by the requisite ZipTies and duct tape. They clearly loved what they saw, but, "How could they do that to such rare cars?!" was a question I heard from the group that went unanswered.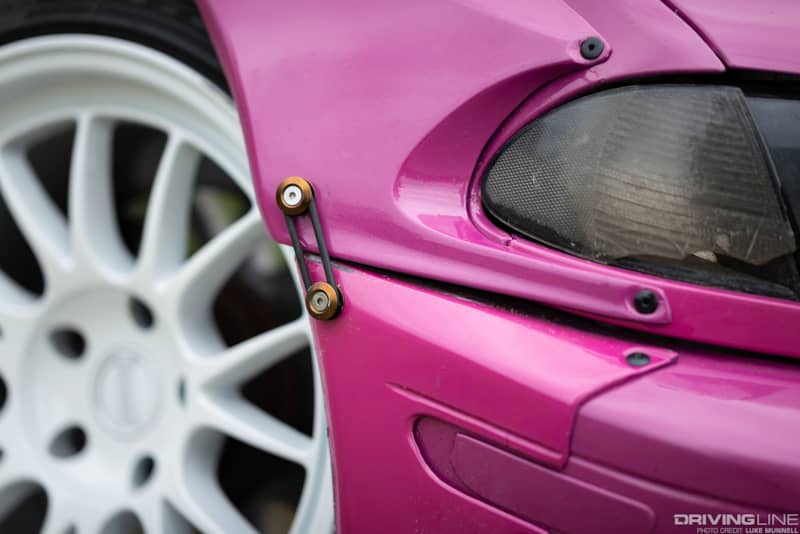 So, when I first met with Drew McLean on the sidelines of the event to shoot his 2JZ-powered E46 drift wagon, this was the first question I asked him. His answer: a chuckle and something along the lines of, "Man, if you only saw how rough this thing was when I got it …"
2JZ Ready
Drew's history with the car dates back to before he even got it. He had a VVT-i 2JZ-GTE engine before he even found the car, and had previously designed and fabricated a complete front suspension for a friend's E46 as a favor. This might be a good place to mention Drew's background as a mechanical engineer, and how he applies the knowledge he's gained working in nuclear power generation for naval contractors to automotive pursuits like building buff drift cars and racing boats.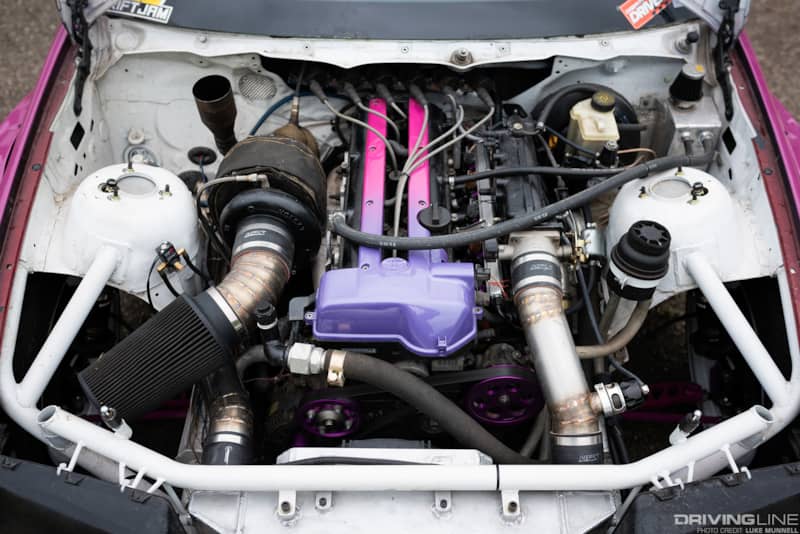 When a group-buy opportunity came up from a local shop that was closing out a stalled project, Drew and some friends closed in on the deal. One of the friends got another 2JZ that was for sale, another came up on a spare BMW trans, and Drew got himself a new project chassis: this E46 wagon, at the time stripped down, seriously neglected, on a pair of crappy coilovers, and without much else. He quickly got to work. Drew's existing VVT-i 2JZ engine was upgraded with a Holset HE351CW turbo and mated to an E36 BMW ZF gearbox, managed by a custom ECU Masters engine-management system.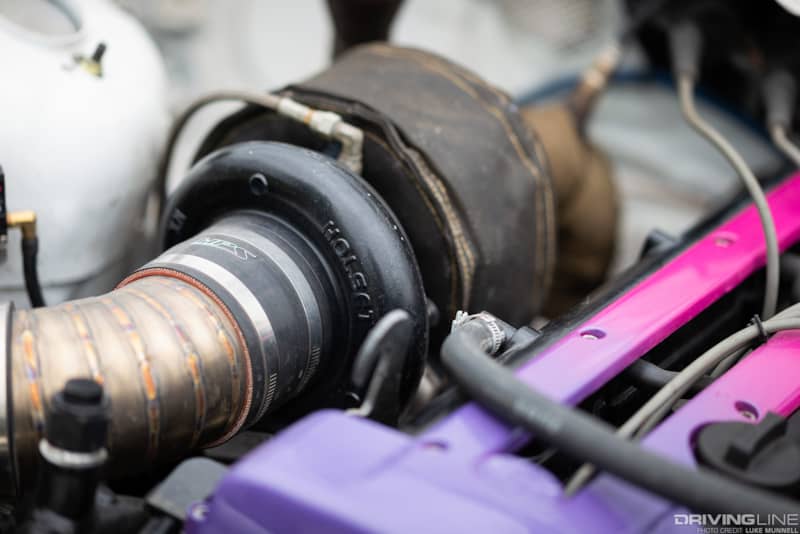 The 2JZ engine's intake manifold was modified to take a 4.6L Mustang V8's throttle body, and a dual-pass oil cooler, oil filter pedestal, engine and trans mounts, front-mount intercooler and piping, and rear-mount dual-pass radiator were all designed and fabricated in his home shop.
Drift Oriented Modifications
One of his friends, Mitch (shoutout to Mitch!), took to fabricating the 10-point roll cage and fitting four Sparco Sprint seats and five-point harnesses.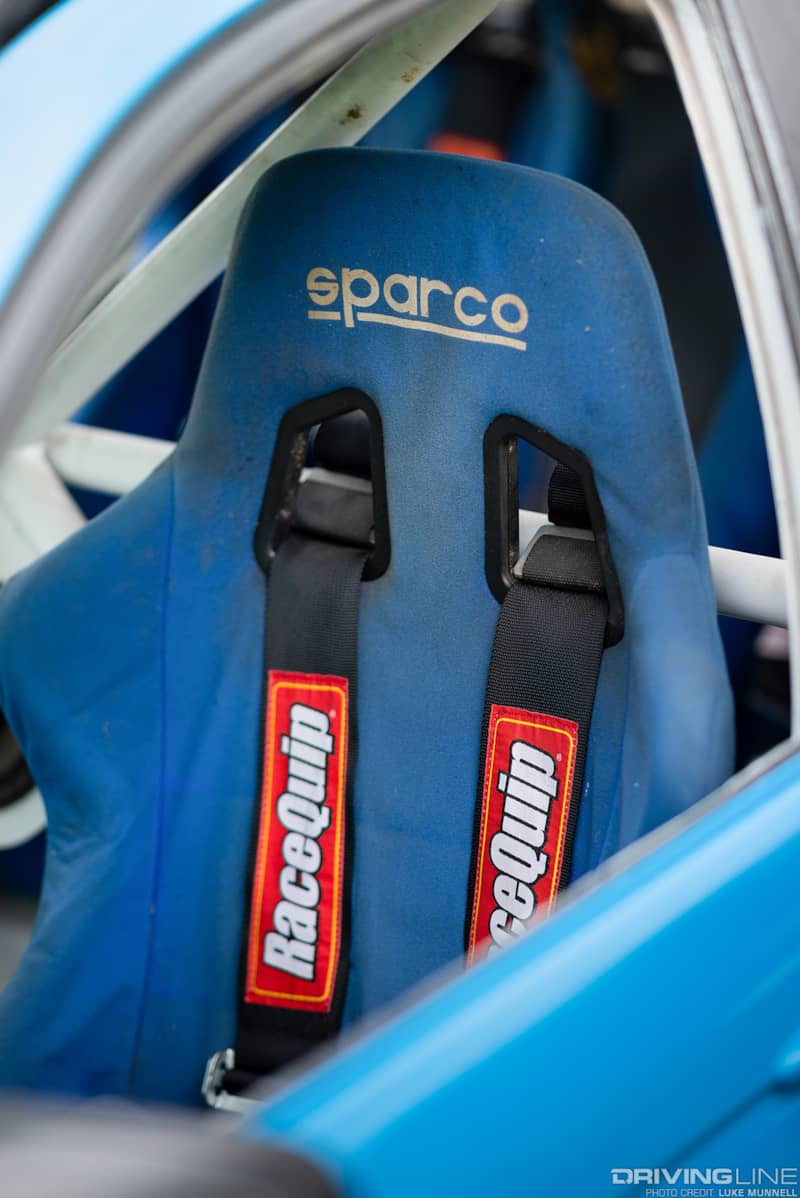 Drew leaned on his background in Solidworks and finite-elemental analysis (FEA) to redesign much of the car's underpinnings.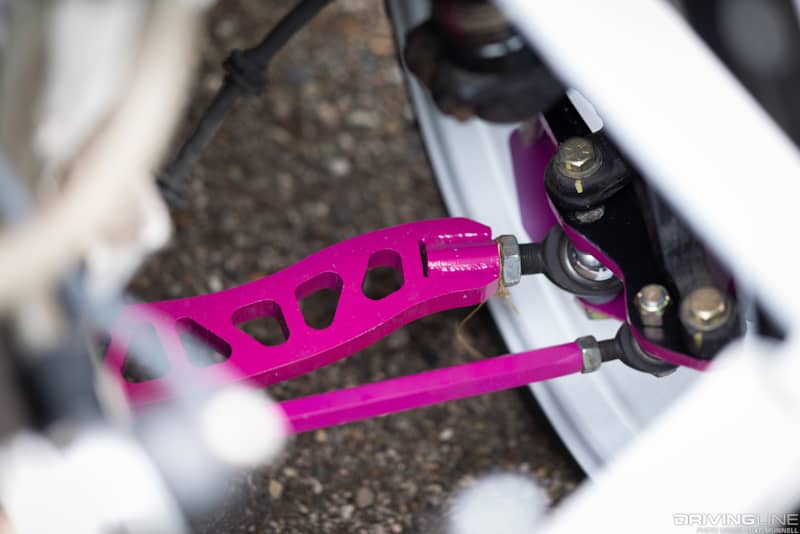 His previous E46 suspension design served as the inspiration for a full, FD-legal custom angle kit up front, consisting of the control arms, camber plates, knuckle blocks and tie rods; and rear adjustable camber arms and solid bushings in the rear. 
Widebody BMW Wagon
Drew and co. even took to adapting a Pandem widebody kit for an E46 coupe to the wagon's unique four-door physique and painting it – first in metallic red hues, as seen in it's late 2017 debut, then in the unique dual-color livery seen here. Yes, paint. As in, not a vinyl wrap.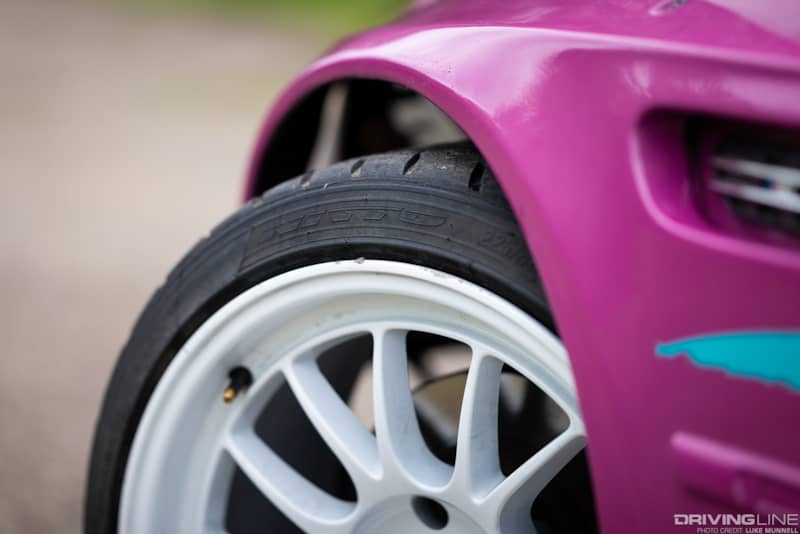 Drew's choice of tires is worth a mention, too. While cheaper and lower-quality options are much more popular in the pro-am drifting scene, Drew points out two flaws in that convention. First: that stickier tires like the Nitto NT05 max performance tires allow for more aggressive turn-ins and flicks – great for initiating a killer slide, but also for rescuing one that was done a little too aggressively. And second: longevity. His Nitto NT05s typically last for many runs and track days at a time. "Cheaper tires tend to delaminate or chunk apart with heat and wheel spin, when drifting," he says. "I can wear my Nittos down to the threads without a problem."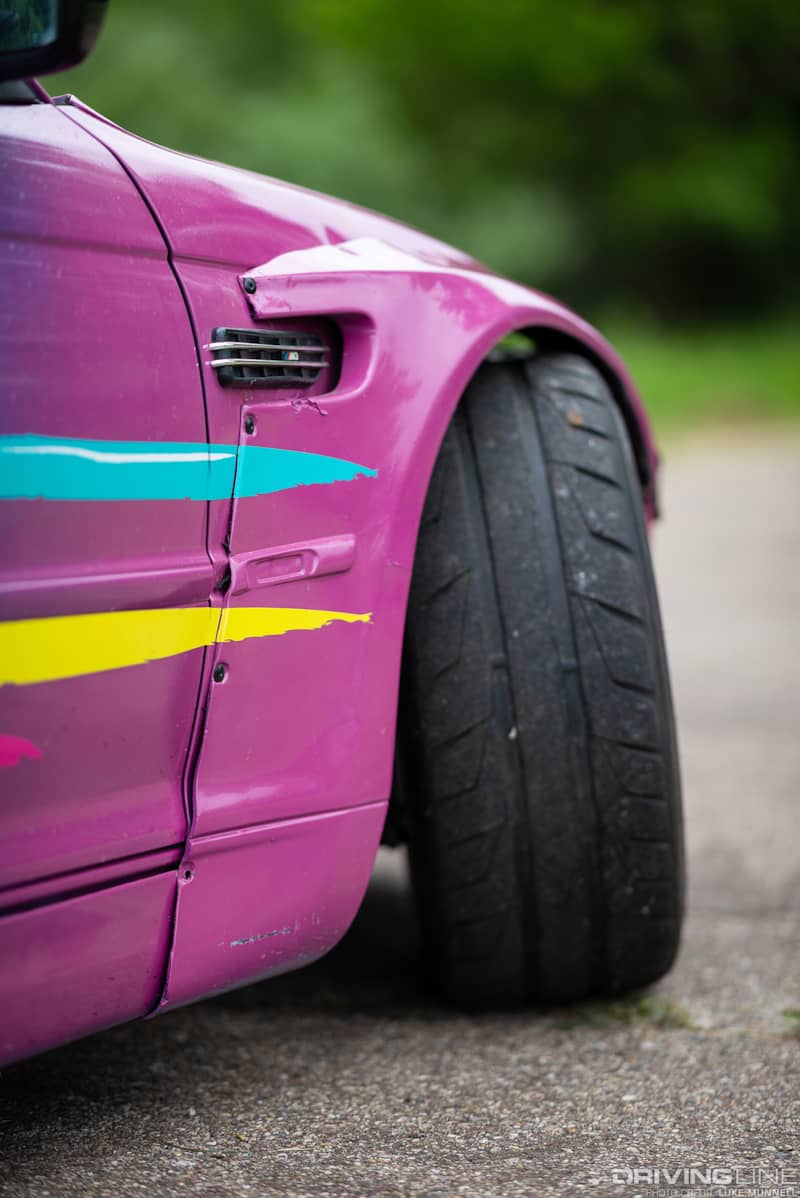 With the car comfortably dialed in and running strong for the past few seasons, Drew's content with the equilibrium he's found with it and isn't planning further upgrades right now. He's happy to get sideways and offer ride-alongs for as long as he can. "Drifting always felt like the skatepark to me," he says. "Nothing is better than spending time with friends, and in this car, I can do that with three of them at a time."