Built Like an Anvil: How to Piece Together an Indestructible Duramax
It's no secret that the Cummins is the power plant of choice in the diesel performance realm. But anytime serious horsepower is being made in this segment, you can bet the Chevy guys are in on it, too. Since its inception in 2001, the 6.6L Duramax V8 offered in GM's heavy-duty trucks has enjoyed a loyal following — along with a massive expansion in aftermarket support thanks to countless owners who were willing to push the envelope. When enthusiasts began to find the weak links in this state-of-the-art V8, the aftermarket gave them bigger, better, stronger components to hold up to the abuses of four-digit horsepower, 2,000 lb-ft of torque and 100 psi of boost.
So what's behind a built-to-the-hilt Duramax? Follow along as we highlight the exotic hard parts and machining practices that went into a bulletproof build at Illini Outlaw Diesel. From the ground up, nearly everything but the block has been upgraded on this LML code Duramax. With the last fastener torqued on the long block, big fuel and air were added to the equation, and it was recently fired up for the first time and released back into the wild. As you can imagine, the '13 Chevy Silverado 3500 this engine powers is capable of running 10's and annihilating pretty much everything it comes across on the street.
Twisted Metal
Outside of diesel shops and a few select race teams (and because you can get away with making quite a bit of horsepower and torque on the stock hardware) most diesel enthusiasts don't go the "built motor" route until they're forced to.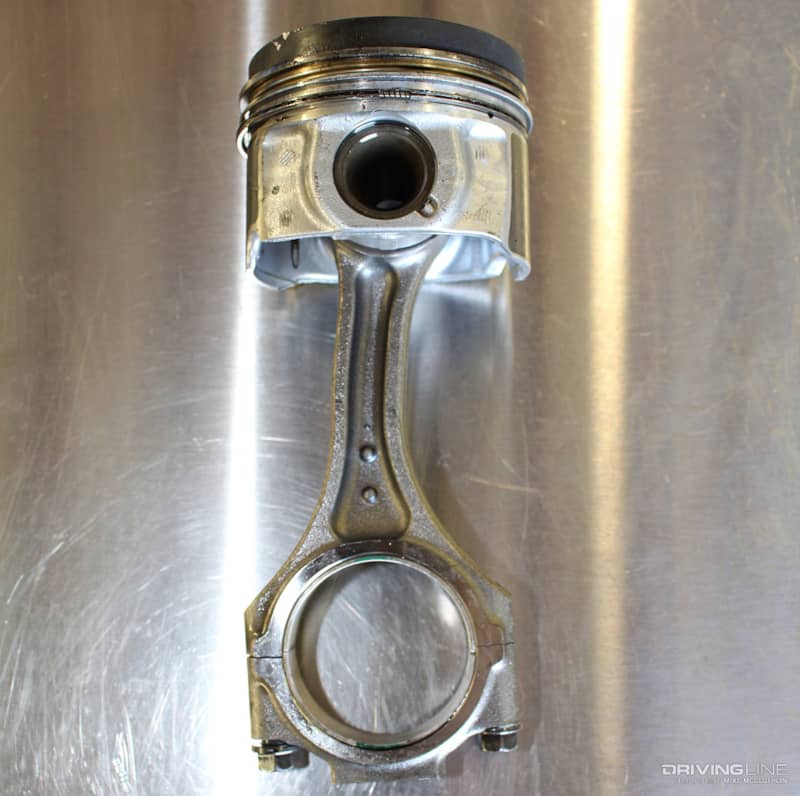 Well, after clearing more than 800-rwhp and nearly 1,600 lb-ft of torque on the chassis dyno, all eight factory connecting rods in this soon-to-be-built LML Duramax in this article looked like this: bent!
I-Beam, Forged-Steel Rods
To stand up to virtually any amount of cylinder pressure (i.e., torque) that gets sent their way, a set of forged-steel rods from Wagler Competition Products were employed.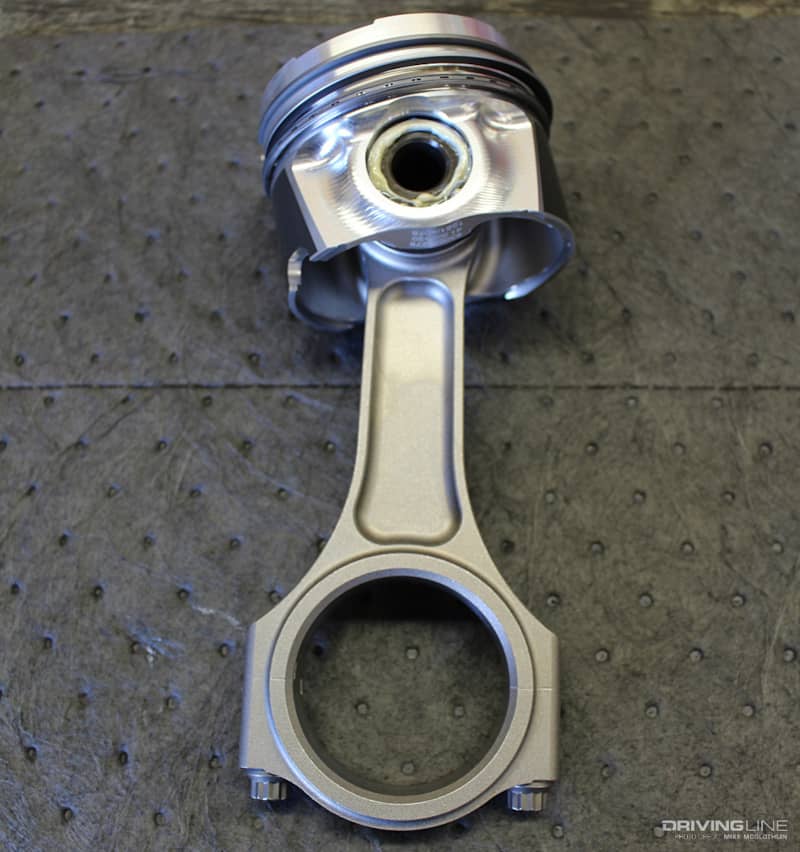 The I-beam style rods offer more than twice the strength of the factory rods yet are only 40 grams heavier (1,170 grams vs. 1,130 grams stock) and incorporate 7/16-inch ARP 2000 rod bolts. Mahle Clevite performance rod bearings, said to be capable of withstanding more than 1,200 horsepower, were used as well.
Forged-Aluminum Pistons
In order to survive extreme in-cylinder heat and limit expansion, a set of 0.020-inch over, 4.075-inch Mahle Motorsports' forged-aluminum pistons got the nod (the factory Duramax cylinder bore is 4.055-inch). Fully radiused, 0.075-inch valve pockets were added as a high-rpm safeguard and to reduce stress and fatigue.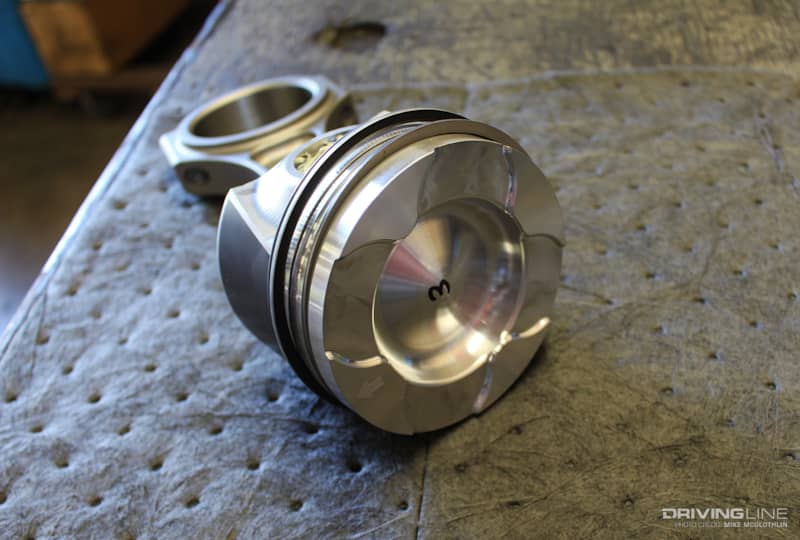 These pistons embody Mahle's performance-oriented fuel bowls, which are designed to reduce erosion issues caused by excessive pressure, long fuel injector duration and advanced injection timing.
Crankshaft Preservation
Snapped crankshafts are a major problem on built Duramax engines that see street use. The combination of high rpm (4,000+) and a heavy harmonic balancer can actually break the crankshaft (which most commonly occurs in the first rod throw area). Along with installing a robust keyway in the crankshaft and adding an alternative firing order camshaft (more on those methods below), Duramax engine builders know that getting the crankshaft as close to internally balanced as possible is the best way to improve the longevity of this vitally important component.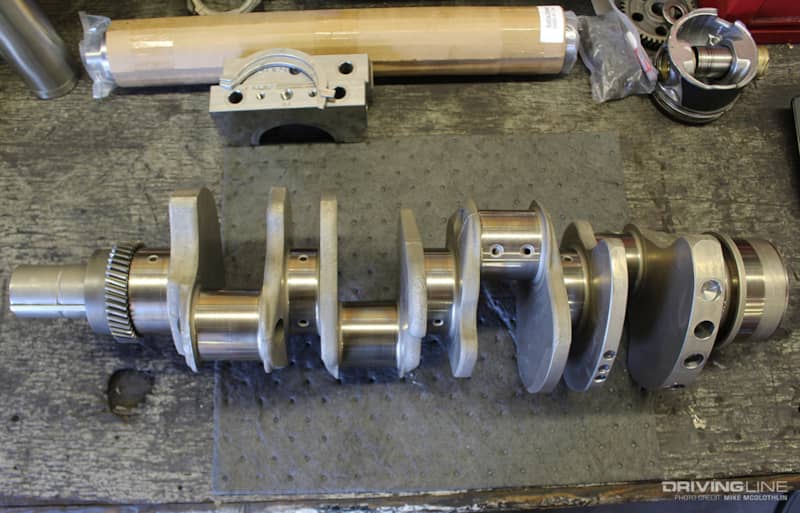 Here you can see a few areas where the crankshaft's parent cast-steel material has been removed from the counter weights, courtesy of River City Diesel.
Added Insurance
Another weak link in the factory Duramax crankshaft exists in the 5 mm dowel pins on the snout. With big power in the mix, the damper is known to shear the dowel pins. When this happens, the harmonic balancer will spin on the crankshaft, the engine will run rough, the crank and cam get out of time, and the crankshaft can even break.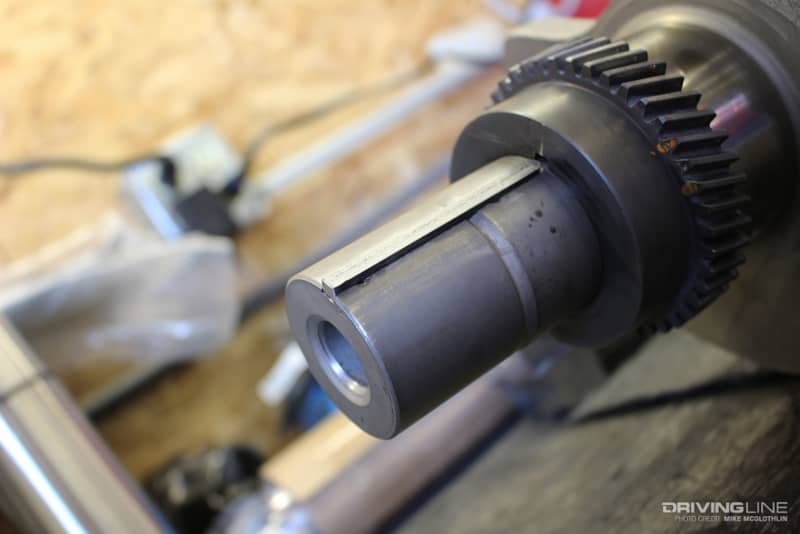 To eliminate this possibility, a keyway is machined into the crankshaft, and a steel bar is welded into place (shown).
Billet Main Caps
With the factory cast main caps known to collapse in high horsepower, high torque applications (right), a set of 4140 chromoly steel "billet" main caps from Empire Performance Engineering (left) were used to secure the crankshaft.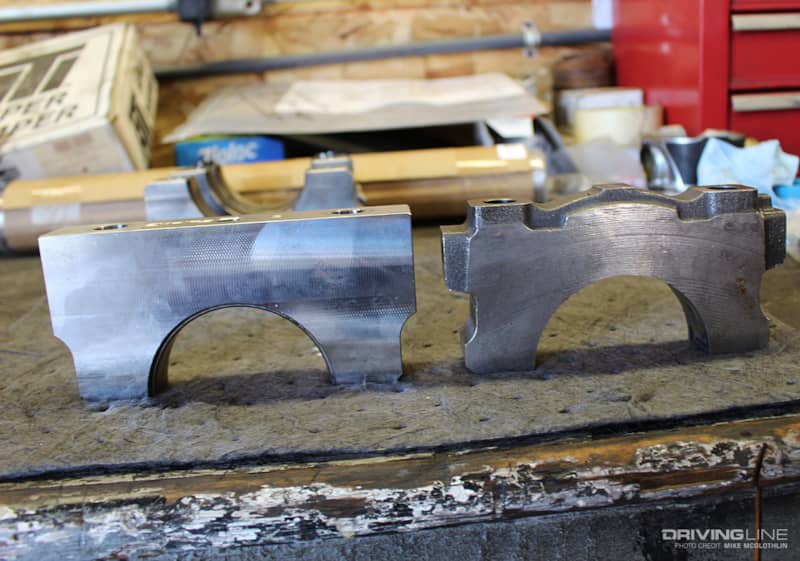 In addition to all but eliminating stress fractures and cracks, they improve overall block rigidity. Once the crankshaft was in place in the block, the billet main caps were secured via ARP main studs.
Main Bearing Girdle
The saying that "you can't overbuild an engine" are good words to live by, especially in the diesel performance game. With triple-digit boost, 3,000 psi worth of cylinder pressure and immense torque on tap, it pays to add an insurance item wherever you can, hence the crankcase girdle shown below.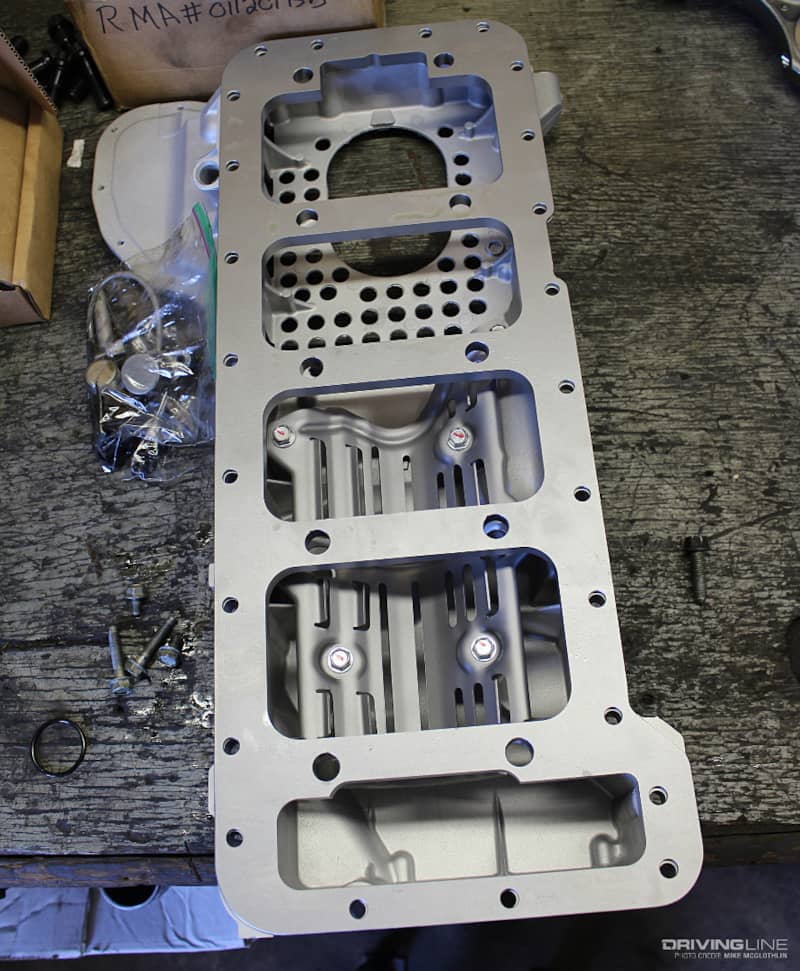 Produced by Industrial Injection, its Gorilla girdle kit ties all the main caps together and comes with a ½-inch thick steel girdle, lower windage tray and all required hardware (including the aforementioned ARP main studs).
Alternative Firing Order Cam
Due to their ability to reduce the amount of stress the crankshaft sees in its most vulnerable area, alternative firing order camshafts are all the rage for the Duramax these days.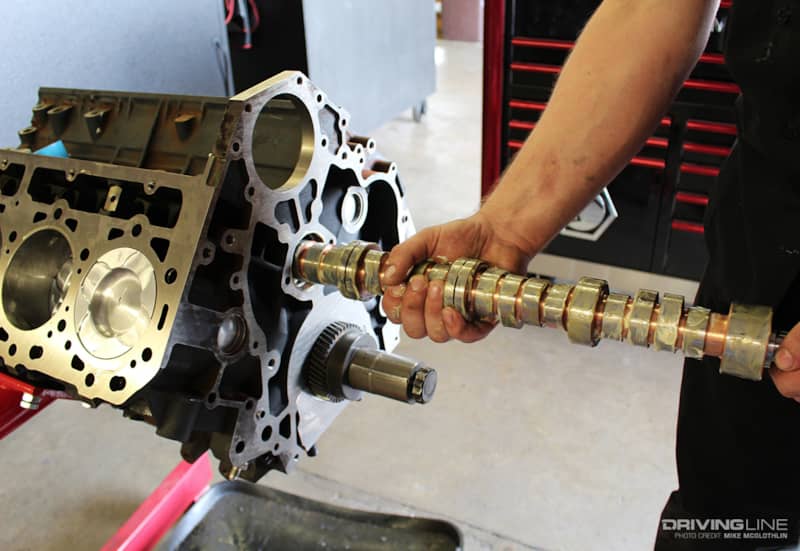 This candidate, which SoCal Diesel calls its 6480 cam, is a very popular option in high-end builds. By moving cylinders 1 and 3 further away from each other in the firing sequence, this camshaft eases the stresses placed on the crankshaft considerably. In addition to aiding the longevity of the crankshaft, SoCal's 6480 is ideal for engines that see 4,200 rpm or more and works great with a set of ported heads.
Ported Cylinder Heads
Speaking of ported heads, the cast-aluminum units used on the Duramax are the highest flowing heads in the diesel industry in stock form — and Wagler Competition Products makes them even better.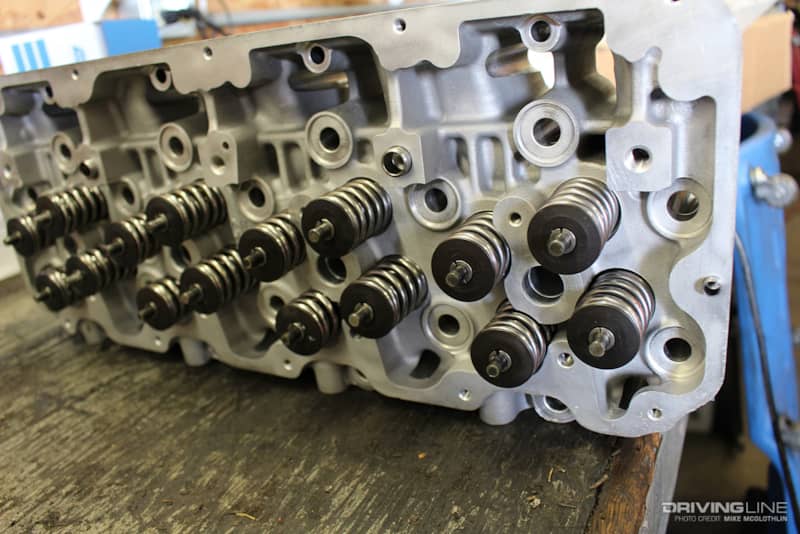 Wagler treated the heads used in this build to a resurface, multi-angle valve job, beehive valve springs with Titanium retainers and keepers, and also ported them. Before and after flow testing confirmed a 60 cfm improvement on the intake side and a 50 cfm gain on the exhaust side.
Ultimate Clamping Force
Because boost pressure could easily top 90 psi in this application, ARP's top-of-the-line Custom Aged 625+ head studs were utilized (along with grade C gaskets) to rule out head gasket failure. The Custom Aged line of fasteners are made from stainless alloy and yield approximately 25 to 30 percent more tensile strength than ARP's standard chromoly steel fasteners.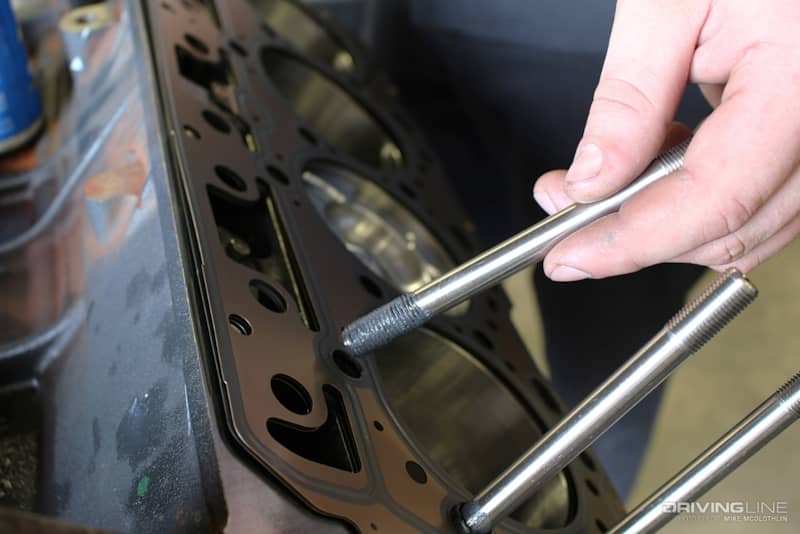 Billet Rocker Arms
For reduced friction and added strength in the valvetrain, a set of D-Force rocker arms from Harland Sharp (top) would be employed. Noticeably beefier than the stock units (bottom), the Harland Sharp versions are made from 2024 billet-aluminum and feature roller tips, billet spacers and hold down clamps.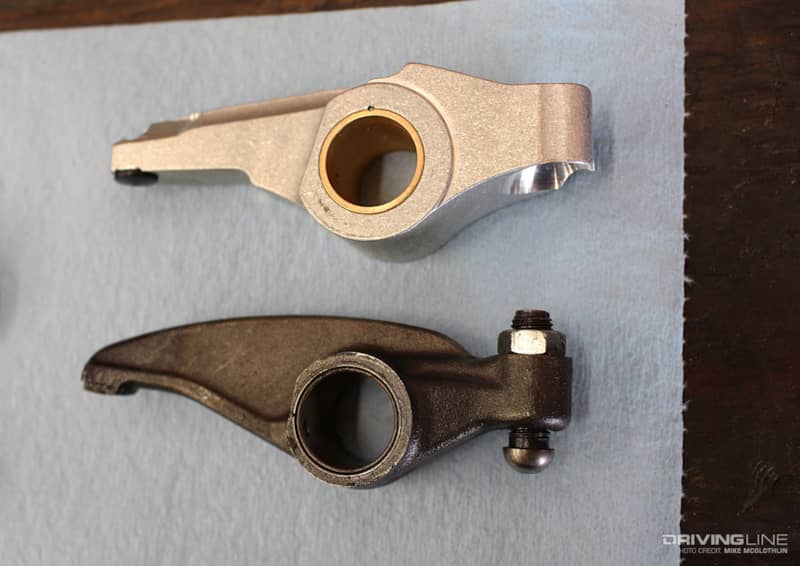 The Final Touch
Allowing as much compressed air as possible make its way into the ported cylinder heads is a cast-aluminum Street intake manifold from Wagler Competition Products (instead of the factory-based Y-bridge system). This high-flow intake is a one-piece casting and the neck is machined to accept a 3.5-inch V-band (no boots to blow here). In the photo below, you can see a twisted turbo pedestal as well, which was also sourced from Wagler Competition Products.