Cars From the Vault: 24K Gold 1981 DeLorean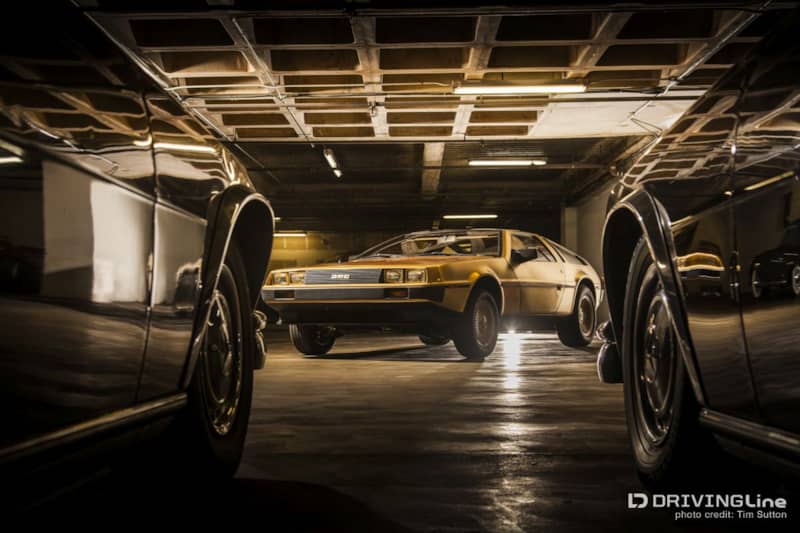 The year is 1981, Back to the Future won't be released for another 4 years, but the newly-released DeLorean has been getting a fair amount of attention as a futuristic, upscale, low-maintenance sports car. Exactly the thing someone with a gold card in their pocket might want. Before you forget it's the 80s, with excess on the rise, imagine how a stainless steel, gull-winged car may not be enough for the individual who truly wants to stand out from the rest. Which is why American Express came up with the idea to offer a limited, 100-car run of 24 karat gold plated DeLoreans exclusively to their gold card members.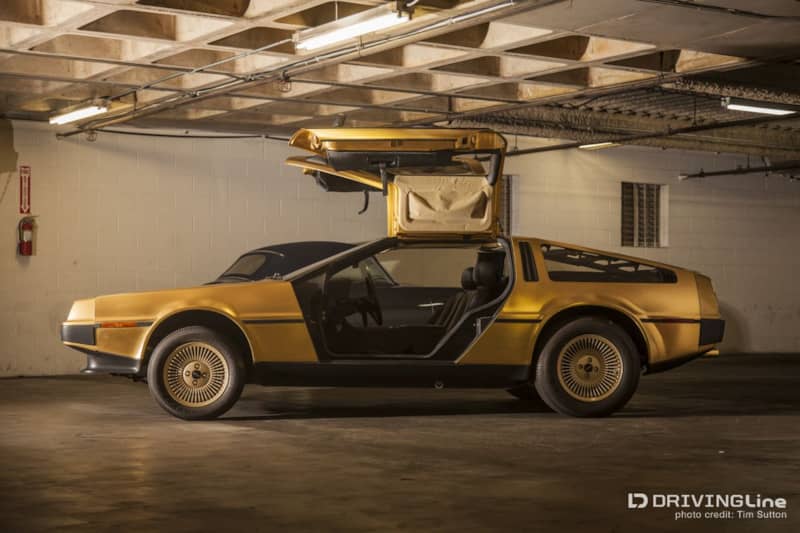 A $10,000 deposit was required at the time of ordering, on your gold card of course, before the full payment of $85,000 was made (the regular model retailed at $26,175). The catalog description says it all…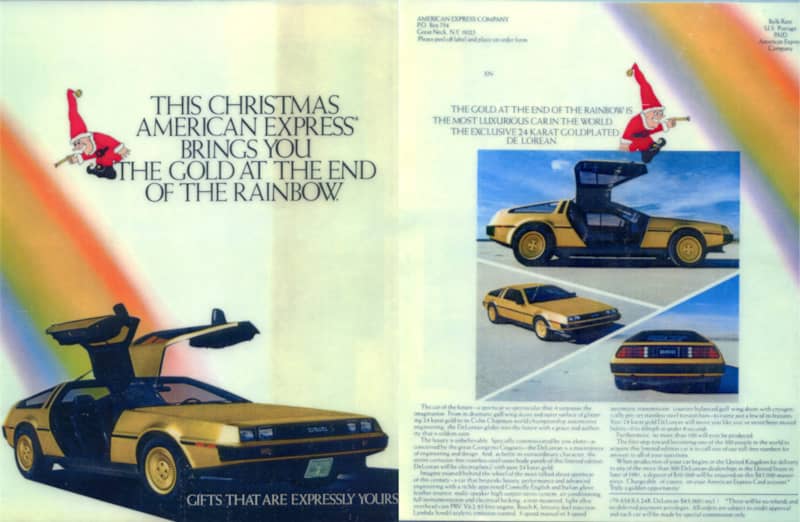 "Imagine yourself behind the wheel of the most talked about sportscar of this century – a car that bespeaks luxury, performance and advanced engineering with a richly appointed Connolly English and Italian glove leather interior, multi-speaker high output stereo system, air conditioning, full instrumentation and electrical locking, a rear-mounted, light alloy overhead cam PRV V6 2.85 litre engine, Bosch K-Jetronic fuel injection, Lambda Sond/catalytic emission control, 5-speed manual or 3-speed automatic transmission, counter-balanced gull wing doors with cryogenically pre-set stainless steel torsion bars – to name just a few of its features. Your 24 karat gold DeLorean will move you like you've never been moved before – 0 to 60mph in under 8 seconds."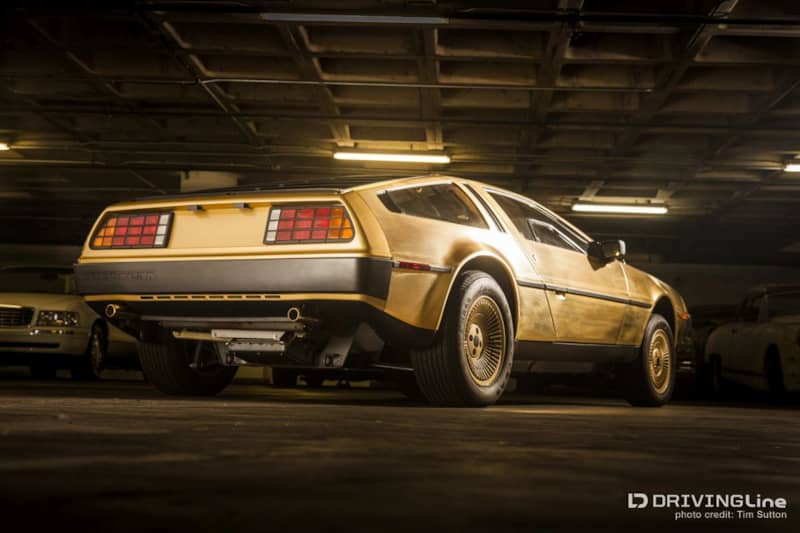 As it ends out, only two were purchased – one of them by Texas banker, Roger Mize. The President of a local bank, Mr.Mize thought the gold DeLorean would make a perfect display for his bank's lobby. So sitting underneath glass, this gold DMC 12 sat on display until the time of Mize's death in 2003.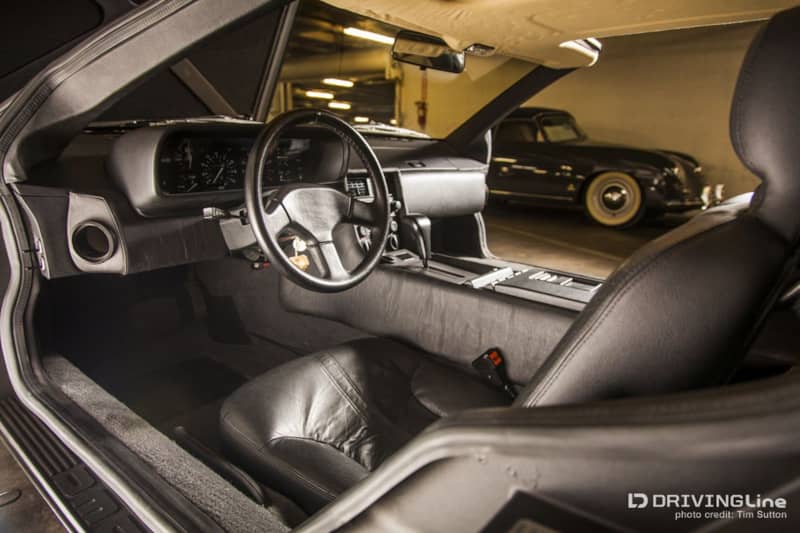 Mize's family donated his prized DeLorean to the Petersen Automotive Museum at that time and there it sits, in original condition with a mere 9.5 miles on it to date (we may have added a few feet to the odometer while pushing this car forward to shoot!)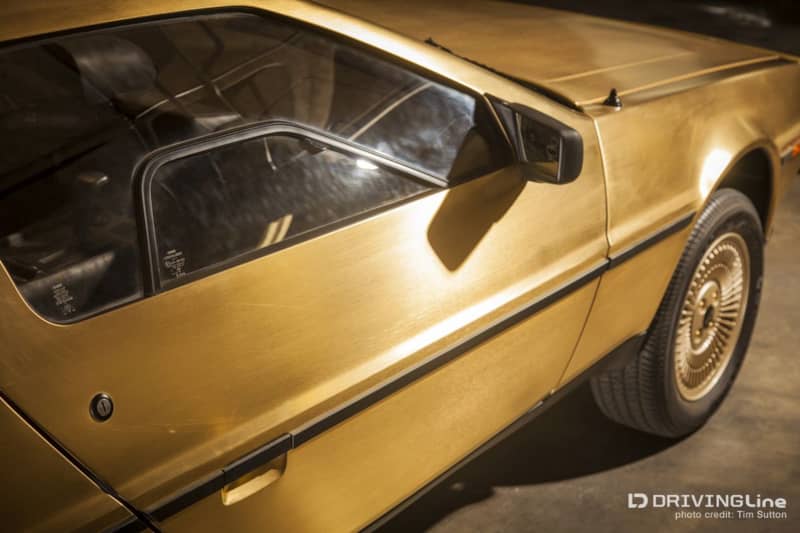 While passing by the DeLorean on one of Petersen's Vault Tours, you may have the impulse to reach out and touch this glittering surface…but don't! Unfortunately the gold plate isn't as low-maintenance as the stainless steel bodies claim to be - oily fingerprints linger on this surface and are reportedly very difficult to remove, a good reason that this car has sat under glass and the close protection of the Petersen Automotive Museum. While it sure would be awesome to drive up to Cars & Coffee in this, or better yet a rock star cocaine-ridden trip to Vegas (did I just say that?!), it wouldn't be the smartest choice for the car's wellbeing.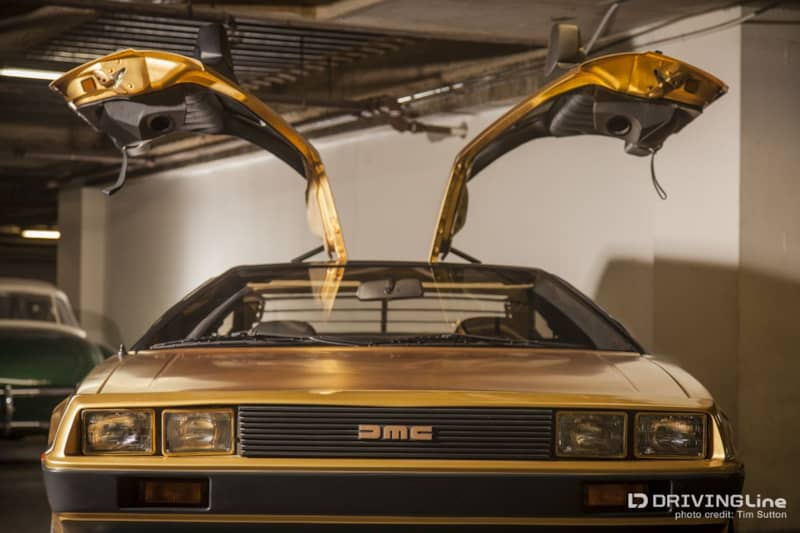 DeLorean Motor Company had its factories in Northern Ireland, thanks to a generous tax incentive by the Irish government, hungry to create jobs. GM also had plants in the area and rumor had it GM and DMC founder, John DeLorean, weren't on a friendly basis – when GM threatened leaving the area if DeLorean production continued there, John conveniently got booked on trafficking charges for cocaine. Although nothing ever came of the charges, they were enough to add to the company's financial problems and DMC went bankrupt in 1982.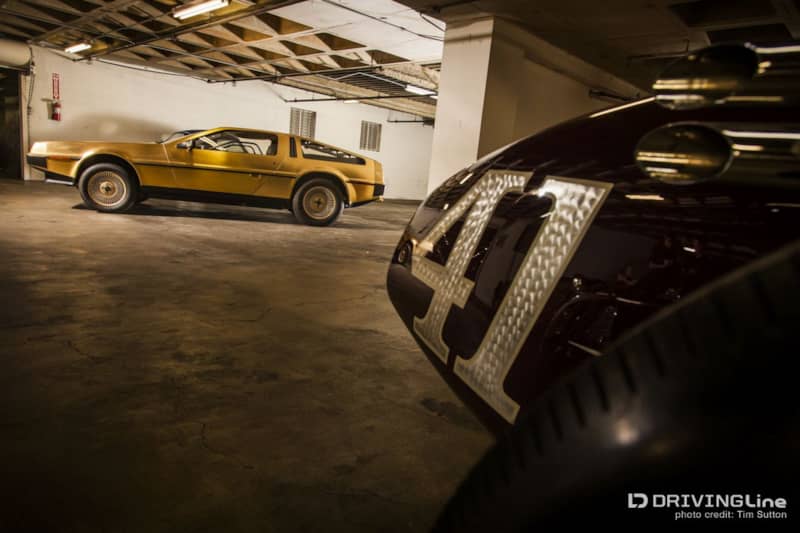 See this gold vision for yourself by visiting the Petersen Automotive Museum and going on their Vault Tour. In the meantime, check out our other Cars From the Vault stories.
"Once this baby hits 88miles per hour, you're going to see some serious sh*t." – Doc Brown
Words: Kristin Cline | Photos: Tim Sutton
Where would YOU like to drive this car? Leave a comment and let us know!