Colorado's Best: Yankee Boy Basin
It's hackneyed to herald any spot in high-mountain Colorado as "must-visit" or "ultra-scenic" – they all are.
That said, there are a few standout trails that deliver enough "can't-do-better-than-this" to turn everyday four wheelers into fully-addicted 'froaders. The trail to Yankee Boy Basin (FR853.1, just outside of Ouray, off the 550 and Camp Bird Road) is one of those. Plenty of altitude, views to kill for, and legitimate history piled up alongside the road.The climb isn't radical, but it has radical spots, and the separation from sea-level is significant.
Yankee Boy Basin, while not home to a historic mother lode like the nearby Virginius or Camp Bird mines, was prospected early and often. Its mines produced valuable ore and contributed to the area's wealth, keeping local mills like Atlas, Torpedo Eclipse and Tommy Boy (accessed via tunnel) busy. Meanwhile, the nearby town of Ouray kept getting richer.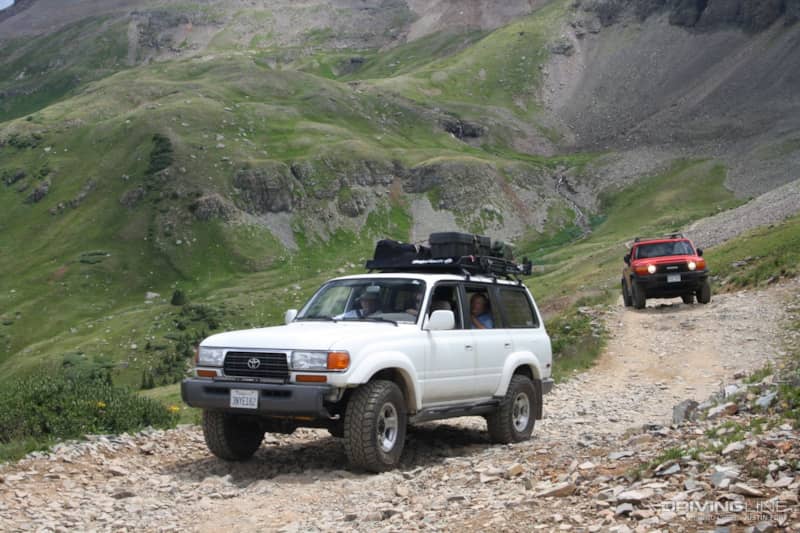 The trail? Not too tough. Four-wheel drive is useful in the lumpiest spots. Because its surface is fat with barely decomposed granite and other boulder-esk objects, rock and trail-friendly tires are a must. The Nitto Trail Grappler would be a great fit here.
About 13,000ft by truck ain't bad. Yankee Boy Basin's trail – FR853 – follows Sneffels Creek almost all the way to Mt. "Sniffles" itself (a legitimate "Fourteener"). A footpath to Mt. Sneffels Wilderness jumps off from this point, so don't be surprised to see hikers.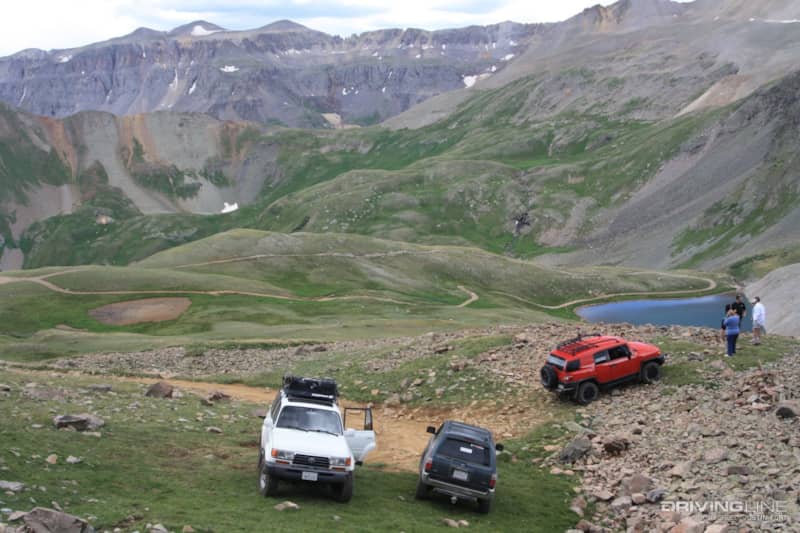 The trail to Yankee Boy Basin, as seen from the drop-in at Governor Basin. They all look so harmless from 10,00ft up. Potosi Peak stretches away in the background. If you look, you'll still find mines to explore; a good telltale for old mines are off-color tailings as visible here.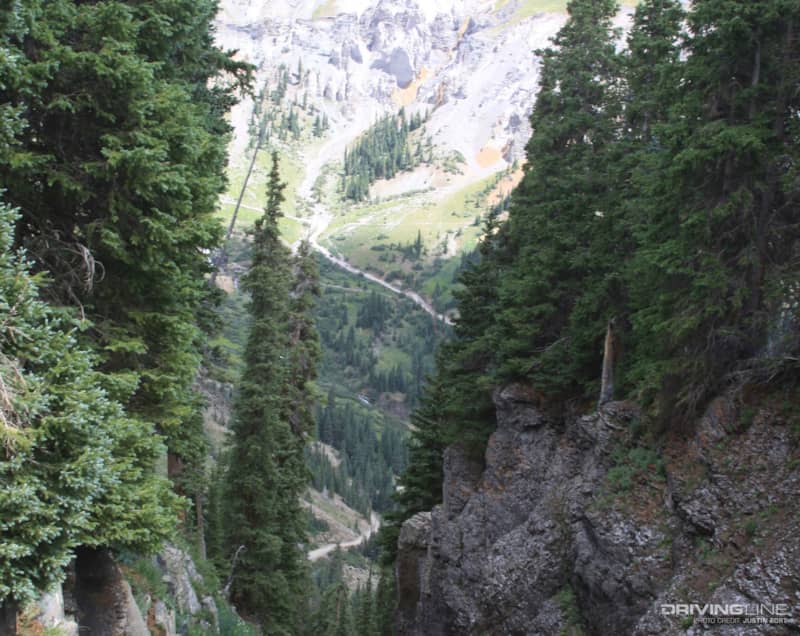 The mining companies still hold trailside claims, so tread politely. The Camp Bird mine, among others, are currently privately owned and could be reopened if their ore's value rises. You'll pass dozens of mine portals and adits on the way up this trail, some more conspicuous than others.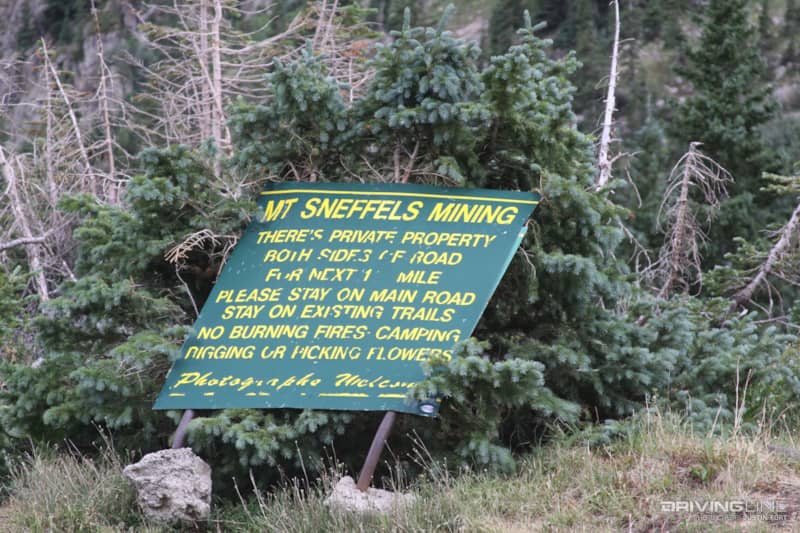 Perspective from vehicle to vehicle on-trail helps render judgment of exactly how steep the road is. In this case, the FJs don't appear to be climbing hard until you notice the CJ below them.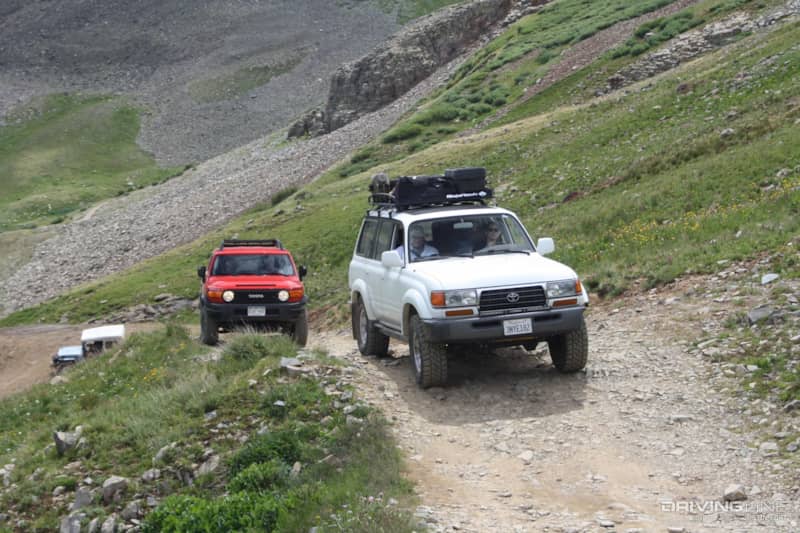 Some sausages don't need much mustard, and the FZJ80 is one of those trucks born for trail use. Locked front, rear, and center (stock), with a Toyota high-pinion 8-inch front and 9.5-inch full floater rear, most of the owner's money is spent on gas and barf bags for the kids.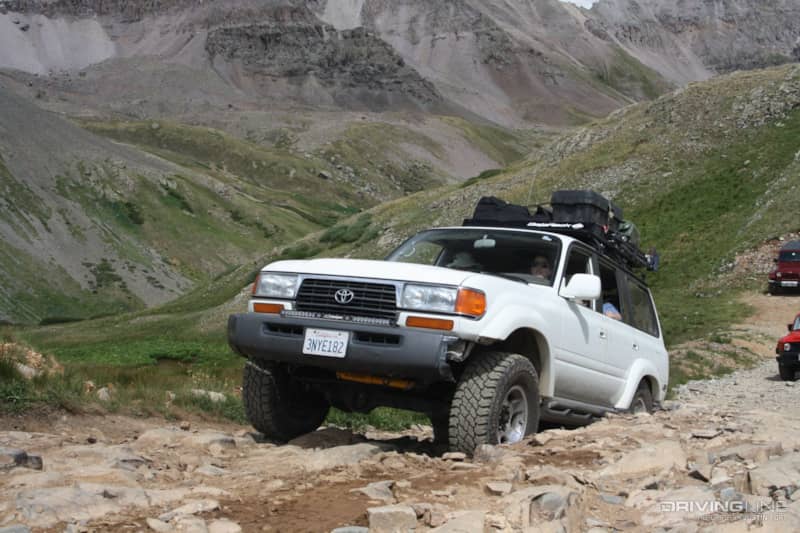 Like an editing Sasquatch, every now and then, someone catches your esteemed author working. Meanwhile, a bone-stock FJ Cruiser is capable of every trail feature found on a dry FR853, but might have enjoyed more tire and suspension had the path been in worse shape, or soggy.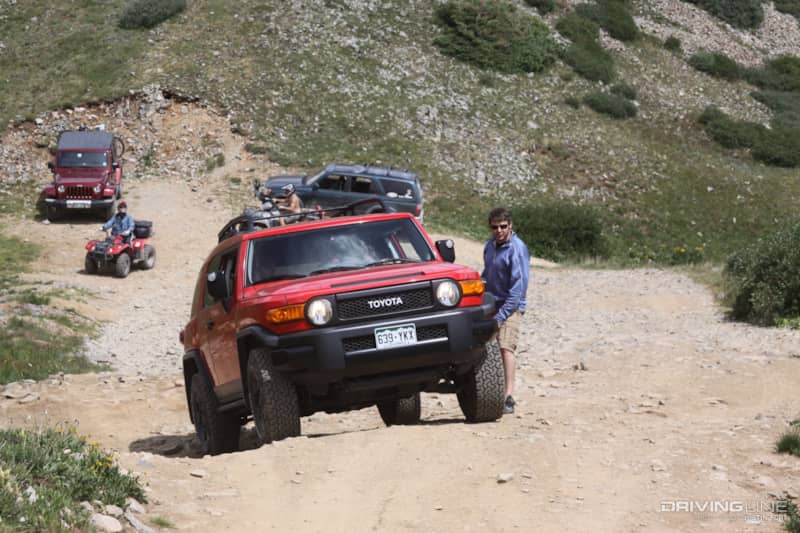 As we threatened you with earlier, there's a lot of history to spot alongside the trail to Yankee Boy. This is what remains of the Atlas Mill, one of at least four serving this valley. You can always tell a stamping mill by the rotating mass (which is rarely in place these days).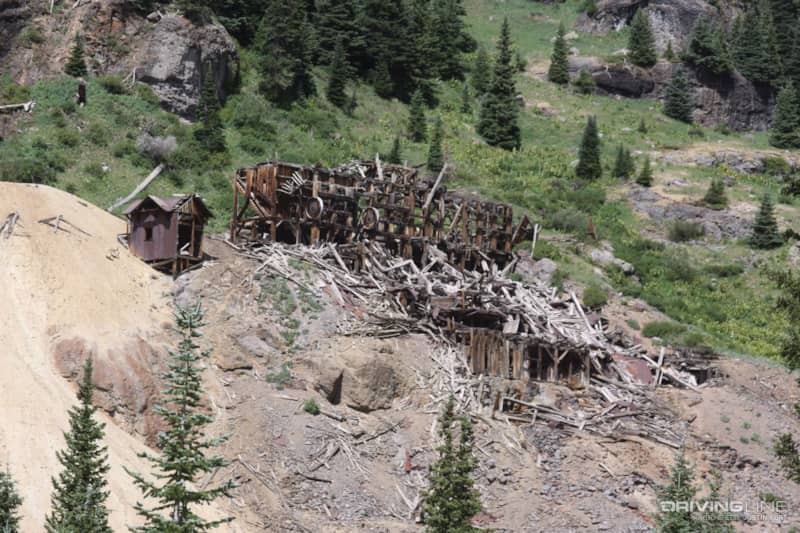 You'll see notification for the remnants of the Ruby Trust Mine as well. Explore at your own risk. Colorado is rich with interesting things that kill idiots.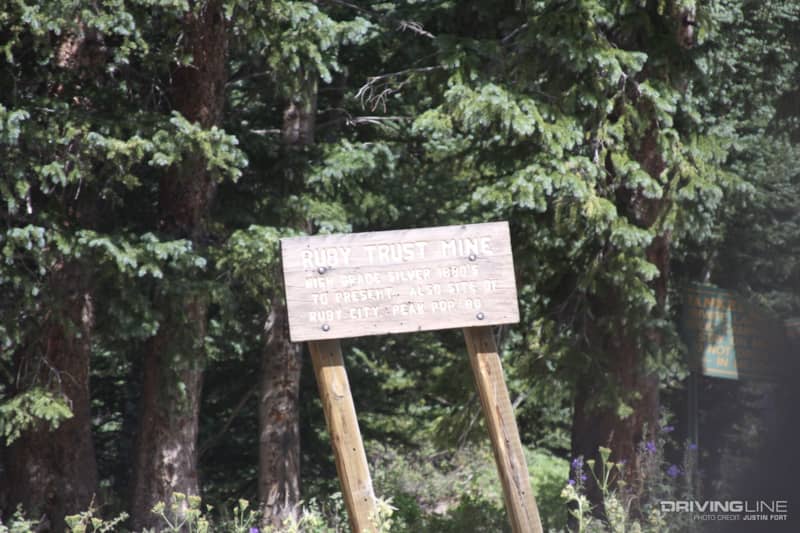 As you move past the tree line, the trail quickly gains altitude and stragglers fall off. You'll find the portal to the Yankee Boy Mine to the northeast of this conspicuous right-hand dogleg. The rock feature in the background is known as St. Sophia's Needles.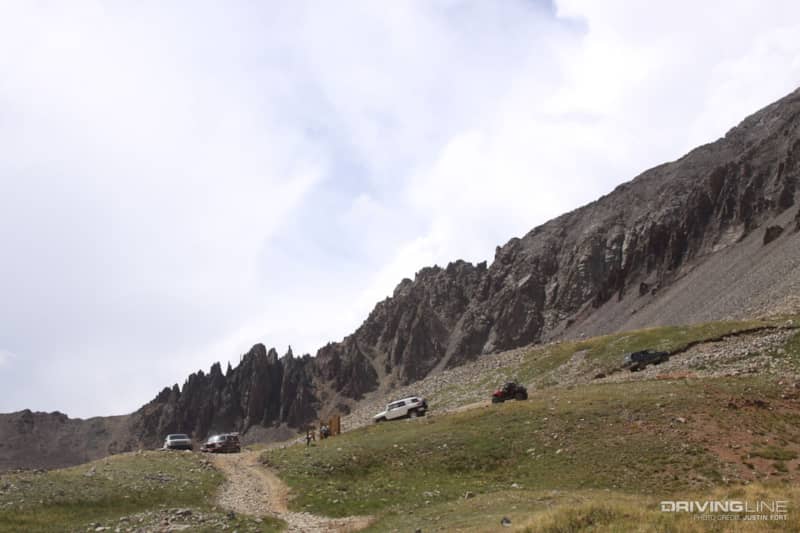 Traffic uphill and down is inevitable; some more pleasant than others. Cheers to these Jeepers and their trail pooch for not looking down their noses at our Toyotas (never frown at someone who could pull you out).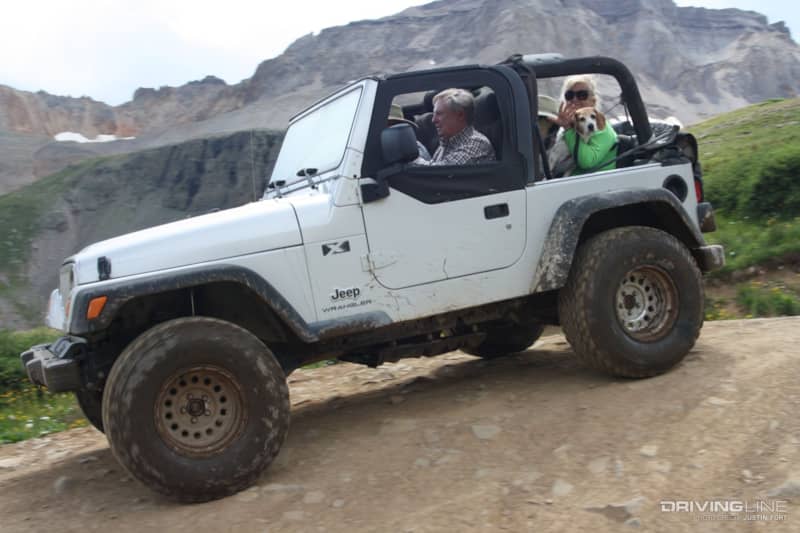 Again, with the perspective shot... Climbing past treeline on this trail is steep enough that low-range may prove necessary, especially for underpowered Toyota products.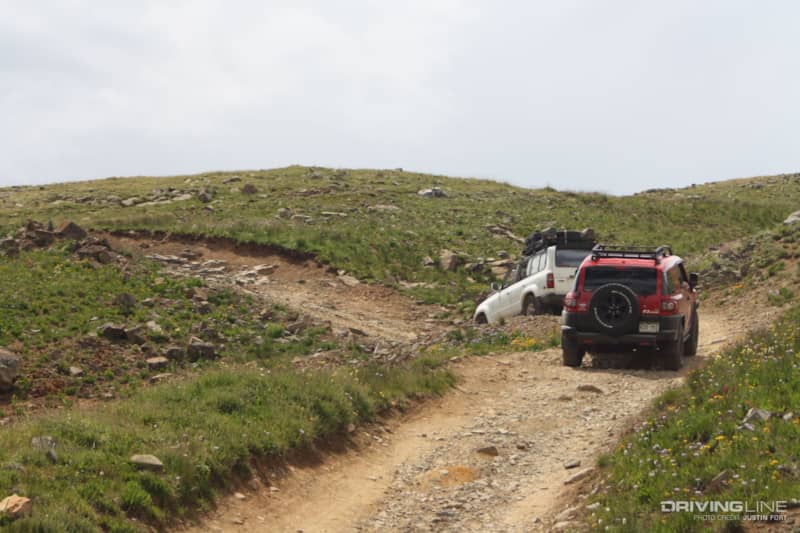 Oddly flat for just long enough to fool perspective, these sawtooths loom between Potosi Peak, Cirque Mountain and Mt. Sniffles. The footpath to Mt. Sneffels Wilderness runs around this ridge's western end.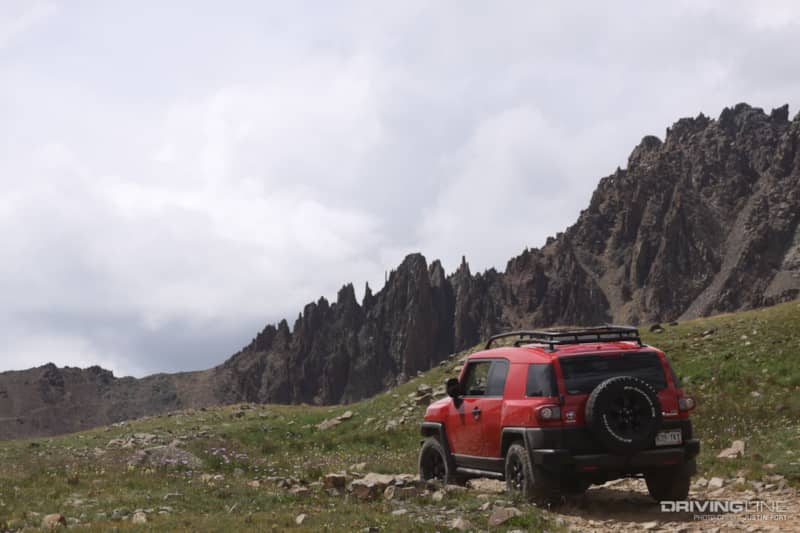 Cue clown music... More and more quad and side-by-side users appear every year on these way-out trails, thanks in large part to the OHV-friendly laws of off-road and adventure-fueled towns like nearby Silverton. Governor Basin is in the background.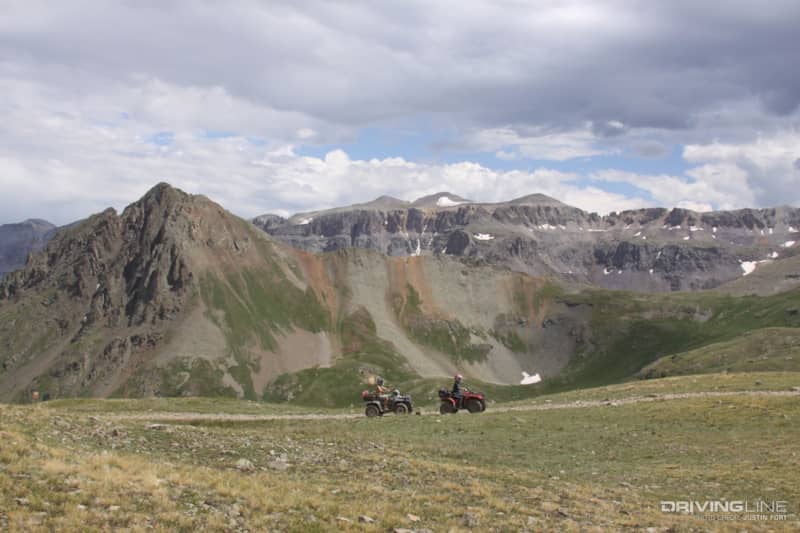 This author's battlewagon: a '97 4R on a combination of Tundra-Bilstein (front) and Old Man Emu-Dodge OE (rear) suspension, e-locked, big-braked. Parked beside is the big 80 (which also wears OMEs) at the end of the road near the top of Yankee Boy Basin.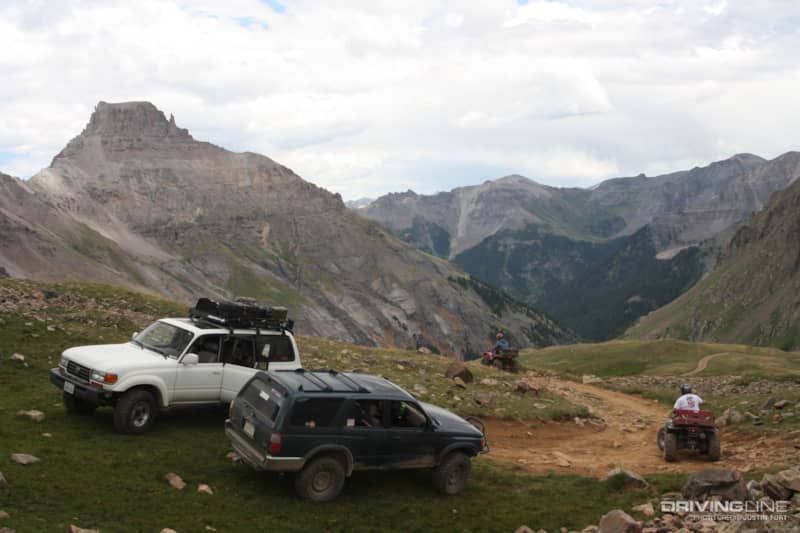 From an opposing angle, you can understand why no one goes further – rocks tumbled from the slowly disintegrating Mt. Sniffles have buried the top of the bowl. For now.