Competition Diesel Performance Truck Tires: Why Serious Racers Choose the Nitto NT555 RII
In an age where diesel drag racing is more popular than it's ever been, it's not exactly easy to dominate any one class. This is especially true in the Outlaw Diesel Super Series' ET Bracket and Index categories, where over a hundred trucks can show up to compete at any given event. As you can imagine, placing in the top five at any of these races is a tall order, but somehow Nick Morris and few select others seem to always find a way to make it into the later rounds.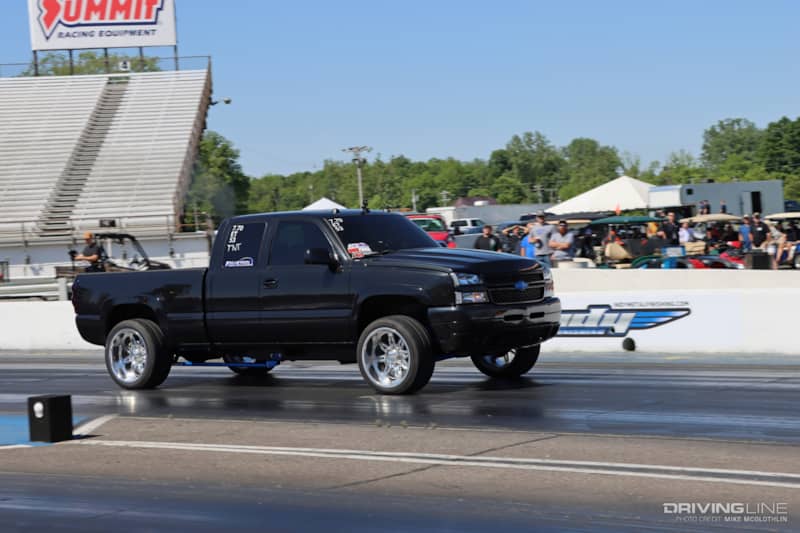 So how is Nick so competitive in diesel drag racing's most populated categories, and how is he so consistent from race to race? It all starts with a parts-saving strategy. Instead of using all 1,100 hp his truck can produce, he detunes things to less than 800 hp on race day. And instead of running a massive set of compound turbos, he keeps both chargers relatively small for quick spool up. Then there's the fact that Nick leaves the line with a conservative 10-psi of boost on tap which, when combined with a set of Nitto NT555 RII drag radials, provides for nearly zero chance of tire slip.
Follow along as we present yet another championship-winning diesel drag racer who continues to put Nitto on the podium.
Show And Go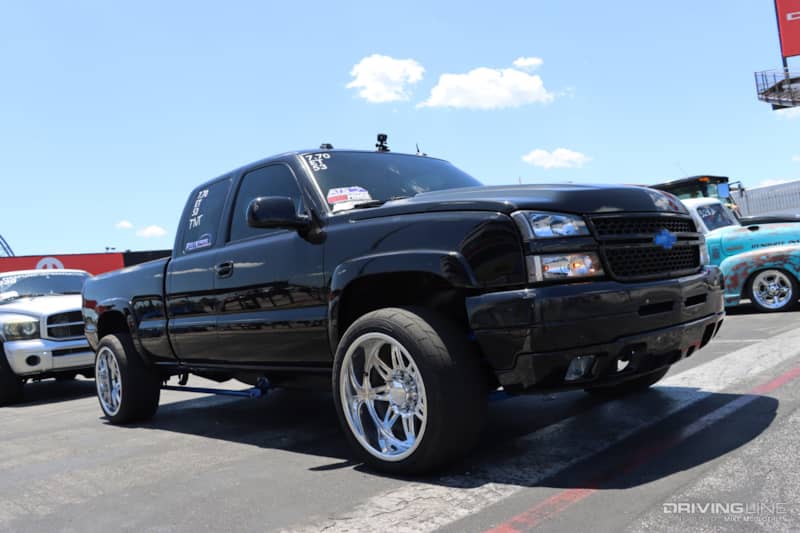 Nick Morris first obtained his '05 Chevrolet Silverado 2500 HD from HSP Diesel, a company that had performed a full, frame-off restoration on the classic body Bow Tie prior to selling it to him. Believe it or not, before the truck became the well-known bracket and index drag racer it is today it even won Best GM show 'n shine honors at the 2017 Ultimate Callout Challenge. Since then, Nick has graced the Silverado with a built Duramax at his business, Full Spool Diesel Performance. Complete with a SoCal Diesel rotating assembly, the battle-ready Duramax has proven rock-solid reliable thus far.
Race Tires For A Race Truck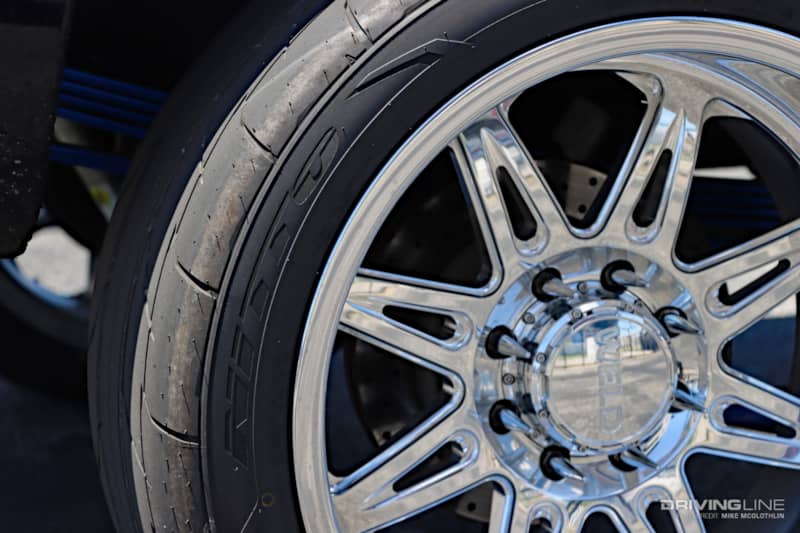 Prior to the start of the 2022 racing season, Nick made the switch from Nitto NT420V tires to NT555 RII tires. "The 305/40R22 size was a new size released this year and I jumped all over the chance to upgrade to a set of drag radials," he told us. So far, you could say Nick loves the DOT-compliant drag radials, giving them a 10 out of 10 in terms of performance and perceived expectations. In fact, he's all but talked fellow 7.70 index racer, Tommy Zinkhen, into running a set on his Silverado.
Treadwear (Or Lack Thereof)
Though Nick admits he doesn't drive his Silverado on the street very often, in the limited road miles the NT555 RII tires have seen—along with the truck's 50 passes down the drag strip so far this year—he reports tread wear has been amazing. "I haul the truck to events, but before the races start I take it out on the street to get the brakes and trans warm before racing," he tells us. And as far as the NT555 RII's lack of on-track wear and tear, he told us that "by only leaving the line with 10-psi of boost built up, I'm not spinning them on the launch," which certainly speaks to their longevity in his case.
Breaking Through In 2021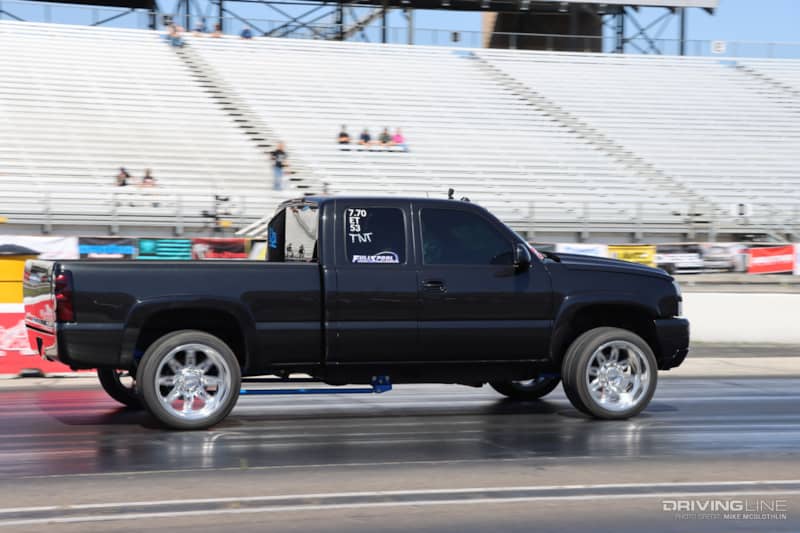 For years, Nick had been knocking on the door of earning an ODSS championship only to see the title slip away in the end. Some of this was due to fellow racer and good friend, Ryan Riddle (a lights-out wheelman in both 7.70 Index and ET Bracket), stealing some of his thunder. However, Nick finally broke through in 2021, winning the 7.70 points chase and claiming a well-deserved trophy. Currently, Nick is Fifth Place in the ODSS 7.70 Index standings and sits in the eight spot in ET Bracket, but we believe he'll steadily move up each list by season's end. As for all-out passes he's made through the eighth-mile, Nick tells us his Silverado has been as quick as 7.001 in the past (proof that four-digit horsepower is on tap with a hot tune-up). Nick believes 6.70s are in his setup, too, but cutting up the interior to install a roll cage isn't in his plans, so he tends to save his hero passes for rare occasions.
Parts-Saving Boosted Launches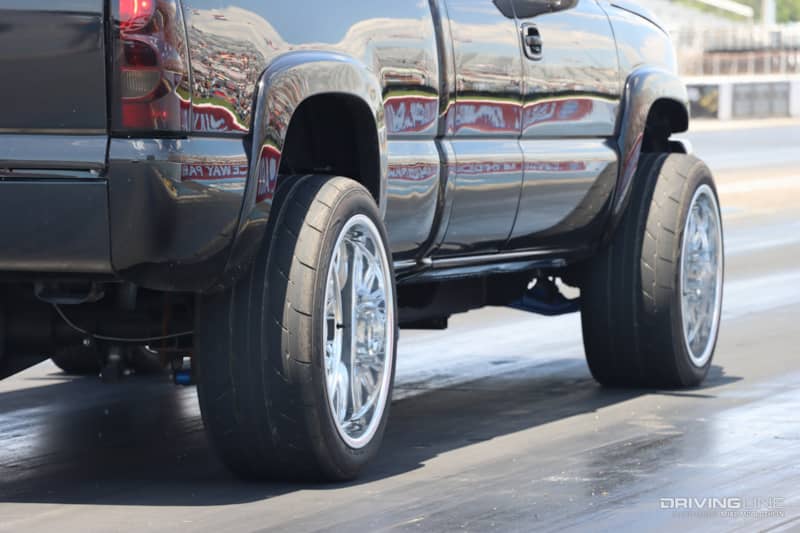 In some ways, Nick is a different breed of racer than his counterparts. While many leave the line with big boost on tap, Nick prefers to build a mild 10-psi before turning the truck loose. And where many Duramax/Allison-equipped GM owners prefer to take off in second gear, Nick always leaves in first. By leaving easier, a strategy he honed during the 2021 race season, he realized he could still win races but at the same time take some of the stress off of his equipment (engine, turbos and especially the transmission). "If I can go from A to B without tearing my stuff up, I'm going to do it," he confirmed, and then added that the truck still cuts 1.6-second 60-foots on virtually every pass.
A Detuned Race Tune Means Ultimate Longevity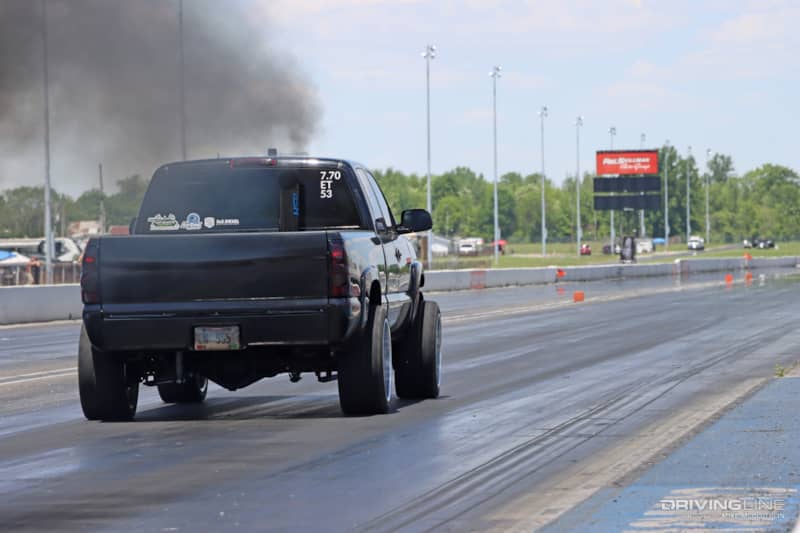 With a quick puff of smoke on the launch, Nick's Silverado performs squeaky-clean the rest of the way down the track. This is due to both spot-on ECM tuning from Danville Performance's Mark Broviak and a quick-lighting compound turbo arrangement. The S364/S475 turbo combination provides great low-rpm response and solid high-rpm horsepower. However, it's important to note that he only uses roughly 750 to 780 hp to compete in 7.70 Index—which means the powertrain is far from being pushed to its vertical limit each pass down the track.
Plenty Of Fuel & One Tough Allison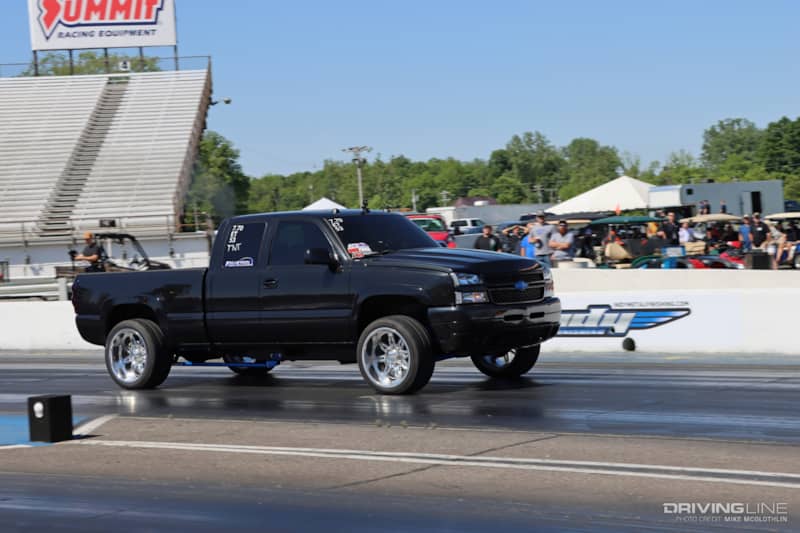 Complementing the quick-spooling compound turbo system, Nick's Duramax makes use of a 12mm stroker CP3 from S&S Diesel Motorsport and 100-percent over injectors. The healthy injection system upgrades are supported by a 165-gph AirDog II-4G lift pump system. To handle all the passes thrown at it when Nick indulges in his usual, double-classing effort (7.70 Index and ET Bracket), a Goerend Transmission-built Allison 1000 sits behind the Duramax. Nick tells us it's performed flawlessly for five years running now. Making somewhere around 75 passes per year in ODSS alone, we'd say Nick made the right choice in transmission builder.
Running The Number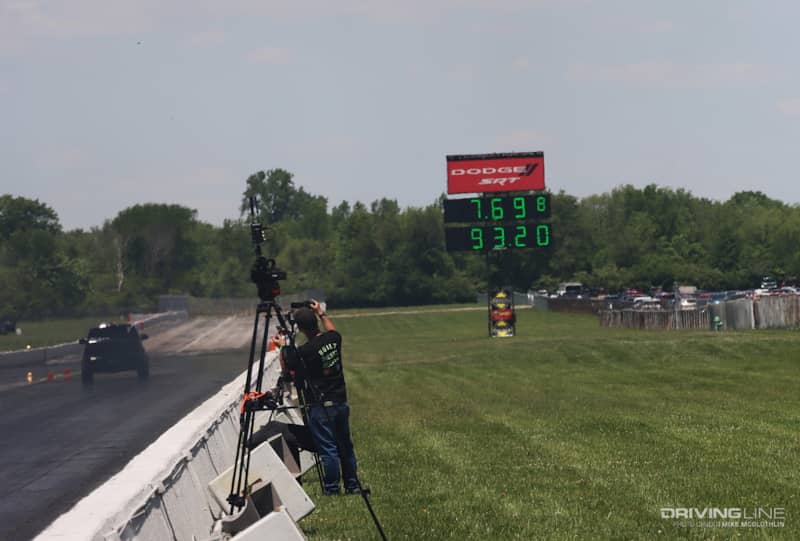 This is how spot-on Nick's driving strategy is in 7.70 Index. A 0.002-second breakout during qualifying can easily be corrected when it's time to go rounds—and Nick usually runs the number on every pass that counts. We'll also note that he runs 7.70 consistently across the board in both 7.70 Index and ET Bracket. As the reigning 7.70 Index champion in the Outlaw Diesel Super Series, and with a lot of racing left in 2022, our money is on Nick making a run at another championship in the months ahead.
More From

Driving Line
The diesel world is big on Nitto tires for a reason: they work! Find out why so many diesel-heads choose Nitto right 

here

.