Cosworth Engine Swap 2004 Subaru Impreza STi
It's no secret that people get tired of things faster nowadays than they have in the past. Posts and reposts of photoshoots done with a brand new project revealed in Japan can be seen as fast as the ones and zeroes can bounce across the Pacific, and the same goes for posts from SEMA and the local Cars and Coffee event. That being said, there's always been a group of owners that never tire of their car, instead choosing to refine it and improve it over time like a chef would a recipe that will be handed down to the next generation. It's fair to say that after 13 years of ownership and countless changes here and there, John's Subaru STI has found it's own delectable niche—and it's not going anywhere anytime soon.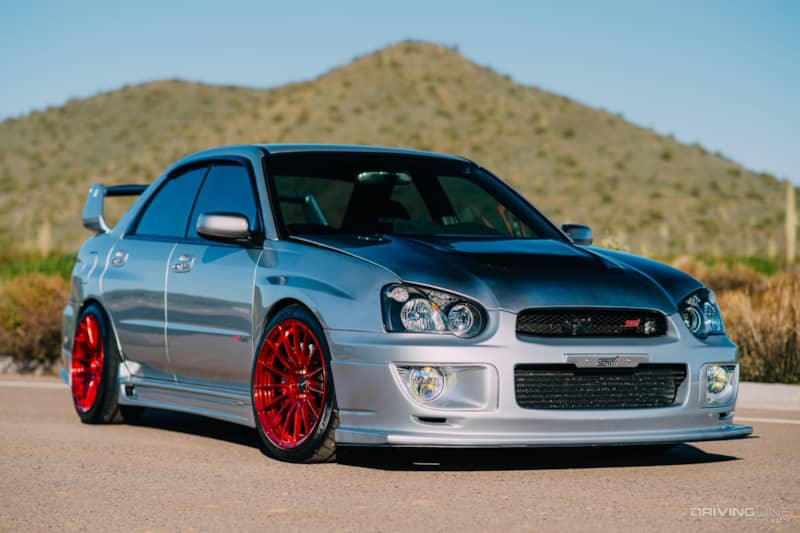 After picking up this 2004 Impreza STI from its original owner with only 17,000 on the odometer, John ran it through the daily driver duties for 2 years before finally succumbing to the tuning bug. His first mods—an APS top mount intercooler, cold air intake, and 50/50 blow off valve—have all been traded out for new parts now, but we'll still start under the hood for this expansive parts list.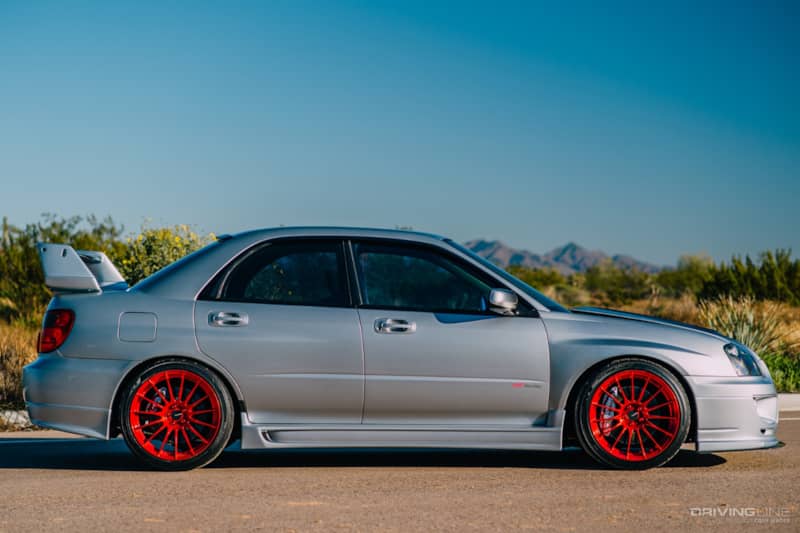 The most obvious thing that jumps out at a person underneath the Kaminari carbon fiber hood that is the APS cold air intake and Cosworth intake manifold finished in a rich red, matching the Enkei wheels (we'll get to that part in a bit). A wire tuck, paint matched bay, and polished everything (valve covers, AC compressor and lines, alternator, strut braces, fluid tanks, crossover pipe, PCV breather tank, the list goes on) present on the Cosworth powerplant as if serving it all up on a blinding silver platter.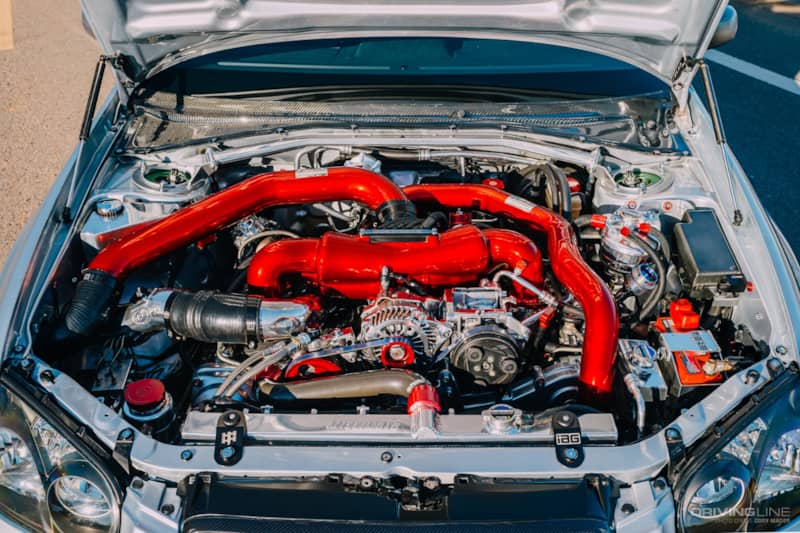 Said powerplant is an EJ257 2.5L Cosworth forged block fitted with Brian Crower 280 cams and Cosworth oversized valves, high-rev springs, and fuel rails delivering a healthy 580 hp to the wheels.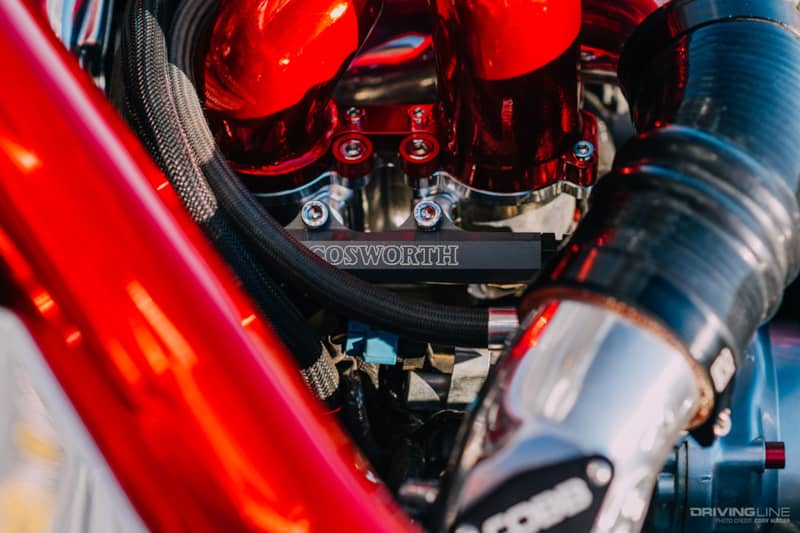 Tucked behind the piping is a hybrid ATP GT3582 turbo coupled to a Tial external wastegate and MVR blow-off valve that combine to make all the great noises you would expect from an engine like this.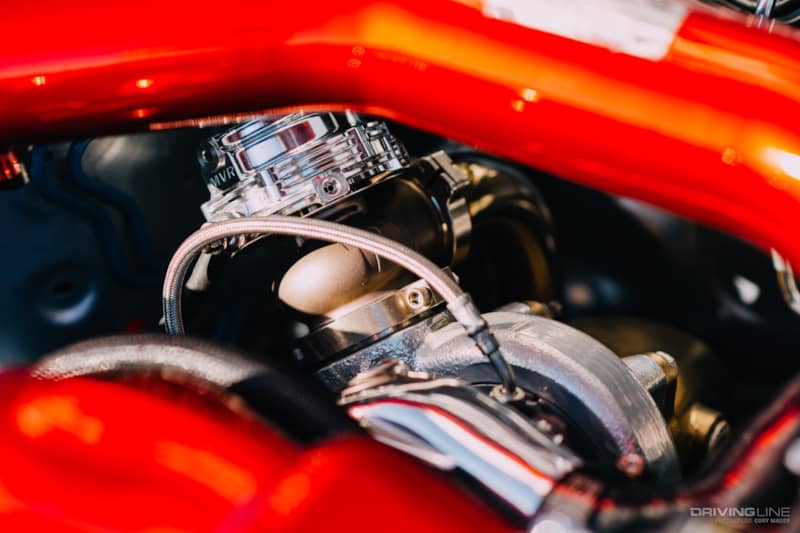 Moving to the exterior, the red/silver colorway continues in full effect. A set of 18" x 9.5" Enkei RS05RRs wrapped in 255/35 Nitto NT05 tires adorn all four corners, perfect for car shows and canyon runs. In fact, this one build has brought home over 10 different best-of awards, the latest being ClassicCars.com's Future Collector Car Show's "Best in Show." To slow this scoob, John has a set of custom-engraved R1 Concepts STI logo rotors that are pinched by Brembo calipers. A set of Fortune Auto 500 coilovers with Swift springs keep the tires planted on the pavement.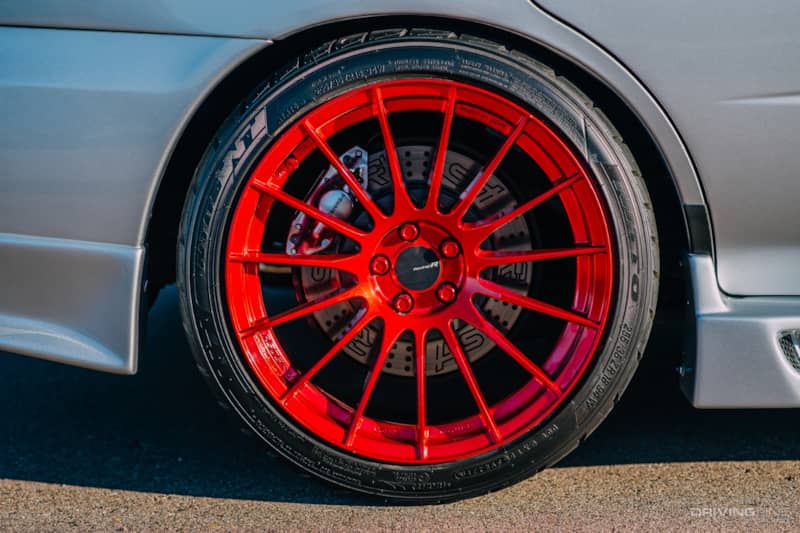 Following the no-bolt-left-stock trend of this build, the exterior aesthetics have been massaged over the years as well. A Cusco GT front spoiler has been molded into the front bumper, framing up the JDM fog lights and leading back to the ChargeSpeed Type 2 side skirts.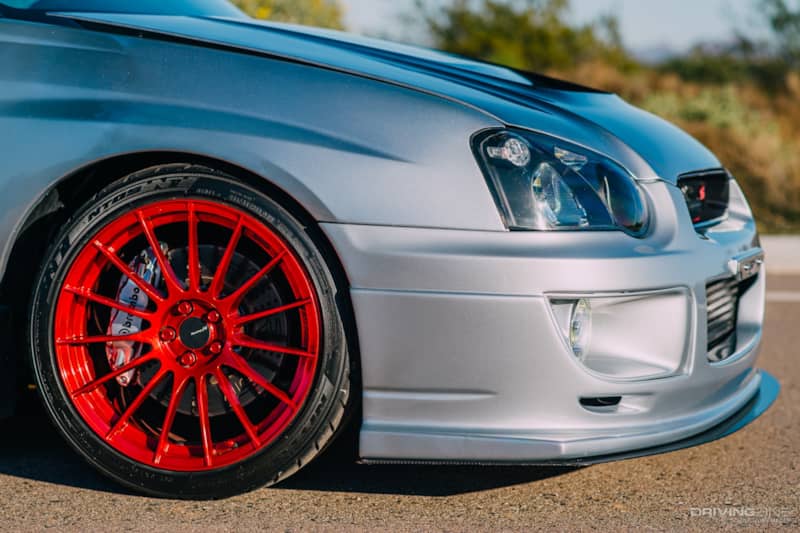 Out back, JDM rear aprons have been molded into the bumper, alongside an APR carbon fiber rear diffuser and Tomei Expreme titanium catback exhaust.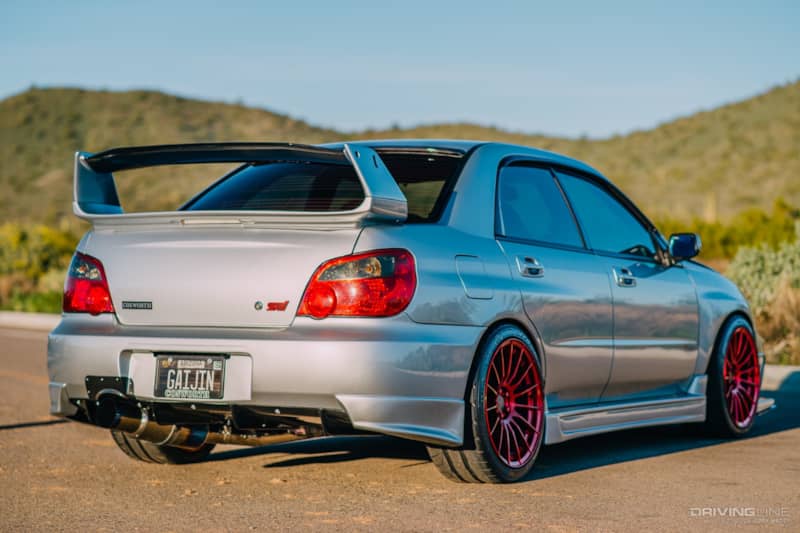 A Carbon8 rear wing with an adjustable carbon fiber blade recalls the style of the (in)famous STI wing, while adding just a bit more angularity and adjustability.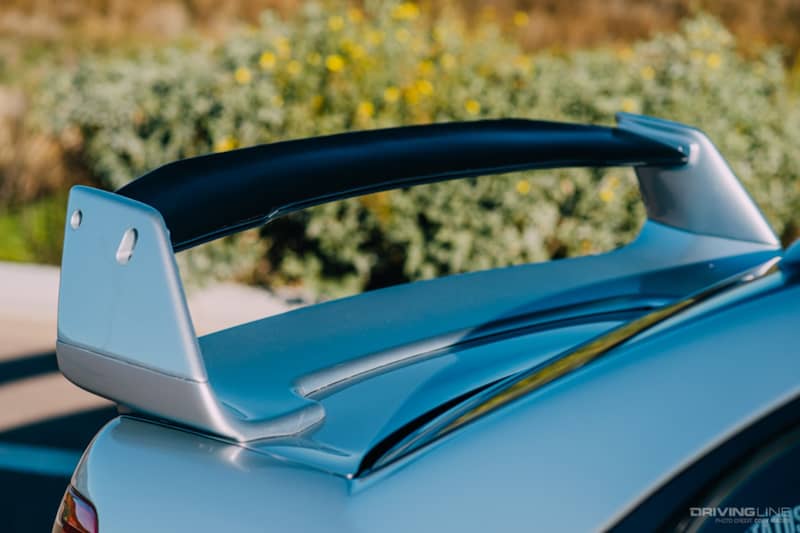 Regarding the interior, it's all-in on Alcantara, with a pair of Cusco/Bride Stradia II racing seats and red Cusco harnesses to bring the color from the outside in.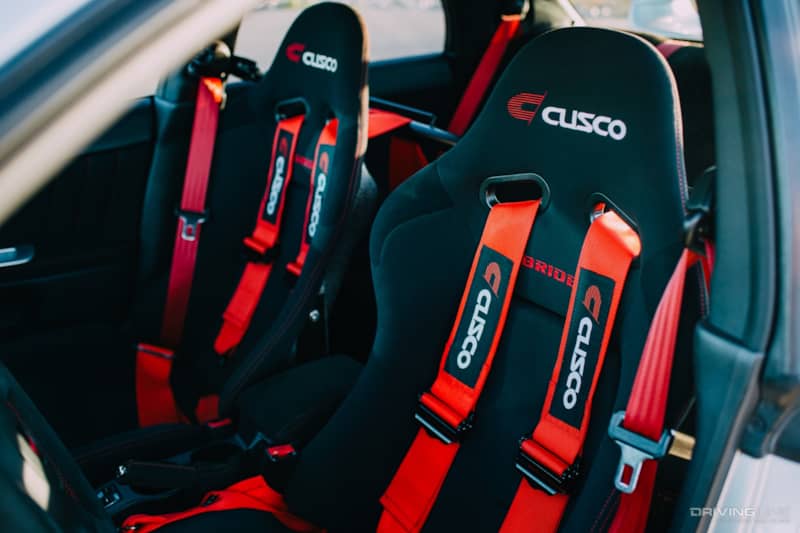 A full compliment of custom Alcantara pieces, parts from older STi models, and off-the-shelf parts come together to make a clean and concise cockpit feel.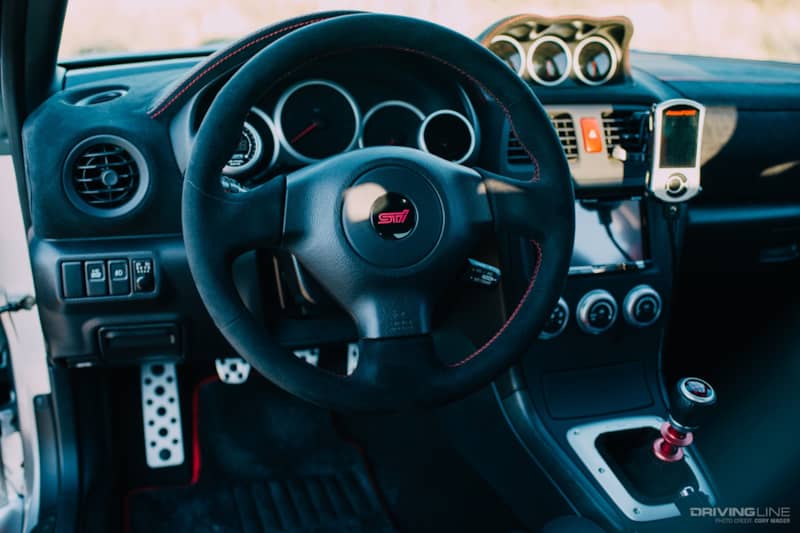 There's obviously way, way too much to touch on when it comes to John's Subaru, but thankfully we've put together a full mod list to peruse along with the full gallery of photos below. With 13 years and over 100 different points of modifications, it's safe to say this is one Subaru that's been made to order.
TUNING MENU: 2004 Subaru Impreza STi
| | |
| --- | --- |
| Owner | John Darling |
| Powertrain | Subaru EJ257 2.5L DOHC with Cosworth forged block, oversized valves, high-rev springs, fuel rails, intake manifold; Brian Crower 280 cams; Hybrid ATP GT3582 turbo; Exedy HD twin disc clutch; TechnaFit stainless clutch line; ACTP one-piece carbon driveshaft; Perrin rear differential cover; Earls ultra-flex fuel lines; Radium surge tank, fuel pump hanger; Twin Bosch 044; COBB flex fuel system, 4 bar map sensor, lightweight crank pulley, V3 Accessport with ProTune from Clark Turner Tuning; DeatchWerks 2200CC injectors; PS front mount intercooler, 70mm cold air intake; IAG tumbler deletes; KSTech 19mm phenolic spacers; ARP CA620 head studs; Tial 44m external wastegate; Tial MVR blow-off valve; Tomei Expreme unequal length exhaust header, up-pipe, titanium catback exhaust; Invidia catless Bellmouth downpipe |
| Suspension | Fortune Auto 500 series coilovers; Swift 9K/6K springs; Whitline swaybars, bushings, HD rear swaybar mounts, anti-roll kit, bump steer kit; Cusco front and rear strut braces; GTSpec lower ladder brace, tie rod brace, fender braces |
| Wheels & Tires | Enkei RS05RR 18"x9.5"; Nitto NT05 255/35R18; custom R1 Concepts STi engraved brake rotors; custom 4pot/2pot Brembo calipers; TechnaFit stainless brake lines; Hawk HPS brake pads |
| Interior | Black Alcantara headliner with grab handle delete, sun visors with STi logo, dash, Defi gauge pod, 2007 STi steering wheel, door panels, shift boot, armrests, parking brake, parking brake boot; Defi boost gauge; Innovate wideband; Zoom Engineering carbon fiber rear view mirror; custom window switch panels; 2005 STi center console; Pioneer AVH-X490 DDIN; S204 matte black center console trim, shift ring, shift knob, HVAC dials; ZeroSports anodized red cup holder coasters; Raceseng anodized red reverse lockout; Cusco/Bride Stadia II race seats, red racing harnesses; custom wrapped A/B/C pillars; custom red seatbelts; Braum harness bar; custom STATUS racing rear seat; Killer-B Bulkhead division plate; limited edition LHD Prova floor mats, limited STI black carpet |
| Exterior | Cusco GT spoiler molded into factory bumper; debadged front grille; Kaminari carbon fiber bonnet; JDM large fogs with ion coated lenses; cleared and painted STi headlamps with LED halos; carbon fiber cowl; carbon fiber mirror covers; Prova wide angle blue miror lenses; ChargeSpeed Type 2 sideskirts; JDM rear wing with adjustable carbon fiber blade; APR carbon fiber rear diffuser |
| Other | Wire-tucked and paint-matched engine bay; polished valve covers, AC lines, compressor, alternator, strut braces, fluid tanks, crossover pipe, custom hardware, crank and PCV brather tank; Password JDM anodized washers, hood risers; Prosport carbon fiber hood dampers; MeleDesignFirm PC680 battery mount; IAG anodized red fluid caps; Perrin master cylinder brace, pitch mount; Forge Motorsport power steering reservoir, turbo coolant tank; Mishimoto radiator; Spal fans; NoCoastEngineering carbon fiber windshield wiper deletes |
 If you love Subarus, you'll want to see this record-breaking, 197mph WRX.