The Element of Surprise
Distance and anonymity can have their perks. It's why celebrities live in the hills or on those private beaches, and why the most fearsome action heroes (or villains) tend to be the silent loners. It might seem like a drag to stay away from the action, especially when so many people today are quick to jump straight into it and plaster their name on everything. Cue random YouTube influencer: "WHADDUP GUYS?? IT'S YOUR BOY_____, AND TODAY I'M GOING INSIDE THIS VOLCANO!"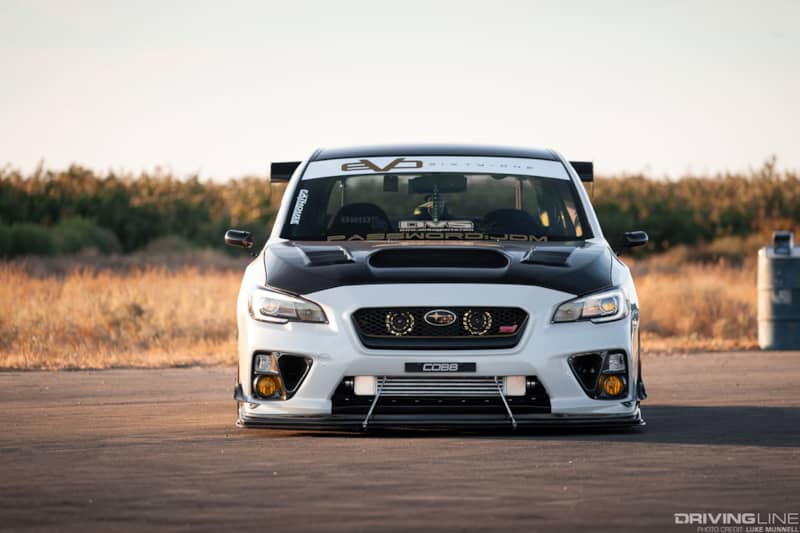 But sometimes, distance and anonymity are the perfect recipe for making the biggest impact.
Meet Roger Avila, and his immaculate 2016 Subaru WRX STI. You very well may have never seen it before, and you unless you're friends with Roger, you probably don't know his name. That's OK, though. He's worked hard to keep it that way.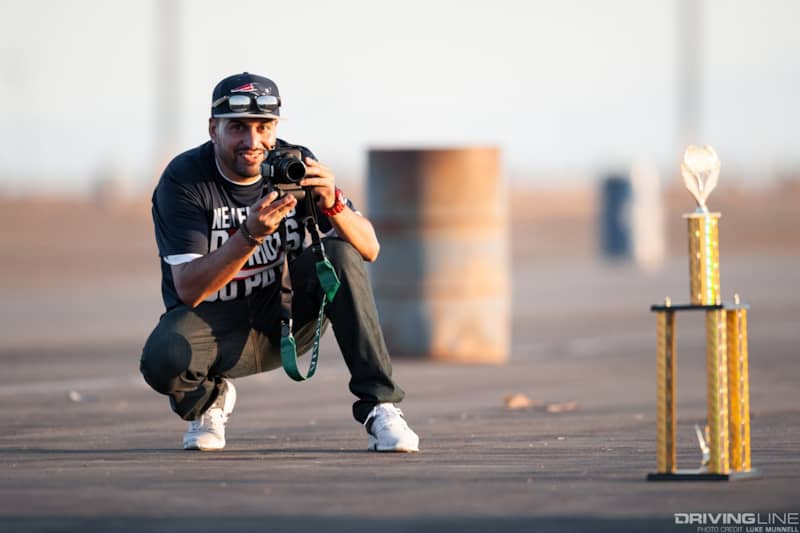 Roger hails from Dinuba, CA, a wee hamlet about 30 miles outside Fresno. It's the kind of place you can almost see when you look to the farmlands east of the 99 while driving up north, and wonder, "What's over there?"
Within just days of purchasing this car, brand new, Roger had parts on order and began voiding his warranty. In less than a year it was slammed on an Air Lift Performance dual Viair air suspension, with 3H management system and RS*R suspension bits, and was rolling hard on custom bronze-finished, three-piece, 18x9.5-inch, Evo61 LS4 wheels and ultra high-performance 225/40-18 Nitto NT555 G2 rubber.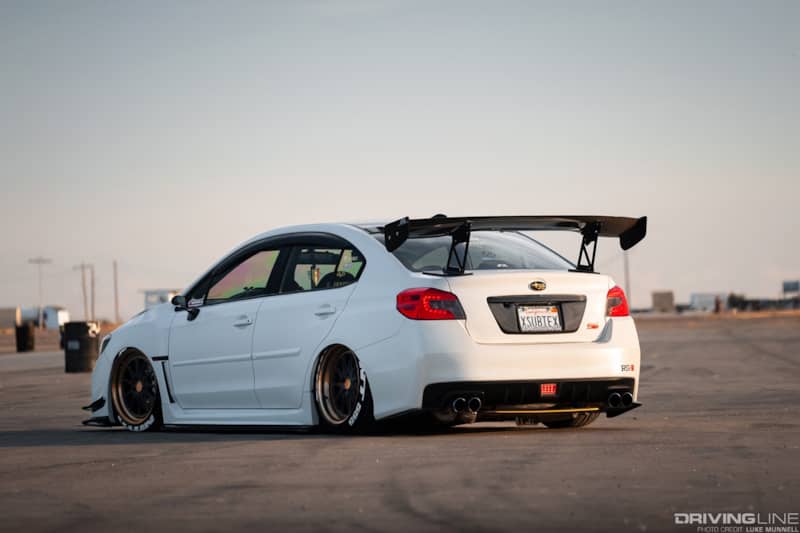 It was looking pretty mean, too, thanks to HT Autos side skirts and rear spats; Password:JDM carbon-fiber side skirt extensions, and an APR front lip and splitter. And after the addition of an ARK Performance Grip exhaust, it sounded downright sinister.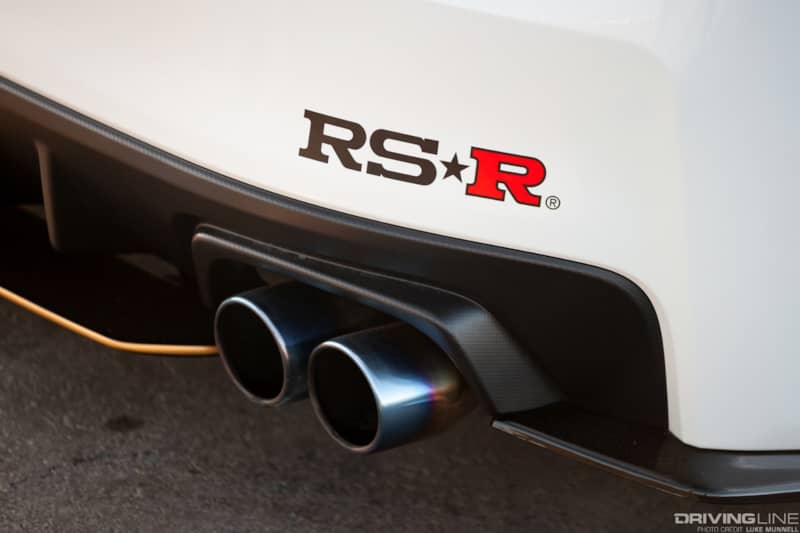 With the interior given some love (those Bride Low Max seats and Takata harnesses could steal anyone's heart), Roger began cleaning up on the show circuit as early as fall of 2016, where his Subie could've been found fronting the ARK Performance booth at the annual Subiefest bash, and taking Best Subaru honors at Import Faceoff in Bakersfield just days later.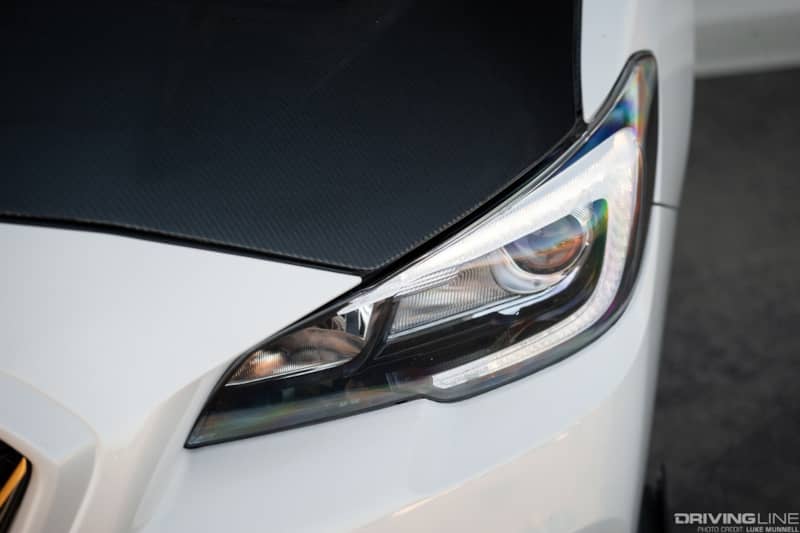 People were sort of losing their minds over it, too. Here was a car so new that many didn't even know what it was. Those who did had likely only seen a handful, with none anywhere near as clean or highly modified as this one that seemed to pop out of thin air. The mystery of who was responsible for its creation was beginning to reach critical mass.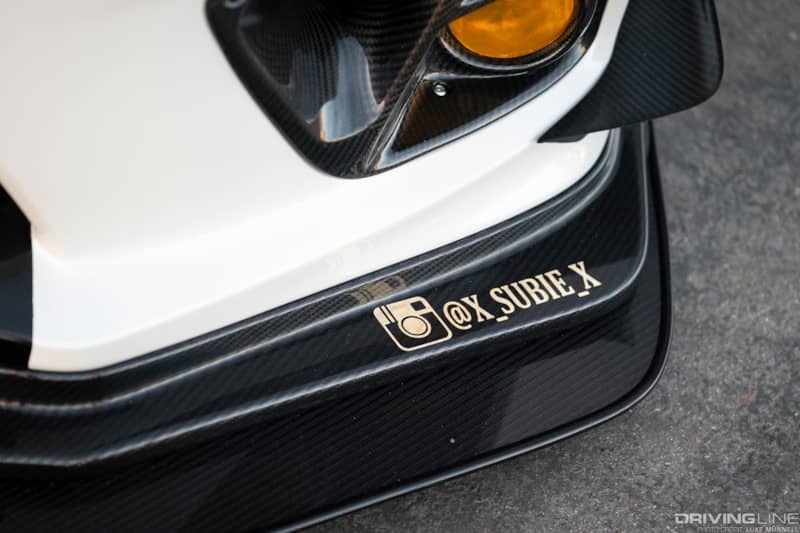 An amateur photographer with an eye for the angles, Roger began snapping his car in good light, at locations like the Fast and Furious house, the Staples Center, and the Port of Los Angeles. His Instagram and Facebook pages gained popularity seemingly as fast as Roger accumulated trophies, but because his real name was never attached to either, and because he and his car returned to the rural confines of the Central Valley after each outing, his anonymity remained largely intact.
By the next time we finally caught up with Roger once again, he was winning yet another—his third—Import Face Off "Best Subaru" title, and had acquired plenty of assorted other "Best Of" honors in between. It was the first time we'd gotten to really study the build, and we immediately knew we had to carve out some server space for it.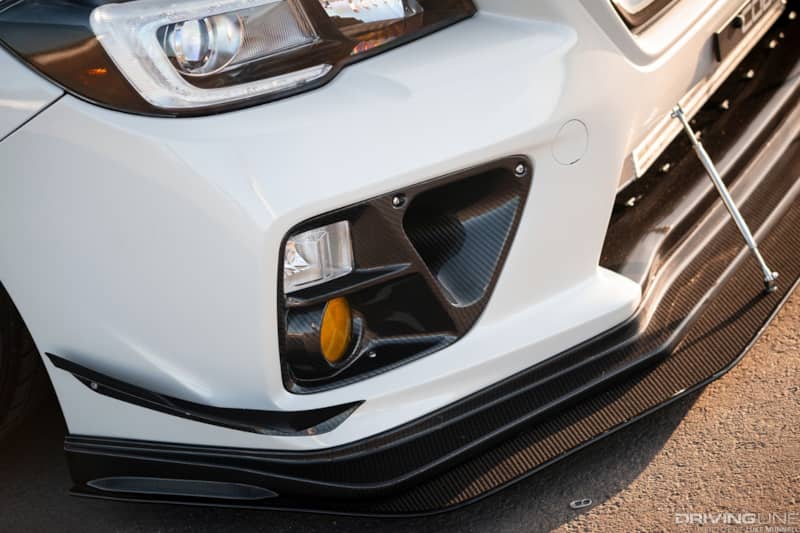 Roger's collection of carbon-fiber gear had grown into a clean and cohesive theme uniting the entire vehicle. More APR gear was added, including Formula GT3 mirrors, front bumper canards, front bezels (supporting SubiSpeed F1 fog lights), a rear license plate backplate, and a big-boy GTC 300 rear wing. A Bayson-R rear diffuser compliments that wing perfectly, while OEM Subaru vortex generators smooth things out that much more.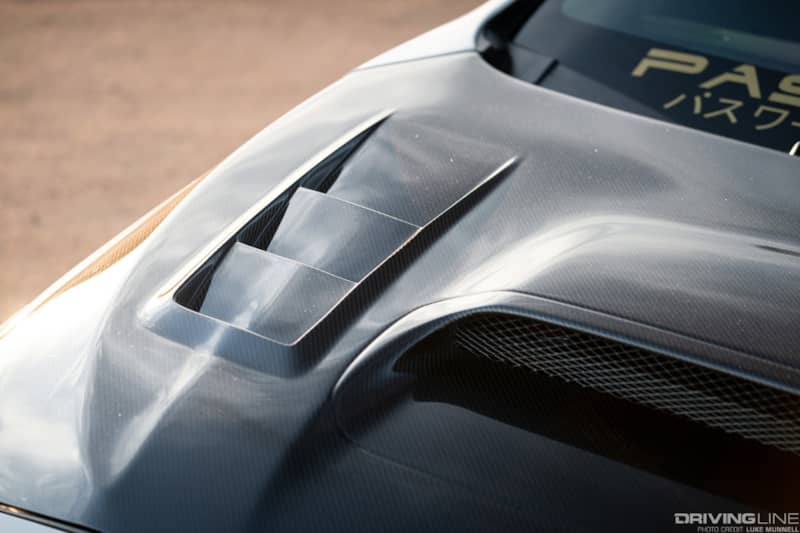 The vented Seibon Carbon hood was one of the most recent additions as seen here, and works perfectly with the JDM Subaru Sport grille and black STI fender badging. Strategic vinyl wrap from Premium Auto Styling and bronze pinstriping from Mixxed Auto Design add an additional degree of cohesion, which continues into the cockpit.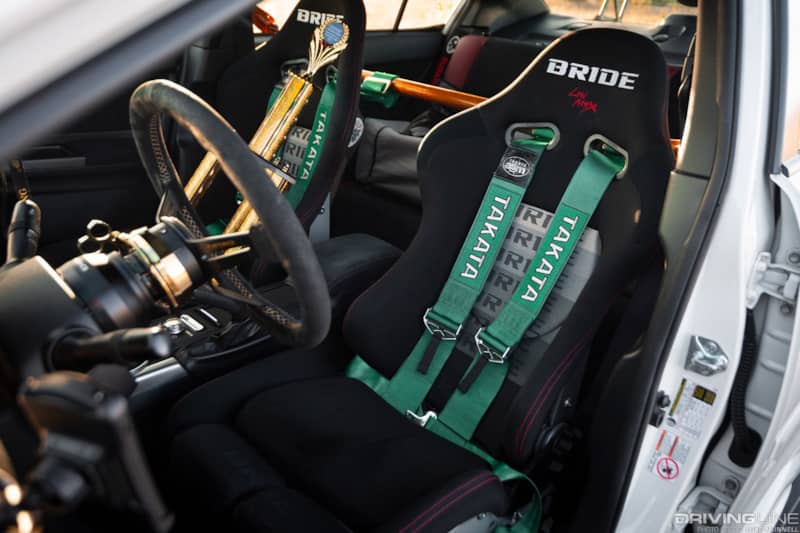 Sprayed a custom bronze hue, Roger's NRG harness bar matches not only the wheels, but the wheel — as in the Ryan Litteral signature-series NRG steering wheel with quick-release hub. Following suit are the slick SMY Performance climate control knob covers, and Sickspeed Knuckle Buster shift knob and brake-release button.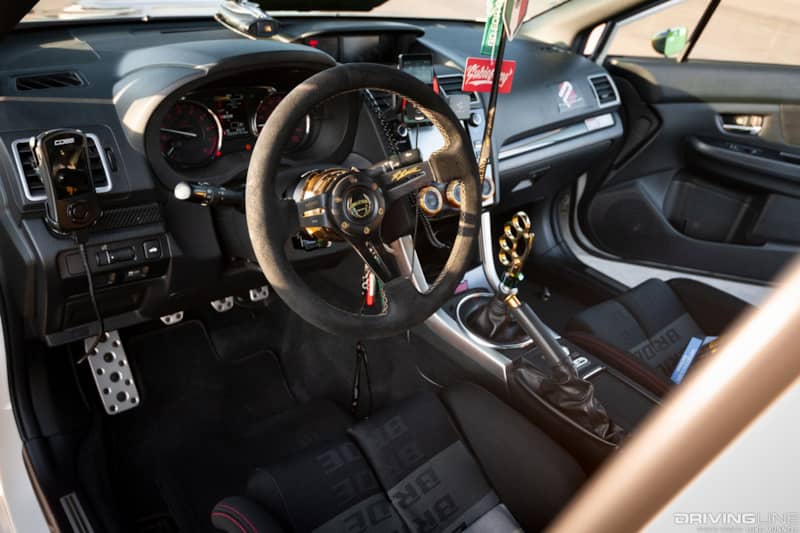 Speaking of speed, STIs are capable of plenty of it. Sure, the EVO fans among us will argue differently, and yes, thousand-horsepower GT-Rs and Supras will always reign supreme. But everyone's favorite turbocharged flat-four remains a formidable adversary, especially with the right enhancements.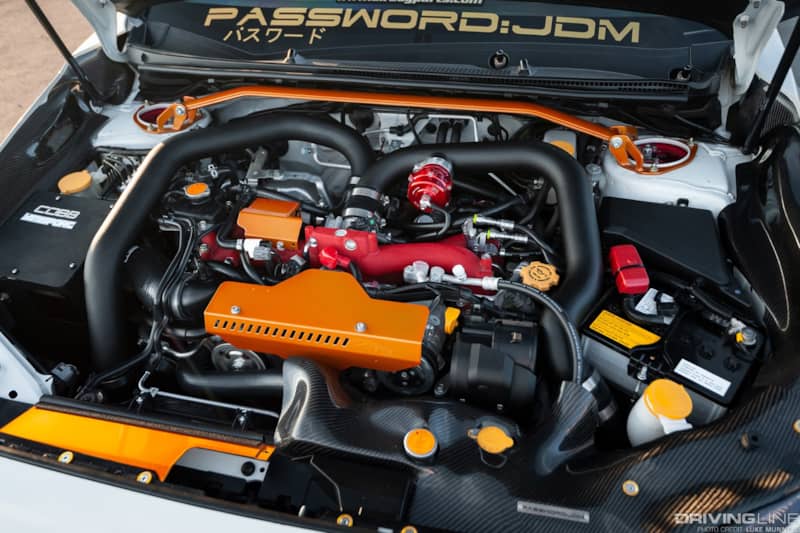 Roger added to his ARK exhaust with an Invidia stainless downpipe, GrimmSpeed up-pipe, Tomei UEL headers, and a host of COBB go-fast bits: an SF intake system and airbox, three-port boost control solenoid, and an AccessPort V3, tuned by Subie gurus YimiSport in Santa Clarita, CA.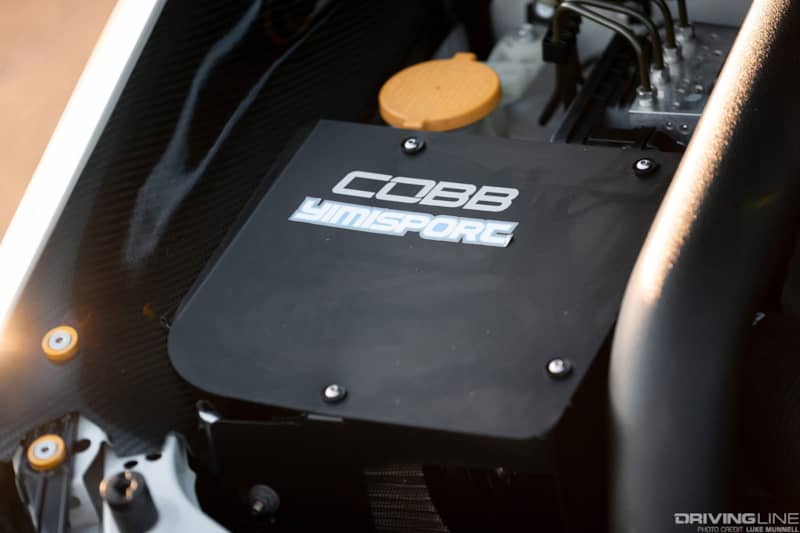 Keeping all those untamed horses in check, surrounded by those long-lasting, sticky Nitto NT555 G2 tires and behind the spokes of those custom Evo61 wheels, were some new additions we didn't notice the last time around: R1 Concepts drilled and slotted rotors, and Hawk Performance HP Plus pads tucked within the factory STI Brembos.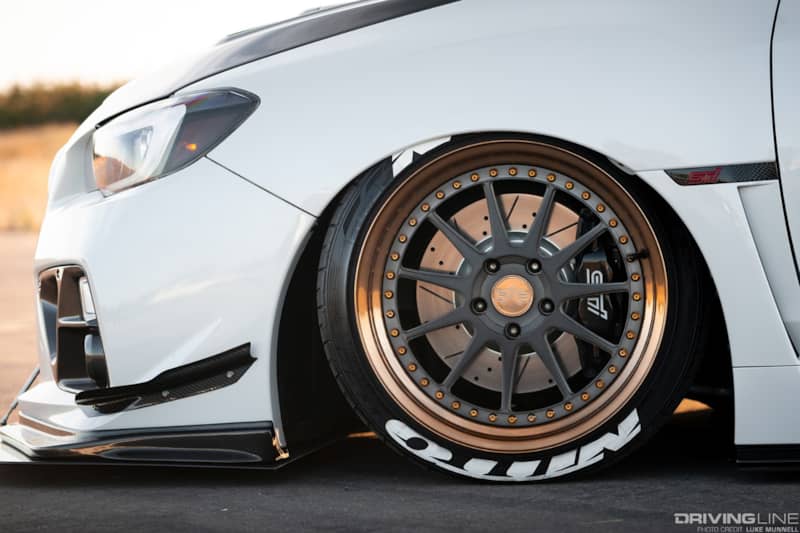 While Roger's car and the build seen here are still considered "cutting edge" in many regards, we shot these images of it way back in 2017. And now for the plot twist: After some slight deviations from how you see it here, Roger's STI has since been parted out and sold off.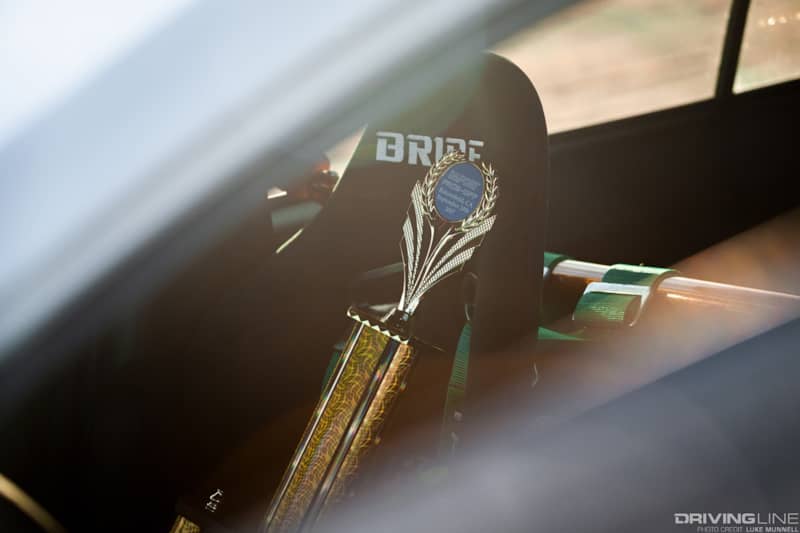 Just as quickly as it delivered such a forceful blow on the tuning community and show scene, Roger's STI has returned to oblivion as he begins his next project—in relative secrecy, we're sure, until he's ready to debut it and make an even bigger impact.