Cummins Swap Special: An H1 Hummer, A 3,000HP Silverado and An '85 Lincoln?
What do a '15 Chevrolet Silverado, an H1 Hummer and a 1985 Lincoln Town Car have in common? Their owners turned to Cummins power in order to make them the best vehicles they could be. On top of that, and to be more specific, they're all P-pumped 12-valve engines, arguably the most coveted version of the legendary I-6 diesel. We'll start things off with two high-end—and you could probably get away with saying high-dollar—builds. Then we'll follow that up with a WTF-type wildcard build that's anything but ordinary, yet is likely the most versatile vehicle in this collection. It's crazy the places a Cummins will take you, and here are three completely different builds, from three completely different drivers, for three completely different purposes…
The Ultimate H1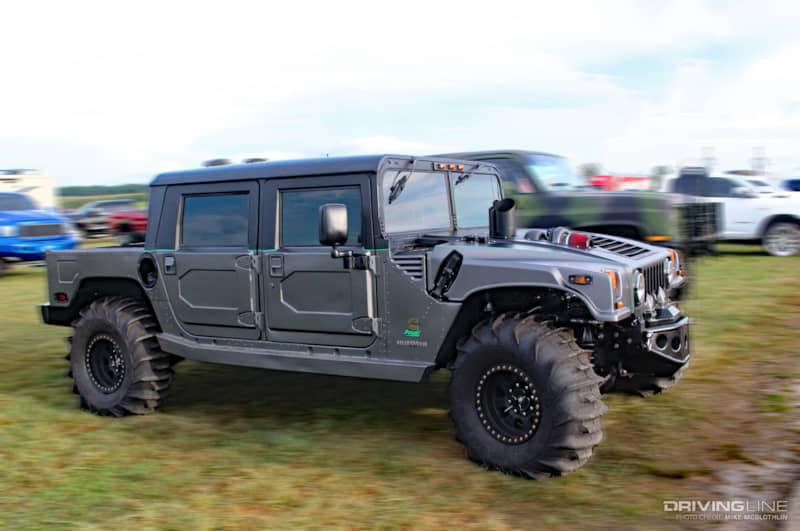 Steve Ortner of Mountain Machine in Belleville, Michigan is a big fan of the H1 Hummer, but he doesn't just keep his in storage. Turns out, he's extremely fond of Silver Lake Sand Dunes, too, hence the 36-inch paddle tires aboard this immaculate '94 model's Raceline wheels. Thanks to having elite level CNC machining and fabrication skills at his disposal, Steve has developed a name for repowering H1's with Cummins power. And trust us, this rendition of the M998 Humvee-based utility vehicle is much cooler than the 6.2L and 6.5L-equipped versions everyone else is stuck with!
What Lies Beneath
Beautifully integrated into the hood, the first thing you notice on Steve's H1 is the giant Garrett turbo that appears to be climbing out of the engine bay. This particular Garrett is said to be of the GTX5544R GEN II variety, which is to say it sports a compressor wheel that's either 102mm or 106mm in diameter. But it gets even better. A turbo in this location (and of this size) also means the Cummins is equipped with a second one—and the compound arrangement in this application works in conjunction with an air-to-water intercooler. In summation: its intended purpose is to make big horsepower.
Mechanical Masterpiece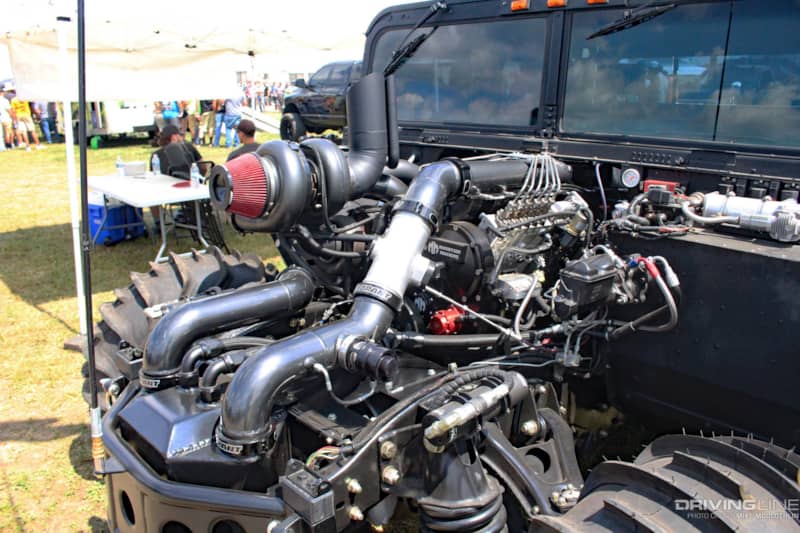 Fully uncovered, you can see that the Cummins is a real work of art. The engine uses a 6.7L Cummins block as its foundation but makes use of a 12-valve cylinder head. Also notice the blingy P-pump hanging off the side, which was built by Farrell Diesel Service. It receives its fuel supply from a gear-driven Waterman Racing fuel pump, which means this is no mild street built—it's ready to terrorize the dunes. The potent Cummins is backed by a built 4L80E GM automatic and BDS lent a hand for the Hummer's suspension needs.
The Nut Job
This one is more of an intentional build than a swap, but it's still completely bad ass, which makes it no less deserving of the spotlight. Brion Withrow's Cummins-powered '15 Chevrolet Silverado, better known as "The Nut Job," competes on the biggest stage in diesel truck pulling: the Super Stock class. It sports a tube chassis frame, a tilt-body, axles that belong in a semi and a triple-turbo Cummins that belts out more than 3,000 hp. Brion finished the season in a three-way tie for Seventh Place in the Lucas Oil Pro Pulling League points chase. His second Super Stock truck (The Nut Job 2, a Dodge) shares in that tie.
Lots of "Billet"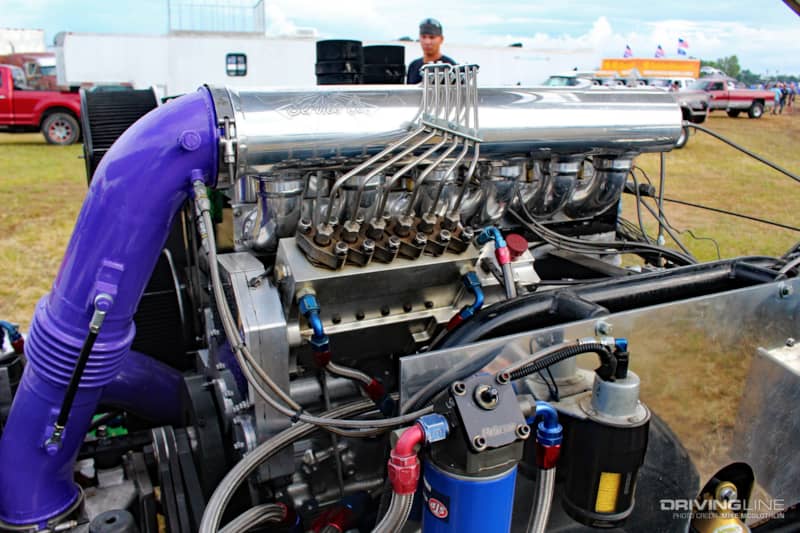 Built with Scheid Diesel components and with a helping hand from Wind-It-Tight Engines, the Cummins that powers The Nut Job is pretty serious. A Scheid billet-aluminum block, high-flow 12-valve cylinder head, billet-aluminum individual runner intake and a billet Sigma injection pump provide a recipe that easily makes more than 3,000 hp. Air-to-water intercooling, water injection and a dry sump oil system are also part of the puzzle.
2-Stage, Triple-Turbo System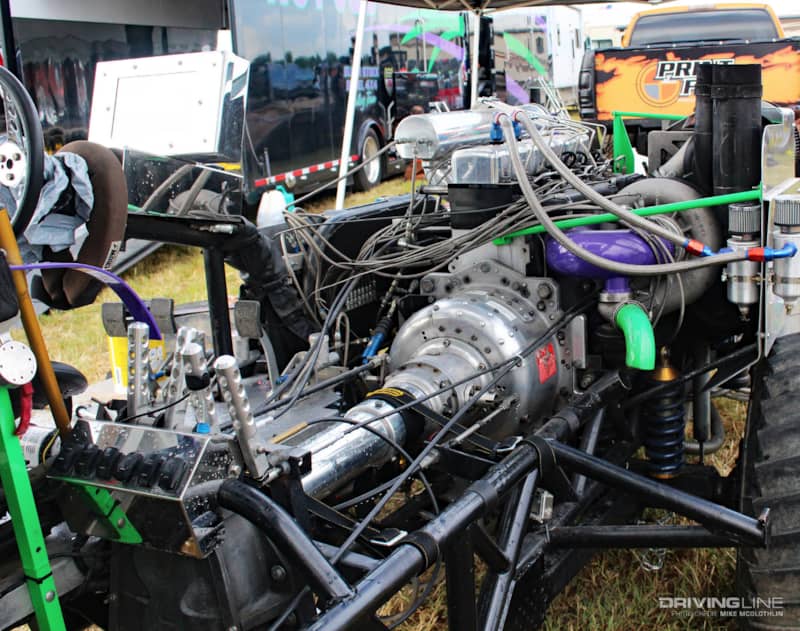 The billet Cummins is force-fed air courtesy of a massive triple-turbo arrangement. The two-stage system entails a pair of identical chargers out front which act as a single atmosphere unit, while the high-pressure turbo that brings everything to life is bolted to the exhaust manifold (in this case a T6 flange Steed Speed manifold). Saying this setup builds triple-digit boost would be an understatement. Try 130 to 150 psi! Power is routed rearward through a one-speed reverser transmission, and a quick-change transfer case distributes power to the front and rear axles.
The Monster Car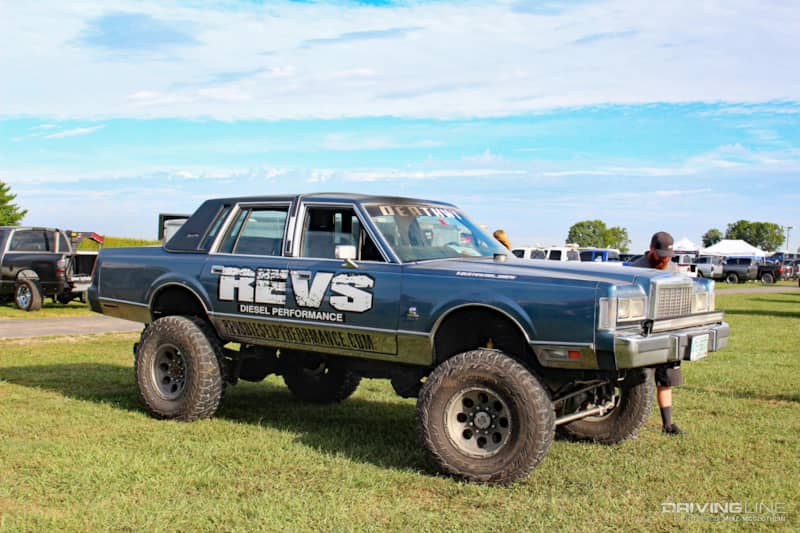 Cummins-swapping a Lincoln Town Car? Sure, why not. Dropping a Town Car body onto a Super Duty chassis, complete with 1-ton solid axles and four-wheel drive? What the @#%&! Cummins swaps might be popular, but Adam Naeck of REV's Diesel Performance has definitely built something different here. And to answer your question right from the start, yes, the four-wheel drive is fully functional. In fact, you can find Adam and his Town Car in action on the Deathwish Mud Buggy Adventure.
A Basically Stock 5.9L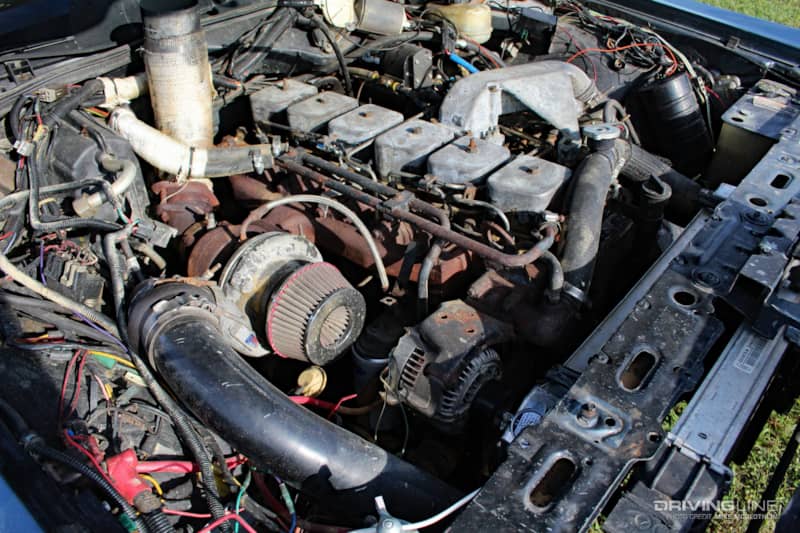 Just a used 5.9L 12-valve with some miles on it—yet here it is, ready to outlast another vehicle. The early P-pumped 6BT looks tight but breathable under the Lincoln's lengthy hood. With the usual P7100 tweaks, the stock turbo Cummins helped the Town Car lay down 309 hp and 694 lb-ft recently on the chassis dyno. A good clutch and the sedan's ZF-6 six-speed manual transmission helped in the effort.
Super Duty Axles and Suspension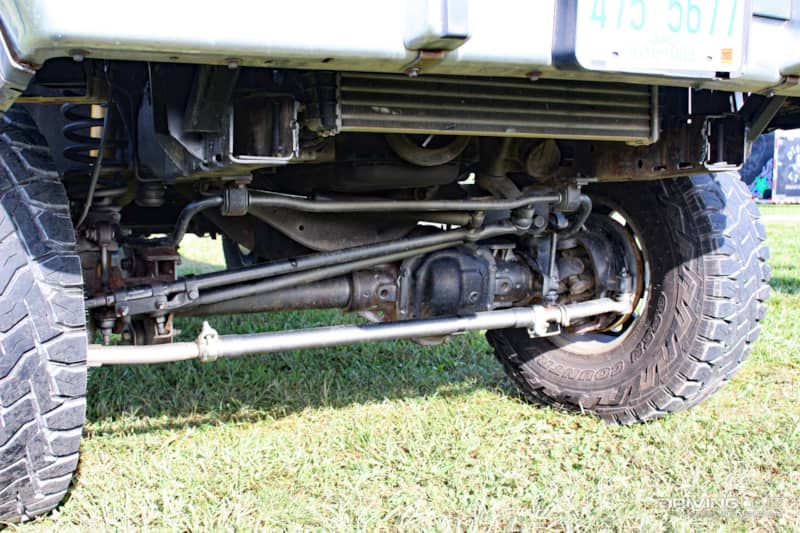 Rather than making the Lincoln's factory chassis cope with the weight of the Cummins, the commercial-grade ZF-6 and the big twist the I-6 was bound to dish out, Adam set the Town Car's body on top of an '05 Super Duty platform. Complete with radius arm, coil spring suspension and a Dana 60 up front, along with a Sterling 10.5 in the rear, this thing is all 1-ton truck underneath. When Adam isn't navigating through a mud hole in his Lincoln, he's driving it cross-country. We actually bumped into the New Hampshire shop owner in Indiana for these photos.
More From

Driving Line
The Cummins swaps don't end here…Ever seen a 700rwhp 5.9L-powered school bus? Climb aboard and educate yourself right here.