Diesel-Powered Ford Super Duty XLT Fit for a King
Not only is the business that built this truck, LGE-CTS Motorsports, a well-known California auto body and custom shop, but it's a two-generation family affair that at one point had 23 vehicles showcased at SEMA. While chatting with owners Sara Morosan and Theresa Contreras about LGE-CTS Motorsports, Sara talked about a few of their notable builds. One included their Father, Louie Morosan's, 2018 Ford Super Duty. His love for this vehicle was evident, so we decided to learn more about it.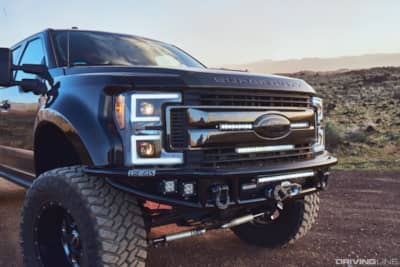 Made to Tow and Play
Original owners of LGE-CTS Louie and Gerry Morosan worked closely with Sara, Theresa and her husband Jason over the last two plus decades, and they recently retired and handed the company reigns over to them. Now, newly-retired Louie has more time to enjoy his prized 2018 Ford Super Duty XLT. "My Dad always wanted to build a Super Duty that was like a Raptor on steroids, so that's exactly what we did," Sara said.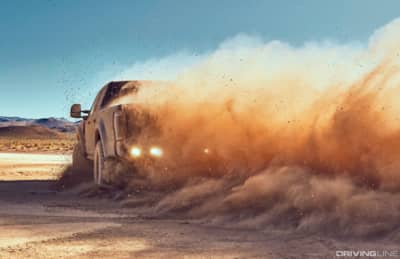 Louie is into everything about this truck, especially that his daughter, Theresa, designed and painted it. The paint catches attention and gives it an added detail that makes people do a double take. It's subtle yet eye-catching.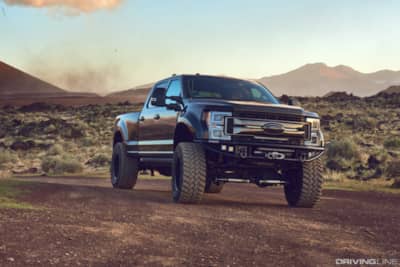 Wheels and Tires
"His favorite part of the truck are the fiberglass fenders that give it that nice, wide stance," Sara said. "My dad loves the way the Nitto tires fill in the fender wells." Louie tows a lot with his truck—that's why he didn't get the Raptor—and the 38x12.50R20 Nitto Trail Grapplers are great with towing and getting their trailers to all the off-road rural areas. "The Nittos handle so well on- and off-road, which is really important to us."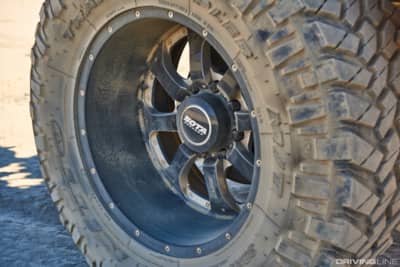 Getting Good Use
While Louie loves to take his Super Duty all over, his preferred place to visit with it is KOH (the King of the Hammers race in Johnson Valley, CA). There is such a multitude of things to do on the trails there with the 100,000+ off-roaders in attendance. It's a wide open space allowing him to go pretty much wherever he wants.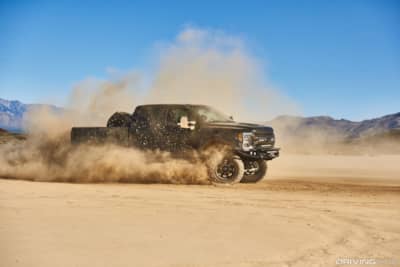 Out of all the vehicles Louie has had (and he's had a lot over the years), the Super Duty is his favorite. Right now, Louie and his family are using the truck mainly to haul other vehicles and projects where they need to go. "Of course my Dad is using it and enjoying his retirement, too. He just bought a house in Havasu so he could tow his boat out there."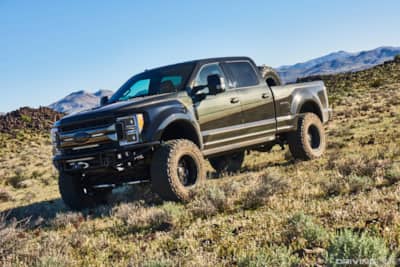 Future Suspension Upgrades
As far as changing up the truck, Louie would like to upgrade the rear airbags with long, tapered bags. LGE-CTS Motorsports used lighter, load-progressive rear springs like a Raptor, so the bags will help take on some of that load for towing and improve the ride.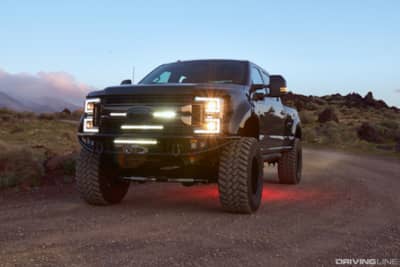 A Family Affair
LGE-CTS Motorsports auto body and custom shop built their reputation based on customer service and doing what they love. "I don't think that will ever change … the customer service and love what for what we do! Our parents taught us that these people aren't just our customers but they're an extension of our family. We treat each person like that—like they belong to our family the second they walk in that door, or the second we meet them," Sara exclaimed.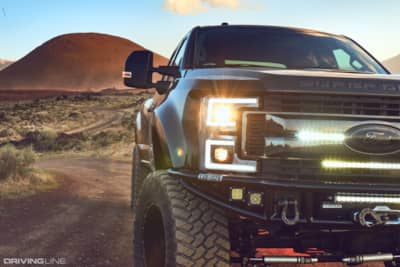 One of the best qualities Louie and Gerry instilled in their daughters was that they were capable of doing anything as human beings. They never treated them like "girls." It helped Sara and Theresa turn into the women they are today. Not only do they share their passion for motorsports on- and off-road, but they empower others. "It can be so rewarding to get behind the wheel of something you love."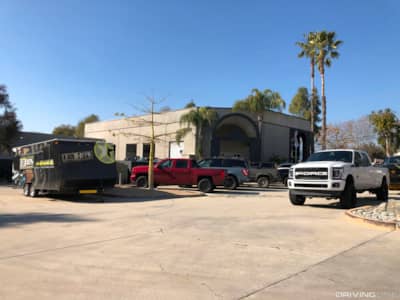 Louie and his wife, Gerry, retired at the beginning of last year—December 31, 2018 was their last day. The next generation took over at the beginning of the year and now Theresa Contreras is President, Sara Morosan is Vice President and Theresa's husband, Jason Contreras, is the Director.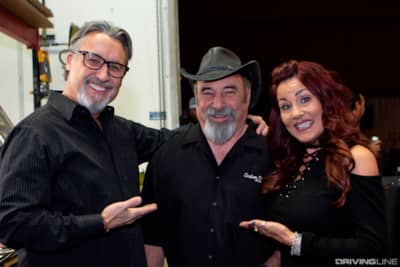 Redefining a vehicle is important to Louie and his family. Whether it be fixing a 4x4 after a collision or creating a full custom build for SEMA—the possibilities are endless at LGE-CTS. Off-roading and everything automotive runs in this family's blood. Nittos are also an important part of their family. "When you grow up around it, you live it and love it," Sara says.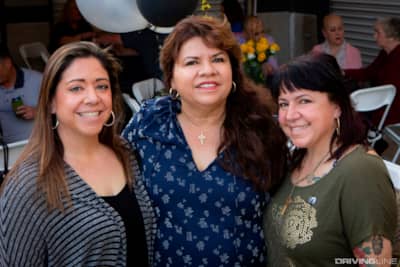 Super Duty photos by Aaron Okayama, retirement photos by Audry Jean, shop photos by Theresa Contreras
LOUIE'S 2018 SUPER DUTY XLT SPECS:
Exterior:
Baja Forged front and rear fiberglass fenders 5-inch bulge 0 rise, front bumper with Anzo USA lights and bed cage with Hi-Lift jack; Azno USA front headlights and rear LED taillights; WARN ZEON 12-S winch with synthetic rope; Amp Research power running boards
Wheels and Tires:

38x12.50R20

Nitto Trail Grappler tires, 20x12 SOTA Offroad Novakane Death Metal wheels, WARN locking hubs
Suspension:
Icon Vehicle Dynamics Suspension 2.5-inch coilover conversion kit
Interior:
Katzkin leather interior
Chance Pugh, owner of Grappaholics, likes his Super Duty lifted.