Insta-Awesome: Going Big with Grappaholics' F-250
Instagram is a crazy place. What started off as a small app for people to share cool photos has become a juggernaut of a media platform. It's given birth to an entirely new way to share and view cool automotive content and connect with likeminded enthusiasts. One of the most interesting aspects of Instagram is the fact that many popular pages are not run by companies, but rather individuals that simply enjoy sharing and posting content. One of those individuals is an enlisted member of the U.S. Coast Guard, named Chance Pugh.
A few years ago, Pugh started a page called Grappaholics. As a fan of Nitto Tire's Grappler line of Light Truck Tires, Pugh tossed up the Instagram page to showcase his truck, along with other vehicles equipped with Grappler treads (Mud | Trail | EXO | Dune | Ridge | Dura | Terra). Before long, his page got real traction. In fact, Grappaholics now has over 60K followers! So, what does all of this have to do with the lifted F-250 you see here?
As one can imagine, Pugh is a truck enthusiast himself. Recently, he was finally in a spot to take his 2011 Ford F-250 to the heights he always wanted it (literally). Rounding up a premium 8-inch coilover conversion from BDS Suspension, along with massive 40-inch Nitto Trail Grapplers, and 24-inch Moto Metal MO401 forged wheels—the first wave of the truck's upgrades were meant to have this diesel machine ridding high. To check out the progress, we stopped by Low Range 4x4 in Wilmington, North Carolina, where the work was being completed.
While the video above offers a look into the lift process, we get into even more details in the article below.
Prepping the F-250 for BDS' coilover 8-inch-lift kit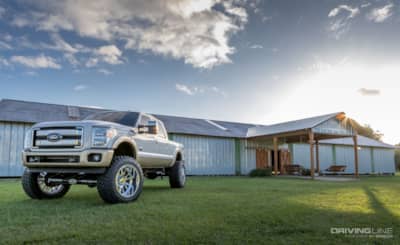 While BDS offers a coil version of its 8-inch-lift, Pugh was looking for the ultimate ride quality (and adjustability), so he opted for the coilover version of the kit. Doing so meant that the stock coil towers had to be removed from the framerails. This required all of the rivets to be removed.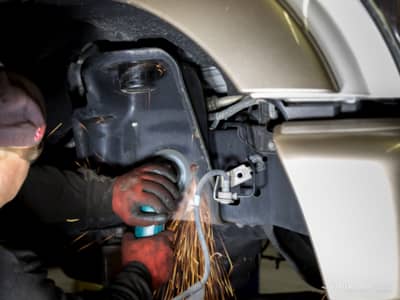 BDS uses the existing holes left by the rivets to bolt the upper shock tower to the framerails. Each bracket is fit with a black powdercoat finish to ensure longevity under the truck.
Inside the BDS lift kit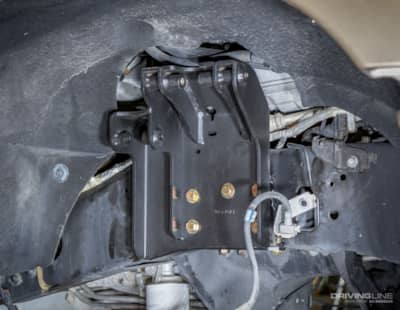 An 8-inch-travel Fox 2.5 factory series remote-reservoir coilover handles the bulk of the lifting duties. To increase dampening forces on the heavyweight diesel, BDS pairs the coilover with a 2.0 Fox performance series shock. Also included are stainless steel braided brake lines.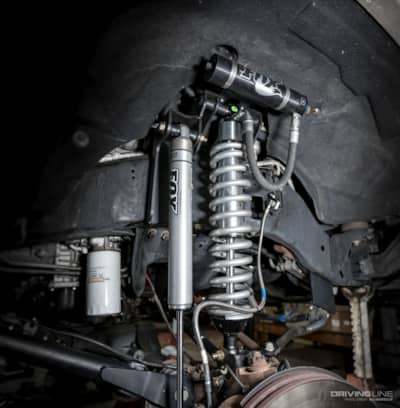 BDS understands that not all trucks are alike, so the company uses Fox coilovers with DSC (dual speed compression) adjusters. The two twist knobs allow the owner to adjust the high and low speed compression dampening on the shock. This is extremely helpful when dialing in the ride quality and adjusting for additional equipment such as a winch front bumper.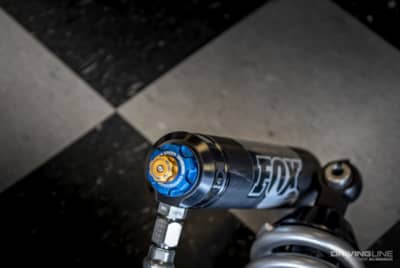 To free up some articulation and ride quality that radius arms often limit, BDS replaces the stock control arms with a four-link configuration. Aside from the aforementioned ride-quality improvements the 0.250-wall DOM control arms offer, the arms offer a strength advantage as well.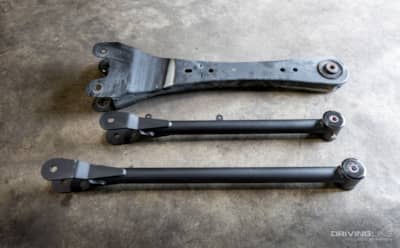 To convert to the four-link configuration, the stock control-arm mount rivets and bracket must be removed to make room for the new link bracket at the frame. Once in place, the new control arms mount to the stock location at the axle.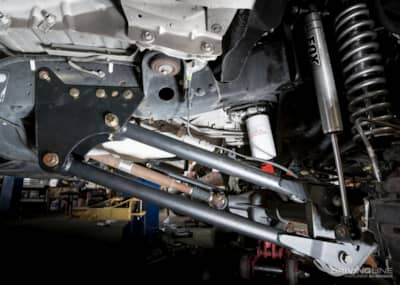 Ensuring your front end geometry doesn't get out of whack, BDS provides a track bar drop that bolts in place of the OE mount. Working with it is a new drop pitman arm. The bracket just forward of the track bar mount is for your sway bar, which is kept intact.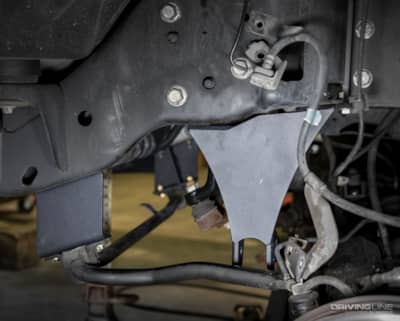 Fine tuning the axle placement is an adjustable track bar. This heavy-duty piece can be adjusted on the vehicle, making it quick and easy to dial in.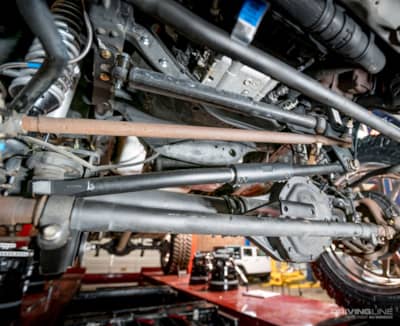 Finishing off the front end is a set of dual Fox steering stabilizers. There's even a place for the stock stabilizer to remain connected to the draglink, making for a tight steering feel.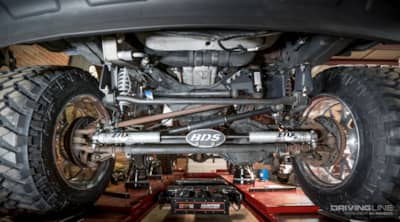 Out back, new replacement leaf spring packs work with the OE lift blocks. The five-leaf pack includes an overload, which helps increase the ride without sacrificing load carrying potential. Dampening the system are Fox 2.0 Performance series shocks.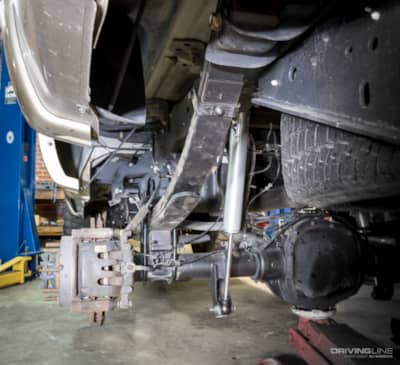 An F-250 That's Reached New Heights
Post lift, Low Range 4x4 set the truck up on its Hunter alignment machine to ensure the truck would drive as good as it looked.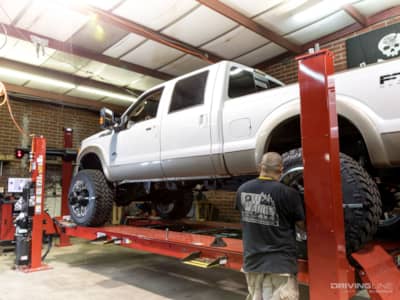 Pugh wanted some serious rubber and large wheels, so he opted for Moto Metals MO401 forged series wheels. Wrapped around the 24x14 deep-dish wheels are Nitto Tire's 40x15.50R24 Trail Grappler tires. As one of the few companies that offer a mud-terrain radial in this size, Nitto has created a tire that fits the needs of those looking for an aggressive tire, with proper road manners and load ratings.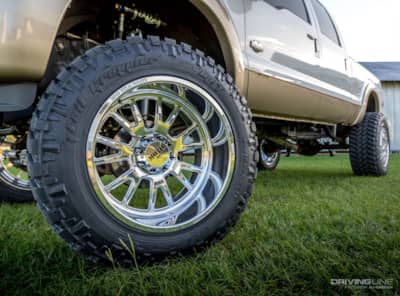 Not finished yet... here comes a 6.7L Power Stroke
Just before the lift install, Pugh was hit with some bad luck. A broken glow plug caused an internal chain reaction, which ultimately led to him putting in a new 6.7L Power Stroke diesel. The new engine is running a Borg Warner S3000SX-E 64.5mm turbo along with a Maryland Performance diesel piping kit. Other upgrades include an EZ LYNK Auto Agent from PPEI and 5-inch Flo-Pro exhaust.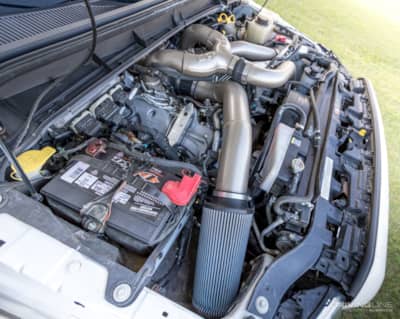 Despite having the bumper extension kit from BDS, the post lift shakedown revealed that the tires rubbed a little on the front fenders and bumper valence. All problems easily fixed.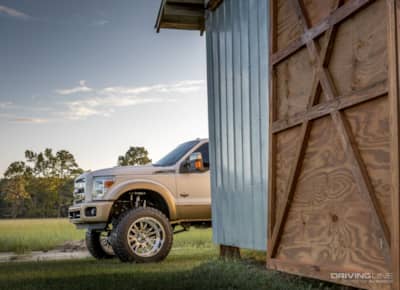 To check our more mods to the truck and see what's next for Pugh's F-250, be sure to give him a like and follow @grappaholics . Of course, we're at @drivingline.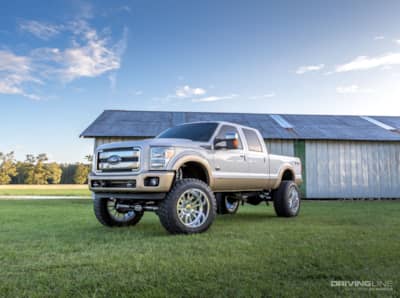 See more detailed shots of the suspension and truck in the photo gallery below.