Diesel Ram Buyer's Guide: The Cummins Catalogue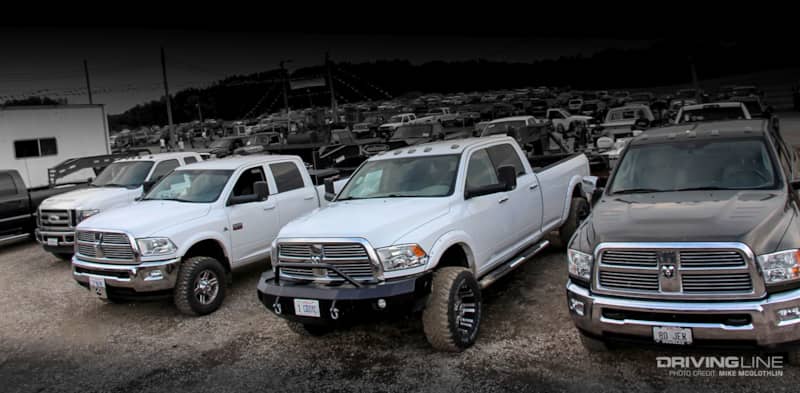 So you're in the market for a used diesel pickup and it's gotta be a Cummins. We understand. Even if you're a Bow Tie or Blue Oval loyalist, the fact that Ram trucks house the legendary Cummins inline-six engine under the hood makes giving them a look virtually inescapable. That's why whether you're searching for your first vehicle, first diesel, a certain sought after model, or you're on the hunt for a slightly used workhorse with a friendly price tag, we've put together an all-inclusive Cummins-powered Ram guide for you. Look for the good, the bad, and the ugly in our Pros and Cons list, as well as what we consider to be the pinnacle year(s) to own each generation of Cummins-powered Dodge trucks.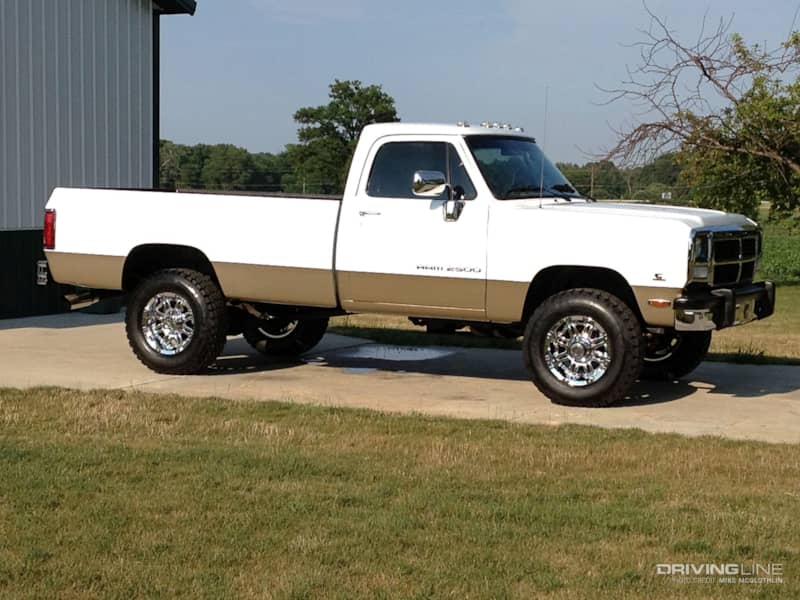 1989-1993 D250, D350, W250, W350
While most '89-'93 Dodges (affectionately known as first-gens) have been killed off due to rust, transmission failures, and old age, you can still find clean versions out West or in the South. Keep in mind that even if you're looking for a fixer-upper, the 5.9L Cummins alone warrants at least a $500 to $1,000 price tag. These trucks are the least refined, bare-bones models offered and were based off of the '72-'93 body style that nearly went extinct. But, they're extremely simple, reliable, and can knock down some killer fuel economy.
Engine: 5.9L Cummins with Bosch VE injection pump
Transmission(s): TF727 3-speed automatic ('89-'93), Getrag 5-speed manual ('89-'93), A518 4-speed automatic ('91.5-'93)
Best Year(s): 1991.5-1993 due to the factory intercooler option and available A518 4-speed automatic
Pros:
Simple
Reliable
Lightweight
Great fuel economy (20-25 mpg when driven conservatively)
Cons:
Prone to rust
Electrical problems surface as they age
Automatic transmission models will most likely need gone through
Gutless without turning up the VE injection pump
Interiors rattle apart
Price Range: $500 to $5,000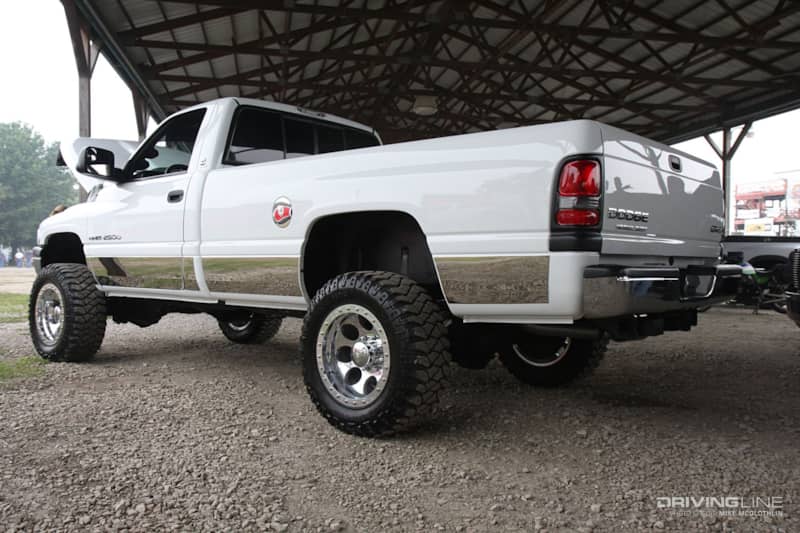 1994-1998 2500 & 3500
This is the truck that put Dodge back on the map in 1994. The all-new Ram body style did most of it, but the 5.9L Cummins was there to make sure it delivered. As far as performance potential goes, it doesn't get any better than the mechanical P7100 equipped versions of the 12-valve 5.9L Cummins. They're simple, rock-solid reliable, and can easily tick off a half a million miles if properly maintained. With this body style (and particularly this engine) being so highly sought after, you can expect to pay a pretty penny for these 20-year-old Rams.
Engine: 5.9L Cummins with Bosch P7100 (P-pump) injection pump
Transmission(s): 47RH 4-speed automatic ('94-'95), NV4500 5-speed manual ('94-'98), 47RE 4-speed automatic ('96-'98)
Best Year(s): 1996-1998 with the NV4500 5-speed manual and 215hp P7100 injection pump (the most sought after P-pump offered from the factory)
Pros:
Mechanical injection, very simple engine
Bosch P7100 injection pump
Cummins B series industrial brawn and rock solid reliability
Great low-end grunt
Cons:
Killer Dowel Pin (only major mechanical problem, but is relatively easy to fixed)
Automatic transmissions fail prematurely with any added power
Interiors wear out
Rust issues (even on cleaner trucks, check the bottoms of the doors)
No 4-door models offered
Quad cab models did not have opening/suicide rear doors until early '98 models
Price Range: $2,000 to $10,000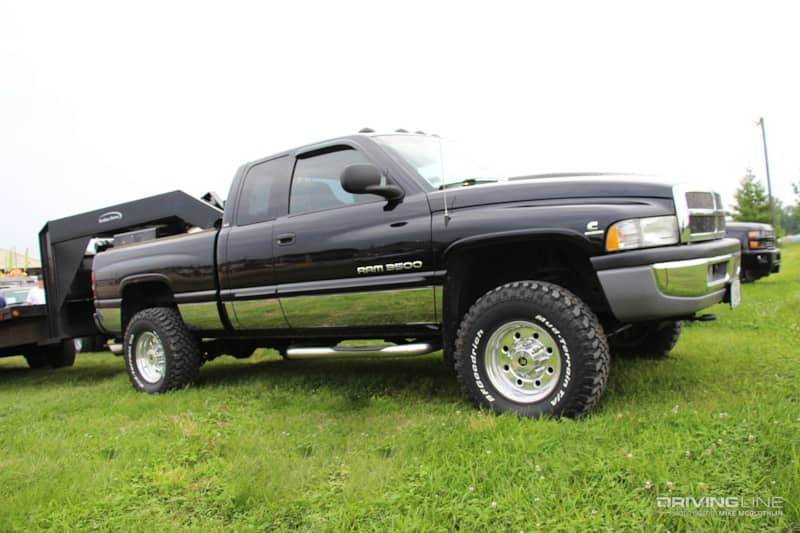 1998.5-2002 2500 & 3500
The later second-generation Rams featured a few updates over '94-'98 versions, including opening rear doors on Quad Cab models, slight cosmetic changes, and the addition of a 24-valve 5.9L Cummins under the hood. However, the electronically controlled Bosch VP44 injection pump would prove, over time, to be a major weak link. Oftentimes, the factory lift pump fails, starving the VP44 of fuel, which ends up taking it out as well. On the cataclysmic front, '99-'02 models equipped with 53 blocks ("53" cast into the driver side of the block) are known to crack over time. Overall, while this generation Ram has a few shortcomings, they are workhorses, can pull anything, and get great mileage.
Engine: 5.9L Cummins with Bosch VP44 injection pump
Transmission(s): 47RE 4-speed automatic ('98.5-'02), NV4500 5-speed manual ('98.5-'02), NV5600 6-speed manual ('01-'02 H.O. models)
Best Year(s): Any model year with a manual transmission but without a 53 block
Pros:
Injector, turbo, and programmer upgrades can get these trucks into the 450-500hp range
Quad cabs do have opening rear doors
Extreme low-end torque, great for pulling trailers
High output '01-'02 models got a 10hp, 45 lb-ft bump and came with a 6-speed manual
Cons:
VP44 is known to die every 150,000 miles or so (usually from a failed lift pump)
Plan to replace the VP44 pump shortly after purchasing a high-miler
Similar interior and rust issues as '94-'98 trucks
Automatic transmission fails prematurely with added power
53 blocks are known to crack
Price Range: $4,000 to $14,000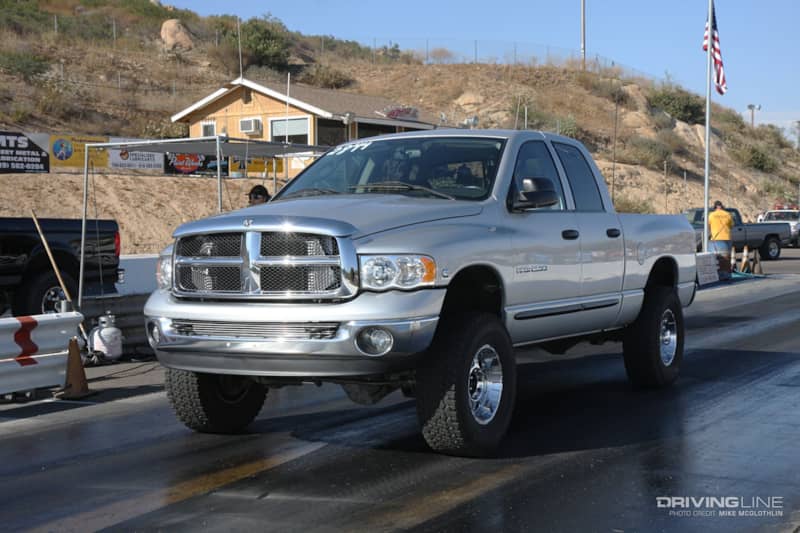 2003-2007 2500 & 3500
High points abound in the '03-'07 Rams. For starters, the common-rail injection system added horsepower and torque to the 5.9L Cummins' repertoire while also making its operation much quieter. The trucks themselves are roomier, with true Crew Cab configurations finally becoming available, not to mention the spacious Mega Cab models that debuted in 2006. They also feature vastly updated interiors, a more comfortable ride, and possess improved towing manners over '94-'02 Rams. Their two primary drawbacks are injection system and transmission related. The common-rail system's components are expensive to replace and usually don't make it much past the 200,000-mile mark, so if you plan to buy a high-mile '03-'07 truck, expect to replace the injectors and CP3 pump. On the transmission side, while plug-and-play style programmers can add impressive power, automatic versions are once again not up to the task of handling it.
Engine: 5.9L Cummins with Bosch common-rail injection system
Transmission(s): 47RE 4-speed automatic ('03), NV5600 6-speed manual ('03-'05), 48RE 4-speed automatic ('04-'07), G56 6-speed manual ('05.5-'07)
Best Year(s): 2006-2007 (these are the most sought after years, but they also have the best factory configuration options and aftermarket support)
Pros:
Common-rail injection is easy to make extra power with and runs quieter
450-500hp is possible with a hot programmer
True crew cab models were finally offered, plus the roomy Mega Cab models
Known to be very reliable, even at higher horsepower levels
Ride comfort and towing manners are improved over '94-'02 models
The last Cummins offered which was free of emissions-control devices
Cons:
Injection system components are expensive to replace
Stuck injector or high timing programmers can melt pistons in short order
Automatic transmissions are a major weak link with any significant amount of added power
G56 6-speed manual gearbox fails at higher horsepower/torque levels
Price Range: $11,000 to $25,000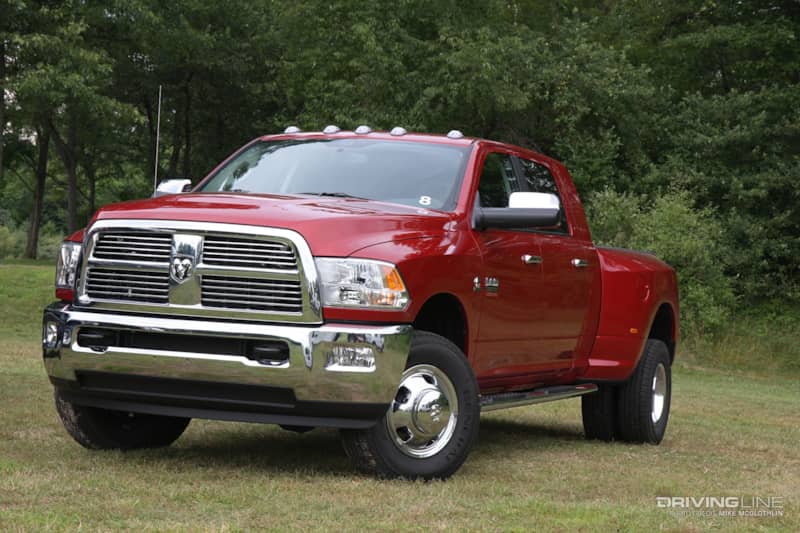 2007.5-2016 2500 & 3500
Looking at the '07.5-newer Rams, it's easy to see why they're so popular for towing, hauling, commuting, and even for family vehicles. As for powertrain, a larger, 6.7L Cummins sits under the hood and churns out more horsepower and torque in stock form than the 5.9L. Use of a variable geometry turbocharger gives these trucks great responsiveness and drivability, and an integrated exhaust brake makes them the ultimate pickup for towing (in our opinion). This generation of Ram trucks debuted the 68RFE 6-speed automatic transmission, ushering them into the modern age. The '07.5 model also brought with it several emissions-control devices (exhaust gas recirculation, diesel oxidation catalyst, and diesel particulate filter), which can become problematic at higher miles.
Engine: 6.7L Cummins with Bosch common-rail injection system
Transmission(s): 68RFE 6-speed automatic ('07.5-'16), G56 6-speed manual ('07.5-'16), Aisin 6-speed automatic ('13-'16)
Best Year(s): 2011-newer due to improved ride quality (hydraulic body mounts)
Pros:
Bigger engine displacement yields more horsepower and torque out of the box than the 5.9L
6-speed automatic transmission option
Variable geometry turbo with integrated exhaust brake makes them towing machines
Integrated brake controller
Towing manners are much improved over '03-'07 models, especially on '11-newer trucks
Cons:
Emissions equipment can fail prematurely and reduce fuel economy when compared to 5.9L predecessor
Head gaskets pop more frequently (due to higher cylinder pressure and more torque than the 5.9L)
68RFE 6-speed automatic will not handle much more than 450-rwhp
Price Range: $13,000 to $55,000