Driven: 2017 Toyota 4Runner TRD Pro Takes on Baja
When we decided to chase the Baja 1000, we knew we needed an off-road capable vehicle that could haul our team and gear around safely and we found the perfect answer in the 2017 Toyota 4Runner TRD Pro. The terrain you'll find on the Baja peninsula requires a do-all vehicle—something that can handle the 1,130 miles of chasing the race, entailing traveling over dirt, rocks, silt and plenty of far-from-perfect highways.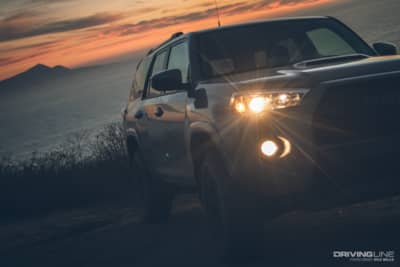 During the course of our adventure, we discovered the 2017 4Runner TRD Pro is Toyota Racing Development's ace-in-the-hole for off-road capable machines. While the 4Runner has been regarded as a formidable off-road vehicle for the last 33 years, this latest generation's flagship model has set the bar high for off-road capable mid-size SUVs. The TRD Pro model comes equipped with a host of features that make driving on- and off-pavement easy, but we'd be lying if we said driving it wasn't a whole lot of fun too.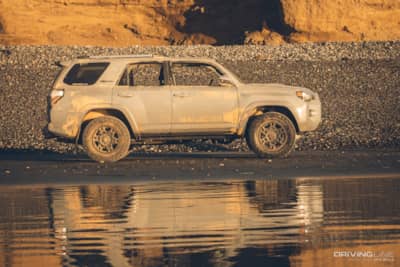 On the outside, the TRD Pro version doesn't look far removed from the 4Runner's base model, at least to the casual observer. TRD's engineers gave this 4Runner a 1" suspension lift via a specially tuned Bilstein high performance suspension system, complete with bigger diameter struts up front and reservoir shocks in the rear. Also unique to the TRD Pro is a more aggresive black accented tailgate and grill trim. Toyota topped it off with a TRD-stamped aluminum skid plate and black TRD Pro badges on both quarter panels.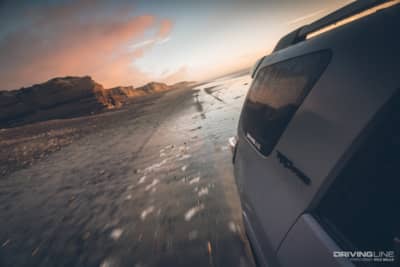 The road conditions and unforgiving terrain in Baja are the ultimate torture test for any set of tires, so having the proper set of shoes for chasing the 1,130 mile race is crucial. The TRD Pro comes standard with a set of 17" black powder coated TRD aluminum alloy wheels, wrapped in Nitto Terra Grapplers. The all-terrain Terra Grapplers provide ample traction in the dirt, while staying quiet and smooth on paved surfaces. This dynamic tire falls in line with Toyota's goal of producing a luxurious and smooth SUV with the chops of a hardcore off-road rig.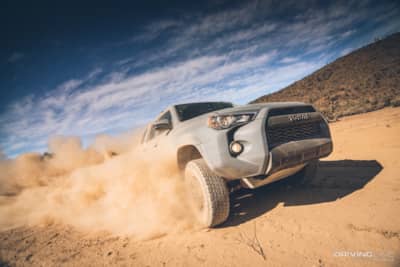 The occasional off-roader will find a host of electronic systems in the TRD Pro 4Runner to aid in keeping them moving through even the toughest terrain. The "Crawl Control" function allows the driver to set a pace electronically while moving over rocks slowly in low range 4-wheel-drive—much like an off-road cruise-control, this function allows navigation over tough terrain without pressing the brake or throttle pedals. Additionally, a multi-terrain selector sets the optimum settings for a variety of terrains—from loose dirt to sand, rocks and more. Toyota's proven electronic locking rear differential keeps both rear tires spinning at the same speed so that the SUV keeps moving through even the toughest trail conditions, including the infamous silt beds of Baja.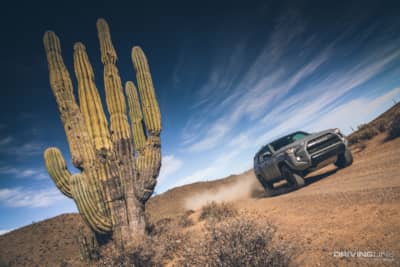 Inside, the TRD Pro 4 Runner almost looks like something you wouldn't want to take off-road. Heated black leather Softex seats accented with red TRD stitching have additional side-bolstering to keep passengers snug through bumpy trails, while also being comfortable enough for 10 hours of driving each day. Audio interfaces can be hit-or-miss in new cars, but we were pleasantly impressed with the EnTune audio system in the 4Runner—especially so due to the conditions we encountered in Baja. As many parts of the Baja Peninsula lack cell phone data coverage, leaving us without Google Map apps and music streaming, we stayed covered with our in-car navigation system and integrated satellite radio which both worked flawlessly.
The folding rear seats allow for the luggage space to be increased without fear of scratching the leather, but we doubt you'll need it. The trunk space was big enough for all our, suitcases, gear bags, camera equipment and tools. There was even enough space left to store our ARB 50-quart Fridge/Freezer, plugged into a cleverly placed 12-volt power outlet and 400-watt power inverter in the trunk. These amenities made the long days of driving through the desolate Baja peninsula much more comfortable.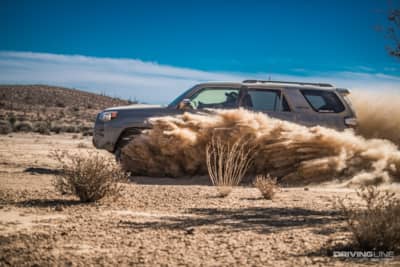 Toyota and TRD hit the nail on the head with this 5th-generation 4Runner. The TRD Pro is tough, yet elegant. It boasts the stature of a luxury SUV that can easily be turned into an off-road rig with the flip of a few switches and levers—and it doesn't come with the price-point of other brands claiming to do the same (yes, Land Rover… we're talking about you guys.)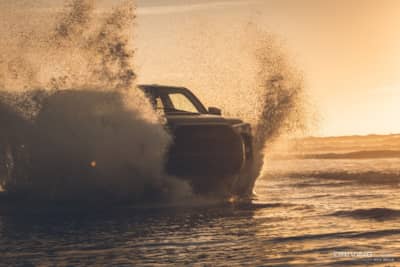 Most importantly, the TRD Pro 4Runner isn't just a pavement princess with extra buttons on the dash. It wants to be driven, hard. Just when you think you might be abusing it, the 4Runner seems completely at home and asks for more fun. It impressed us with every mile along the 50th Baja 1000, setting a new standard for SUVs that are ready to play right off the assembly line. With features that can conquer practically any kind of terrain thrown at it, there remains only one question. Where will you take yours?