Driver Battles: Old Vs. New V8 Mustang Drag Race Showdown
In our third installment of Driver Battles: Drag Edition we decided to do something a little different than we have in previous episodes, we paired up an old Mustang against a new one at Irwindale Drag Strip's 1/8th mile track. Not only did we want to see how a classic muscle car would fare against the modern version of a similar model, but it just so happens that certain members of our staff had the right cars for this competition: Mike Garrett has a '16 Mustang GT that we pitted against Greg Friend's '73 Ford Mustang Mach 1. As with any friendly face-off, they immediately exchanged belittling remarks about the other's vehicle and how they would do on the track with little basis in reality.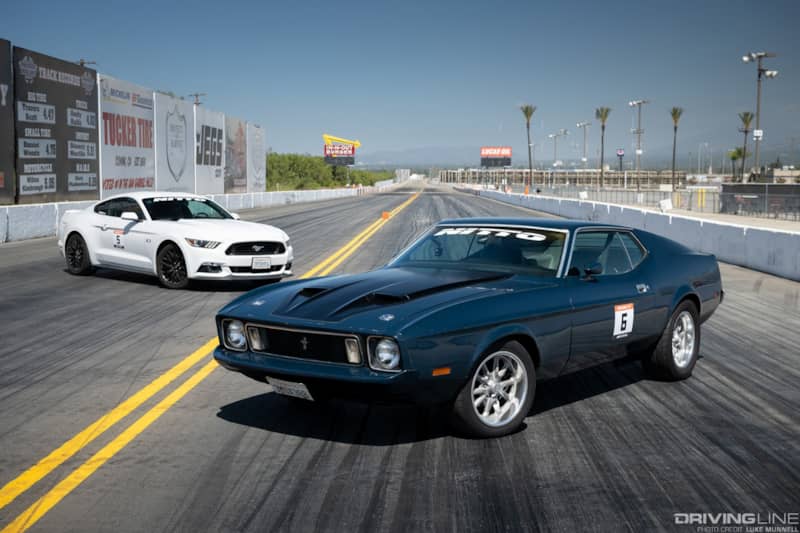 However, in actuality, these two cars were well matched in terms of general horsepower, torque, weight and tires. Both Mustangs make about 400hp and 400 pound/feet of torque, they're within 400 lbs. of each other, and they're both running Nitto NT555 G2 ultra high-performance tires.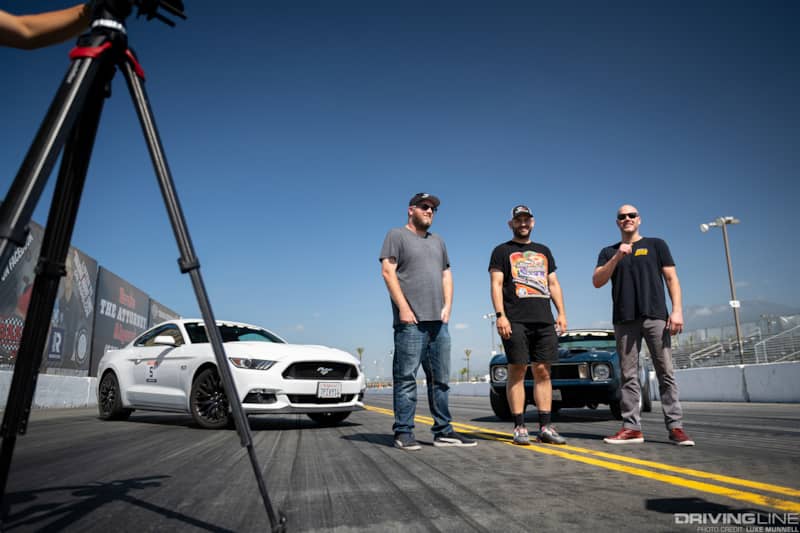 In this article, we'll run through the specs of each car, experience levels, and what each driver had to do to get ready for the race. If you'd like to go directly to the video, click here, otherwise keep reading for a glimpse behind the scenes of this 'Stang showdown. -Admin
Mike Garrett: Prepping His '16 Ford Mustang GT
There I was sitting in my front yard when I got a phone call from Greg Friend, the Digital Content Editor here at Driving Line. Greg had an offer for me. "How would you like to come down to Irwindale Speedway with your Mustang to star in one of our Driver Battle videos?"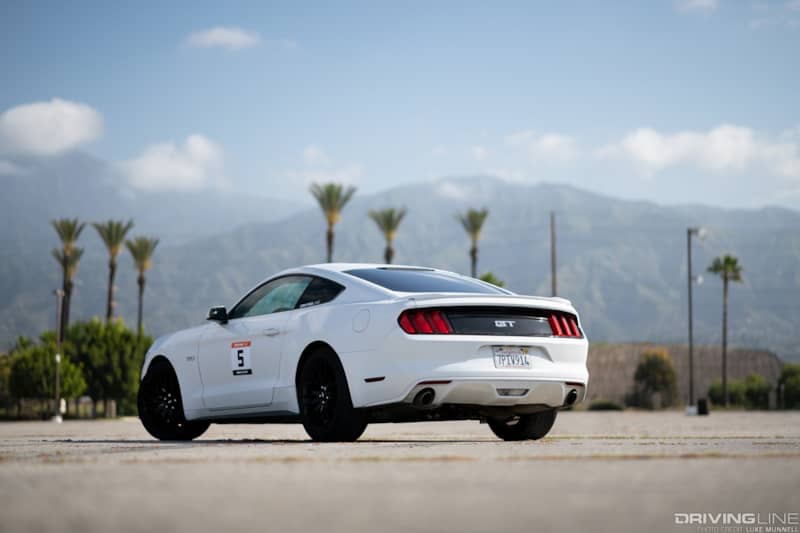 It sounded awesome. I mean, who wouldn't want to skip a day in the office and head to the drag strip? The only problem was I'd never actually drag raced at the track before—in my Mustang or any other car and the date was only a few weeks out. Plus, my Mustang has a manual transmission, which can make it harder to be consistent at the track, and I didn't have much time to practice my launches.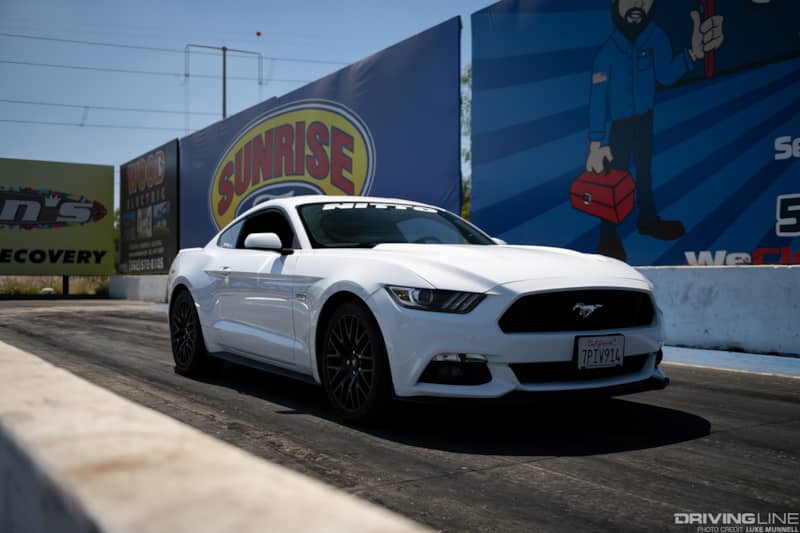 And to make matters even more interesting, my opponent for this battle would be Greg himself—AKA the guy who oversees my work here at Driving Line. No big deal racing your boss right?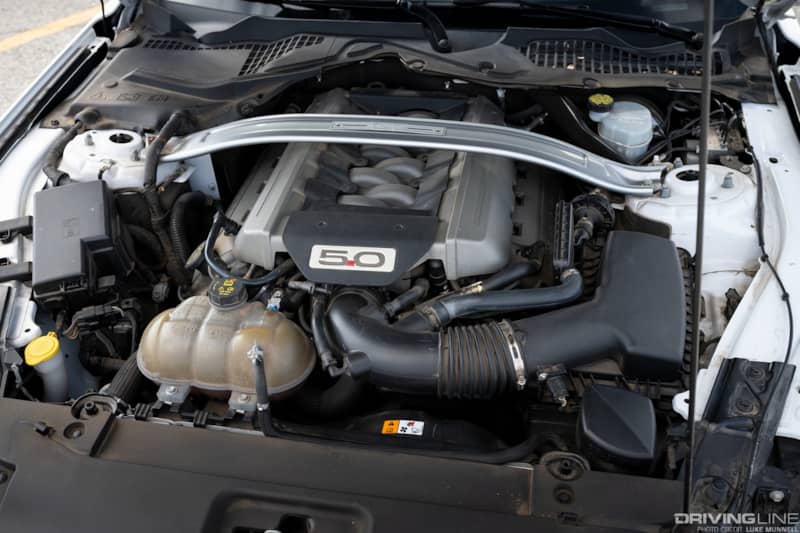 Greg would be driving his mildly hopped-up 1973 Mustang Mach 1 which he's owned for more than 20 years and has recently given a full overhaul. I'd be driving my bone stock 2016 Mustang GT complete with my son's child seat in the back.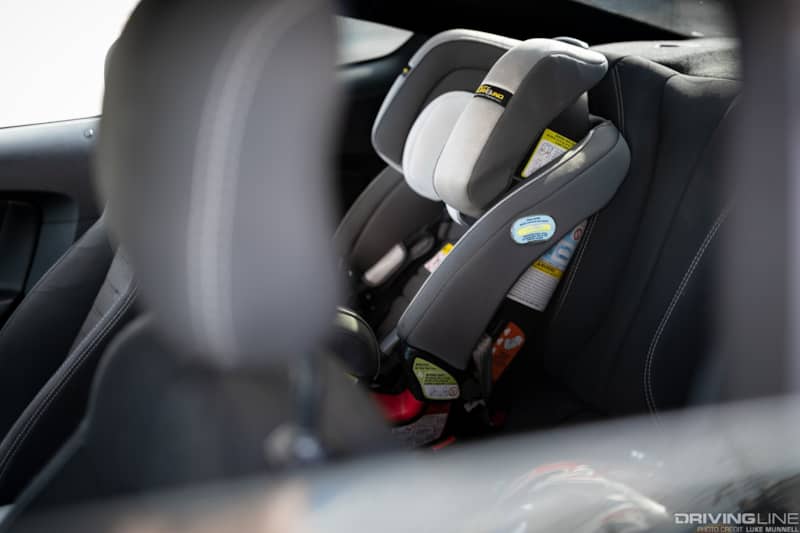 We bench raced the specs of our cars and decided to go for it. Modified classic Mustang vs. stock modern Mustang—with both of us rolling on fresh Nitto NT555 G2 rubber. Luckily, I didn't have much to do in terms of prep, as the car was pretty much ready to go straight from the showroom.
My dad decided to tag along with me to provide emotional support and some drag racing tips during the 230-mile drive to Irwindale and I heard that Greg's father might came along with him as well. We were ready to leave it all out on the track—just two adult men and their 'Stangs, hoping to avoid defeat and disappointment from our fathers. 
2016 Ford Mustang GT Specs
| | |
| --- | --- |
| Owner | Mike Garrett |
| Engine | 5.0L Coyote V8 |
| Engine Mods | N/A |
| Drivetrain | Stock |
| Gears | 3.73:1 |
| Suspension | Performance Package |
| Wheels | Factory 19x9" front and 19x9.5" rear |
| Tires | Nitto NT555 G2 255/40R19 front, 275/40R19 rear |
Greg Friend: Prepping His '73 Mustang Mach 1
A few weeks before the date of our next Driver Battles drag race, Kristin Cline, Driving Line's Editor in Chief, asked me if I'd be interested in racing my Mustang against Mike Garrett's Mustang GT. Almost before the words were out of her mouth, I replied, "absolutely!" The only problem was that my car wasn't actually running. I had just started a radiator swap, and I had a transmission pan leak that I'd been fighting for weeks—if I was going to make it to the racetrack on that day, it was going to take some serious hours in the garage to make it happen—not including the shakedown and tuning I'd need to do to keep from embarrassing myself in front of the film crew, my fellow coworkers and anyone who happened to watch the final video.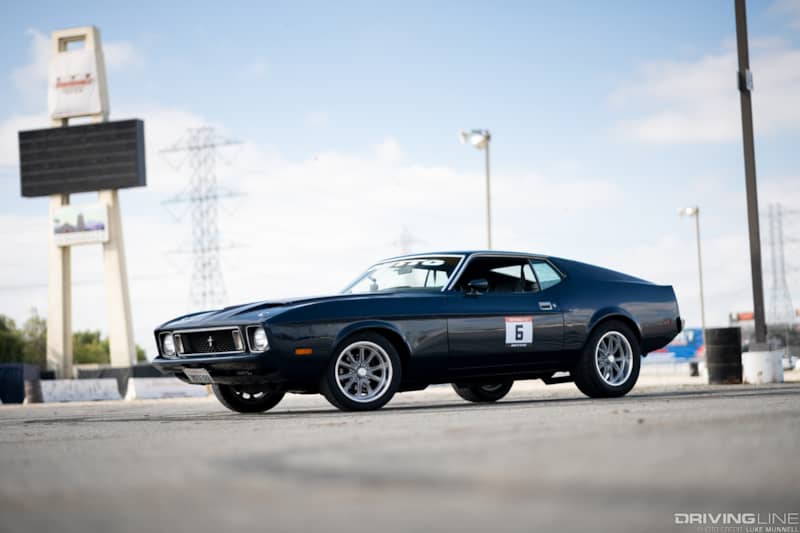 That same day I went out to the garage and started wrenching. After a few late nights in the garage I had the new aluminum radiator buttoned up and functioning properly, but I still had to tackle the trans pan, which meant dropping the pan and replacing all the fluid. As anyone who has ever done work on a Ford trans C6 or AOD can attest to, it's a messy job, and I was fed up with the warped tin OEM pan. I was able to get a machined, cast aluminum pan from Trick Flow the weekend before the race and hustled to get it installed and leak-free as soon as possible so I would have time to drive the car and tune it. Thankfully, the installation went smoothly and I had it on the road the next day.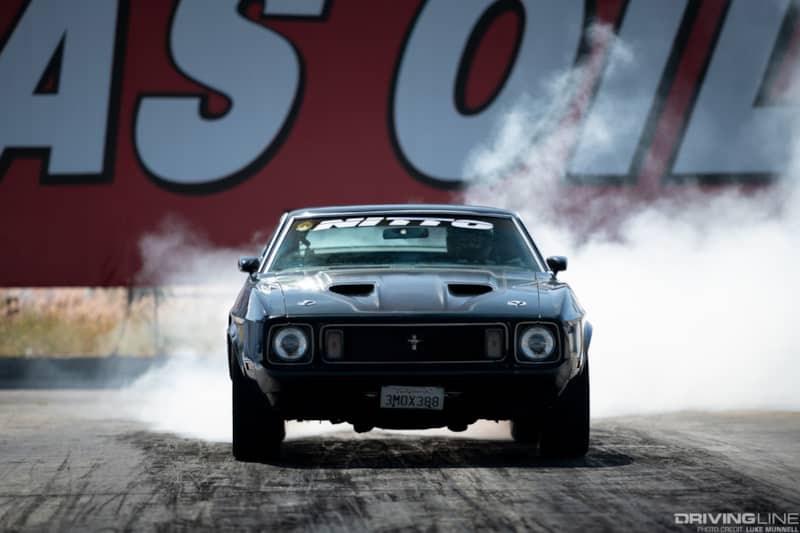 All the while I was working on the car, the thoughts of losing to Mike and his '16 GT were swirling in my head—while he didn't have any experience at the drag strip, Mike does have a lot of experience driving stick, plus tons of track time—so I knew he wouldn't have any trouble managing himself and keeping his cool when it came down to the day of the race.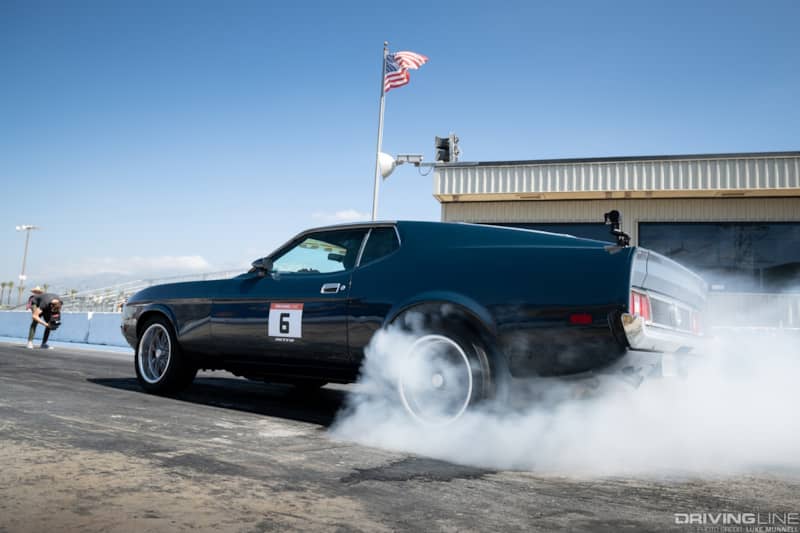 I used to drag race my car all the time, but it had been a good 15 years since I'd done it. Plus, his car had a horsepower rating higher than mine, and here's the kicker, much lower gears in the rear end, Mike's got 3.73:1 gears where I have 3.55:1 gears—which make or break a car in a race as short as the eighth-mile. 
I drove the car every day before the race to make sure it was in good working order, but as the day of the race drew ever closer I still felt there was more I could have done to squeeze a little more power out of it. My dad was there supporting me and helping me every step of the way, and even offered to tag along for the race, which I whole heartedly accepted—I'd never been to the drags without him being there to watch. He's got a lot of experience drag racing and would be able to coach me throughout the day of racing, and I was extremely thankful for his help.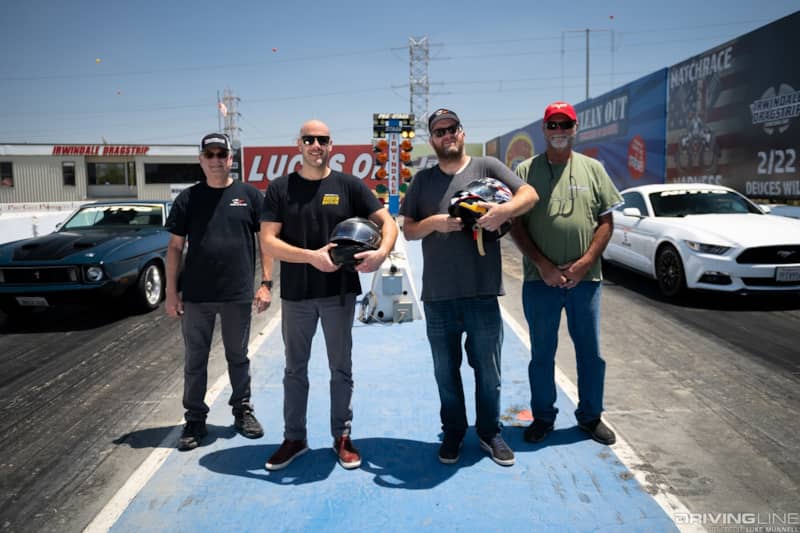 Win or lose, I was excited to race the old Mach 1 again, even if it meant hearing about the loss from my coworker for all of eternity (as it is when racing any good friends).
1973 Mustang Mach 1 Specs
| | |
| --- | --- |
| Owner | Greg Friend |
| Engine | 351ci Ford Cleveland V8 |
| Engine Mods | Edelbrock single plane aluminum intake manifold, Holley 750cfm Carb, Thundermaker cam, Crane roller-rockers, Crane Fireball ignition, Crane Hi-6 ignition system, Aluminum radiator, Edelbrock aluminum water pump |
| Drivetrain | Built Ford AOD transmission, B&M slap shifter, Lentech Stage 2 valve body |
| Gears | 3.55:1 |
| Suspension | Lowered, KYB shocks |
| Wheels | US Mags 17x8" |
| Tires | Nitto NT555 G2 245/45 R17 front, 275/50 R17 rear |
Surprise Twists and Where to Watch This Episode
And of course to make it a true driver battle—and not just a matchup of cars, they also fought it out in a pair of identical, front-wheel drive vehicles.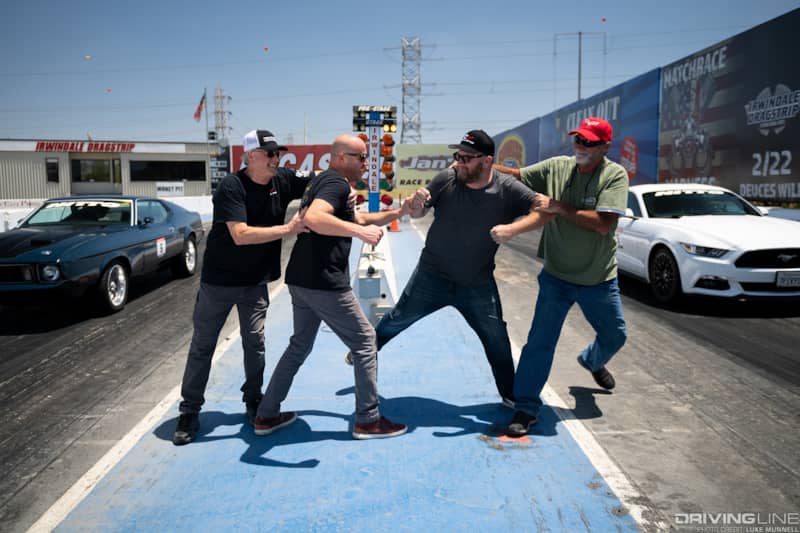 You'll have to watch the video to see how things ended up, but the final result was nearly too close to call. Let's just say there's a lot more to drag racing than meets the eye, especially in a heads up race like this. 
Click here to watch these two drivers and their Mustangs battle for bragging rights and see if modern muscle or vintage iron wins the day.