EcoBoosted: Finding Another 80 HP in Ford's Twin-Turbo'd 2.7L V6
When Ford Motor Company launched its EcoBoost program, it had two key outcomes in mind: 1) design a smaller, more efficient engine to replace larger, less efficient power plants yet produce the same (if not more) power, and 2) achieve superior fuel economy over the outgoing engines (especially when not under heavy loads). By utilizing technology such as direct injection, precise electronic control via computer and forced induction to achieve great volumetric efficiency, Ford reached its goal.
In the eyes of the aftermarket, what Ford really did with the EcoBoost was open the door for big power gains to be had through the use of simple, inexpensive ECU tweaks (i.e., programmers). In the first installment of our EcoBoosted series, we highlighted the technology that makes these boosted V6 mills perform like V8s. Now, it's time to take advantage of this technology and electronically unlock this platform's true potential. We're teaming up with Gearhead Automotive Performance to illustrate how well the 2.7L EcoBoost found in the F-150 responds to custom tuning calibrations.
The Benefits of Forced Induction
On naturally aspirated engines, programming normally nets a small power gain relative to engine size. However, big horsepower gains come from adding extra oxygen, pumped into the engine via artificial atmosphere such as nitrous oxide or boost.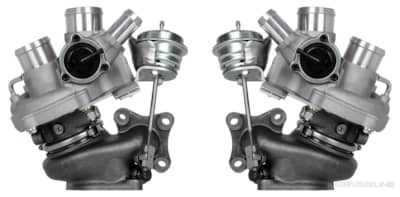 Nitrous is great for short durations and comes with relatively low setup and operating costs, but having to refill a bottle on a regular basis is a major drawback (and the cost associated with refills adds up over time), not to mention its legality (or lack thereof) on the street in some parts of the U.S. This leaves the practice of pressurizing the intake charge via a means of boost as a much more permanent solution.
Out-of-the-Box Potential
The problem with engines that leave the factory naturally aspirated is that adding boost requires an external air compressor such as a supercharger or turbocharger. Bolting on either method of forced induction can cost several thousand dollars.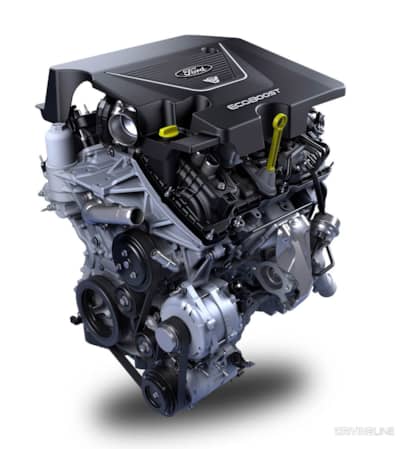 Fortunately for the consumer, 2.7L and 3.5L EcoBoost engines come standard with twin-turbos. This means you don't have to invest extra money on these parts — and that all the right ingredients are already in place if you want to build on the potent package offered from the factory. Aftermarket ECU calibrations allow for increased boost levels and managed spark timing for safe power gains and factory-like driving characteristics. How does an 80 hp increase with no change in drivability sound?
Higher Octane = More Power
These gains are possible because Ford designed the EcoBoost engines to run primarily on lower octane grades of gasoline (although 89 octane and higher has proven to increase performance, even on completely stock vehicles).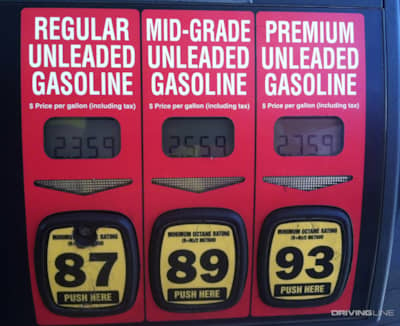 Because the engines were designed to tolerate low octane fuel at stock boost levels, you can run a higher octane fuel and boost levels can be safely increased for more power. This is what most aftermarket tuners do in order to make higher horsepower and torque with EcoBoost engines.
Starting Point
The test mule for Gearhead's tuning development was this two-wheel drive '16 F-150 in XLT trim and equipped with the 2.7L EcoBoost V6. The smaller displacement of the 2.7L (165 ci) when compared to the 3.5L offers more potential for better fuel economy while still making respectable power (325 hp at the crank, in stock trim). Once aboard the company's Dynocom 15000 all-wheel drive chassis dyno, a stock baseline of 292 rwhp was achieved, along with 388 lb-ft of torque. The only modification at this point was a K&N drop-in air filter.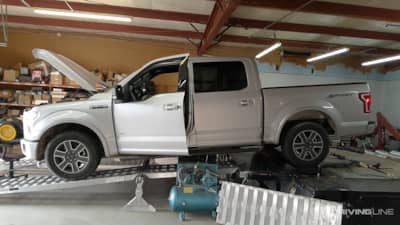 We'll note that all dyno testing was performed on 93 octane gasoline, which means the factory calibration (stock baseline) yielded more horsepower than if 87 octane had been used. This is because the Ford ECU has the ability to automatically adapt to higher octane.
Custom Tuning via SCT Devices
Gearhead used an SCT Livewire TS+ device to communicate with the ECU and upload calibrations. But make no mistake about it — this isn't an off-the-shelf programmer. It features Gearhead's proprietary tuning files created via SCT calibration software. In addition to offering tunes via the Livewire TS+, Gearhead's custom tuning can also be had via an SCT X4 (a traditional handheld programmer).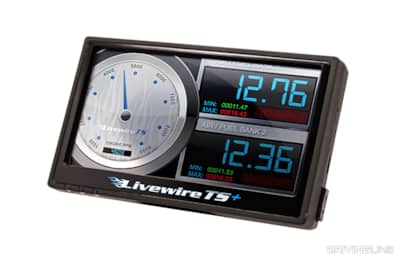 Now in its final stages of testing and validation, Gearhead is targeting a spring release date for its custom tuning for the 2.7L EcoBoost. On the dyno, and with Gearhead's 93 octane performance calibration uploaded, the truck cleared 371 hp and 447 lb-ft — an increase of 79 hp and 59 lb-ft.
Bully Dog Air Intake
To see if they could squeeze any more power out of the EcoBoost beyond using the drop-in K&N air filter, a Rapid Flow cold air intake from Bully Dog was added. After replacing the factory air intake (and K&N filter) with the Bully dog assembly, the horsepower curve's downturn after 5,500 rpm (as is shown in the dyno graph below) wasn't as pronounced as it had been with the factory air box.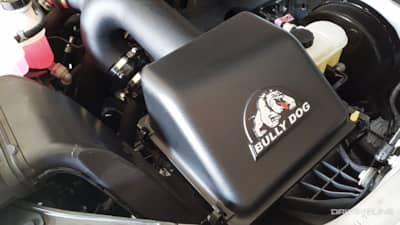 And while the truck basically made the same peak horsepower number around 5,500 rpm, at 6,000 rpm it was making 361 hp with the Bully Dog intake in the mix vs. 347 hp with the stock intake and K&N drop-in filter.
Dyno-Proven Gains
Here you can see the 292 hp stock baseline, the 79 hp gain with the Gearhead performance tune and the 80 hp increase with both the Gearhead tune and Bully Dog intake on the truck.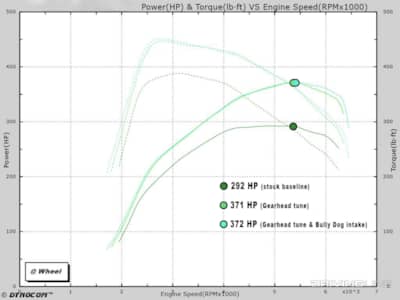 Also notice that the power band extends a bit beyond 5,500 rpm once tuned and (as previously mentioned) even further with the aftermarket intake on the engine. An extra 80 hp can shave an entire second off an F-150's quarter-mile elapsed time yet leave the truck just as reliable and streetable as it was the day if left the dealer lot.
Air Filter Comparison
This dyno graph helps expose the shortcomings of the factory air filter. As mentioned, all testing done prior to the Bully Dog air intake being installed was performed with a K&N drop-in replacement filter residing in the factory air box. Just for the sake of testing, the guys at Gearhead put a fresh stock (paper) element back in the truck to directly compare it to the K&N drop-in unit.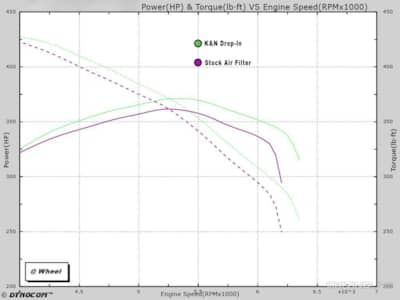 The stock air filter produced a solid 10 hp loss across the board, starting at 4,000 rpm and continuing until the end of the tests. The K&N filter yielded no real gains when tested with the stock programming, but proved to be good for an easy 10 additional ponies once the factory ECU calibration was tweaked. According to Gearhead, at the very least, every EcoBoost owner should run some type of aftermarket air filter to take full advantage of their aftermarket tuning.
A Word About Gearhead Automotive Performance
Since becoming one of the premier tuners in the diesel performance industry (where they're known for their excellent manipulation of the somewhat complicated Ford transmission control scheme, among other things), Gearhead took note of the diesel-like technology present on the EcoBoost engines. Recently, Gearhead dove headfirst into the EcoBoost tuning market and owner Matt Robinson quickly realized that the "EcoBoost's horsepower-per-dollar ratio is quite good when it comes to tuning."