Engineering Perfection: The V8 Twin-Turbo Datsun 620 Build You Have to See
When we first learned about Mike O'Brien's Datsun 620 build, we weren't really sure what was more impressive: the build itself, or Mike's ability to transcend from concept to reality so seamlessly. As the lead engineer at the Roadster Shop in Mundelein, Illinois, Mike is no stranger to one-off builds that require a level of attention to detail you simply won't find anywhere else. Their reputation for delivering builds of such high caliber is evident in Mike's work, and his own projects are no exception. But without further ado, let's dive into this devilish Datsun 620.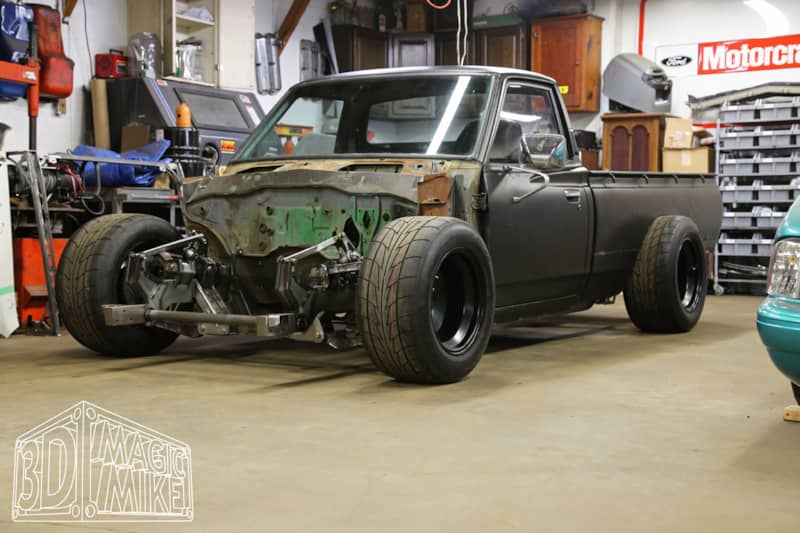 The Platform
Mike's first love will always be his MKII 1986 Supra, which he bought bone-stock at the age of 16 and slowly built over the years. When the Supra came to a point of completion in his eyes, he knew it was time to start a new build from scratch that he could design and engineer with the finished product clearly defined from the beginning.
Originally, Mike wanted to build a V8 Toyota Tercel 4WD, but that idea was soon replaced with the Datsun 620 platform thanks to a few local craigslist ads that planted the seed in his mind. Once the excitement ramped up over the prospect of a mini truck with mega performance, he was all in on the Datsun. In order to really push his own limits, he wanted to design every component of the Datsun build prior to building it. With the use of CAD software and help from co-worker, Chris Gray, Mike was able to render a finished product to look forward to.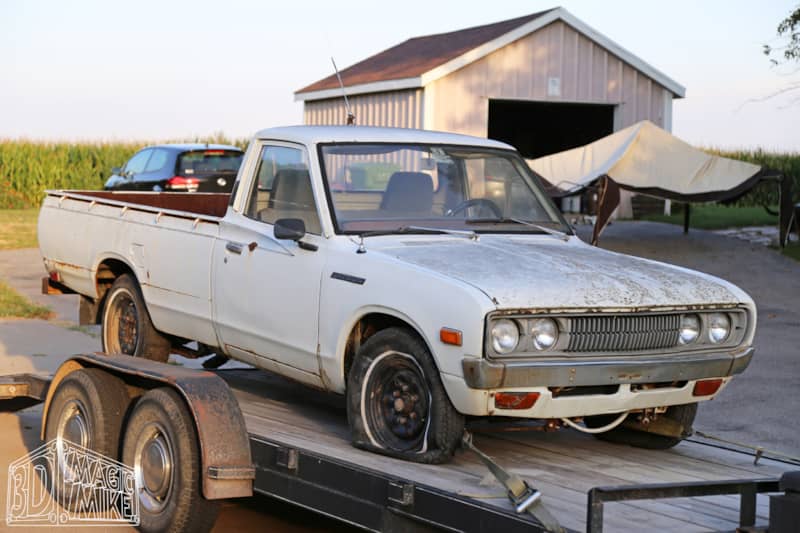 The Design
When Mike first envisioned his Datsun, he knew it had to be different from his clean and smooth Supra.
"I wanted it to be something angry, and vulgar, and abuse-ready," Mike explained on his Ratsun.net build thread. "What I wanted was pretty simple. I wanted something low, fast, over-engineered, and not-polished enough to care about beating the crap out of."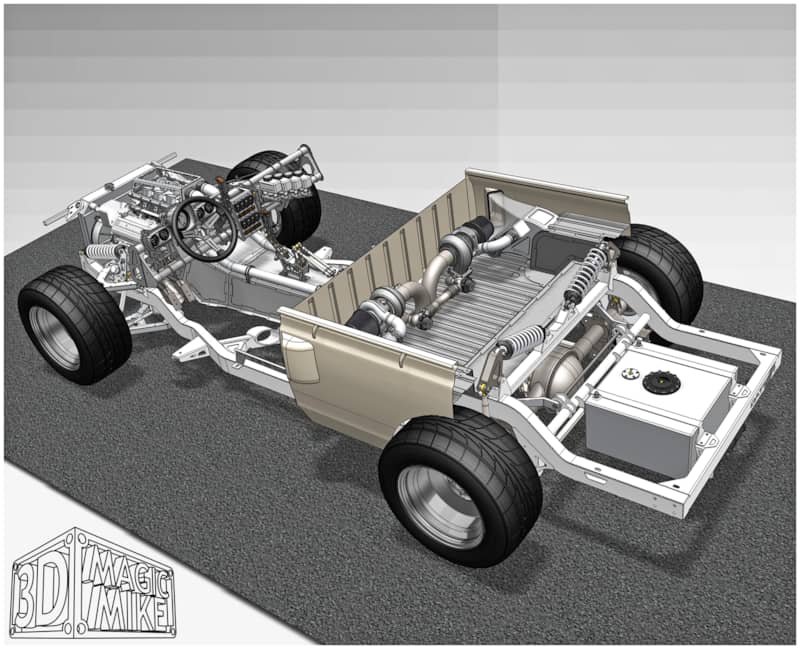 The Datsun is rolling on a set of Nitto NT555Rs to further push its performance-oriented agenda, but they've actually been a part of this build since the first renderings were made. Much like other builds Mike has worked on at the Roadster Shop, the chassis and suspension design needed to blend seamlessly with the rest of the car.
"I didn't want them to be the only thing your eyes are forced to reckon with when you look under her skirt."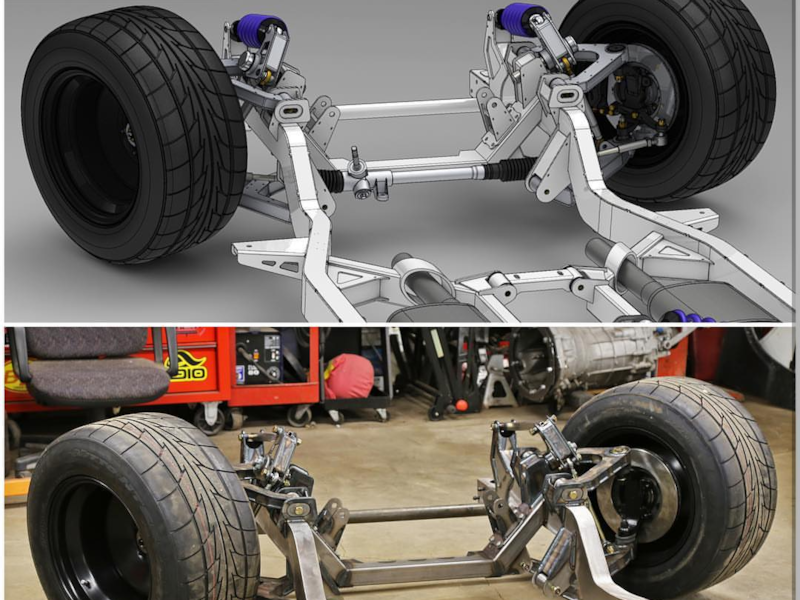 Although unconventional for most Datsun owners, Mike's choice of powerplant comes as no surprise. The 1UZ-FE Toyota V8 currently sitting snug in the engine bay of the Datsun is the same motor you'll find in his Supra build — this time with a custom rear-mounted twin-turbo system. The engine features a custom ITB (individual throttle body) manifold and air box, custom clear cam gear covers and red cam gears.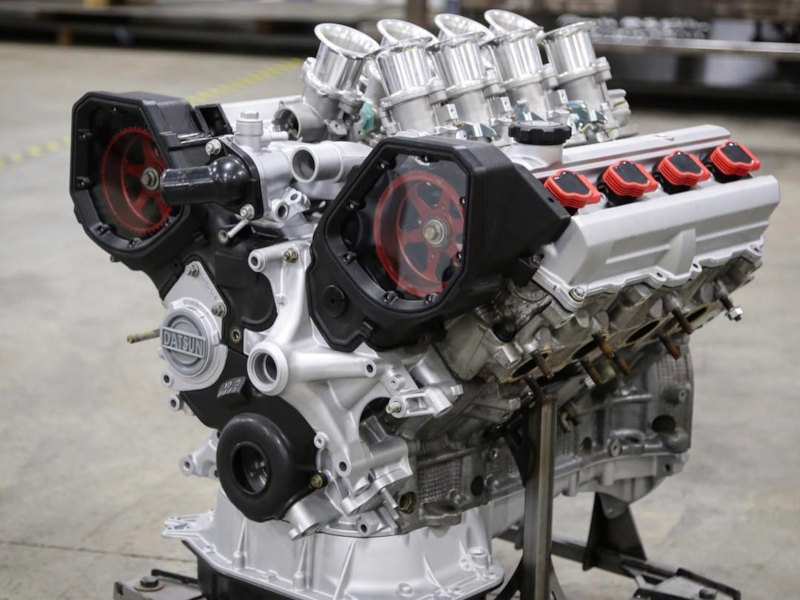 Getting Up to Speed
The build has been in progress for around 18 months so far, and there isn't much Datsun left. After stripping the truck down to its bones and removing the drivetrain and chassis entirely, Mike was left with a relatively clean cab and bed to work with. He continued to engineer components for the truck using CAD software, cutting and sourcing the parts needed, then assembling them onto the build. This process is evident in the comparison photos Mike posts on his Instagram, showing the CAD drawing next to the real-life counterpart. We challenge you to look for yourself and try to find a difference (hint: you won't find any).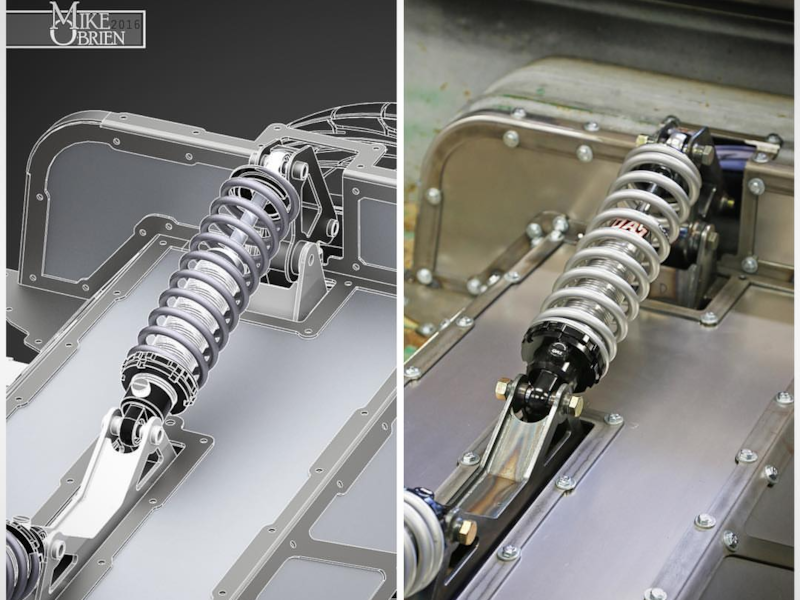 Slowly but surely, the build was coming together. Design, cut, weld. Week after week, Mike continues to develop new components to add to his creation. A fully boxed frame was engineered and fabricated to replace the stock Datsun frame, complementing his custom suspension design and drivetrain choice. Other parts of the build Mike has already installed include the suspension, dashboard, motor, transmission and remaining drivetrain components.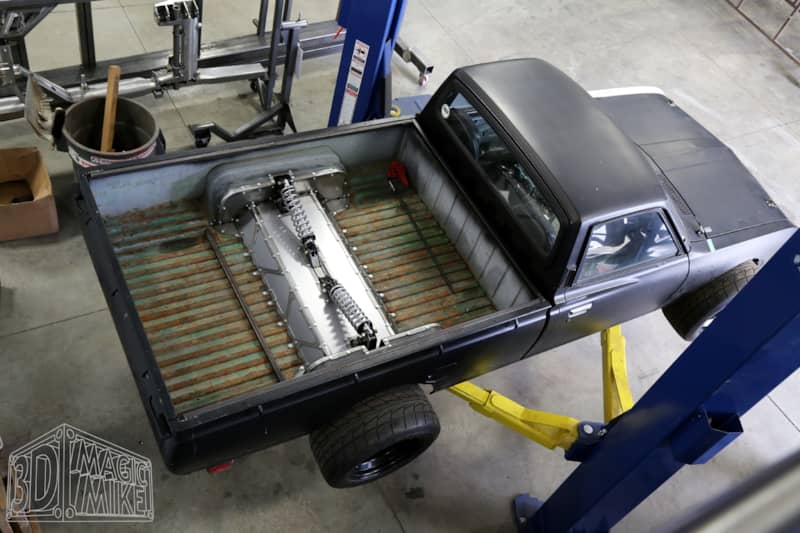 Although there is still so much to be done, the amount of work completed within the first 18 months is staggering, especially considering his normal workload at the Roadster Shop.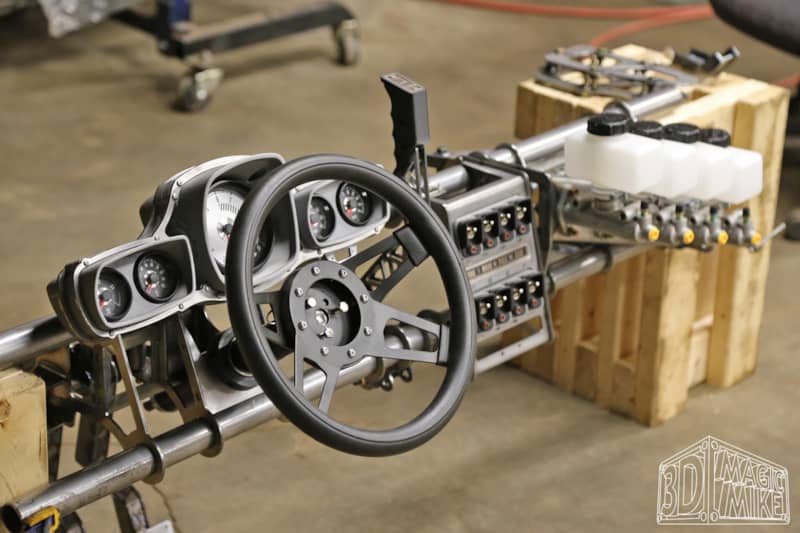 Going Forward
Mike's level of detail and his willingness to share his insights makes this one of the most complex and in-depth builds we've ever followed. It's nearly impossible to cover every component he has engineered and built on this truck, but you can bet we'll be following the Datsun 620 very closely. We can't wait to see the next stages of the build as it nears completion.
(Photos courtesy of Mike O'Brien)