Father and Son D100: DCM Classic's '62 Dodge Sweptline Pickup
From a car person's perspective, one of the best moments you can have from parenthood is if your child picks up your interest like working on old trucks. Sharing wisdom, advice, skills, tools and garage space with your kid can be a very rewarding experience. For Steve Flokstra and his son, Todd, the two of them have learned together and created a lifelong bond while starting a restoration shop and parts business. Todd got an early start in life and bought a '46 Dodge pickup to customize. He and his father quickly found out that replacement parts were hard to come by and they decided to help others by creating DCM Classics in Zeeland, MI. They now help other fans of 1930-1980 Dodge trucks with complete projects for sale and reconditioned parts.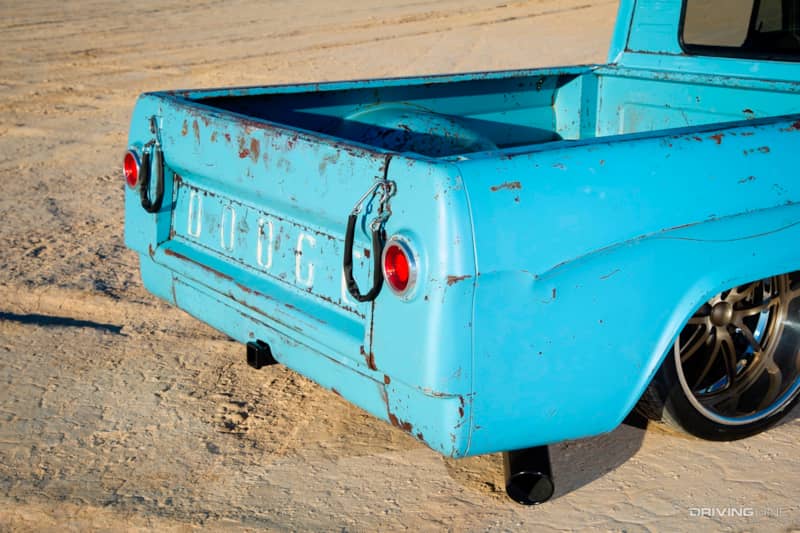 A New Project
A few years ago, they got a lead from a local junkyard on a '62 Dodge D100 for sale. Though these Dodge Sweptline trucks are very stylish, they are a rare breed these days and this is an absolute gem. The perfectly aged body was also something special as this truck is unique when compared to others. Equipped with an original Slant 6 engine, the truck was headed to DCM Classic, which is about 175-miles away from where the truck was first assembled.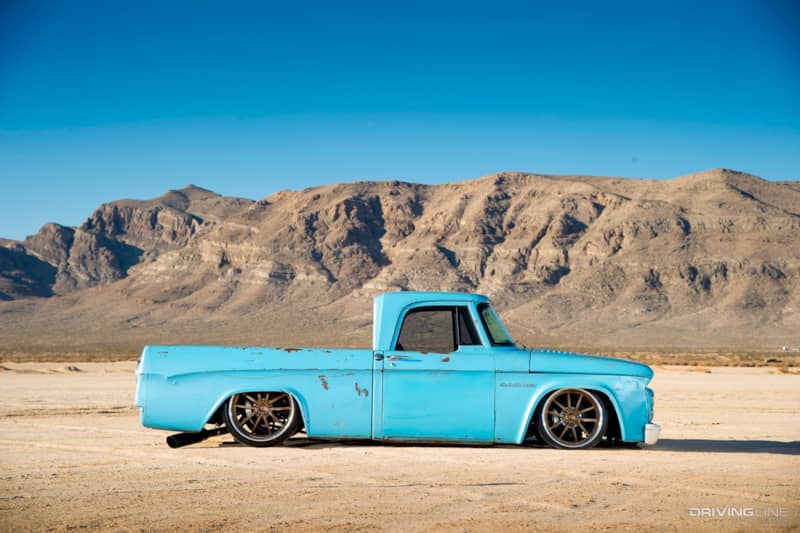 The Snowball Effect
Like most builds, things started with only a few mods and snowballed from there. What started as a simple shop truck to run errands and haul parts, the build progressed as the father and son duo decided to turn it into a complete restomod build. During the process, the DCM crew were given an invitation to debut it at the SEMA Show in the QuietRide Solutions booth to help promote their insulation/sound deadening product. This was six months before the big show and Todd was fired up on making it happen.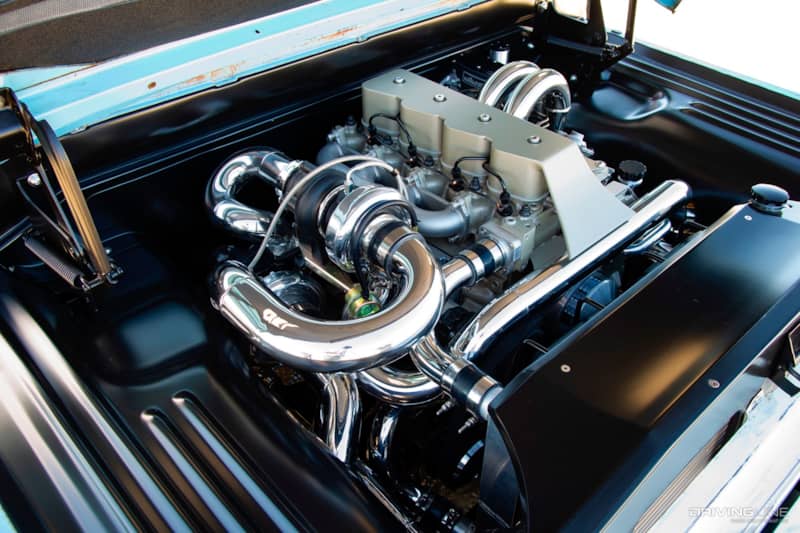 Powertrain
The first thing removed from the truck was the tired Slant 6 engine as they planned on creating a real hot rod pickup. Instead of going the route of another gas-powered engine, the DCM crew opted for a Cummins 4BT turbo-diesel, which was typically used in 1980's delivery trucks. The engine was sent to ADP Performance in Marne, MI as they specialize in rebuilding and boosting the performance of these engines. They were able to make it push out 350-hp and 600-tq with a compound turbo setup that has intakes positioned where holes left after the high-beam headlights were removed. On the backend is a custom stainless-steel exhaust with a Magnaflow muffler. The engine was then backed up with a 5-speed NV4500 transmission from a '94 Dodge 3500.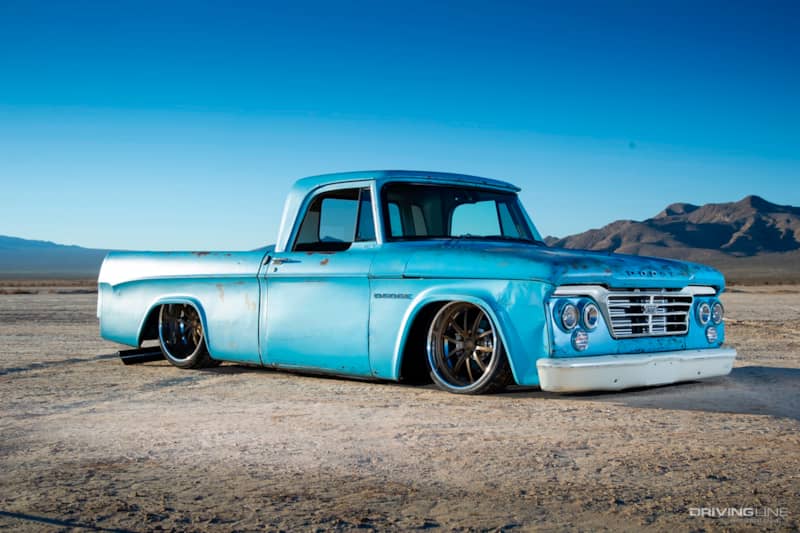 Shiny Side
Trucks with patina style bodies have been the rage over the past few years and this is partially due to the fact that they tell the story of their past. On trucks like this, most leave the weathered body alone and rebuild pretty much everything else. Returning this '62 Dodge to a more reliable condition, the rusted floors were repaired to make for a solid foundation. On the outside, the body did need to be repaired in some sections and they were painted to match the rest of the weathered body. Since the truck was going to be slammed, space was made for the drivetrain and a raised bed floor was made to cover the rear chassis modifications.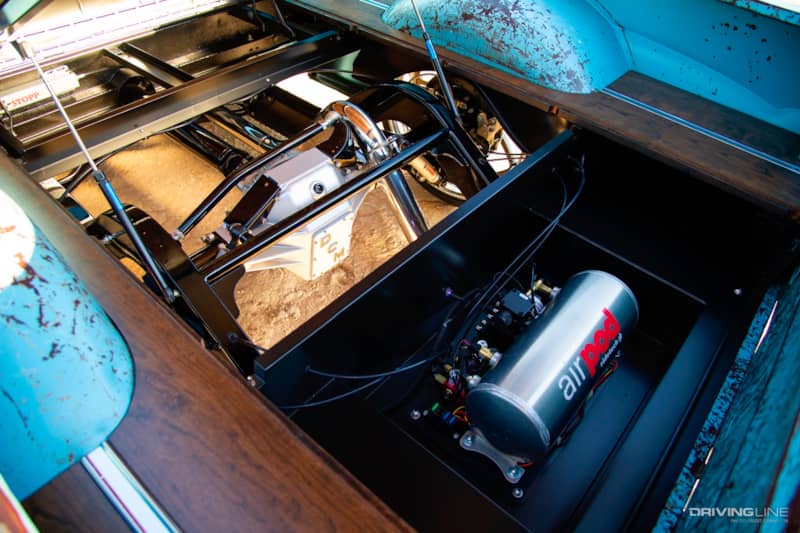 Bottoms Up
To make this truck function like a modern pickup and lay low, the original frame was stripped of all the stock suspension for some upgrades. This includes the addition of a Mustang II independent front suspension and a custom four-link system in the rear. Airbags were added to all four corners to make the height adjustable and the ride is now dampened with RideTech shocks. Large wildwood brakes were attached for improved stopping power on this big hauler.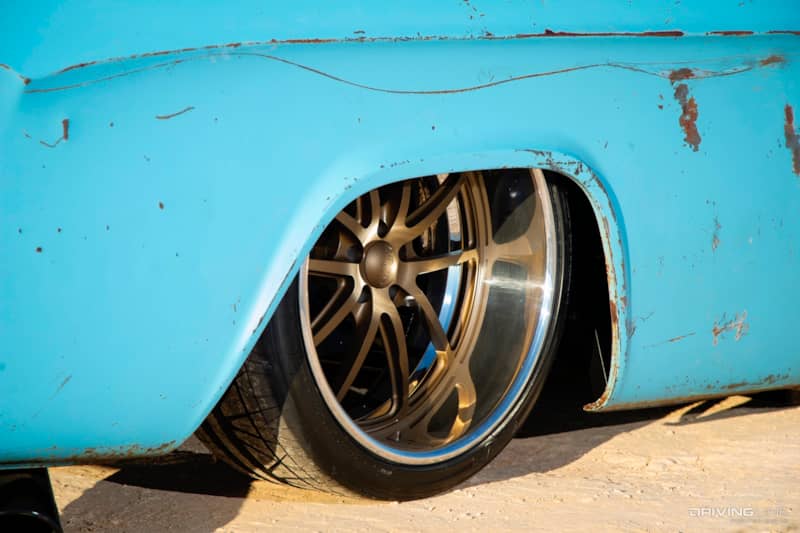 Rollers
The body was then accented with a set of 20x7.5 and 22x10.5 Hot Rods by Boyd Pro Touring Series HR-74 billet wheels that have metallic brown painted centers to compliment the blue paint. Keeping traction to the ground on this truck is a set of 235/30ZR20 and 285/30ZR22 Nitto Invo tires. Not only do these tires help with general performance, they also have sizing options for staggered fitments like on this truck. Plus, there's a unique tread pattern that no one will mistake as original equipment.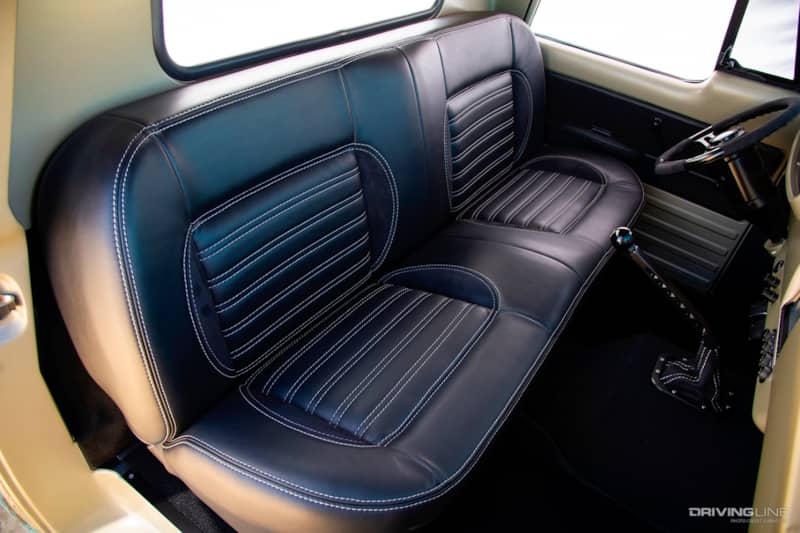 On the Inside
With the truck slated to fit in the QuietRide Solutions' booth at SEMA, the inside of the cab was covered in their insulating product to help keep temperatures and road noises down to a minimum. The original seat frame was in good condition and was reshaped and covered in leather by Hardy Upholstery to bring it up to today's standards. Other interior upgrades include the Dakota Digital gauges, Vintage Air AC, Ididit steering column with Billet Specialties wheel and a host of billet accessories to brighten things up.
Reaching the Finish Line
After working tirelessly for six months, the team of DCM classics made it to the show and were able to shock all. This truck is an absolute marvel with modern capabilities to make it drive like new. Not only does this truck display what you can do with a worn-down vehicle but also the how well a father and son can work together in order to make such a badass ride.