First Drive: 2016 Honda HR-V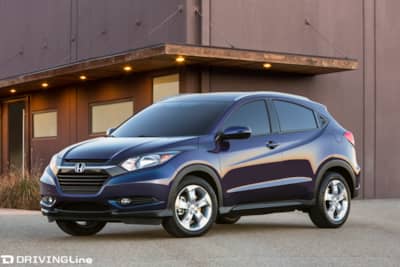 PCH, roughly 30 miles to go one-way, destination: Malibu. This might seem like ample driving time but when you have only 1.5hrs to complete a round trip, but there's only one thing on the mind, "How the hell am I going to skirt through LA traffic...at 2p!" Right then a decision was made, given those factors - manual transmission (that's backwards thinking to some degree, especially when Los Angeles stop-and-go is involved); there wouldn't be enough time to test an auto after. With NWA's 'Straight Outta Compton' loaded up on Spotify, Honda's newest crossover and addition to the family, the HR-V, is ready to roll. All I need to do now is wait for a line of traffic before I can pull out onto the streets of Venice. This... is so... LA.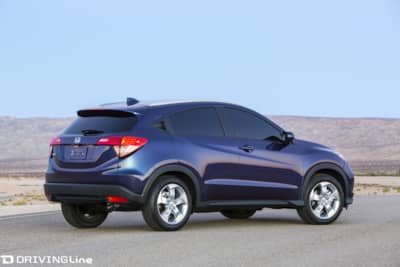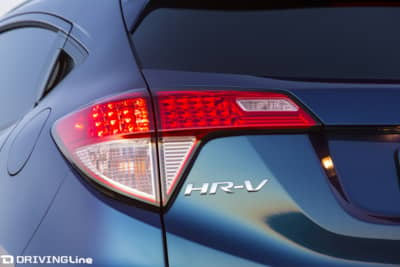 As soon as I've made it a few stoplights out, I know I've made the right choice. The driving 'feeling' is familiar, and it should be; the HR-V comes powered with a 1.8L SOHC  engine, the same found in the current generation Civic. Surprisingly, the HR-V can be had with a manual gearbox, a rarity these days; the clutch pedal is a little finicky, grabbing just at the edge of full lift from the floorpan, which as you can guess, isn't the smoothest for inching around. But the power is nice, a little light but smooth; I get the feeling that this suits my personal driving style more than the CVT-equipped variants.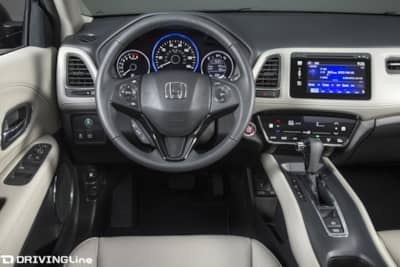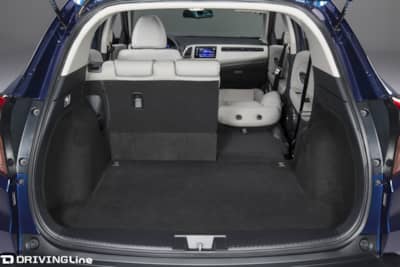 While I've made a concerted effort to give it the the best drive I can within a small timeframe, I'm also taking plenty of mental notes of the HR-V's interior features. Since hitting the push-start, I've begun checking things off my usual list: Does it have enough space for me to haul a bicycle in it without having to detach its wheels? Where are the damn USB ports for my iPhone cable? Great, it syncs up beautifully with Bluetooth (at this point, 100 Miles and Runnin' has just come on). The HR-V boasts several utility seating and cargo modes, the most basic/normal being able to transport four adults, right up to utility (answers my bike dilemma) or long (surfers need apply). The USB ports I was looking for? Right below the center console, which you could miss unless you bothered to look down there. What really blew my mind - the smart touch panel climate controls, by far the most advanced and premium-feeling I've seen on a Honda.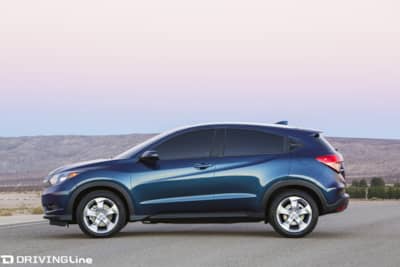 With the clock counting down, my time with the HR-V quickly comes to an end. Aside from the sun finally breaking through and a cool breeze, the roads don't allow me to push it much, and it doesn't need to be. I know it's a vehicle that's comfy enough, handles great and would be easy step up from my current beater, a '98 Civic EX. Its features aren't pretentious but they're certainly A-list. You don't need to convince me that the HR-V is just right for this town I call home. The 2016 Honda HR-V hits dealers on May 15, 2015.
(photos: courtesy of Honda)
2016 Honda HR-V Specs
MSRP: starting from $19,115 (LX 2WD w 6MT) up to $25,840 (EX-L Navi w AWC/CVT)
Engine: 1.8L SOHC i-VTEC
Transmission: 6-speed manual or CVT
Layout: FWD or Real Time AWD
Power: 141hp @ 6500rpm; 127lb-ft @ 4300rpm
Suspension: MacPherson front struts, torsion beam rear
Wheels: 17" alloys with 215/55R17 all-season tires
MPG
| | | | |
| --- | --- | --- | --- |
|   | LX | EX | EX-L-Navi |
| 6-Speed Manual Transmission (2WD; City/Highway/Combined) | 25 / 34 / 28 mpg | 25 / 34 / 28 mpg |   |
| Continuously Variable Transmission (CVT) (2WD; City/Highway/Combined) | 28 / 35 / 31 mpg | 28 / 35 / 31 mpg | 28 / 35 / 31 mpg |
| Continuously Variable Transmission (CVT) (AWD; City/Highway/Combined) | 27 / 32 / 29 mpg | 27 / 32 / 29 mpg | 27 / 32 / 29 mpg |