First Look: Seven Incredible New Jeep Concepts
Last week, we showed you the two teaser images for the Jeep concept vehicles that are slated to make their official debut at the 50th annual Easter Jeep Safari in Moab, Utah. Today, we got to see the entire bunch! This year three trucks, a diesel, and a much-anticipated 707hp Hellcat Wrangler are part of the bunch. There are seven concept vehicles in total. Each with a distinct identity and tie to the brand's heritage and hints at the future. We'll be behind the wheel of these in just a few weeks, but until then, you can read up on what FCA has to say about their latest concept creations.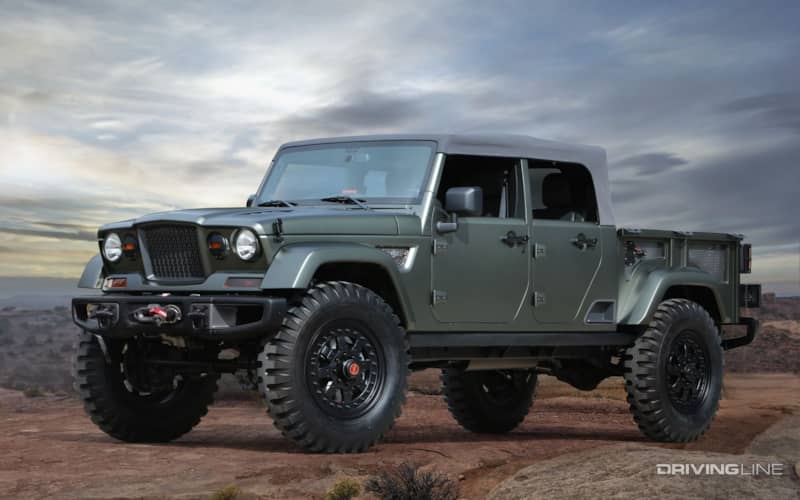 Jeep Crew Chief 715
It's the truck we've all been waiting for. The Tactical Green Jeep Crew Chief 715 concept was built as a salute to legendary Jeep military service vehicles, in particular, the Kaiser M715. This open-air Wrangler Unlimited-based concept vehicle is fit with a five-foot bed and powered by a 3.6L Pentastar V-6. Steel front and rear bumpers, 20-inch beadlock wheels and 40-inch NDT military tires pay homage to the original Jeep military vehicles. The Crew Chief 715 utilizes an on-board air system with a hard-mounted quick-disconnect fitting for airing up or lending assistance to other vehicles on the trail.
Other features include a master cylinder brake upgrade, cold-air intake and a modified exhaust. Exterior upgrades include Jeep Performance Parts off-road rock rails, front and rear winches, Dana 60 axles, and a four-inch lift kit with Jeep Performance Parts/Fox 2.0 shocks. Inside, you'll find leather bucket seats with canvas inserts, aircraft-inspired control switches and Mopar all-weather mats. The media center features a centrally located navigational compass.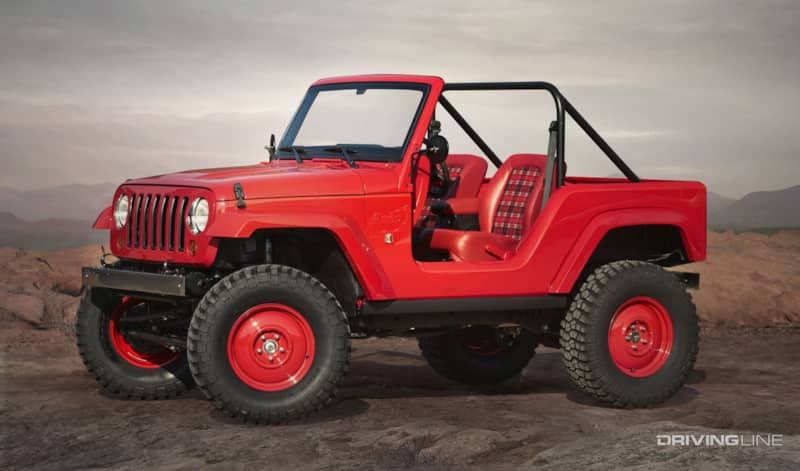 Jeep Shortcut
The Jeep Shortcut is a modern take on the Jeep CJ-5. The Wrangler-based concept vehicle invokes the spirit of 1950s Americana with a shortened body and functional simplicity. Exterior styling cues include a unique grille, hood, tailgate, front and rear wheel flares and custom chrome front and rear bumpers. A modified exhaust, 17-inch red steel wheels and 35-inch tires help the Jeep Shortcut maintain the look of an icon.
Jeep Performance Parts featured on the Shortcut include a front and rear Dana 44 axle and a 2-inch lift with Fox shocks. Overall body length has been reduced by more than 12 inches to keep the Shortcut concept vehicle light and maneuverable on the trails. Inside, the simple yet functional interior features low-back leather bucket seats with plaid inserts, a red ball shifter handle, four-point safety cage and Mopar all-weather mats. The Shortcut is powered by the 3.6-liter Pentastar V-6 engine and mated to a 5-speed automatic transmission.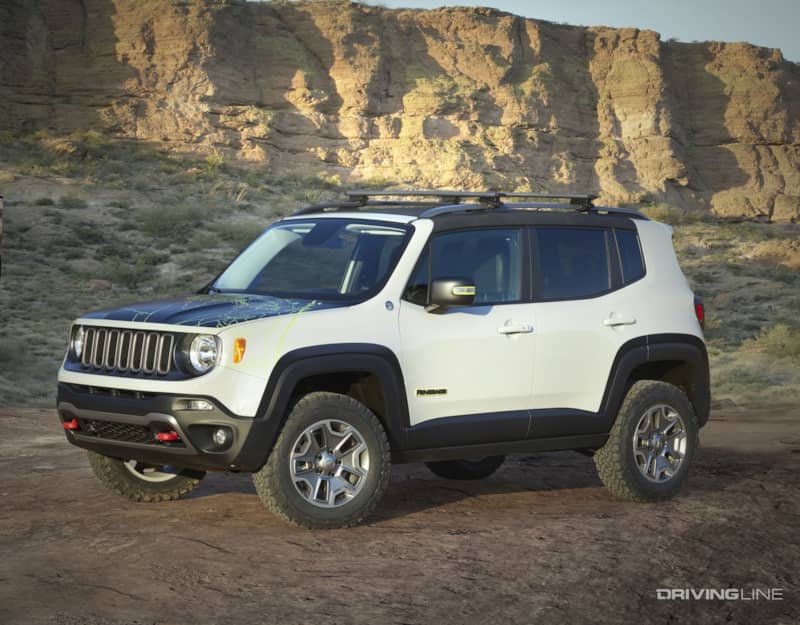 Jeep Renegade Commander
The Jeep Renegade Commander concept vehicle is equipped with an assortment of Mopar and Jeep Performance Parts for the ultimate off-road adventure. A 2-inch lift kit and 29.5-inch-tall tires help improve off-road performance. The fluorescent gray exterior features Renegade's MySky open-air roof with removable panels, custom body decal, Mopar off-road rock rails, skidplates and a modified exhaust. Also featured are the Mopar brand's trailer hitch receiver and front and rear auxiliary lights. The Jeep Renegade Commander is powered by the 2.4-liter Tigershark engine with MultiAir2 mated to a 9-speed automatic transmission with Jeep Active Drive Low.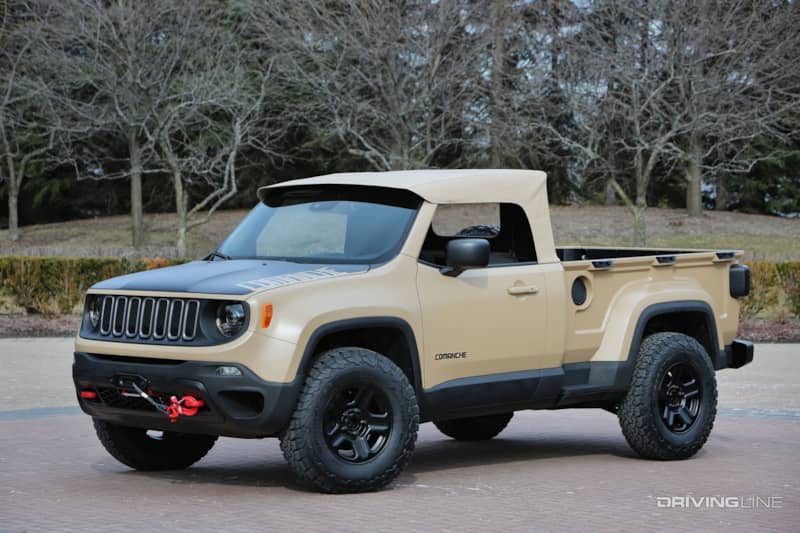 Jeep Comanche
Based on the Jeep Renegade, the Jeep Comanche concept vehicle is designed to be off-road ready with practical utility. A nod to Jeep pickup trucks of years past, the Comanche concept takes styling cues from military and civilian Jeep heritage. The Comanche's "Beige Against the Machine" concept exterior paint is accented with a satin black hood, a concept lower front fascia, winch, steel rear bumper, soft top and spare tire in the bed. The wheelbase has been stretched an additional six inches versus a production Renegade to accommodate Comanche's 5-foot bed.
Inside, the Comanche features custom seat covers, pedal covers, door sill guards and Mopar all-weather mats. Jeep Performance Parts like off-road rock rails, a 2-inch lift kit and a winch bolster the Comanche's off-road capability. The Comanche rolls on 16-inch painted wheels and 32-inch-tall tires. Power comes by way of a 2.0-liter diesel I-4 engine (yay!) and mated to a 9-speed automatic transmission with Jeep Active Drive Lock, which includes low range and a locking rear differential.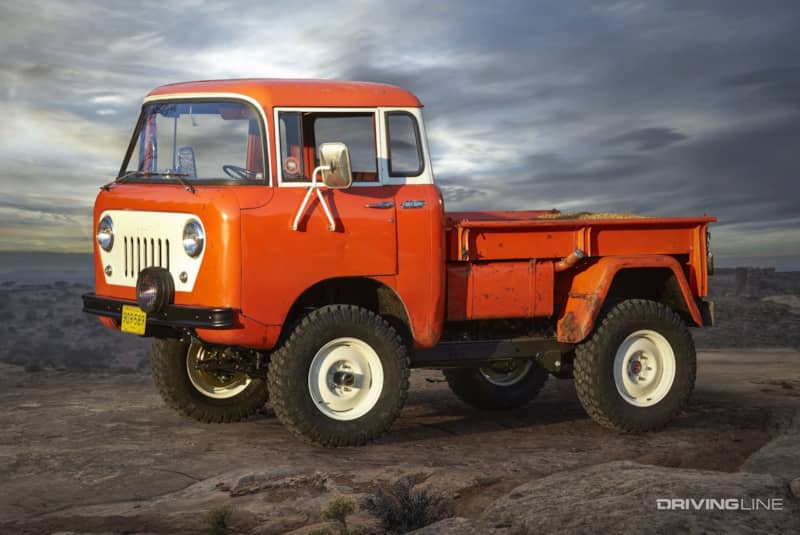 Jeep FC 150
A true American workhorse, this 1960 Jeep FC 150 concept vehicle is rich with heritage and built to tackle both challenging rocky trails and the harshness of a western cattle ranch. Originally built from 1956 to 1965, the FC 150 is based on the CJ-5 and offers a clever packaging solution by keeping overall length to a minimum for maneuverability, but maintaining a full-length cargo box for utility. This heritage Jeep vehicle continues to utilize its original steel body that proudly bears battle scars while components underneath have been revamped. The FC 150's off-road prowess has been enhanced courtesy of a 2005 Jeep Wrangler chassis modified to accept a Dana 44 front axle Dan 60 rear axle.
Inside, the FC 150 features vinyl seat covers, a custom headliner wrapped in a vintage duck hunting pattern, CB radio, analog compass and Mopar all-weather mats. The Jeep FC 150 heritage vehicle is powered by a 4.0-liter PowerTech I-6 and is mated to a 3-speed automatic transmission.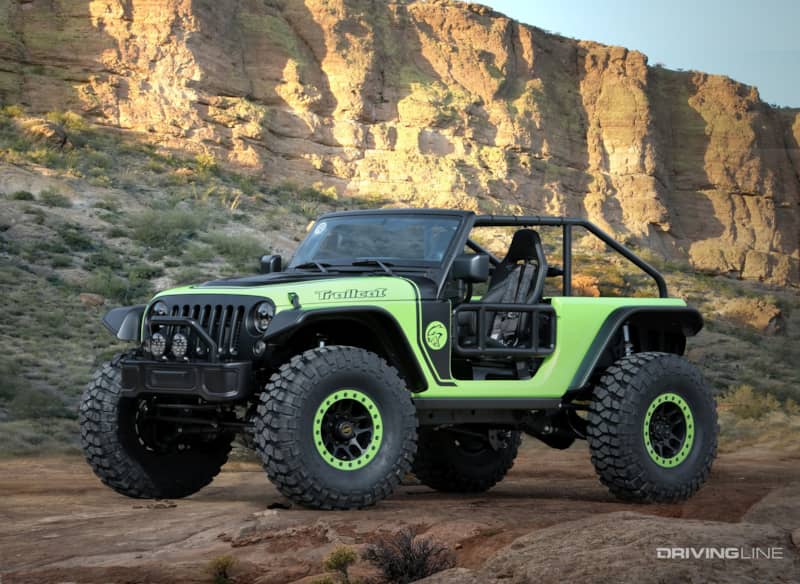 Jeep Trailcat
The Jeep Trailcat concept utilizes a supercharged 6.2L HEMI Hellcat V-8 engine, which is mated to a six-speed manual transmission with a custom shifter ball featuring an embossed Hellcat logo. To get the 707-horsepower Hellcat engine into the Trailcat, designers stretched the wheelbase an additional 12 inches while chopping the windshield two inches for a sleeker look. Mopar exterior enhancements include a power-dome vented hood, Satin Black grille, LED headlamps and fog lamps and rock rails.
The robust off-road look is further aided by steel front and rear bumpers, 17-inch beadlock wheels and 39.5-inch-tall tires, front and rear Dana 60 axles and Fox shocks. Subtle design cues, such as a Hellcat decal on the front quarter panels and a "Trailcat" decal on the side of the hood, hint at the horsepower that lurks beneath, making this much more than a typical production Wrangler. The Trailcat's interior is simple yet functional and features sport bucket seats from the Dodge Viper, made from carbon fiber and featuring Katzkin leather seat covers with accent stitching.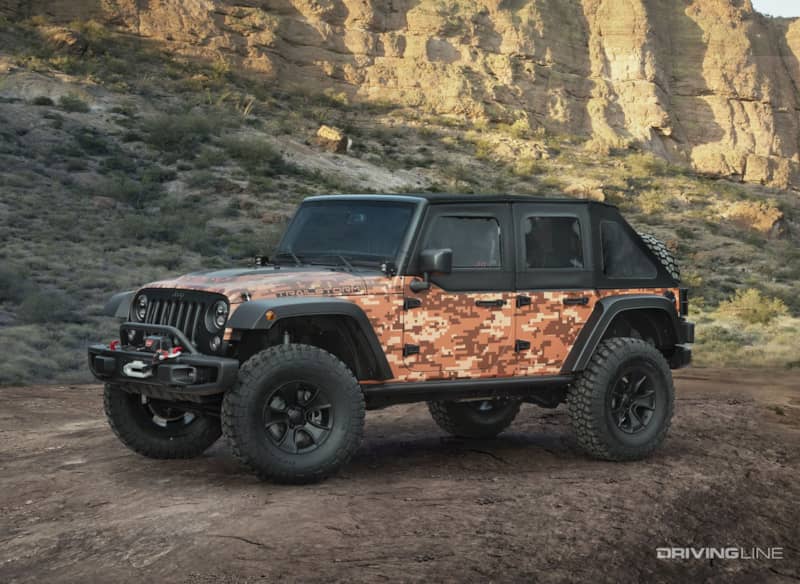 Jeep Trailstorm
The Trailstorm concept vehicle is the ultimate Jeep Wrangler for exploring off the beaten path. Offering room for extra gear and fuel tanks, it is based on the Jeep Wrangler Unlimited, and delivers elevated capability to conquer trails with ease. Off-road capabilities are enhanced with several Jeep Performance Parts, including 17-inch concept off-road wheels wrapped in 37-inch tires, a 2-inch lift kit with Jeep Performance Parts/Fox shocks, a Jeep Performance Parts Rubicon winch, and Dana 44 front and rear axles. Half doors offer a clear view of obstacles ahead and a bed-lined interior makes cleaning up after a day on the trails easy.
Mopar exterior enhancements include a winch guard, Satin Black grille, LED headlights and fog lights, high top fenders, power-dome vented hood, Mopar off-road rock rails with a step, Big Brake Kit, a concept fast-back soft top, tail light guards and a Mopar fuel filler door. Finishing the Trailstorm's exterior upgrades are a steel front and rear Rubicon bumper and a Jeep Performance Parts tire carrier. The Trailstorm is wrapped in camouflage allowing it to blend into its surroundings in the Utah desert.
There's still more info to come, so be sure to check back with us soon!