2017 Jeep Concept Vehicle Ride & Drive
When we set eyes on Jeep's 2017 Concept Vehicles, we were excited to see the out-of-the-box ideas. With the next generation Wrangler (dubbed the JL) set to be released later this year (rumor is September), we were eager to get a closer look at this fresh batch of concepts and see if any JL components were hiding in plain sight. Thankfully, we would not only get a chance to take a closer in-person look, but actually get behind the wheel of five of the concepts at the 51st annual Easter Jeep Safari in Moab, Utah.
While the video above gives excellent insight and commentary from the Jeep and Mopar team, we dive into impressions and future speculations below.
Jeep Safari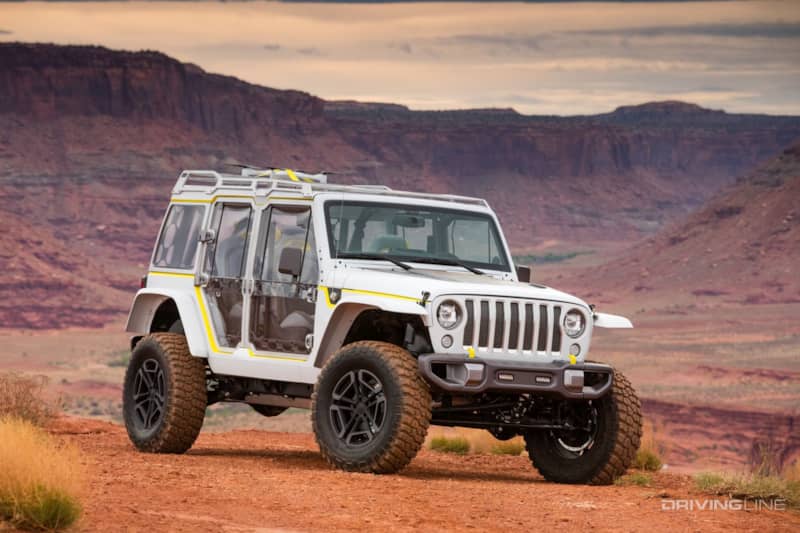 The most futuristic of the bunch was the Jeep Safari. The fully transparent doors and translucent roof panel make it bright and airy, but there's more to this Jeep than high visibility. For starters, the front and rear of the Jeep were shortened, taking about 10 inches total out of the Jeep's overall length. Paired with the concept grille (hello JL?), we're thinking this could be hinting at a next generation Wrangler with better approach and departure angles.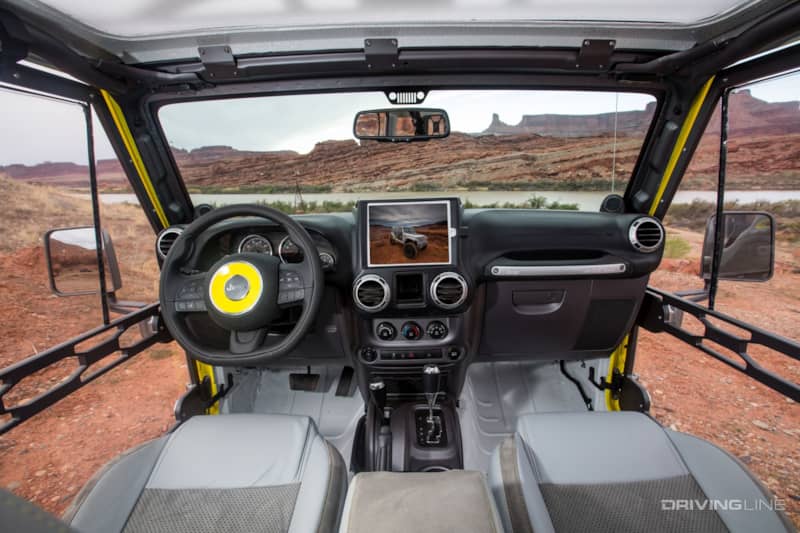 Inside, the big story was the steering wheel. That's no JK wheel. In fact, the flat-bottom-wheel is unlike any steering wheel that's ever been in a Wrangler. It was full of controls commonly found in the Grand Cherokee and Cherokee models, which could hint at more technology, and dare we say, more electronic nannies.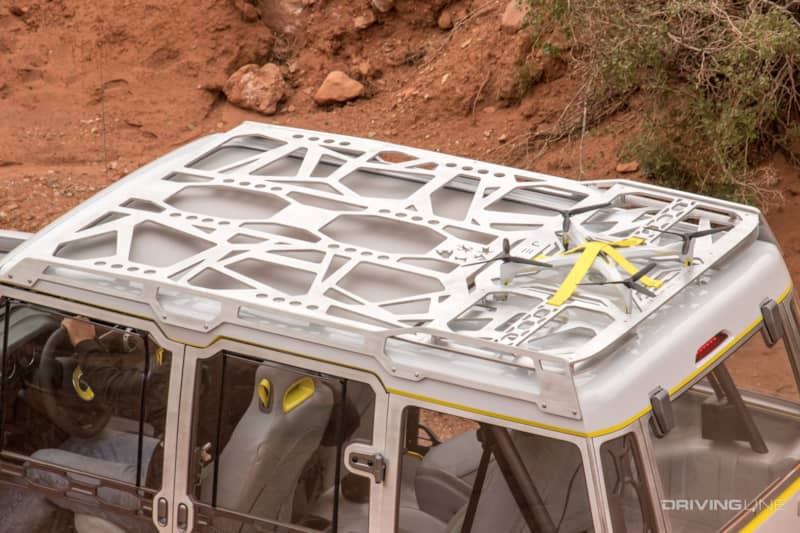 Ultimately, it's a JK with two-inches of lift and 35s, and it drove as such. Not to say that's a negative, but it's not the big story. The aluminum roof rack (complete with drone landing pad) and high-visibility hard top have us thinking we'll be looking back in a few years and saying, ah ha!
Switchback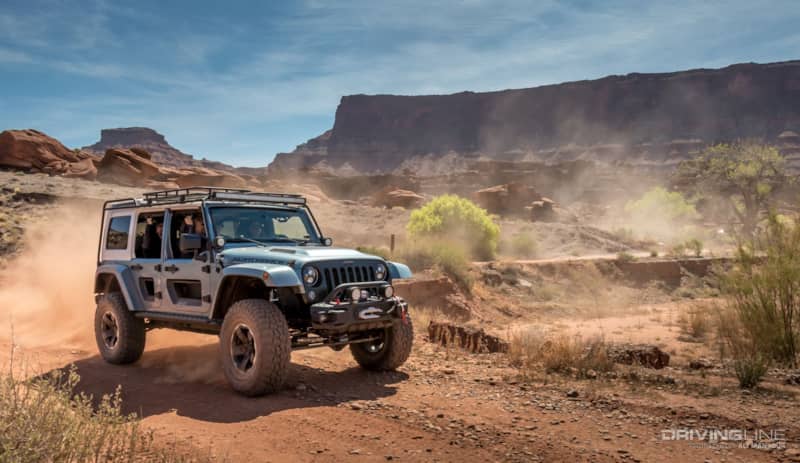 Jeep understands that its customers enjoy modifying their Wranglers. That's why the Jeep Performance Parts catalog is so vast. The Switchback was full of premium JPP bolt-on parts, but the custom doors were what got us the most excited. Well, the concept "Safari" hard top and rack system were also well executed mods we'd love to see in production.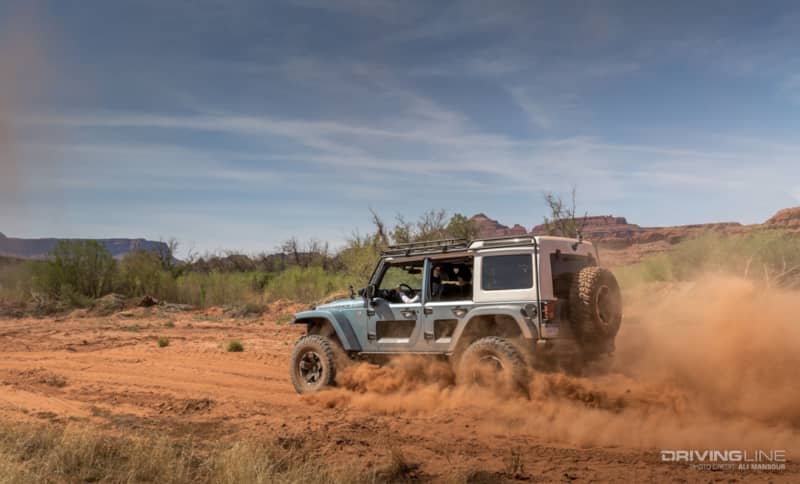 Aside from a few small features, this is a relatively easy to replicated Wrangler Unlimited JK. We dig the JPP High Top Fenders Flares (part# 7707246AB) as they allow you to run a 37-inch-tall tire with only two-inches of lift. Again, getting behind the wheel is familiar territory for anyone who's experienced with the JK. It should be said that it is impressive just how easy and well-mannered the Jeep handles. There's no other new SUV on the market that can so easily accommodate such modifications and retain excellent on- and off-road performance.
Quicksand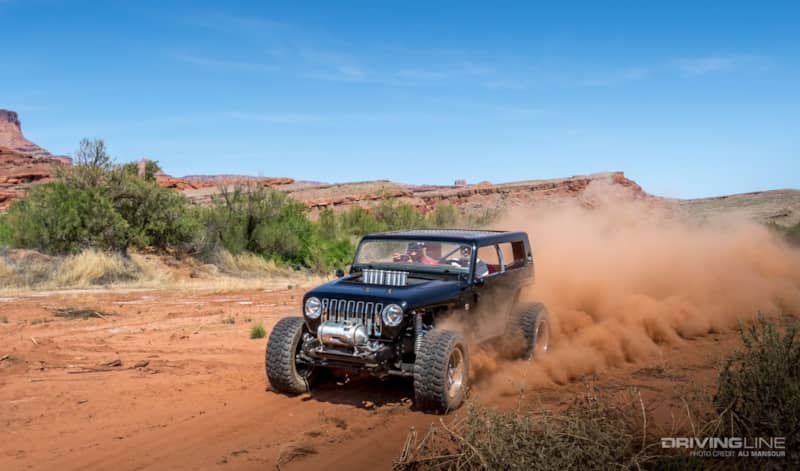 There's that JL grille again. Well, what we think could be the JL grille at least. The 392ci V8 mated to the six-speed manual makes this hot-rod Jeep drive as fun as it looks. The staggered tire size (32s in the front, 37s outback) help to exaggerate the 4-inch roof chop and shortened body. You could write a small book on all of the subtle details. The fact that the wheelbase was stretched could indicate that the JL two door could be growing in length, but that may be a long shot.
This was one of two concepts to have the kick-out grille and flat-bottom steering wheel. We're thinking this is more than just a coincidence.
Compass Trailpass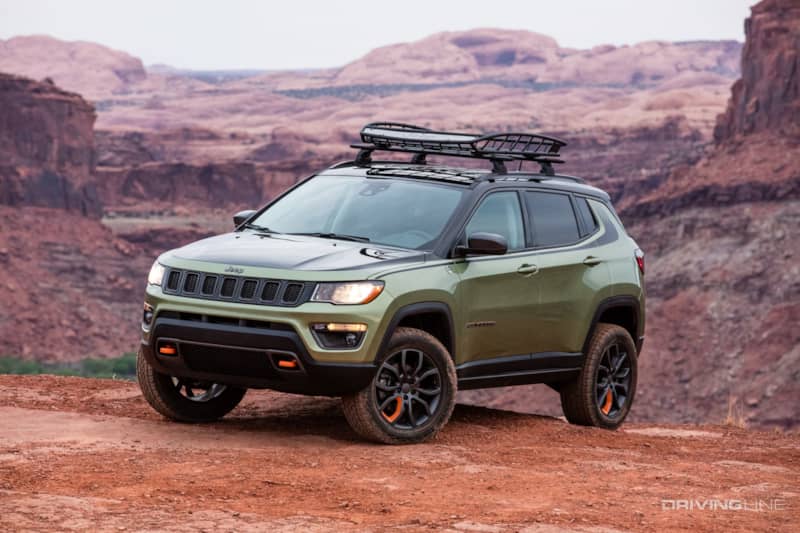 Jeep purists, please don't look away in horror. It's Jeeps like the Compass that will allow you to continue to enjoy your Wrangler. Why? Because it's doubtful you'll see a Wrangler flaunting impressive fuel economy numbers anytime soon and Jeep needs a compact global platform. The Compass Trailpass concept is meant for the type of outdoor enthusiast that would rather bike or hike the trail. It has a place in the Jeep fold, but don't expect to see a huge aftermarket push aimed at hardcore off-roaders.  
Grand One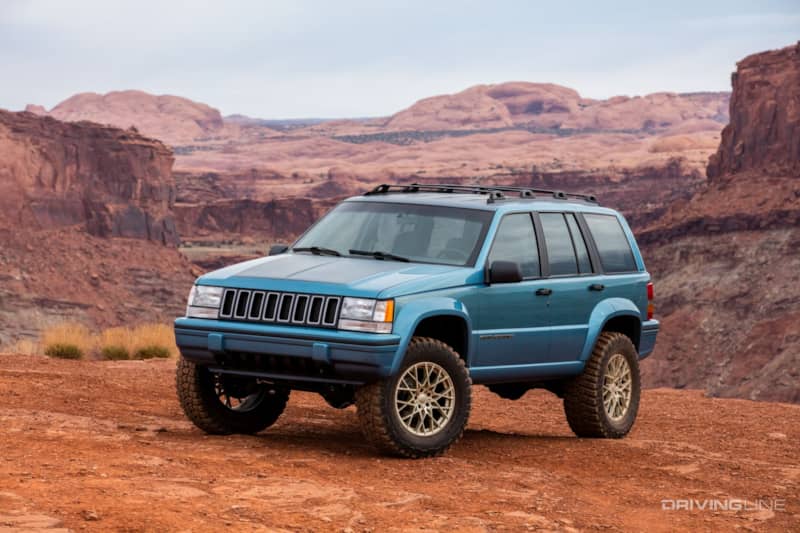 If you're a child of the 90s, the Grand One likely moves the needle for you just a little bit. This was a fun throwback for the Jeep team and something to mark the 25th anniversary of the Grand Cherokee. It was purchased off of Craigslist, then stripped down entirely. To clear the 33s, a two-inch lift was installed along with custom high-clearance fender flares. Trimmed bumpers along with a three-inch wheelbase stretch give this 1993 Grand some unique proportions. Having owned a few Grand Cherokee ZJ's, this V8 ZJ brought back old memories, creaky Unitbody and all!
(Photos courtesy of Jeep & Ali Mansour)
See more details on the Jeeps in the photo gallery below.